The 20 Best Edge Control Products For Natural Hair – 2022
The one-stop solution to tame your flyaways, frizz, and fine hair effortlessly.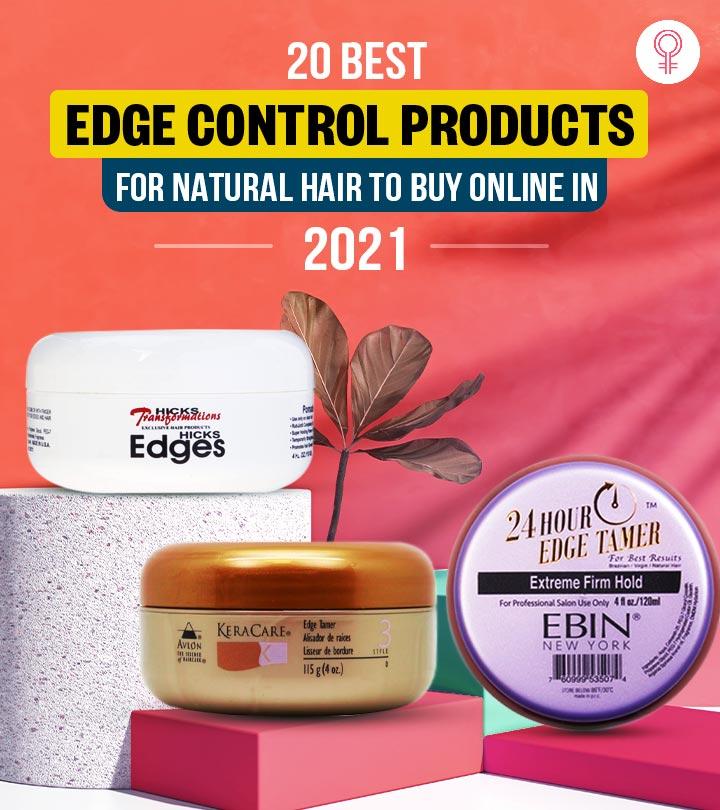 Fine hair edges have been a problem for all times and all people. But with the best edge control for natural hair, this can now change. You can now stop worrying about flyaways and frizz and can make a neat bun or ponytail that looks graceful and elegant. These products moisturize your hair, smoothen the surface, and promote hair growth, so that all your tresses grow out equally, giving your hair a uniform thickness. In addition, they also add shine and make your hair look healthy. In this article, you will find the 20 best edge control formulae for natural hair. Scroll down and pick the one that you like the most!
20 Best Edge Control Products For Natural Hair Available Right Now
This non-greasy hair gel from Hicks holds your edges firmly in place while promoting hair growth. The formula cleanses and moisturizes the hair, adding a healthy shine to it without flaking. Hydrogenated castor oil present in the formula promotes hair growth. Its non-sticky formula helps control tapered cuts and edges. It can also be used as a curling pomade with heat-styling tools. This video will give you a better insight into the product.
Key Ingredients: Hydrogenated castor oil
Pros
Non-greasy formula
Superior hold
Imparts shine
Smoothens the hair
Non-flaky
Gluten-free
Cons
Taming the edges of natural or relaxed hair is easy with Creme of Nature Argan Oil Perfect Edges Control. It is infused with argan oil that controls and holds down edges, makes hair stronger, moisturizes your tresses, and gives an exotic shine to them. It is perfect for creating sleek, smooth styles, ponytails, sculpting, and styling the hair. This alcohol-free gel provides superior hold without hardening the hair.
Key Ingredients: Argan oil
Pros
Makes hair healthy
Moisturizes the hair
Adds shine
Offers superior hold
Non-greasy formula
Non-flaking
Non-sticky texture
Alcohol-free
Suitable for relaxed and natural hair
Cons
May dry out your hair
Leaves an oily residue
Design Essentials Sleek MAX Edge Control is a versatile maximum hold gel that lasts all day. This edge control gel is infused with special ingredients that help retain moisture and maintain hold. Its unique formula does not flake, cause build-up, or turn white when applied to the hair. Ingredients like glycerin condition your hair and prevent breakage, while hydrogenated castor oil promotes hair growth.The peptide solution makes the hair stronger and prevents breakage.This edge control gel is perfect for smoothening and enhancing hair edges or tapered cuts, creating texture on short spiky styles for ponytails, or taming unruly hair when braiding and creating up-dos. It is ideal for hair with medium to coarse textures.
Key Ingredients: Glycerin, Peptide solution,and Hydrogenated castor oil
Pros
Long-lasting results
Provides maximum hold
Protects your hair
Adds natural shine
Non-flaky
Silicone-free
Sulfate-free
Cruelty-free
Cons
Style Factor Edge Booster is a water-based pomade with a non-greasy texture. This edge control gel has a quick-absorbing formula infused with nourishing natural argan oil. It hydrates your hair while providing a strong hold. The unique blueberry scent can invigorate your senses and freshen up your hair between washes.This gel does not leave any oily residue in your hair and is suitable for both men and women.
Key Ingredients: Natural argan oil
Pros
Water-soluble
Non-greasy formula
Nourishes the hair
Provides strong hold
Adds natural finish
Controls frizz
Defines curls
Moisturizes the hair
Refreshing scent
Cons
Curls Blueberry Bliss Curl Control Paste is a super sculpting pomade infused with natural ingredients like certified organic blueberry extract, argan oil, and mango butter that repair and restore your curls. It enhances, defines, and holds your curls while encouraging new hair growth. It also adds sheen, smoothens unruly edges, and helps you create your favorite natural style. Watch this video for a thorough understanding of the product.
Key Ingredients: Organic argan oil, Mango butter, Blueberry extract, Aloe leaf juice, and Chamomile extract
Pros
Encourages hair growth
Adds shine
Sulfate-free
Silicone-free
Artificial oil-free
Fragrance-free
Paraben-free
Cons
Diamond Egdes Black Panther Strong Styling Gel is an excellent braid and edge tamer for natural hairstyles. It is ideal for African and Hispanic hair. This edge control helps in taming frizz and curls. It provides a 24-hour hold and is suitable for both men and women. This styling gel is non-greasy and has a flake-free formula.
Key Ingredients: Castor oil, Aloe vera extract, Glycerin, Coconut oil, Jojoba oil, and Sunflower oil
Pros
Offers 24-hour hold
Tames frizz
Flake-free
Non-greasy formula
Silicone-free
Cons
None
EBIN New York 24 Hour Edge Tamer is the best tamer for Brazilian, virgin, or natural hair. It offers a textured natural look and imparts a flawless finish to your hair. This edge tamer provides a 24-hour firm hold with no flaking or white residue on stubborn unruly edges. The hydrogenated castor oil in the formula promotes hair growth, while the argan oil moisturizes the hair. PEG-7 glycerol cocoate adds shine to the tresses. Click here to check out a detailed personal review of this product.
Key Ingredients: Castor oil, PEG-7 glycerol cocoate, and Argan oil
Pros
Offers extra firm hold
Refreshing fragrance
Adds shine
Flake-free
Cons
AvlonKeracare Edge Tamer is a super-holding  gel that smoothens relaxed and natural hair. It creates a silky-smooth texture and helps prevent your hair endings s from reverting. This colorless edge tamer gives a lasting hold to your tresses, while hold. It quickly tames your edges and temporarily straightening s unruly hairlines.
Key Ingredients: Glycerin, Camellia leaf, and Hydrogenated Castor Oil
Pros
Offers smooth texture
Long-lasting hold
Non-greasy texture
Moisturizes the hair
Smoothens the hair
Cons
This non-sticky edge taming gel from MIZANI gives you definite edge control every time. It is designed with ceramide technology that helps restore the protective layer of the hair and prevent breakage. The edge taming gel is infused with a nourishing blend of argan oil, sunflower oil, and jojoba oil that provides essential moisture to the hair. Antioxidant-rich vitamin E helps strengthen the hair from roots to tips.
Key Ingredients: Vitamin E, Ceramides, Argan oil, Sunflower oil, and Jojoba oil
Pros
Offers medium hold
Smoothens flyaways
Flake-free
Prevents breakage
Controls frizz
Provides long-lasting moisture
Alcohol-free
Mineral oil-free
Petrolatum-free
Cons
Tancho High Grade Tique Vegetable Pomade is a creamy, silicone-free hair-styling wax. The oil-based formula ensures your hairstyle lasts all day without feeling greasy or weighed down while adding shine to the hair. This edge control product is made from natural ingredients like castor oil, beeswax, and candelilla wax that can effectively hold even the unruliest hair.It is suitable for all hair types.
Key Ingredients: Castor oil, Beeswax, and Candelilla wax
Pros
Provides strong hold
Adds shine
Vegan
Alcohol-free
Silicone-free
Paraben-free
Ammonia-free
Sulfate-free
Cruelty-free
Cons
SoftSheen-Carson Amla Legend Treasured Temple Edge Tamer is an oil-infused nourishing pomade with medium-hold. This edge control product is enriched with amla oil that offers protective conditioning, adds radiant shine, and controls frizz. The non-greasy and non-flaking formula smoothens fly aways while hydrating the hair at the same time.
Key Ingredients: Amla oil
Pros
Non-greasy
Flake-free
Smoothens the hair
Humidity-resistant
Offers radiant shine
Tame frizz and flyaways
Conditions and define curls
Cons
Palmer's Olive Oil Super Control Hair Gel for edges provides strong hold and tames unruly edges. It refreshes and stimulates the scalp without hardening and flaking. This edge control product is enriched with extra virgin olive oil,which is rich in antioxidants, to protect your hair from free radical damage. The Botanical Scalp Complex – a nourishing blend of sage, nettle, and hyssop – soothes redness and irritation on the scalp. It is also infused with Jamaican black castor oil that helps relieve itchy and dry scalp and vitamin E that stimulates healthy hair growth. This edge control hair gel is great for up dos, creating smooth styles, and ponytails.
Key Ingredients: Extra virgin olive oil, Vitamin E, Jamaican black castor oil, and Botanical scalp complex
Pros
Flake-free
Adds shine
Sulfate-free
Paraben-free
Phthalate-free
Mineral oil-free
Gluten-free
Dye-free
Cons
The Mane Choice Hair Type 4 Leaf Clover is a freezing gel with a super strong hold for stubborn edges. This moisture-rich,alcohol-free formula is designed to eliminate dryness,minimize breakage, add moisture, and promote growth. It is enriched with clove oil, aloe vera, and flax seed oil that help deliver intense shine and smoothness to moisture-depleted hair. This hair gel helps minimize breakage, enhance natural texture, and make the hair more manageable. It is great for dry, highly textured, and highly unmanageable hair.
Key Ingredients: Clove oil, Flax seed oil, and Aloe vera
Pros
Provides maximum hold
Smoothens frizz and fly aways
Alcohol-free
Moisture-rich formula
Helps eliminate dryness
Minimizes breakage
Adds intense shine
Promotes hair growth
Cons
JC's Instant Control Edge & Braid Gel is a fast-drying styler that keeps your unruly edges on point without flaking, premature melting, and whitening. The conditioning formula locks in the natural moisture of your hair and protects against premature melting. It is excellent for braiding and smoothening edges and offers maximum hold.
Key Ingredients: Coconut oil and Castor oil
Pros
Quick-drying formula
Non-greasy
Conditions the hair
Suitable for all hair types
Cons
She Is Bomb Collection Edge Control is an alcohol-free edge control cream for relaxed and curly hair. It locks the little frizz-prone strands in place and smoothens your hair. The non-greasy formula of this hair cream moisturizes and repairs damaged hair. It is a fast-drying cream with non-flaking and long-lasting properties.
Key Ingredients: Ceteareth-25, Glycerol Cocoate, and Hydrogenated castor oil
Pros
Non-greasy
Repairs damaged hair
Suitable for relaxed or curly hair
Non-flaking
Long-lasting
Moisturizing formula
Cons
The Mane Choice Laid Back Effortlessly Edge Control is a 3-in-1 hair treatment. This hair growth-stimulating edge control is a perfect blend of multivitamins and nourishing oils. It helps stimulate slow and inactive hair follicle sand adds shine to the tresses while taming down unruly edges.
Key Ingredients: Multi-vitamins, Rosemary, and Castor oil
Pros
Multivitamin formula
Offers superior hold
Adds shine
Promotes natural growth
Fights shedding
Instantly hydrates the hair
Minimizes damage
Cons
None
OGX Natural Finish + Aspen Texture Molding Paste is a creamy styling paste that keeps your edges in place. This super moldable paste is blended with sandalwood and aspen bark extract that add definition,texture, and a natural finish to your hair. This lightweight molding paste is perfect for all hair types and textures.
Key Ingredients: Aspen bark extract and Sandalwood
Pros
Adds definition
Improves hair texture
Flake-free
Lightweight
Adds natural shine
Offers structured hold
Cons
None
African Pride Black Castor Miracle Extra Hold Braid, Loc and Twist Gel is a mineral-free, sulfate-free, and paraben-free hair gel. It is formulated with black castor oil that helps promote hair growth and coconut oil that deeply condition sand hydrates the hair. This gel also smoothens frizz and fly aways while adding natural shine for long-lasting styles.
Key Ingredients: Black castor oil and Coconut oil
Pros
Growth protection formula
Provides extra hold
Tames frizz
Smoothens edges
Creates part lines
Mineral oil-free
Paraben-free
Sulfate-free
Petrolatum-free
Cons
If you want to get a firm hold on your edges, Eden Body Works Coconut Shea Control Edge Glaze is your best option. It is enriched with coconut oil, aloe vera, and she a butter that hydrate and seal the moisture, keeping your strands from drying out. Shea butter and coconut oil increase your hair's shine. Also, it is the best edge control product that helps rejuvenate dry, brittle hair and reduces split ends.
Key Ingredients: Coconut oil, Shea butter, and Aloe vera
Pros
Moisturizes the hair
Flake-free
Offers firm hold
Hydrating formula
Reduces split ends
No build-up
Sulfate-free
Cons
None
The Carol's Daughter Black Vanilla Moisture & Shine Edge Control Smoother is the best edge control product for dry, dull, and brittle hair. It is enriched with aloe vera that helps to keep hair moisturized, soft, and manageable. And, honey helps seal split ends and hold your hair in place. Its tempting vanilla fragrance will remind you of warm cupcakes fresh out of the oven.
Key Ingredients: Aloe vera, Honey, and Nettle
Pros
Moisturizes the hair
Silicone-free
Paraben-free
Petrolatum-free
Mineral oil-free
Artificial color-free
Cons
Now, that you are aware of the 20 best edge control products for your natural hair, let us understand what causes your edges to thin out.
What Causes Your Edges To Thin Out?
Tight hairstyles can cause tension on the hairline, and too much pulling damages the hair follicles. Tight braids, ponytails, and slicked-back styles can cause traction alopecia. Also, the weight of certain protective hairstyles can cause further tension, which leads to thinning. If you are wearing these hairstyles every day, it could be a reason why your edges are thinning out.
Hair extensions can weigh down your hair and cause thin hair and breakage. The tight braiding, glue, and wig caps can cause thinning along the hairline and edges. Sometimes, the glue may lock onto your hairline and cause hair breakage.
Using headbands, hats, caps, or anything that holds around the hairline too tight can remove moisture and pull on the hair strands. Also, friction from rough towel drying and excessive heat styling can cause hair thinning.
Heat and chemical can damage to your hair. Some products have ingredients that are damaging to your hair and scalp's health such as drying alcohols, mineral oil, and sulfates.
Postpartum blues, stress, sudden weight loss, or certain types of medication can have a direct impact on your hair health. Hormonal changes are a major contributing factor to postpartum hair loss. So, discuss the treatment methods for this condition with your doctor.
These are some of the reasons that cause your edges to thin out. If you want to buy edge control products, you should consider some important factors. Let's find out about them in the following section.
How To Choose The Best Edge Control Product For Natural Hair
The best edge control products are ones that can keep your hair smooth, tame frizz and flyawayd, are gentle on fine hair, easily maneuverable, and don't cause flaking.
Always check the ingredient list on product labels and make sure that ingredients used in the product don't make your hair dry.
Look for moisturizing ingredients like castor oil, aloe vera, and glycerin. Castor oil promotes hair growth, aloe vera nourishes fragile strands, glycerin can attract moisture from the air and infuse it into the hair, and honey is another natural ingredient that can offer hold.
Your edge control products should not contain alcohol. They can make your hair dry and stiff. This, in turn, leads to hair breakage.
If you are going to buy a traditional edge control gel, look for one that isn't too runny. Also, if you are new to edge control, start with medium-hold products.
When choosing an edge control product,figure out the level of hold you need for your edges.
Edge control products are available in gels, wax, oil-based, and liquid formulas. Water-based formulas are more suitable for straight hair or loose curls, whereas oil-based ones help to nourish dry, coily hair.
With the right edge control products,you can style your hair the way you want, without the unruly edges and frizz peeking out. The products listed here are enriched with nourishing ingredients that promote hair growth and add shine to the tresses. So,pick up one of these best edge control products for natural hair for your next styling routine!
Why Trust StyleCraze?
The wordsmith behind this article is our resident hair and skin care expert, Oyendrila Kanjilal. She put in the hard work and searched all over the internet to bring you the best edge control products for natural hair. She understands that flyaways, strays, and frizz can ruin your sleek hairstyles, and she wants to help you find the best solution. These products were selected by Oyendrila based on their ingredients, label, consistency, base (oil, water, or alcohol), and more.
Frequently Asked Questions
Is edge control good for natural hair?
Yes. Edge control is good for natural hair. It tames frizz and fly aways, offers maximum hold, and imparts a natural shine to your hair.
Can you use edge control every day?
No. If you use it every day, it can break off your edges.
Should you wash your edges every day?
Too much washing can make your edges break. Hence, only wash your edges when you feel they are extremely oily. Washing your edges everyday will dry out your hair and cause breakage.
How can I make my edges stay all day?
Apply any of your favorite edge control products on your edges for maximum hold.
Can Vaseline be used as edge control?
Vaseline offers your hair a higher shine and might protect it from dryness and breakage. But, it offers less hold and won't encourage your hair to grow.
How can I grow my edges fast?
Stop wearing tight hairstyles and try to moisturize your hair regularly. Scalp massage and gentle brushing with a natural boar bristle brush can stimulate blood flow and hair growth.
How often should you oil your edges?
Apply your favorite oil to your edges three times a week to see better results. Massaging your thin edges may encourage hair growth.
Recommended Articles: