Top 11 Best Egg Poachers And A Buying Guide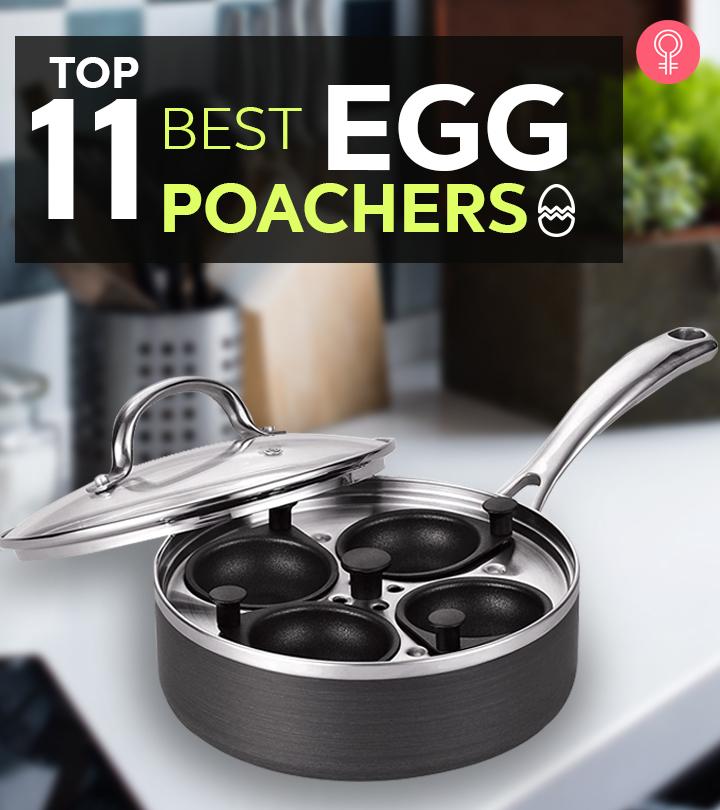 A filling, protein-rich breakfast is the key to start your day right. One of the best ways to achieve it is by preparing poached eggs on toast. As the technique is difficult to master, cookware manufacturers have come up with a versatile kitchen tool – egg poacher. This kitchen equipment cooks poached eggs without any hassle. It can be even be used to steam other foods.
With plenty of options available at your disposal, it can be difficult to figure out what works best. Dig deeper to find the best products available online with our list of top 11 egg poachers. Scroll down to know more!
11 Best Egg Poacher Pans And Cookers Of 2020
As the name suggests, the Dash Electric Egg Poacher cooks your eggs rapidly at the push of a button. It helps you cook your eggs in a number of ways – hard, medium, or soft boiled eggs, poached or scrambled eggs, or omelets. The auto-off feature prevents overcooking, and the buzzer alerts you when your eggs are ready.
This might be the perfect option if you do not want to compromise on your kitchen space. It has a compact design and weighs just a pound with the capacity to cook six eggs at a time.
Key Features
Cooking Capacity: 6 eggs
Weight: 1 pound
Accessories
1 poaching tray
1 omelet tray
6 egg boiling tray
1 measuring cup
A recipe book
Pros
Lightweight
Compact
Versatile
Auto-shutoff
Dishwasher safe
Easy to operate
Hassle-free cleaning
2-year manufacturer warranty
Cons
The Maxi-Matic Elite Cuisine EGC-007 Easy Electric Poacher is a durable and sturdy option for cooking up to seven eggs at a time. The measuring cup included in the package will not only help with the water measurement, but it also has a piercing pin at the bottom to poke a hole on the top of the eggs for consistent cooking.
This egg cooker switches on at the push of a single button and shuts off automatically once the eggs are cooked. You will be notified by the buzzer after the cooking process, so you don' have to wait and keep an eye on your eggs. The best part is that it is an egg poacher, boiler, and scrambler clubbed into one.
Key Features
Cooking Capacity: 7 eggs
Weight: 0.8 pounds
Accessories
Egg cooker base
2 egg poaching tray
7 egg boiling tray
Omelet tray
Measuring cup
Recipe book
Pros
Lifetime warranty
Easy to use
Multi-functional
Space-saver design
Melt-resistant plastic
Dishwasher safe
Cons
Loud beeper sound
Can be small for a variety of eggs.
This product is a must-have in all the kitchens as an Insta Pot accessory. The long handles of this steamer rack make it easy to lift the molds out of the pot or the pressure cooker without burning your hands. The trivet is great for a variety of cooking like eggs, chicken, veggies, and fish. The egg bites molds measure 8.25" in diameter and are made of high-quality, food-grade silicone material. Apart from egg bites, they can also be used to cook baby food, brownies, or poached eggs.
Key Features
Cooking Capacity: Fits 6Qt or 8Qt instant pot
Weight: 1.5 pounds
Accessories
2 egg bites molds
2 silicone lids
Steamer rack with silicone handle
Paper recipe
Pros
1-ear guarantee
BPA-free food grade silicone
Stainless steel body
Dishwasher safe (removable parts)
Multi-functional
Melt-resistant
Cons
Silicone cups can be flimsy.
Not easy to clean.
The Eggssentials Egg Poacher And Rack is affordable and apt as a cooking tool. The stainless steel rack comes with an encapsulated aluminium bottom, ensuring durability, even distribution of heat, and exceptional heat retention. The non-stick PFOA-free coating makes it easy to work without butter or oil. It can fit into different skillets, instant pots or pans and is stackable for easy storage.
Key Features
Cooking Capacity: 2 eggs
Weight: 0.45 pounds
Accessories
None
Pros
Easy storage
Easy to clean
Has a quick-cool knob
Multi-functional
High durability
Dishwasher safe
PFOA-free non-stick
Cons
No warranty
Non-stick can wear off with time.
Might produce thick eggs due to small size.
The COZILIFE silicone egg poaching cups provide ease of cooking, compact design, and consistent cooking. This BPA-free high-quality silicone assortment of four egg cups comes in different colors, along with ring standers that help keep them steady. Even if the boiling water tumbles during the cooking, the poacher shall protect the eggs from spilling out and helps in ensuring even cooking.
This silicone-based egg cooker has an easy opening that helps remove the egg from the cup without any hassles and can be used safely on the stovetop, microwave, and oven alike. It can be used as a jelly or a mini cake mold for steaming veggies and dissolving chocolate.
Key Features
Cooking Capacity: 1 egg
Weight: 0.14 pounds
Accessories
None
Pros
Stackable storage
BPA-free
Multi-functional
Eco-friendly
Dishwasher safe
Hassle-free cleaning
Long-lasting
Temperature tolerance up to 405 oF
Cons
Long cooking time
Expensive
The RSVP Endurance Egg Poacher set consists of a stainless steel pan, along with four non-stick egg holders with separate handles, that makes the poaching process a piece of cake. This 3-ply encapsulated bottom pan comes with a long, comfortable handle and a steam vented glass lid to keep an eye on the cooking. Unlike the usually small compartments that don't work well with jumbo eggs, thereby making a huge spill, these cups can accommodate jumbo eggs with absolute ease.
Key Features
Cooking Capacity: 4 eggs
Weight: 2 pounds
Accessories
Instruction manual
Stainless steel pan
4 non-stick poaching cups
Recipe book
Pros
Durable
Sturdy design
Hassle-free cleaning
Dishwasher safe
Oven safe up to 450 oF
Cons
The ExcelSteel Egg Poacher features a stainless steel body with six cups made of non-stick coating for easy extraction. The 18/10 high-quality stainless steel ensures that the product works flawlessly and lasts for a long time.
The non-stick coat helps you with a variety of cooking – warm sauces, fry potatoes, or sauté chicken. It has a vented see-through glass lid to monitor the cooking. The encapsulated base distributes the heat evenly so that your eggs come out perfectly.
Key Features
Cooking Capacity: 6 eggs
Weight: 3.57 pounds
Accessories
Silicone spatula
Egg poacher tray
Instruction manual
Pros
Rust-resistant
Durable
Easy to use
Dishwasher safe
Stay-cool handle
Audible buzzer alert
Cons
The handle might get hot.
Eggs may come out uneven.
The Jordigamo Egg Ring Set is the one-stop egg poacher solution for your breakfast needs. It comes in a set of two or four rings of premium quality, BPA-free stainless steel. It has long rubber-coated handles for ease of use. The cleaning process is hassle-free. In case you end up with a faulty egg ring set, the brand promises to make a prompt replacement for the same.
Key Features
Cooking Capacity: 2 eggs
Weight: 0.3 pounds
Pros
Multi-functional
Easy replacement
Easy to use
Hassle-free cleaning
BPA-free
Foldable handles
Cons
May have structural issues.
The Modern Innovations Egg Poacher Pan comes in a set of four Teflon-coated, non-stick cups and a 10-inch durable 18/8 stainless steel pan. The stay-cool handle provides a strong, burn-free grip while the see-through vented glass lid helps you keep track of the cooking. The 45ml cups accommodate jumbo eggs easily.
Key Features
Cooking Capacity: 4 eggs
Weight: 3.15 pounds
Accessories
Silicone spatula
1 removable egg poaching tray
4 non-stick egg boiling cups
Pros
Multiple use
Jumbo holding capacity
Stay-cool handle
See-through vented glass cover
Cons
The Cooks Standard Egg Poacher Pan is an 8-inch egg poaching pan made of high-grade stainless steel. It has a vented, clear tempered glass lid that helps in monitoring the food and lets the steam pass through easily. Its riveted stainless steel handle provides extra strength. The four hard-anodized, non-stick, aluminium cups of 60ml capacity make the eggs slide right out with absolute ease.
Key Features
Cooking Capacity: 4 eggs
Weight: 3.5 pounds
Pros
Works on all stovetops
Ease of use
Dishwasher safe
Oven- safe upto 350 degrees Fahrenheit
Distributes heat evenly
Multi-functional
Compact
Space-saver design
Melt-resistant plastic
Cons
Not induction compatible.
Cup is small.
This product features BPA-free plastic and 18/8 stainless steel egg poacher cups and rod. It functions by floating on top of the water in the pot while steaming the content inside the cup. It is designed to circulate water all around the egg without letting it spread. It also has an adjustable hook to fit different pot heights.
Key Features
Cooking Capacity: 2 eggs
Weight: 0.22 pounds
Pros
25-years warranty
Easy to clean
BPA-free plastic
Dishwasher safe (top shelf only)
Made of sturdy stainless steel non-stick surface
Cons
Eggs tend to stick.
Does not work with all pots.
Now that you are aware of the top 11 egg poacher pans, let's now understand the factors that you need to keep in mind before buying one.
The Buying Guide For Choosing The Perfect Egg Poacher
Why Do You Need To Buy Egg Poachers?
Poached eggs are a healthier alternative than fried eggs for breakfast. However, the right technique of poaching eggs is not easy to master. It involves a fair amount of science, like controlling the water temperature to the type of eggs and the whirlpool method. But with egg poachers, you can end up with perfectly poached eggs without worrying about any of these.
Features Of An Ideal Egg Poacher
Convenient
Easy to use
Multi-functional
Durable
How To Choose The Right Egg Poacher
Size – It is best to choose a small deviceto ensure compact storage and ease of handling.
Dishwasher Safe – Cleaning is definitely an important aspect, so go for one that is dishwasher-safe or claims to provide hassle-free cleaning.
Design – There are several designs available – egg poacher rings, electric poachers, and connected or individual cups. You can choose any of these, depending on your preferences.
Material – Egg poachers come in a variety of materials, such as silicone, plastic, aluminum, and stainless steel. Aluminum and stainless steel constructions are sturdy and rust-resistant, while the plastic and silicone ones are lightweight. You can read the reviews to figure out what works best for you.
Capacity – Most egg poachers have the ability to cook four to six eggs at once, and some feature double stacks that can accommodate up to 14 eggs in one go. You can choose as per your cooking requirements.
Non-stick – Going for non-stick pans or cups is best as it will help to keep your eggs healthy by avoiding any oil or butter. Additionally, it eases the cleaning, as well as the turning of the eggs.
Handles And Lids – Check for heat-resistant handles and vented clear lids that allow the steam to escape easily and help you monitor the cooking.
Ease Of Use – Egg poacher tools that simplify operation are definitely preferable. Consider features like automatic shutoff and built-in timers and buzzers that let you know as soon as the eggs are ready.
All egg poachers have a varying set of features and operation modes, so read the specifications and compare the models before making a choice. If you lack time, this kitchen appliance can be your best friend for cooking the eggs perfectly in a jiffy. We hope that our list of the 11 best egg poachers will help you make an informed decision. Pick your favorite one now!
Expert's Answers For Readers' Questions
1. How do I remove the eggs from a poaching pan?
Follow the instructions provided with the kind of product you choose. But most of the time, they can be easily taken off the pan using a wooden or silicone spatula.
2. What should I use to grease the poaching insert for my egg poacher pan?
If the insert is non-stick, you might not need to grease it at all. But, in case greasing is required, the usual vegetable oil or butter works fine.
3. How long to poach an egg in a plastic poacher?
Every egg poacher comes with a set of instructions on how long to leave the eggs, depending on the consistency you are looking for.
4. Can you poach two eggs at once?
Most egg poachers can accommodate two or more eggs for cooking at once.
5. Can you poach an egg in a microwave?
Microwaveable poacher cups available online make it easy to poach the eggs safely in the microwave without making a spill.
6. Do silicone egg poachers work?
Since silicone is heat and stick-resistant, it is easy to cook the eggs in a silicone egg poacher. However, it also depends on the shape and design.
Recommended Articles
The following two tabs change content below.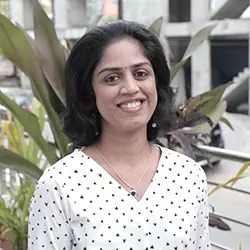 Harini Natarajan
As Chief Editor, Harini sets the tone and editorial direction for StyleCraze to deliver engaging, interesting, and authentic content revolving around women's health, wellness, and beauty. She has over 14 years of experience in content writing and editing for online media. She specializes in the areas of Beauty, Lifestyle, and Health & Wellness and is proficient in Medical Sciences (Biology, Human Anatomy and Physiology, and Biochemistry). Her background in Biomedical Engineering helps her decode and interpret the finer nuances of scientific research for her team. Harini is a certified bibliophile and a closet poet. She also loves dancing and traveling to offbeat destinations.