9 Best Electric Facial Massagers To Buy In 2023
Relax your facial muscles to relieve stress and pamper your skin to prevent dullness.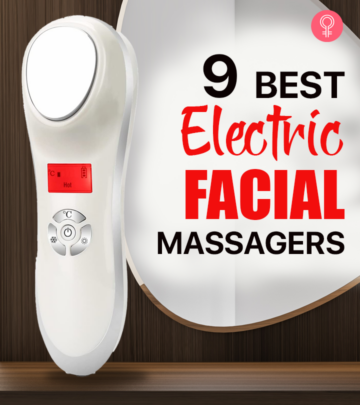 An electric face massager helps condition your skin and provides glowy skin. It is an effective way to pamper your skin, relax, and obtain salon-like results from the comfort of your home. Dull-looking skin is often caused by stress, pollution, diet, and improper lifestyle. An electric facial massager helps nourish and rejuvenate it by relaxing facial muscles and relieving stress. Furthermore, you can provide your skin with the much-needed TLC and improve its elasticity with regular usage. Eugenia Garnes, a licensed esthetician says, "Consistency is key for results. After finding your perfect facial massager, set aside a facial routine time that fits your schedule." We have numerous massagers available in the market, so choosing the right massagers can be tricky. In this article, we have brought forth a list of the 10 best facial massagers that can help plump your skin and make you appear radiant. Keep scrolling to check them out!
Benefits Of Using Electric Facial Massagers
Electric facial massagers combat the everyday stress your skin goes through while also sculpting your face and promoting an even-toned complexion. Some of the other benefits are:
They improve micro-circulation in the facial tissues and promote lymphatic drainage in the surrounding area. The result? Glowing skin.
They help de-puff the face and lift droopy skin.
The vibrations help facial creams penetrate into the deep layers of the skin to provide nourishment.
They promote blood circulation on the face, which alleviates facial muscle tension and adds freshness and natural radiance to your skin.
Now that you know about the many benefits of skin enhancement, keep scrolling to read about the 10 best face massagers that will help bid you goodbye to lackluster skin and say 'hello' to a dewy look!
9 Best Electric Facial Massagers
Pros
Easy to clean
Quick heating and cooling
Rechargeable
Auto turn-off feature
Refreshes skin
Cons
Price at the time of publication: $43.99
The Malkert 5-In-1 Facial Cleaning Brush is a handheld spa treatment for your skin that improves six different skin problems. It features a blue light and a red light LED mode to shuffle between deep cleaning and rejuvenation. The blue light mode cleanses your pores, removes makeup residue, and blackheads, while the red light mode reduces wrinkles, increases skin elasticity, and brightens the complexion. You can choose between the functions to control spin rotations for a more controlled exfoliation. It is up to 6x more effective than a manual cleanse and comes with five different brush heads for different skin types and needs. The  brush heads are: exfoliator, soft brush, soft sponge, silicone, and pumice. Eugenia says, "Keep frequent used brush heads clean before and after use. Make sure your bristles are completely dry before storing. Added heat may damage your bristles so a natural air dry is best."
Pros
Waterproof
5 different brush heads
3 different speed levels
Multipurpose
Value for money
Suitable for sensitive skin
Cons
None
Price at the time of publication: $34.99
The Uimoky Facial Cleansing Brush is truly avant-garde in its multifunction design and maximizes performance with a one-size-fits-all approach. You can use the silicone bristles to varying degrees of usage with the 3-in-1 multifunctional design. It can be used for deep facial cleansing, a facial massage, and also to increase the absorption of your face creams. The food-grade silicone bristles and advanced sonic vibration technology boost a refined look by deep cleaning your pores and brightening your complexion. It promises over 99.5% removal of dirt and residue and reduction in fine lines. Eugenia says, "Following suggested facial massage techniques and giving you and your skin time to reap the benefits of this facial brushing." It is powered with a lithium ion battery and can work for as long as 200 minutes after 40 minutes of charging. There are five adjustable intensities for your comfort.
Pros
Waterproof
Long-lasting battery
Multifunctional
Cons
None
Price at the time of publication: $16.98
The XNUO Facial Massager uses ultrasonic technology, photon rejuvenation, ionic +/- technology, and micro-vibrations to slough off your facial imperfections and revitalize your skin. It runs on three modes –Ultrasonic+, Nutrition+ and Relax – to deliver nutrition to the deeper layers of the skin with high frequency vibrations. The LED light therapy in Red, Blue, and Green lights works well to treat skin conditions. The Green light improves skin dullness and calms the nerves, the Blue light reduces acne, and the Red light promotes collagen production and reduces wrinkles and spots. The massager also reduces eye bags and wards off any inflammation. With this product, your skin is cleansed and treated for an enhanced radiance and improved collagen production.
Pros
Stimulates deep cell activity
Superior galvanic delivery system
Easy to use
Multiple modes
Different intensity levels
Cons
Not suitable for sensitive skin
Pros
Waterproof
Portable
Deep cleansing
Easy to hold
Battery-operated
Cons
None
Price at the time of publication: $11.99
Pros
Rechargeable
Multi-purpose use
Added benefit of natural stone
Red light therapy
Cons
Not suitable sensitive or acne-prone skin
Price at the time of publication: $40.99
Pros
Quick absorption of skin care products
Automatic switch mode
Three different modes
Value for money
Long-lasting
Portable
Rechargeable
Cons
None
Pros
Small and portable
Rechargeable
Temperature control
Quick heating and cooling
Cons
Magnetic ring fails to hold even a thin sheet
Price at the time of publication: $32.99
Pros
All-in-one device
Rechargeable
Various attachments
Salon-like treatment at home
Cons
None
Price at the time of publication: $399
An electric facial massager is a good investment for your skin. It serves many purposes and offers many benefits. While looking for an  ideal electric massager, it is important to take some key points into consideration. Read on to find out more.
What To Look For In An Electric Facial Massager
You need to identify your major skin concerns. Choose the massager that suits your skin type, concerns, and routine. While most of these massagers have anti-aging benefits, choose a massager offering light therapy to promote collagen production and regeneration of cells. To reduce skin dullness, use massagers that use ultrasonic technology.
A massager offers tapping, rolling, kneading, and oscillation as its massaging techniques. Choose the massager that is best suited for your requirement. Ultrasonic massages improve blood circulation and make your skin more elastic while minimizing scars and wrinkles. With light or photon therapy, you can achive skin regeneration and revitalization.
Portability is another key consideration. It should be lightweight and easy to carry and use. The massager should have an ergonomic design and a comfortable handle.
You must also look for high-quality brush heads that glide across your skin smoothly and are skin-friendly. Find what fits best for convenient cleaning, storage, and travel friendly.
Why Trust StyleCraze?
The author of this article, Shiboli Chakraborti, is a certified and passionate skincare coach who constantly endeavors to provide the best products for her readers. She has gone through numerous customer testimonials online and assembled this list of the leading electric facial massagers out there. These facial massagers relax your facial muscles, plump, and rejuvenate your skin.
Frequently Asked Questions
Can I use electric facial massager daily?
It is advisible to use a face massager 2 to 3 times a week.
Does a electric facial massager help with wrinkles?
Yes, an electric massager gradually reduces wrinkles and other signs of aging. It increases blood circulation and eradicates many skin-related issues.
How long should you use electric facial massagers?
Massaging your face with an electric facial massager for around 5-10 minutes will give you favorable results. Special features may require additional time for best results.
How long do electric facial massagers take to see results?
Using it regularly for five months will help you promote blood circulation to your cheeks, making them radiant.
Can you massage face fat away?
Yes, massaging your face daily for five minutes will reduce the face fat and offer you toned and radiant skin.
Can a facial massage cause acne or breakouts?
Yes, if you use a dirty massager, the bacteria can transfer to your skin and cause acne.