10 Best Electric Kettles For Coffee And Tea – 2023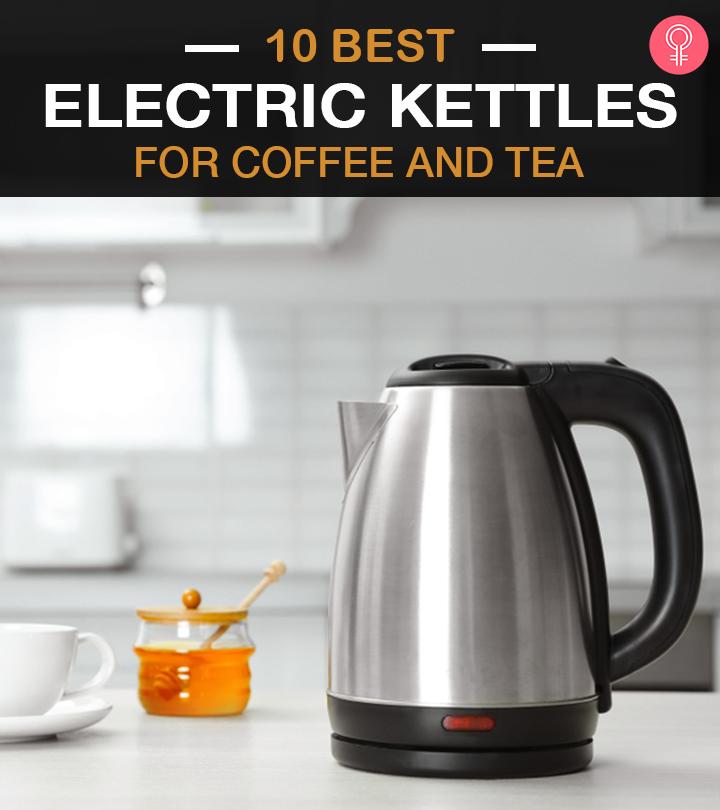 Most people's morning routine starts with a good cup of coffee or tea. There is no better way to beat the morning drowsiness than by wrapping your hands around a warm cup. There are many ways to brew good tea or coffee, and one of the best ways to do it is with an electric kettle. An electric kettle makes for a great addition to your kitchen. There are tons of models with features like variable temperature controls, automatic shut-off, and stay-cool non-slip handles available out there. These electric tools are versatile and suitable to use every day in your kitchen. In this article, we have reviewed and compiled a list of the 10 best electric kettles for coffee and tea available right now. Take a look!
10 Best Electric Kettles For Coffee And Tea To Check Out Right Now
Cuisinart CPK-17 Perfec Temp Cordless Electric Kettle is the best all-purpose electric kettle with 1.7 L capacity. It is equipped with six preset heat settings for steeping tea at a specific temperature. This electric kettle offers a one-touch control panel with blue LED indicators, a start button, and a 30-minute keep-warm cycle. It has a memory feature that allows the kettle to be lifted off base for 2 minutes without shutting off or losing its place in the heating process. This cordless kettle also has a power base with a 360°swivel cordless connector and a stay-cool non-slip handle. It also features an open button for lifting the lid, a blue backlit water window, a concealed heating element to prevent mineral build-up, a drip less pour spout, boil-dry protection with auto shut-off, and a removable/cleanable scale filter. You can select 160° F for delicate teas, 175° F for green tea, 185° F for white tea, 190° F for oolong tea, 200° F for French press coffee, and 212° F for boiling black tea. This perfect kettle comes along with a user manual with recipes.
Key Features
6 preset temperatures
Blue LED indicator lights
30-minute keep-warm function
2-minute memory
360° swivel power base
Product Specifications
Capacity: 1.7 L
Power: 1500 W
Dimensions: 8″ x 6.1″ x 9.7″
Weight: 1 lb.
Pros
Easy-to-open lid
Removable scale filter
Multiple heat settings
Removable/cleanable scale filter
Auto shut-off function
Keep warm with indicator
Stay-cool handle
Backlit water window
BPA-free
Limited 3-year warranty
Cons
Faultyauto shut-off feature
Secura Stainless Steel Double Wall Electric Kettle is a high-quality electric tea kettle. This electric kettle comes with a 100% 18/10 stainless steel interior with 1500 watts heating power. It has a BPA-free exterior and double-wall construction to boil water quickly and keep it warmer for longer. This kettle is safe to handle with a full pot of boiling water. It has no plastic parts inside that touch your water. It features a locking lid that reduces accidental spills and a rubber foot pad that prevents unexpected tipping. The auto shut-off feature is an added advantage that ensures the kettle never boils dry. The large opening at the top allows easy access.
Key Features
100% stainless steel uni-body construction
Strix controller
Auto shut-off feature
BPA-free cool touch interior
Locking lid
Rubber foot pad
Product Specifications
Capacity: 1.7 L
Power: 1500 W
Dimensions: 11″ x 8.6″ x 7.7″
Weight: 3.2 lbs.
Pros
Double-wall construction
High quality
No scalding hazard
Safe to use
Easy to clean
No mineral deposits
2-year warranty
Cons
May develop rust
No water indicator
Hamilton Beach Electric Tea Kettle is the best affordable electric tea kettle. It is designed with a powerful rapid boil system that boils water faster than a microwave and is perfect for offices or kitchens of any size. It has a 1 L capacity, and it offers cord-free serving. The auto shut-off feature with Boil Dry Protection keeps the kettle from boiling dry. The concealed heating element is compatible with any standard 120 V outlet. An easy-to-view water level window ensures you measure the perfect amount. The easy-pour spout and removable mesh filter keep scale deposits from leaving the kettle. 
Key Features
Rapid boil system
Auto shut-off
Removable mesh filter
Easy pour spout
Concealed heating element
Cord-free serving
Product Specifications
Capacity: 1 L
Dimensions: 5″ x 8″ x 7.8″
Weight: 2 lbs.
Pros
Inexpensive
Suitable for college dorms, kitchens, and offices
Water-level window
Illuminated on/off switch
Push-button lid
Cons
Kitchen Aid KEK1222PT Electric Kettle is a compact electric kettle with 1.25 L capacity. It is equipped with 1500 watts power and an LED on/off switch. This electric kettle boils water quickly and has a smooth aluminum handle with a stainless steel body. It offers 360° rotation for easy transfer of the kettle. It has a single-wall construction and a removable base. This little kettle also features a removable lid to fill the kettle easily and a removable Limescale filter located in the pouring spout. This electric tea kettle is available in six colors.
Key Features
LED on/off switch
Removable base
Aluminum handle
Limescale filter
Removable lid
Product Specifications
Capacity: 1.2 L
Power: 1500 W
Dimensions: 7″ x 8.9″ x 10.3″
Weight: 2.5 lbs.
Pros
Ergonomic design
Single-wall construction
Stainless steel body
Easy to fill
1-year replacement warranty
Cons
Some interior plastic parts
Price at the time of publication: $99.87
Bonavita 1.0L Electric Kettle is an ideal kettle for preparing pour-over coffee or the perfect cup of tea. It runs on 1000 watts power and heats water quickly to a precise temperature. The highlight of this kettle is its gooseneck spout for precise pour control. It can be used for preparing all kinds of hot beverages. This kettle also features a 360° swivel base and an auto shut-off option.
Key Features
Gooseneck spout
360° swivel base
Auto shut-off option
Pour-over brewing
Product specifications
Capacity: 1 L
Power: 1000 W
Dimensions: 25″ x 6″ x 8.5″
Weight: 2.2 lbs.
Pros
Brushed stainless steel construction
BPA-free plastic
Controlled pouring
Easy to use
2-year warranty
Cons
Mayleak
Collects black sediments
Breville BKE820XL Electric Kettle is the perfect variable-temperature kettle for tea or coffee. This 2-quart kettle has 5 preset brewing temperature options for black, green, white, and oolong tea and French press coffee. It has one temperature-hold button that keeps water at a selected temperature for 20 minutes. The Kettle IQ features exact temperatures to enhance the optimal taste and quality of the tea or coffee. It has a water-level indicator on each side that allows easy viewing. This kettle also features a 360° stainless steel directional base and a clearly marked push-button control panel.
Key Features
5 preset brewing temperatures
Push-button control panel
Boil-dry protection
Water-level indicators
Removable scale filter
Brushed stainless steel construction
Product Specifications
Capacity: 1.8 L
Power: 1500 W
Dimensions: 3″ x 7.2″ x 9.7″
Weight:3.4 lbs.
Pros
Sturdy
Ergonomic design
Temperature-hold button
Easy to clean
Easy to use
Cons
Plastic smell
Poor design
Fellow Stagg EKG is a simple pour-over kettle for coffee and tea. This kettle has a precision-pour spout designed for the optimal pour-over flow rate. The counter-balanced handle moves the center of mass back toward your hand for easy and comfortable pouring. This kettle is equipped with a 1200-watt quick-heating element. You can maintain the desired temperature for 60 minutes with the help of the Hold Mode switch. Its heating temperature ranges from 135° F to 212° F. It also features a sleek LCD screen that indicates the temperature.
Key Features
Counter-balanced handle
Variable temperature control
60-minute Hold Mode option
Product Specifications
Capacity: 1 L
Power: 1200 W
Dimensions: 91″ x 9.61″ x 9.21″
Weight: 4.52 lbs
Pros
Minimalist design
Barista-level functionality
Built-in brew stopwatch
1-year warranty
Cons
OXO BREW Adjustable Temperature Electric Pour-Over Kettle is the best goose-neck electric kettle. This durable 1 L kettle is made from naturally BPA-free stainless steel. Its compact design saves space on countertops. It features adjustable temperature control to heat up and keep water at the desired temperature (140°F to 212°F/60°C to 100°C). The precise and elongated spout features a curved opening for a steady flow. This cord-free kettle is easily removable from the 360°swivel base. It comes with a built-in timer and a stay-cool handle that provides a secure grip. The temperature guide on the base shows the best programmable settings for brewing coffee and tea.
Key Features
Adjustable temperature control settings
Cord-free kettle
360° swivel base
Built-in timer
Stay-cool handle
Product Specifications
Capacity: 1 L
Power: 1500 W
Dimensions: 4″ x 6.3″ x 8.07″
Weight: 1.13 lbs
Pros
Durable
Compact
BPA-free stainless steel construction
Cordless design
Easy to use
Cons
HadinEEon Electric Kettle is the most portable electric kettle made with scratch-resistant borosilicate clear glass. This high-quality electric kettle is made of FDA-approved and food-grade 304 stainless steel. The heat-resistant material of this kettle only takes 6 minutes to boil 1.5 L of water. This cordless glass electric kettle has an auto shut-off features. It also provides thermal shock protection. It has a 360° swivel base that lets you remove the illuminated cordless kettle for easy pouring. This glass kettle has a blue light around the rim that provides a visual delight while boiling water as it heats up.
Key Features
Heat-resistant handle
Wide-open lid mouth
Auto shut-off feature
Product Specifications
Capacity: 1.7 L
Power: 1200 W
Dimensions: 2″ x 9.1″ x 7.6″
Weight: 3.49 lbs
Pros
Portable
Durable
High quality
Ergonomic design
Food-grade material
Heat-resistant
Scratch-resistant
Thermal shock protection
Easyto use
Cons
None
BELLA 1.2 L Electric Tea Kettle is the perfect decorative piece to add to your kitchen. This electric tea kettle boils water faster than a microwave and safer than a stove. It is equipped with a 1200-watt heating element and a fully detachable 360°power base. It features an automatic shut-off option and boil-dry protection. This BELLA electric kettle is ideal for controlled pours. Its ceramic body combines versatility and undeniable style to deliver a great taste to your coffee or tea. It is also free of rubber and plastic. It is available in different colors and patterns. The built-in auto shut-off feature turns the kettle off when the water reaches the optimal boiling point.
Key Features
360°detachable power base
Gooseneck style spout
Auto shut-off feature
Boil-dry protection
Product Specifications
Capacity: 1.2 L
Power: 1200 W
Dimensions: 42″ x 7.4″  x 10″
Weight: 4.98 lbs
Pros
Ideal for controlled pours
Gorgeous design
Versatile
High-quality
Easy to use
Available in multiple colors and patterns
Cons
Not easy to fill
Low quality
That was our list of the best electric kettles for coffee and tea available right now. We hope this article helps you choose the best electric kettle for your kitchen. Want to make delicious tea and coffee in the easiest way? Then, pick your favorite product from this list and try it out to brew the perfect cup of coffee or tea.
Recommended Articles