10 Best Electric Kettles For Your Kitchen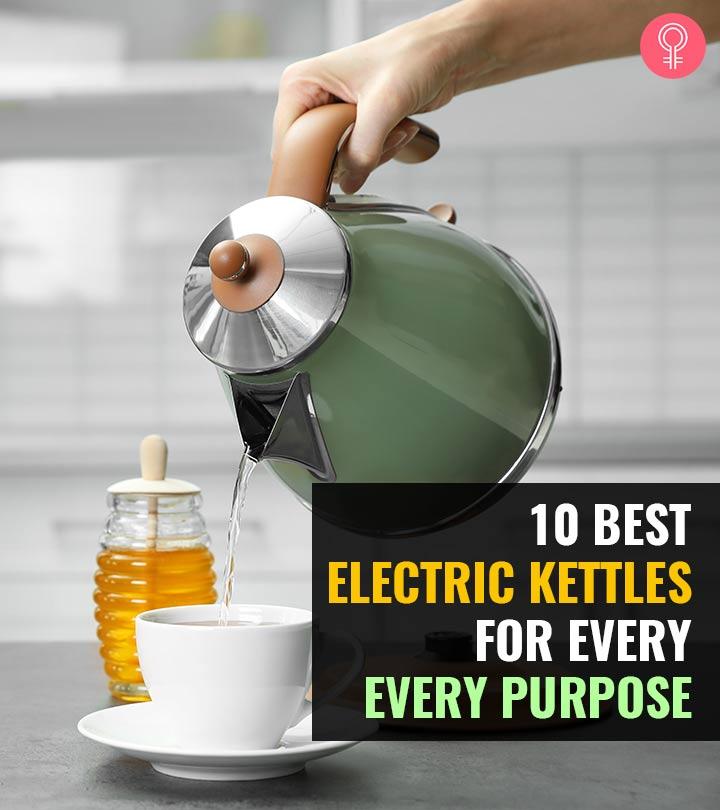 An electric kettle is the most convenient kitchen appliance if you are committed to your daily cup(s) of tea or coffee. Electric kettles can heat water for tea, coffee, or pasta faster than any conventional kettle, that too, without using the stove. These are quiet and come with an auto-shutoff feature. Thus, you need not worry about switching it off. Moreover, compared to any standard kettle, electric kettles retain heat for longer. If you are looking for an electric kettle, scroll down to find the list of our top picks below.
10 Best Electric Kettles To Buy In 2020
This electric kettle has a cordless design, making it easy for you to use and store. It boils a liter of water quickly and is ideal for situations where you frequently need hot water for cooking or for preparing soups or beverages. It has an auto-shutoff feature, so need not worry about the kettle getting overheated. This electric kettle has a 30-inch power cord and cord wrapping feature at the base to keep the cord out of the way.
Specifications
Capacity: 1 liter
Wattage/Voltage: 1500 W
Pros
Auto-shutoff
30-inch power cord
Water window for easy viewing
Concealed heating
BPA-free
Easy to store
Removable filter for easy cleaning
Cons
The body is not insulated.
This electric kettle is made of heat-tempered, stain-resistant borosilicate glass and durable stainless steel. It can boil 1.5 liters of water in 7 minutes. When in use, the blue LED lights illuminate the pot and make it look fancy. It is fire-safe and has an auto-shutoff feature with boil-dry protection technology. It is made with food-grade removable filter and is easy to clean.
Specifications
Capacity: 1.5 liters
Wattage/Voltage: 1100 W
Pros
360-degree rotary base
Heat-tempered glass
LED indicator and water gauge
BPA-free
Concealed heating
Automatic shutoff
Cons
A few models might malfunction.
This electric kettle is made of high-quality borosilicate glass and heat-resistant Tritan copolyester. This ensures that the boiled water is safe. It has a British STRIX thermostat controller, which shuts off automatically within 30 seconds after the water has boiled. The heat-resistant anti-slip grip handle ensures your hands do not get burned while holding it. This kettle has an LED light to indicate when the kettle is heating up.
Specifications
Capacity: 1.8 liters
Wattage/Voltage: 1500W
Pros
Borosilicate glass body
100% BPA-free
Heat-resistant
Anti-slip handle
360° rotational, clear glass body
Cons
May have a burned plastic odor.
This electric kettle has a 100% steel body interior, which keeps the water safe and does not react to it like plastic. It has a BPFA-free exterior and is cool to touch, so you need not worry about accidental burns. The double-wall construction of this kettle boils water fast and keeps it warm for longer. It has a locking lid and a rubber foot pad that prevent accidental spills and tipping, respectively.
Specifications
Capacity: 1.7 liters
Wattage/Voltage: 1500 W
Pros
Cool-touch exterior
Automatic shutoff
100% stainless steel interior
Large opening for easy pouring
Easy to clean
Illuminated on-off switch
British Strix control
Cons
This boils water quickly within minutes. It has six preset heat settings that ensure you boil water at the right temperature. It has a simple one-touch button on the kettle handle to release the lid and a blue backlit water window with measurement marks. The dripless spout and the boil-dry protection prevent any spillage. The unique feature of this electric kettle is it has internal memory  – you can keep the kettle off its base for 2 minutes without it going into a standby mode.
Specifications
Capacity: 1.7 liters
Wattage/Voltage: 1500 W
Pros
6 preset temperatures
One-touch controls
LED indicators
30-minute keep warm option
Internal memory feature
Backlit water window with measurements
360° swivel cordless connector
Stay-cool nonslip handle
Concealed heating
Removable scale filter
Limited 3-year warranty
Cons
Difficult to clean
Small opening
This electric kettle is made of scratch-resistant borosilicate glass. It features the British STRIX thermostat technology, which shuts off automatically within 30 seconds after boiling water. The blue LED indicator lets you know when the kettle is turned on. It has a simple and minimalistic design and is cordless when off the base. It rotates 360º and has measurements marked on the body.
Specifications
Capacity: 1.7 liter
Wattage/Voltage: 1500 W
Pros
Quick water heating (within 3-7 minutes)
FDA compliant
ETL & CETL listed
Lifetime customer support
Blue LED indicator
Wide opening for easy cleaning
British Strix Thermostat technology
Auto shutoff after 30 seconds
Sturdy handle
Stainless steel filter
Cons
This electric kettle has a 100% food-grade stainless steel interior, which assures that the kettle body does not react with water and give it an aftertaste. It has a stainless steel-clad double wall system made of quality PP material that helps to resist scratching and protect your hands from scalding. This 1500 W electric kettle can boil 1.5 liters of water in less than 6 minutes. It also has a cool-touch exterior and shuts off automatically after use.
Specifications
Capacity: 1.5 liters
Wattage/Voltage: 1500W
Pros
Stainless steel
BPA-free
Cool-touch exterior
Pop-open lid
Easy to clean
British Strix control technology
Cons
Prone to rusting
No temperature control
This 1-liter stainless steel electric kettle is perfect for college dorms, kitchen, and offices. Its powerful rapid-boil system heats the water quickly within minutes, making it ideal for preparing instant soups and hot chocolate. It is cord-free and has a concealed heating element that is compatible with a 120V power outlet. The auto-shutoff feature of this kettle prevents it from boiling dry and burning.
Specifications
Capacity: 1 liter
Wattage/Voltage: 1200 W
Pros
Rapid boil system
Cord-free serving
Automatic shutoff
Removable mesh filter
Easy-pour spout
Concealed heating
Anti-evaporation protection
Water level window
Cons
The water level window is right behind the handle.
Boiling water for hot chocolate, tea, oatmeal, soups, and pasta is now easy with this stylish electric kettle. It boils water faster than a microwave. It has a detachable cord for easy pouring, and the automatic shutoff feature turns the kettle off when not in use. It also has boil-dry protection and shuts off automatically when it runs out of water.
Specifications
Capacity: 1 liter
Wattage/Voltage:1000W
Pros
Detachable cord
Automatic shutoff
Boil-dry protection
Illuminated switch
Rapid boil system
Cons
Noisy
May smell like warm plastic.
This cute pistachio-colored electric kettle is quite handy. It has a smooth aluminum handle, and the body is made of brushed stainless steel. It has an LED indicator light and works quietly when it is switched on. The removable base allows you to transfer the kettle quickly. It comes with a removable limescale filter and is available in three different colors.
Specifications
Capacity: 1.25 liters
Wattage/Voltage: 1500 W
Pros
LED on/off
Removable base
Single-wall built
Stainless steel body
1-year limited warranty
1.5 ft power cable
Sturdy
Available in 3 colors
Cons
May not be easy to clean.
Before you pick one from the list, here are a few things you should check for in an electric kettle.
How To Pick The Best Electric Kettle
Size Of The Kettle: If you need water for just a cup of tea or coffee, do not buy a big electric kettle. It might take a lot of space in your kitchen. If you prepare hot beverages for a lot of people regularly, consider buying a big one.
Features Of The Kettle: Some electric kettles come with extra features like  automatic shutoff and preset drink settings. Choose based on features that you might need regularly.
Material Of The Electric Kettle: You will get kettles made of steel, glass, and plastic. Steel and glass kettles are heavier than the plastic ones. If you do not want a heavy kettle, opt for the plastic one.
Remember to clean your electric kettle once a month to avoid any mineral buildup on the base. You can either follow the manufacturer instructions on the package or follow the tips below.
How To Clean The Electric Kettle
Combine three parts water and one part vinegar. Pour this mixture into the kettle and boil. Switch off the electric kettle and let the water sit for 20 minutes. Rinse with fresh water, and you are done!
The electric kettle is a convenient way to boil water. It is one of the few kitchen gadgets that make your work easy. It prevents over boiling and is safe to use. Try it yourself, and you will love it.
Expert's Answers for Readers Questions
Is it OK to leave water in an electric kettle?
It is better not to do so. Empty the kettle and clean it; otherwise, it might speed up limescale formation.
Does electric kettle kill bacteria?
Boiling water kills bacteria, parasites, and other microorganisms in it. Make sure you bring the water to a rolling boil before using it.
Can we boil milk in an electric kettle?
It is not advisable unless the kettle is made for boiling milk. It might cause a short circuit.
Recommended Articles
The following two tabs change content below.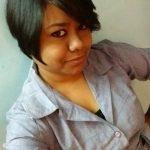 Latest posts by Ramona Sinha (see all)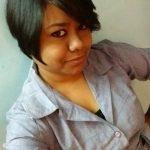 Ramona Sinha
Ramona is a journalist-turned-content writer. She holds a Master's degree in English Literature and has been writing for the digital world for over five years. She specializes in writing for Skin Care. She has done a certificate course titled 'Dermatology: Trip To The Skin', offered by Novosibirsk State University. She believes that beauty begins with a good skin care regimen and is on a mission to eliminate all toxins from her routine. She helps and guides readers in selecting products and ingredients specific to their skin type/issue. When Ramona is not working, her books and passion for music, good food, and traveling keep her busy.