10 Best Electric Knives – Reviews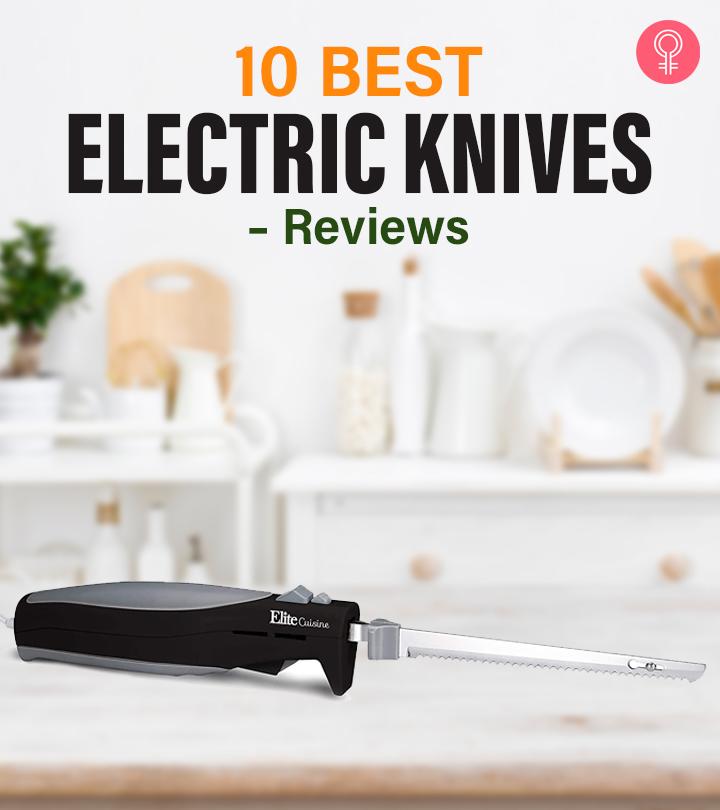 Electric knives were invented to make your life easier in every possible way. You just need to give the slightest amount of pressure to slice your foods. You do not have to swing them back and forth or worry if they would get blunt. In fact, you do not even need a cutting board.
Here, we have listed the top 10 electric knives available online. Take a look.
10 Best Electric Knives – Reviews
The Cuisinart Electric Knife is the best choice for beginners in the kitchen. It features a powerful motor and a full-size stainless steel blade that slices meat, bread, veggies, etc. within the blink of an eye. It acts with precision. It has an ergonomic non-slip handle that is comfortable for both right- and left-handers.
Its one-touch on/off control makes its operation efficient. Its blades can be removed easily and washed. This electric knife is dishwasher-safe as well. It is equipped with a 5-foot cord and can be easily plugged into any part of your house.
Specifications
Dimensions: 4.25 x 2.75 x 11.88 inches
Weight: 1.6 pounds
Warranty: 18 months (US and Canada only)
Batteries: Not required
Blade metal: Stainless steel
Pros
One-touch power button
Ergonomic handle
Dishwasher-safe
Removable blades
Non-slip handle
Ergonomic handle
Cons
Motor may get heated with use
The Nutrichef Electric Knife features a convenient safety lock so that you do not mishandle the product. It comes with a classy handcrafted premium hardwood butcher block that can keep the blades in place. Its ergonomically designed handle makes it effortless to use. You can carve up roasts, turkey, and ham perfectly. This electric knife has a 120 V power supply. You also get two blades made of 420 stainless steel for meat carving and bread slicing. The knife's extended cord allows maximum flexibility.
Specifications
Dimensions: 11.61 x 4.21 x 3.19 inches
Weight: 2.44 pounds
Warranty: Not mentioned
Batteries: Not required
Blade metal: Stainless steel
Pros
Easy to clean
Ergonomic handle
Affordable
Elegant butcher block included
Durable
Extended cord for maximum flexibility
Cons
The Hamilton Beach Electric Knife lets you make precise slices with minimal effort. This robust 100-watt electric knife runs for a long time and is reliable. You can do everything with this electric knife – starting from slicing meat to loaves of bread to cutting foam and your DIY projects. It is designed beautifully for a comfortable hold and usage.
It comes with a pronged fork that is handy for carving and serving. Its stainless steel blade with a thick coating never needs sharpening. The blade is also detachable for quick cleaning. It comes with a protective casing for storage that also saves space.
Specifications
Dimensions: 11.8 x 3.1 x 5.8 inches
Weight: 1.5 pounds
Warranty: 1 year (US and Canada)
Batteries: Not required
Blade metal: Stainless Steel
Pros
Storage case included
Durable blade
Affordable
Fork included
Cons
This electric knife has an elementary setting and is an ideal gadget for freshers. It has a one-touch button for power on/off. Its reciprocating edges are serrated and made of high-quality stainless steel, which gives you precision control to cut quickly and evenly. Its ergonomic hold is very comfortable. The electric knife is lightweight, and you can seamlessly use it for extended periods. Its extra-long 60-inch cord gives extra reach for carving ham, turkey, bread, and tomatoes.
Specifications
Dimensions: 11.3 x 3.8 x 2.6 inches
Weight: 1.5 pounds
Warranty: 1 year
Batteries: Not required
Blade metal: Stainless steel
Pros
Easy-grip
Easy to clean
One-touch button
Lightweight
Cons
The Toastmaster Electric Knife features a one-button power on/off that enables the user to get the most out of it. Its design is slightly different from others – its handle is D-shaped, which offers better stability while working. The serrated stainless steel blades are very easily removable and can be ejected just by one press. They can be cleaned conveniently. The blades are 7 ½ inches long, and the cord is of standard measurement for easy reach. The electric knife is durable and affordable.
Specifications
Dimensions: 10.9 x 4.7 x 3.6 inches
Weight: 2.05 pounds
Battery: Not required
Warranty: Not mentioned
Blade metal: Stainless steel
Pros
Easy ejection button
Ergonomic handle
Durable
Cons
The American Angler PRO Electric Fillet Knife is best assorted for filleting variously sized fish. The high power PRO Series motor boasts two times more torque than any other blade. This electric knife allows one cut through tough flesh and prominent bone with utmost ease. This can be used without any overheating since the machine is designed to work for longer hours with its advanced airflow design (which is dedicated to cool the machine if it overheats).
The EFK PRO series handset is compatible with five different number of blades – 10″ Saltwater Blade, 5.5″ Curved Tip Blade, 8″ Curved Tip Blade, 10″ Heavy Duty Shark Blade, and 8″ Heavy Duty Shark Blade.
The equipped power cord is 8 feet long. It is available with a storage case that also includes a protective hand glove.
Specifications
Dimensions: 14 x 5.5 x 3.75 inches
Weight: 3 pounds
Warranty: 2 years
Batteries: Not required
Blade metal: Stainless steel
Pros
Five detachable blades
Airflow design avoids overheating
Extra-long power cord
Durable
Easy to clean
Sturdy
Cons
The Elite Serrated Electric Knife is suitable for beginners as well. The blades are easy to remove with a convenient eject button. Its cleaning is also swift and painless. The package includes two serrated stainless steel blades that are sleek and allow precision slicing. You can even get perfect cheese slices and make them as thick or thin as you want with your bread.
Specifications
Dimensions: 2.5 x 4 x 11.5 inches
Weight: 1.5 pounds
Batteries: Not required
Warranty: 1 year
Blade metal: Stainless steel
Pros
Lightweight
Two serrated blades
Ejection button
Ergonomic handle
Easy to use
Cons
The Waring Commercial Cordless Electric Knife is ideal for professional kitchens and catering. The batteries allow you to carry the electric carver to spots without a power supply. Its cordless design offers greater flexibility. The knife runs on a lithium-ion battery pack. It charges quickly and lasts long.
Its inbuilt integrated LED light improves visibility in low-lit areas. Its ergonomic handle provides sturdiness. This electric knife features a heavy-duty DC motor and two detachable blades (a bread blade and a meat blade). The knife and blades come assembled in a heavy-duty storage box. The power switch is equipped with a safety lock to avoid accidents.
Specifications
Dimensions: 13.13 x 2.88 x 10.25 inches
Weight: 3.75 pounds
Batteries: Inbuilt battery
Warranty: Not mentioned
Blade metal: Stainless steel
Pros
Wireless design
Adjustable slicing guide
Durable
Safety lock
Ergonomic handle
Durable
Long-lasting battery
Cons
The VonShef Electric Knife is known for its unique build. Its handle is projected upwards and gives away no sensation of the running motor. The knife provides an excellent grip. The electric carver makes the least amount of noise. Its vibrations are minimum to ensure your cuts are neat and steady.
The knife comes with two serrated stainless steel blades. While the first can be used for slicing light objects like veggies and fruits, you can use the second to slice raw meat precisely. The blades are removable and dishwasher-safe. The knife is equipped with a dual safety trigger to avoid accidents. It comes with a storage case.
Specifications
Dimensions: 12.1 x 6.9 x 3.7 inches
Weight: 3.19 pounds
Batteries: Not required
Warranty: Not mentioned
Blade metal: Stainless steel
Pros
Affordable
Ergonomic handle
Low noise
Low vibration
Dual safety trigger
Storage case
Dishwasher-safe
Easy to assemble
Cons
The Nutrichef Electric Knife has removable blades and a stain-resistant housing. It is the best option to slice your turkey, pork, chicken, steak, cheese, or toast. It has a simple plug-in design. It includes a 120V 3.4-foot power cord. It can be controlled with the touch of a button.
The electric knife is lightweight and ergonomic. It offers an easy grip and reduces the risk of an accident.
Specifications
Dimensions: 17.5 x 5.5 x 2.5 inches
Weight: 1 pound
Batteries: Not required
Warranty: Not mentioned
Blade metal: Stainless steel
Pros
Removable blades
Stain-resistant housing
Easy grip
One-touch function
Lightweight
Ergonomic design
Cons
These are the top 10 electric knives available online. The following buying guide can help you make a better purchase decision.
What To Consider Before Buying The Best Electric Knife
Cordless Vs. Corded: Cordless models are equipped with dry cell or chargeable batteries, while corded models have a cord that fits into the standard electrical plug and 110 V. The corded electric knife offers consistent performance, though its cable can be a limitation. The cordless knife is portable and can be carried anywhere; though its motor performance may not be as powerful as its counterpart.
Construction: The electrical knife should be weight balanced since the motor is streamlined in the handle. The handle should be ergonomically designed for a comfortable grip. The speed control is another important feature that should not be ignored.
Price: An electric knife with a single blade and motor ranges between $15 and $40. A double-blade knife ranges from $45 to $70 and comes with additional features. A high-end unit costs as much as $175 and comes with extra blades. Choose your pick wisely.
Safety Features: Always look for an electrical knife with a blade-locking mechanism that holds the reciprocating blade securely when not in use. Certain knives offer a power button that automatically shuts off if the user loses control over the knife.
Blade Type: Check the blade type before the purchase. Most knives offer serrated blades made of stainless steel that are quite efficient. They also offer added strength. Such blades are easily removable and easy to maintain. Their ideal length is between 8 to 9 inches.
Durability: Do check the material an electric knife is made of. Stainless steel blades are lightweight, durable, and rustproof. Do check the toughness of the blades too.
Precautions To Take When Using An Electric Knife
Apart from being an excellent gadget, there is no denying that an electric knife must be operated with care. Keep the following points in mind:
The blades should always be pointed away from your hands and body.
Always buy an electric knife that has a safety lock.
New blades are incredibly sharp and should be treated with care.
The blades should be dried thoroughly before use.
How To Use An Electric Knife?
The board should be placed on a stiff and stable surface. Try not to move a lot while handling the electric carver.
Press the knife gently.
The blades of the knife will move back and forth. All you have to do is gently hold the knife in position.
Consult the manual before experimenting. Do not try to cut through the bones if not mentioned in the manual.
Avoid using your fingers for holding the meat or bread in place. Always use a fork to avoid any mishap.
Advantages Of An Electric Knife Over A Traditional Knife
If you like to carve up your own meat, slice your salami, cheese, and bread, you must switch to an electric knife. Sit back and watch your process getting so much better and faster. Traditional knives take up a lot of effort and time. Whereas with electric knives, slicing your food is quicker.
Conclusion
Slicing foods in the kitchen can get cumbersome. Moving a knife back and forth can become too much of an effort. But with an electric knife, you can relax and enjoy the process. We believe this article has given you enough information to make an informed decision. Make your purchase today!
Frequently Asked Questions
Can I buy a replacement blade for my electric knife or should I get a sharpener?
Buying a replacement blade may sound better. However, it is recommended to get a sharpener as it is a cheaper alternative. Most electric knives come as a pack of two blades. If you buy one sharpener, you will have two or more new sharpened blades handy.
Recommended Articles