15 Best Electric Nail Files & Drills For A Perfect Manicure At Home
No more salon visits for a manicure because these nail files are here to rescue you.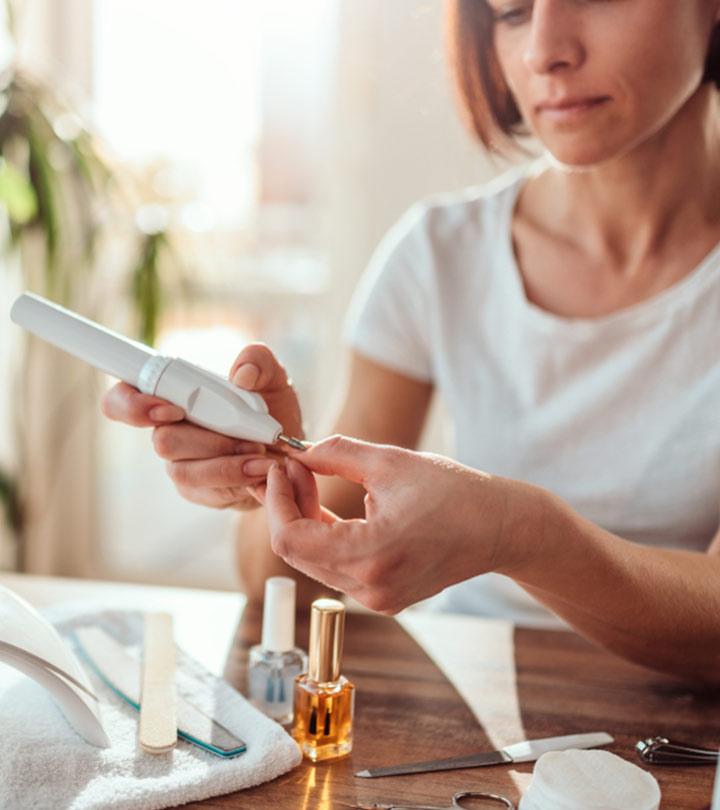 Our busy schedules leave us little time to visit the salon for a perfect manicure. That's where the best electric nail files come in handy. These devices help you maintain your fingernails and toenails from the comforts of your home. They are ergonomically designed for user's convenience and serve as cost-effective alternatives to salons and professional manicures.
You can easily clean, shape, and buff your nails with these electric nail files while relaxing on your couch or binging your favorite web series. Wondering which are the best and professional-quality nail files? Sit back and browse through our list to discover the best-rated products available in the market. Getting beautiful nails was never easier. So, what are you waiting for? Without further ado, let us look at these 15 best electric nail files and drills of 2023 that will leave you content and your nails clean and shiny after every use.
15 Best Electric Nail Files And Drills Of 2023 (Reviews)
If you are looking for a truly affordable nail drill, which will provide salon-quality results without burning a hole in your pocket, you should consider investing in this six-piece electric nail drill by MelodySusie. The set includes 6 different metal bits and 6 sanding bands, which are used to carve, cut, and polish your nails as well as remove excess cuticles. This product comes with a powerful yet quiet motor and smart heat dissipation that prevents overheating. With its adjustable speed settings, you will be able to customize it to your needs. This tool is compact and lightweight, which makes it easy to carry around. Now, you can groom your nails anytime and anywhere you want!
Pros
Easy to use
Does not overheat
Portable
Low-noise
Convenient to use for left-handers
Includes extra 100 pieces of sanding bands
Cons
Not recommended to be used for more than 20 minutes each time
Price at the time of publication: $25.99
Take your home manicure and pedicure skills to a whole new level with this electric nail drill machine by Cadrim. This nail drill is made of high quality metal, which makes it durable. It comes with six drill bits, which helps you get a professional-level manicure and pedicure while you are Netflix and chilling! The kit also includes 6 sanding bags, a nail machine, a handle, and a handle holder. You might think that using an electric nail drill machine is more complicated than your average nail file, but this kit comes with a detailed user manual, so you have nothing to worry about. All you at-home manicurists will love the endless possibilities with this tool – including carving, engraving, routing, sharpening, sanding and polishing your nails. The best part is it is suitable for acrylic nails as well!
Pros
Easy to operate
Suitable for pedicures and manicures
Low vibration design provides comfortable grip
Suitable for natural and acrylic nails
Cons
Price at the time of publication: $21.95
Switching between tools while doing a seamless job on your nails is easy when you have a Makartt Nail Drill Machine! With the speed signal visible on the motor, you can easily adjust the speed levels according to your preference. Additionally, it includes a foot pedal function, in case your hands are busy. Simply choose a mode to suit your convenience. This kit helps you remove extra cuticles, cut, sharpen, and buff nails in a matter of minutes, while also polishing acrylic nails and removing nail gels.
Pros
Low noise and vibration-free motor
Ventilated to prevent heating
Suitable for both left and right-handed people
Adjustable speed from 0-30000 RPM
Can be used for natural and artificial nails
Cons
Machine works only for a brief period of time
Price at the time of publication: $72.99
One reason you will want to consider this product is due to its versatility. It comes with 10 stainless steel attachments, which have been coated with sapphire and felt for fantastic performance and durability. To add to its versatility, you will notice that it has an 18-speed setting, which is adjustable based on your liking. It is equipped with an LED light feature that highlights every part of the nail for a precise finish. Along with all these great features, it comes with a premium carrying case in which both the device and attachments can easily be stored. It also features 10 sanding bands, a cord and a dust protector. The sanding bands can be replaced.
Pros
24-piece set
In-built LED light
Easy to adjust 18-speed setting
Comes with a dust protector
Convenient to store and travel-friendly
Can be rotated clockwise and counterclockwise
Cons
Some parts may not fit properly
Price at the time of publication: $49.99
Manicuring and pedicuring at home or while travelling has never been this easy! With the help of this manicure and pedicure system, you can remove excess cuticles or calluses, smooth dead skin, file, buff, shine, and shape your nails without having to go to the salon. this battery toenail file is easy to operate and works on any kind of nails; be it natural or acrylic. The ergonomic and cordless design together with its compact feature makes it a travel-friendly equipment. With a built-in UV dryer, you can dry the nail polish faster. So, no more worries about getting your nail polish smudged!
Pros
5 interchangeable attachments
Battery operated (2 AAA)
Low noise
Portable
Built-in UV dryer
Cons
Batteries not included
It runs slow
Price at the time of publication: $19.99
This portable e-file is a budget-friendly bargain! It is crafted by AIRSEE, a trusted name in health and beauty care, especially in the area of nail art. With this nail drill set you will have access to a high-tech speed bearing and motor, which has low noise and vibration, and efficient heat dissipation. Made of high-quality metal, this lightweight and compact machine comprises 11 drill bits and 56 pieces of sanding bands. Also, this e-file works in forward and reverse direction, which means that it's suitable for those who are right-handed and left-handed. It is an excellent choice for both natural and acrylic nails.
Pros
Easy to use and portable
Removes gel nail polish
6-month Warranty
Adjustable speed
Affordable
Cons
Price at the time of publication: $23.99
With MelodySusie Scarlet electric nail filer machine comes all the tools and accessories that you need to turn your nails into a work of art. This machine operates at a speed up to 30,000 RPM and comes with an adjustable speed setting. It is enabled with a twist and lock system, which allows you to change nail drill bits easily and quickly. It also locks the bits into place, making sure you do not have a bad experience while doing your nails. The body is made from high quality aluminum alloy, the set includes a foot pedal, six drill bits and sanding bands, and a user manual. This machine is known for its high speed, low noise and low vibration qualities.
Pros
Lightweight and durable
Speed control is variable
Does not create much heat
The pedal allows you to control the drill with your foot
Suitable for right and left-handed people
Ideal for natural nails, acrylics, polygel gel and dip powder nails
Includes six bit holders
Cons
A slight movement can unplug the machine easily
Price at the time of publication: $59.99
Are you looking to get a professional mani-pedi, at home? Look no further as the Pure Enrichment PureNails Professional Manicure & Pedicure Set gives you just that! With a two-speed setting, you remain in control of which setting you want to use depending on your requirement. While the lowest setting is used on natural nails and to treat cuticles, the highest setting can be used to groom acrylic nails and smooth out calluses. Plus, it comes with seven interchangeable attachments that are made of sapphire-coated metal. It is an excellent option for those who like to carry nail drill sets wherever they go, because it includes a soft, vinyl zipper case which has enough space to include the electric toenail filer drill, all the attachments and an AC adapter.
Pros
Durable
Integrated LED light for precision
Long-reaching AC adapter
Convenient to store and portable
Bi-directional rotation
Cons
Cannot be used to buff your nails
Price at the time of publication: $59.99
Bestidy Electric Nail Drill Kit has all the right tools necessary to get your hands and feet in tip-top shape. Six different drills, 30 pieces of fine sanding bands, USB power cord and the nail drill, all work together to help you achieve perfectly manicured nails. This sleek-looking device will grind, file and shape any nails, be it natural or acrylic. The highly efficient powerful motor has an adjustable speed setting that can go upto 20,000 RPM, which works well to trim cuticles, eliminate calluses and remove gel nail polish. The body of the nail drill is made of high-quality aluminum alloy, which has the ability to keep the device from overheating. To add to this, the device is compact, lightweight, easy to handle and portable, hence it is a buy electric nail file.
Pros
USB interface allows you to plug in anywhere you want
Multi-functional
Travel-friendly
Low heat and less vibration
Forward and reverse rotation control
Cons
Using the drill for more than 30 minutes at a time may lead to overheating
Price at the time of publication: $16.99
With four multipurpose discs, this nail file set offers different functions of shaping, shining, buffing, and smoothing your nails. It is ideal for giving you salon-style manicures and pedicures in the comfort of your home. The patented oscillating head provides back and forth movement, ensuring effective grooming with less friction and heat. This lightweight and portable set is rechargeable and offers two-speed settings. It also speeds up recovery caused by acrylic and gel nail damage. Additionally, it comes with a USB charger, a storage cradle, and a user manual.
Pros
 Two-speed settings
 4-in-1 function
 Rechargeable
 Lightweight
 Ergonomic design
 Suitable for gel and acrylic nails
Cons
 The round disc heads are not effective on curved nails
Price at the time of publication: $79.95
With six interchangeable easy-to-change metal bits and sanding bands, this pen shape electric nail drill will take care of all of your nail care needs. It works effectively to shape and buff nails, remove excess cuticles, clean up calluses, and flatten and smooth extra thick nails. It utilizes an electric cord that is long-reaching and gives you the ability to adjust the speed setting according to the function of the tool. The lightweight and compact design makes it an excellent choice to carry around.
Pros
Adjustable speed setting
Suitable for natural and artificial nails
Easy to carry around
Low noise and vibration
Cons
Protective eyewear or a dust mask is a must to keep dust out of eyes and lungs
Tools may not lock in properly
Price at the time of publication: $14.99
The TOUCHBeauty 6in1 Electric Nail File Drill Set comes with a heavy duty motor, torque, and flexible 360-degrees clockwise and counterclockwise movement capability. The product also comes in a premium magnetic case. It includes 6 bit replaceable attachments made from durable sapphire. The machine can work at a stretch for 60 mins after it has been completely charged for 3.5 hours. It comes with a rechargeable battery with C-Type charger for convenience.
Pros
Progressive 8-speed motor
Lightweight
Portable
Premium magnetic carrying case
Cons
Price at the time of publication: $29.98
Whether you are a professional nail care artist or a newcomer in this field, you ought to have this rechargeable manicure set. Though the pricing leans towards the higher side, it is going to be worth every penny you spend! It is reliable and comfortable, and can be used to do all kinds of nail work – remove dead skin, cut, file, drill and polish your finger and toe nails, and additionally can be used for sanding your pet's nail. You can rotate it forward and backward, adjust the speed setting based on your convenience and quickly yet smoothly change the grinding head, thanks to its twist lock chuck technique. It is rechargeable, cordless, and has an LCD panel which displays the speed setting and the percentage of the battery remaining. This instrument can run for upto 10 hours without a cord after being charged for just two hours.
Pros
6-piece interchangeable metal bits
Produces low noise and vibration
Powerful enough for natural, acrylic, gel polish and dip powder nails
Made of high quality aluminum alloy
Durable and portable design
Suitable for right-handers and left-handers
Equipped with a wearable hook
Cons
Price at the time of publication: $58.39
The COSLUS Cordless Nail Drill Electric File is lightweight, cordless, and travel-friendly. The product has a heavy motor which enables the user to perform all kinds of manicures. The filer moves both clockwise and counterclockwise with a high speed. The product has 6 hours of battery life with a fast charging battery. The product comes with 11 bits, including 6 metal bits and 5 wool and ceramic bits. It is a multifunction all-in-one nail kit that gives its user a salon-like experience.
Pros
Ergonomic design
Lightweight
Portable
Low noise settings
Best for acrylic or gel nails
Cons
Price at the time of publication: $24.99
If you are looking for a simple yet effective nail file and are not worried about its higher price range, consider this Pedinova nail file by Medicool. It is ideally used for trimming and shaping both fingernails and toenails, and to also smoothen rough skin and calluses. The small and large cones, and disc are made of long-lasting diamonds, so it comes as no surprise as to why it's priced exbortinantly. This 12-piece tool has a powerful and high performance variable speed setting, which makes this set convenient to use.
Pros
Few tools are made of long-lasting diamonds
Speed can be controlled manually (motor speed is variable)
12 interchangeable pieces
Compact and portable
Lightweight
Comes with a travel case
Cons
Price at the time of publication: $114.99
Give your DIY manicure an upgrade with the addition of electric nail files and drills for a perfect manicure. They are super powerful and strong enough to remove acrylic nails, gel polish, trim cuticles, buff hard calluses, and even cut and shape the hardest of nails.
Though nail drills pull up the level of your at-home mani/pedi, there are some important things to consider before you choose your electric nail file and drill.
How To Choose The Best Electric Nail File And Drill Machine
1. Types Of Nail Drills
There are two types of Nail Drill machines:
Cordless Nail Drills: These are equipped with rechargeable batteries that can last for two to ten hours. They are travel-friendly and portable. These are less powerful and more suitable for beginners.
Corded Nail Drills: These are wired and need to be connected to a power supply constantly. As they work on a direct power source they are more powerful which makes them suitable for professional use..
2. Speed And Settings
The faster the rotations on the drill, the more powerful the tool. Most nail drills have a power between 10,000-30,000 RPM. You need a higher power for acrylic nails while for natural nails a lower power is more suitable. It is best to choose a machine that has variable speed settings so it can be adjusted to suit your requirements.
3. Number Of Attachments
A device with multiple attachments offers versatile options. Look for tools that have heads suitable for buffing, grinding, sanding, sharpening, polishing, trimming, and removing extension gels and dead cells. Since drill bits can wear out with use and over time, ensure that the drill accepts universal replacements.
4. Design
Choose a lightweight device with an ergonomic design so that it is comfortable to hold. Also, check that the machine does not heat-up, vibrate, or make a loud noise during operation. Pick tools with ventilation vents to prevent overheating along with an auto cut-off function. Invest in portable, cordless tools if you travel frequently or want an effortless experience.
In the next section, we will understand how to use these tools.
How To Use An Electric Nail File On Natural Nails
Electric nail files and drills make manicure and pedicure services like filing and shaping your nails easier and quicker. We believe all of you are familiar with individual nail files and cuticle trimmers, which need to be used manually. Electric nail files and drills are the same, except that they are automated and do the hard work for you. Now, let's see how to use these convenient tools:
Before you begin to shape and buff your nails, it is important to remove dead skin and push back the cuticle. Always use a slow speed setting to do this, otherwise, you could damage the surface of your nails.
Now, file your nails by holding the tool in a horizontal position. This will ensure you have a steady grip. Move the instrument from one side to the other in a circular motion to remove dead skin and file it down. Remember to keep your speed setting at medium for this step, which is anywhere between 2,500 to 6,000 RPM (revolutions per minute). Using a sanding band for this will give great results.
The next step is to buff your nails using a cotton buffer and buffing cream. Simply run the buffer on the surface of your nails, which will provide your nails a shiny look. Once done, massage your nails using a cuticle oil for smoother and healthier nails.
Once you become more comfortable and have understood what each nail drill does, you can begin to experiment with various techniques like backfills, finishing nails, and preparing for a full set.
The sky's the limit when it comes to the versatility of an electric nail file and drill. It is a tool that's not only preferred by salon experts but has become a favorite among home users as well. When you can get professional salon-like nails sitting on your couch, who wouldn't love it?. With the abundance of these machines in the market, it could be challenging to find the right one. We hope we have made your job a little easier by putting together this list of the 15 best electric nail files and drills. Which is your favorite product from the list? Would you like to share a few manicure and pedicure tips that have worked for you? We would love to read them in the comments!
Why Trust StyleCraze?
Chaitra Krishnan, the author of this article, is a makeup fanatic who loves to keep up with the latest trends in the beauty industry and review makeup products. Her strong knowledge of makeup trends and products helped her provide a well-researched article on the best electric nail files and drills. These devices help you maintain your nails in the comfort of your home. Moreover, they are designed for user convenience and serve as cost-effective alternatives to salons and professional manicures.
Frequently Asked Questions
Are electric nail files bad for your nails?
You might have heard the phrase 'two sides of a coin'. Similarly, there are some who are against electric file and there are others who can't stop raving about its ease of use. Going by the majority of positive reviews and the endless number of electric nail files available in the market, we can say they are not bad for your nails. Actually, e-nail files perform better at filing, shaping, and buffing your nails because they work faster and are convenient. A word of caution – don't use a high speed setting unless required for that particular tool, and never ever apply too much pressure on your nails or else you can damage yours nails beyond repair.
Can you use a nail drill on natural nails?
Nail drills are not recommended to be used on natural nails. Natural nails are soft and delicate. Unless used carefully and softly a nail drill can cause pain in your nails. Most nail artists prefer to use it on hard acrylic nails.
Can you use an electric nail file on gel nails?
Yes. You can use an electric nail file to remove polish from gel nails by adding little to no pressure. You can later use a brush to dust the residue.
Are electric nail files for thick toenails safe?
Yes, an electric nail file is absolutely safe for thick toenails. However, follow the instructions on the manual and use the product the right way to prevent any nail damage.
Do electric nail files damage nails?
No, an electric nail file will not damage the nails, provided you use it the right way. Only incorrect use of the tool can damage the nails.
Recommended Articles