7 Best Electric Toothbrushes For Braces As Per Reviews – 2023
Experience the enhanced ease of dental hygiene with these easy-to-use tools.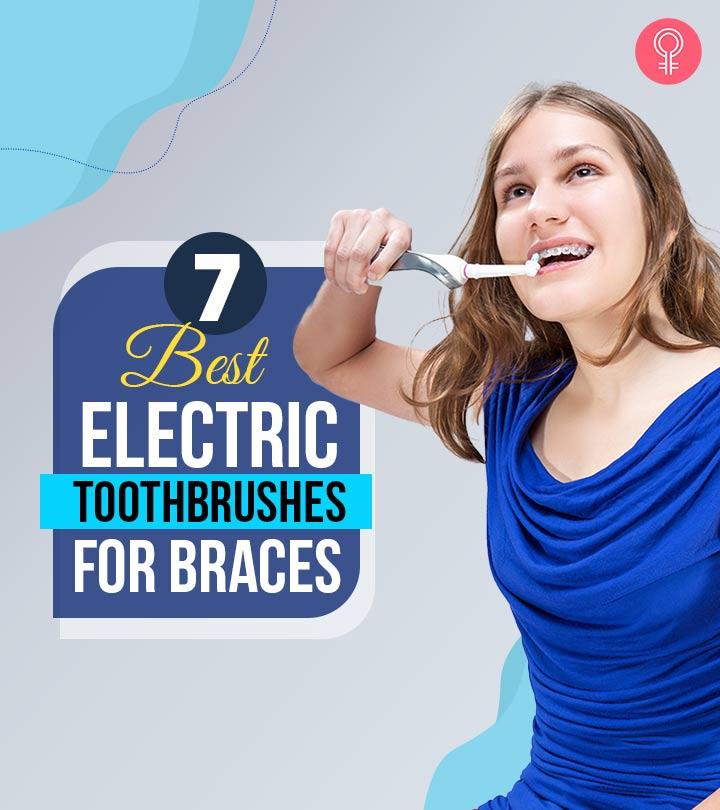 Brushing your teeth and maintaining oral hygiene while wearing braces is a real struggle. This is where the best electric toothbrush for braces can help you. An electric toothbrush specially designed for braces provides you the ease of efficient cleaning within a decent time. It allows automatic bristle movement to clean the teeth and offers faster and better quality brushing of every corner of your mouth while protecting your braces.
A good-quality electric toothbrush features pressure control technology that prevents damage or breakage of braces. So, if you have braces or are planning to get them, take a look at our list of the top 7 electric toothbrushes for braces available online. This article discusses the essential features of the best electric toothbrush for braces and guides you to make the right choice as per your dental requirements.
7 Best Electric Toothbrushes For Braces As Per Reviews
Pros
2-week battery life
Offers gum protection
Curved power tip
Quadpacer
Pressure sensor technology
Brush head replacement reminder
Cons
None
The Oral-B Smart 1500 Electric Toothbrush improves gum health and protects your braces while brushing. The 3D cleaning technology ensures that your mouth is thoroughly cleaned without damaging the gums, enamel, and braces. The pressure sensor automatically stops brushing if it gets too hard on the gums. The criss-cross bristle action surrounds the teeth and allows thorough cleaning. This electric toothbrush is clinically proven to provide superior cleaning compared to any manual toothbrush. It oscillates, rotates, and pulsates to remove plaque and prevent gingivitis. The lithium-ion battery lasts 14 days between charges, and the built-in 2-minute timer alerts you every two seconds to switch your mouth areas. To learn more about the product, please watch this honest video review.
Pros
Dentist recommended
3D cleaning technology
Criss-cross bristle action
Built-in 2-minute  timer
14-day battery life
Prevents gingivitis
Removes plaque
Cons
None
Price at the time of publication: $79.99
This kit comes with an electric brush, a charger, a case, and a refill brush head that lasts up to six months. It is equipped with Bluetooth connectivity, and the brush guides you on how to brush and clean your teeth better. This electric toothbrush allows you to choose the vibration that suits your preferences. You may opt for sensitive cleaning, deep cleaning, or regular cleaning. The battery life is up to ten days, and Amazon Alexa informs you whenever you need a replacement toothbrush head.
This sonic toothbrush targets your mouth areas where you need extra care and attention. It comes with a 2-minute timer that reminds you to stop brushing beyond the recommended time. This product features an ergonomic handle that offers a comfortable and firm grip without being slippery when wet. The floss-tip bristles are gentle on your gum line, and the compact brush head design easily cleans the hard-to-reach areas. The rubber cups offer a polished finish to your teeth, and the tongue cleaner keeps your mouth fresh.
Pros
Comes with a refill brush head
2-minute timer
Ergonomic handle
Adjustable vibrations
Floss-tip bristles
Compact brush head design
Durable
Cons
None
Price at the time of publication: $45.48
The Phylian Sonic Electric Toothbrush is equipped with a smart 2-minute built-in timer, and the battery life is up to 60 days. The 40,000 vibrations per minute remove plaque, prevent cavities, and improve oral health. This portable and travel-friendly toothbrush delivers exceptional performance. You can customize your cleaning modes such as the sensitive mode for beginners to protect the gums, the cleaning mode for daily dental care, the whitening mode for weekly clean-ups, the polishing mode for brighter teeth, and the massaging mode to strengthen your teeth.
This sonic electric toothbrush comes with eight Dupont brush heads which may be enough for two years. It alerts you every 30 seconds to change the brushing area. The IPX7 waterproof body makes this product shower-friendly, and you can rinse your toothbrush easily. This rotating toothbrush features W-shape bristles that fit the shape of the teeth and clean hard-to-reach areas to reduce stains and freshen the breath.
Pros
2-minute built-in timer
40,000 vibrations per minute
Waterproof body
Offers gum protection
Long-lasting battery life
Portable
Reduces stain
Prevents cavities
Removes plaque
Cons
None
The Triple Bristle Sonic Toothbrush features a three-sided brush head with 31,000 sonic vibrations per minute that reduce the duration of brushing to one-third of its actual time. It actively helps reduce gum pain, bleeding, and the development of plaque. The blue indicator bristles slowly turn white to remind you of the time to replace your brush head. The handle is equipped with a charging indicator that reflects the time to recharge your toothbrush. This electric toothbrush comes with pressure control sensor technology that performs deep cleaning while protecting the gums and braces. It features three cleaning modes – clean, soft, and massage that help remove stains, whiten the teeth, and freshen the breath. This electric toothbrush kit for braces includes dental floss that offers you a healthy mouth and a faster brushing experience.
Pros
Triple head design
1-year warranty
Soft-angled bristles
Dentist approved
31,000 sonic vibrations per minute
Pressure control sensor technology
Comes with dental floss
Cons
None
Price at the time of publication: $69.97
The Dsnly Electric Toothbrush is a travel-friendly option that works efficiently for people with braces. The upgraded micro brush with 40,000 sonic vibrations per minute offers intense cleaning and removes 100% plaque. This electric toothbrush helps whiten the teeth, improves oral health, and thoroughly cleanses the mouth. It is equipped with five brushing modes that you can choose from according to your cleaning needs and teeth condition. The white mode is for stain removal, the clean mode for daily cleaning, the sensitive mode for beginners and sensitive teeth, the polish mode for brightening the teeth, and the massage mode for gentle gum care.
This waterproof device is washable and can be used in the shower. It features two minutes built-in timer that enables you to achieve brushing your teeth within the dentist's recommended time. This electric toothbrush pauses every 30 seconds to inform you when to change the brushing area for effective cleaning. The blue bristles turn white to indicate that the brush heads need to be replaced. The W-shaped Dupont bristles and small brush heads easily reach deep between the teeth for a thorough cleaning, and the rounded bristles protect your gums.
Pros
Waterproof body
2-minute built-in timer
Includes three replacement brush heads
USB fast charging
Five brushing modes
40,000 sonic vibrations per minute
30-day battery life
Travel-friendly
Cons
None
Price at the time of publication: $19.99
Pros
High-quality material
Long-lasting
Portable
Cons
None
Price at the time of publication: $69.99
Learning more about your personal needs is important before choosing an electric toothbrush for braces. So, check out the tips listed below to make the right choice.
Choosing The Right Toothbrush For Braces
Pressure Control Technology: You must check the electric toothbrush's pressure control features. It should be flexible and adjustable to your dental needs and problem areas. This will prevent your braces from getting damaged and also protect your gums.
Oscillating-Rotating Power: The rotating power of an electric toothbrush will ensure the job is done well and at a fast rate. The number of oscillations per minute can help you understand how efficient its cleaning process is and how much time it will take to finish the brushing process.
Daily Clean Mode: Ensure that the daily cleaning mode of the electric toothbrush is smooth and braces-friendly. It should offer the right amount of pressure and oscillations to brush your teeth at a fast pace.
Brush Head Type: When buying an electric toothbrush, you will come across different brush heads. However, ensure to choose a brush head that suits your requirement and is compatible with braces.
Timer: Always check how well the timer of the electric toothbrush works. It should be accurate enough to ensure that your cleaning happens within the recommended time. Sometimes, brushing can take too long when you have braces; therefore, a smart timer will ensure you are not going overboard and cleaning your teeth efficiently in a limited period.
Learning the right way to use an electric toothbrush for braces is as essential as choosing the right brush. We have discussed the steps in the next section to make the brushing process a breeze when you have braces.
How To Use An Electric Toothbrush With Braces
Ensure to rinse your mouth before you begin brushing your teeth.
Make the bristle soft and wet by keeping it under running water for a few seconds.
Apply the toothpaste recommended by your dentist to the brush.
Clean each part of your mouth slowly and carefully with the electric toothbrush. Make sure that you hold it upright in a way that does not damage your braces. It is always best to stand and brush in front of a mirror.
Brush the parts between the braces, and do not add too much pressure on the mounts and wire.
Clean your tongue, followed by flossing your teeth and braces before you rinse your mouth.
Here are some tips to keep in mind while cleaning and looking after your teeth with braces.
Key Tips For Looking After Teeth With Braces
Use suitable toothpaste and rinse your mouth well.
Brush every corner of your teeth to remove stains and food particles. Also, ensure to floss your teeth regularly.
Use an oral irrigator to maintain the cleanliness of your teeth and braces.
Keep a check on your diet. Certain foods such as sour candies, alcohol, carbonated drinks, and packaged chips may harm your dental health. Therefore, you must avoid them completely.
Choosing the best electric toothbrush for braces can be highly beneficial for effectively cleansing and whitening the teeth. These toothbrushes reduce the time you spend brushing your teeth to avoid damaging the braces. Most electric toothbrushes are equipped with smart features that guide you to brush better while keeping your braces intact. The teeth whitening feature of these brushes ensures that your teeth do not appear yellow, stained, or dull due to braces. So, check out the electric brushes mentioned above to manage your time better and protect your braces while deep cleaning every corner of your mouth.
Why Trust StyleCraze?
Aditi Naskar, the writer of this post, is a health and fitness enthusiast. She ensures to deliver research-driven content after collecting information from several product reviews and e-commerce websites. She curated the list of best electric toothbrushes for braces from expert-reviewed recommendations to make brushing and cleaning the mouth effortless while having your braces on. She has also suggested a buying guide that will help you understand the kind of product you need as per your requirements.
Frequently Asked Questions
Can you use an electric toothbrush with fixed braces?
Yes. Electric toothbrushes can be used with all kinds of braces. They help clean the wiring parts without damaging the braces.
How fast does an electric toothbrush spin?
An electric toothbrush can make up to 8,800 strokes in a minute. The speed may vary, ranging from brand to brand. However, it reduces the cleaning time more than a manual toothbrush.
How often should I change my brush head?
Changing the brush head every 12 weeks is always good to avoid using worn-out bristles.
What can you do with a smartphone-compatible toothbrush?
A smartphone-compatible toothbrush tells you how to position the toothbrush and the speed required. It also provides you with a hygiene report in the end and simple tips to improve.