7 Best Electric Toothbrushes Available In India – Buying Guide
Upgrade your oral care routine with appliances that are worth every penny.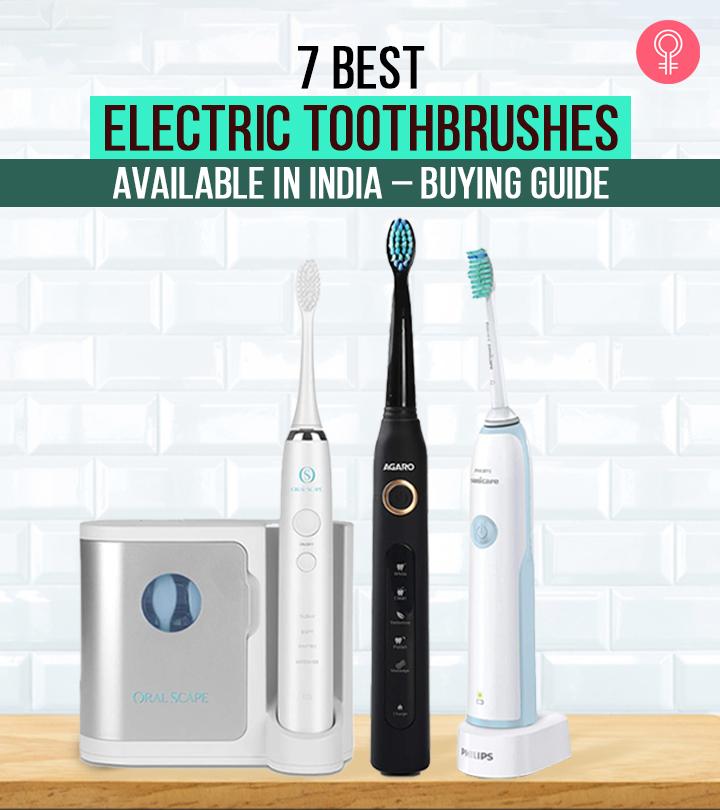 Clean teeth and fresh breath create beautiful smiles. Brushing your teeth regularly and correctly with the right toothbrush helps prevent plaque, decay, and disease. Electric toothbrushes are innovative machines that allow you to maintain good oral hygiene. They have rotating bristles that cover the hard-to-reach places in your mouth, giving you healthy gums, shining teeth, and a bright smile.
In this article, we have covered the best electric toothbrushes brands. Scroll down to find out more about the 7 best electric toothbrushes available in India!
This rechargeable toothbrush from Oral B is recommended by doctors and has given clinically proven results. It has a rotating powerhead, which provides a two-dimensional cleaning action and 8000 rotations per minute, giving your teeth a holistic clean-up.
The brush is equipped with crisscross bristles that lift and clean away plaque. It performs cross-action cleaning by surrounding each tooth with bristles angled at 16 degrees. It comes with a 30-second vibrating alert that indicates that you need to switch sides. This electric toothbrush has a 2-minute professional timer and a battery life of 8 hours.
Specifications
Color: Gray
Rotation Per Minute: 8000
Timer: 2 minutes
Pros
Efficient grip
Long battery life
Ultra-thin
Gentle on gums
Cons
Price at the time of publication: ₹1049
Power up your brushing with Colgate Proclinical battery-powered toothbrush. It contains charcoal-infused antibacterial bristles that prevent bacterial growth. The power-tip bristles use sonic vibrations at the rate of 20,000 strokes per minute and reduce 5X plaque than the regular ones.
The brush head is replaceable and compact, and it cleans the unreachable corners of your mouth. It also  has a tongue and cheek cleaner that helps remove odor-causing bacteria. The brush is powered by two AAA batteries and has superior plaque removal ability.
Specifications
Color: Black
Rotation Per Minute: 20,000
Timer: 2 minutes
Pros
Ideal for sensitive gums
Easy grip
Lightweight
Soft, thin bristles
Quiet operation
Comes with a tongue cleaner
Cons
Price at the time of publication: ₹863
The Agaro Cosmic Plus Sonic Electric Toothbrush comes with five modes that ensure whitening, cleaning, polishing, reduced sensitivity, and massaging for your teeth. The machine generates a remarkable 40,000 strokes per minute for deep cleaning and plaque removal. Its five nylon DuPont brush heads are designed to fit your teeth perfectly. The unique interdental head is perfect for removing plaque and food items stuck between your teeth.
The toothbrush also features a durable battery that lasts up to 25 days and has a 30-second interval pause timer with a 2-minute auto shut-off feature. It has intelligent memory that remembers the last mode used and auto-starts with the same mode the next time. The package includes a USB cable that can be charged via a PC port, phone adaptor, or even power bank.
Specifications
Color: Black
Rotation Per Minute: 40,000
Timer: 2 minutes
Pros
5 cleaning modes
Travel-friendly
Waterproof
Lasting battery life
Has a charging indicator
Cons
Price at the time of publication: ₹1648
The Mi Electric Toothbrush T100 is smartly designed with a high-frequency motor that produces 18,000 vibrations per minute so that the brush reaches every nook and corner of your mouth for effective cleansing. It is powered with dual brushing modes – standard and gentle – for sensitive teeth.
The 360-degree cleaning ability ensures total gum protection, tooth cleaning, and fresh breath. This electric toothbrush is also equipped with an auto timer with 2 minutes and 30 seconds pausing time to switch sides. Its rechargeable lithium-ion batteries last for almost 30 days with a fast-charging port. The brush produces virtually no noise while running and has an anti-slip design on the back.
Specifications
Color: White
Rotation Per Minute: 18,000
Timer: 2 minutes
Pros
Ultra soft bristles
Dual mode technology
Long-lasting battery
Ergonomic design
Waterproof
Lightweight
Features a charge indicator
Cons
May not last long
Too small
Price at the time of publication: ₹699
Health Sense is an Indian brand that offers a high-speed rotating electric toothbrush with three operating modes – standard, sensitive, and massage – for complete oral hygiene. The powerful battery lasts for 260 days after one full charge.
The brush has accurately angled DuPont nylon bristles that cover the tooth topography and offer deep cleaning. It has a sleek design, is waterproof, and comes with a 2-minute brushing timer and 30 seconds quad timer. The package includes two extra brush heads and dust covers.
Specifications
Color: Blue
Rotation Per Minute: 6500-9500
Timer: 2 minutes
Pros
Long-lasting battery
Sleek design
Non-slip body
Lightweight
Cons
Price at the time of publication: ₹999
The Philips Sonicare Electric Toothbrush is clinically proven to remove 3X more plaque than other toothbrushes on the market. It is powered by an innovative technology that pulses water between the teeth and gum line to flush out the plaque and hidden bacteria effectively.
The soft bristles are designed to glide smoothly between the gums and ensure total cleaning. The intelligent 2-minute timer and 30-second quad timer indicate the exact time needed to clean each part of your mouth. The brush is safe for those with braces and dental restorations.
Specifications
Color: Light blue
Rotation Per Minute: 31,000
Timer: 2 minutes
Pros
Recommended by dentists
Good battery life
Safe for braces
Easy to use
Cons
Expensive
Replacement heads not easily available
Price at the time of publication: ₹3095
The OralScape Sonicwhite Electric Toothbrush uses FDA-approved Sonicwhite technology that ensures clean, healthy, and plaque-free teeth. It restores gum health and protects them from receding germs with 40,000 powerful strokes per minute.
The brush set includes a UV sanitizer store clinically proven to kill 99.9% germs, along with three UV sanitized brush heads. The machine features four different modes for customized cleaning – clean, soften, whiten, and massage. The whitening mode polishes the teeth, removing stains and whitening them, while the soft mode works well for sensitive teeth. This brush has a good battery life and worldwide voltage.
Specifications
Color: Silver gray
Rotation Per Minute: 40,000
Timer: 2 minutes
Pros
9% germ protection
Waterproof
Color-coded brush heads
UV sterilization
Cons
Price at the time of publication: ₹2999
Now that you are aware of the available options, let us look at the numerous benefits of electric toothbrushes.
What Are The Benefits Of Using Electric Toothbrushes?
Electric toothbrushes are one step ahead of manual toothbrushes. They are more efficient in cleaning the teeth and restoring gum health. These brushes are electrically powered and have superior plaque removal capability. They make brushing easier for people with limited mobility, like arthritis patients, people with developmental disabilities, etc. Electric toothbrushes are equipped with advanced features like sonic technology, DuPont brush heads, timers, and rotations per minute. They ensure effective and thorough cleaning and keep your gums healthy and fresh.
Electric toothbrushes are used more or less the same way as manual toothbrushes. Here are the few clinically advised steps for the best use and optimum results of electric-powered toothbrushes.
How To Use Electric Toothbrushes
Charge your toothbrush adequately. Observe the level with indicator lights.
Hold your brush at a 45-degree angle against each tooth for around 5 seconds.
Start from the outer surface and slowly glide the brush head from tooth to tooth.
Repeat the same process on the inner surfaces of your teeth.
Gently roll the brush head along the gum line to clean your gums.
Glide the brush heads along your tongue and top of the mouth. It will give you fresh breath with a germ-free mouth.
Most electric toothbrushes have a 2-minute timer, which is usually enough to clean your teeth, gums, and tongue. You can take a bit longer for adequate cleaning. Be careful that you don't apply too much pressure and brush for too long. This isn't good for the long-term health of your gums and teeth.
Here are the crucial things you need to keep in mind while investing in a quality electric toothbrush to ensure proper oral hygiene.
How To Choose The Best Electric Toothbrushes – Buying Guide
The size of an electric toothbrush is essential for good operability. You must not choose brushes that are too small or large. These may not do proper cleaning of the hard-to-reach areas in your mouth. Doctors advise that you choose an electric toothbrush with a head size of 3-6 cm to get the best results. Also, the handle must be of adequate length to hold in your hand, rotate, and move properly.
Stiffness Of The Bristles
Choose an electric toothbrush with soft bristles. Hard bristles tend to damage the tooth enamel, roots, and gums. Criss-cross or thin-tip nylon bristles are the best for near-perfect cleaning. They are also gentle on the gums and ideally suited for people with sensitivity.
Most electric brushes have 2D or 3D cleaning action. The ones with 2D cleaning have rotary and oscillatory motions. 3D brushes pulsate along with oscillations and rotations, ensuring superior plaque removal and adequate cleaning of hard-to-reach areas. 3D brushes may be slightly costly but should be preferred for better results.
Electric brush speed is measured in rotations or vibrations per minute. Go for ultra-sonic or sonic toothbrushes. They produce greater vibrations or rotations per minute and offer better cleaning.
These include multiple cleaning modes, quad smart timer, LED charge indicator, lithium-ion battery, better battery life, and more. Choose a brush with better features. Your teeth deserve better protection and healthy oral care.
Brushing is an important habit for better health and hygiene. Electrically powered toothbrushes make the task not only easy but also efficient. We have given you a detailed review of the top-quality electronic brushes above. Choose any of these and brighten up your appearance with clean and white teeth!
Frequently Asked Questions
Are the brush heads replaceable?
Yes, brush heads are easily replaceable. They should be replaced regularly after every few months to ensure that the bristles clean your teeth effectively.
How long does an electric toothbrush last?
A good quality electric toothbrush will work well for around 5 years. After that, you must do regular services like cleaning the bristles, changing the strands, etc., for continued optimum usage. You may need to change the battery, but the brush would work well for around 5 years. Some high-quality brushes last even longer.
Will an electric toothbrush hurt your teeth?
Not at all. It is a common misconception that electric toothbrushes hurt your teeth, which is not true at all. Electric toothbrushes can be more comfortable than manual variants. They are perfectly designed to glide gently on your teeth, tongue, and gums. Electric toothbrushes are better suited for people with oral sensitivity or any mobility issues.
How many times can you brush with an electric toothbrush in a day?
The brushing frequency doesn't vary with electric toothbrushes. However, doctors recommend that you brush twice a day for healthy teeth and gums, preferably during morning and before going to sleep. Each session should last for 2 to 3 minutes, which is enough for optimum results and to minimize invasive dental sessions.
How long do you have to charge the electric toothbrush?
It depends on how long you want the charge to last. You can charge the electric toothbrush for 30 minutes and start using it in emergency times. Generally, it will require around 10 hours for the battery to be fully charged. It will then last for 30 days and, in some variants, even more. Many electric brushes have charge indicators to display the battery level.
Are there any disadvantages of using electric toothbrushes?
No, there aren't any disadvantages of using electric toothbrushes. The only issue is that they may cost more than manual toothbrushes. But those extra bucks bring a whole range of benefits for your teeth and gums. Also, they must be placed and handled a bit carefully to avoid damage.
Can children use electric toothbrushes?
A. Children can use electric toothbrushes. However, we recommend you first understand their ability to deal with such instruments and their comfort level. While it can motivate them to brush efficiently, an elder can guide them in using an electric toothbrush appropriately. Many reputable brands produce electric toothbrushes for children to complement their design sense and match their comfort level.
How often should I replace the brush head of my electric toothbrush?
A. Follow the manufacturer's guidelines while changing bristles. Some brushes come with color denotation, suggesting when to change the brush head. Generally, you can change it every 3 to 4 months for the best results.
How do I clean and maintain my electric toothbrush?
A. Cleaning all parts of a toothbrush separately is essential for oral hygiene. Rinsing the toothbrush after each and every use helps remove toothpaste or food particles and keep it clean. Observing and replacing the brush head when necessary also helps maintain the toothbrush quality.
Can electric toothbrushes help prevent cavities?
A. Yes, electric toothbrushes help reduce cavities. Usually, it ensures oral hygiene because of its oscillating movements of the bristles. Some electric toothbrushes come with timers and pressure-measuring sensors to regulate your brushing for the best outcome.
Recommended Articles