The 7 Best Electric Woks Of 2020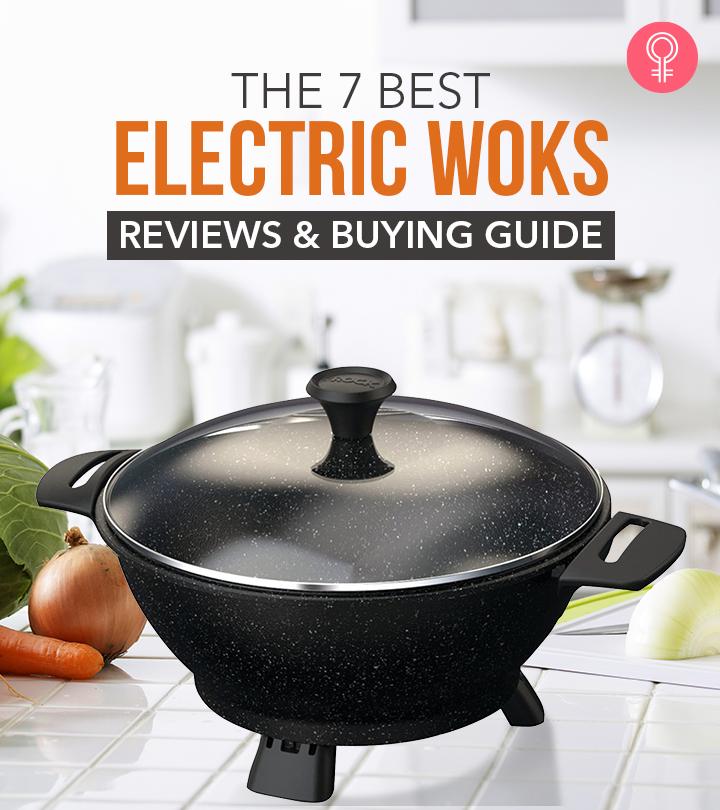 If you love dishes inspired by Asian cuisine, a wok is a must-have. Why a wok and not any other cookware? It is because stir-fried dishes need high heat, and woks retain heat well. However, for using woks, you may need a wok ring and a good stove that can heat it at a high temperature. If you do not have these, go for an electric wok. These woks are a blend of technology and tradition, come with a built-in heat source, and are easy to use. Did this pique your interest? In this article, we reviewed the 7 best electric woks available on the market. Take a peek!
Top 7 Electric Woks
The Aroma Housewares AEW-306 Electric Wok has a non-stick surface. It has a capacity of 5 Quarts and a detachable base. It is made of cast aluminum that heats up fast and ensures fast and even cooking. This wok has a full-range temperature control probe with a quick-release trigger. It is best for stir-fries, but you also get accessories for tempura and steaming. The unit includes a large glass high-dome lid, steam rack, and chopsticks.
Specifications
Dimensions: 2 x 15.5 x 8 inches
Weight: 4 pounds
Material: Cast iron
Capacity: 5 quarts
Pros
Dishwasher-friendly
Easy clean-up
Adjustable steam vent
Spacious
Cons
The Presto 5900 is a durable stainless steel electric wok. It has an aluminum-clad base to ensure fast and even heating. The wok has a tempered-glass lid with stainless steel rim and handle. It has a 1500 watt heating element attached to its base to help you cook the perfect stir-fried dishes. You get a wooden spatula a wide-angled edge with the unit.
Specifications
Dimensions: 17 x 14 x 10 inches
Weight: 25 pounds
Material: Stainless steel
Capacity: 7 quarts
Pros
Lightweight
Durable
Aluminum-clad base
Rubber bottom to prevent sliding
Dishwasher-safe
Cons
Stains easily
Short electric cord
The Breville BEW600XL Hot Wok is a die-cast wok with Quantanium nonstick coating and a stainless steel base. This 14-inch family size wok has heat-responsive aluminum layers that maintain high heat. The cook n' look glass lid lets you monitor the food while cooking. The wok comes with a 1500W butterfly heating element that has 15 precision heat settings to let you adjust the temperature up to 425℉.
Specifications
Dimensions: 6 x 5.3 x 6.6 inches
Weight: 54 pounds
Material: Stainless steel
Capacity: 6 quarts
Pros
Removable temperature probe
Dishwasher-safe
Quantanium coating
Cons
Not durable
Nonstick coating peels
The VonShef Electric Wok is made of high-quality aluminum and ensures even heat distribution. The advanced nonstick coating prevents food from sticking. This electric wok has four adjustable temperature setting that range between 176°F and 446°F.  The unit comes with a tempered glass lid, and both the wok and the lid have heat-resistant silicone handles. It has a removable power cord, so the wok doubles as a serving dish.
Specifications
Dimensions: 16 x 16 x 9 inches
Weight: 28 pounds
Material: Aluminum
Capacity: 4 quarts
Pros
Heat-resistant handles
Adjustable temperature
Easy to clean
Cons
The ROCK by Starfrit Electric Multi-Use Pot is a flexible cooking wok. It is made of cast aluminum and has a thick base to ensure even heating. The patented Rock.Tec nonstick surface is three times better than any other non-stick wok or cookware. The wok comes with an adjustable temperature controller, a heat-resistant tempered glass lid, and cool-touch handles. It is easy to clean.
Specifications
Dimensions: 65 x 7.68 x 13.37 inches
Weight: 85 pounds
Material: Aluminum
Capacity: 5 quarts
Pros
Easy to clean
Nonstick surface
Cool-touch handles
Temperature control
Cons
The Ovente Electric Skillet is made of high-quality aluminum and is durable. This skillet style wok has a 1400W heating base that heats the wok quickly and retains it for long. The lid of this wok is made of heat-resistant borosilicate glass and has a steam vent. Its non-stick interior is easy to clean. The wok has a removable temperature controlling knob, so it also doubles as a serving dish.
Specifications
Dimensions: 2 x 11 x 8.5 inches
Weight: 34 pounds
Material: High-grade aluminum
Pros
Removable temperature controller
Heat-resistant lid
Easy to clean
Cool-touch handles
1-year warranty
Cons
This compact and sleek electric wok has a durable stainless steel body and a nonstick cooking surface. The 900 W centralized heat source ensures even cooking, and the side handles are comfortable to grip. It comes with a tempered glass lid and removable power cord.
Specifications
Dimensions: 5 x 14 x 7.5 inches
Weight: 48 pounds
Material: Stainless steel
Capacity: 5 quarts
Pros
Adjustable temperature
Durable
Lightweight
Cons
These are the 7 best electric woks that you can buy online. Scroll down to our buying guide to understand how electric wok functions and factors to consider before buying one.
How Does An Electric Wok Work?
An electric wok works almost like a traditional wok. The only difference is that you do not need a separate stove or heating device for the electric wok. It has a built-in heating element. All you need to do is plug it in. An electric wok has an integrated temperature control that lets you adjust the heat. It has several benefits.
Benefits Of An Electric Wok
It is compact and easy to store.
It is portable, and you can carry it along on your camping trips.
It is easy to clean and maintain due to its nonstick surface.
It does not require any stove or heating device. All it needs is electricity.
Electric Wok Buying Guide: Things To Consider Before Buying An Electric Wok
Material: Woks are made from materials, such as stainless steel, cast iron, carbon steel, ceramics, aluminum, and copper. It is best to go for one with an aluminum-clad base and nonstick body to ensure fast and even heating. Also, make sure that the nonstick coating is food-grade.
Size And Capacity: Electric woks are available in multiple sizes with different capacities. Pick as per the number of persons you will be cooking for. For a single person, a smaller wok is enough.
Handles: Choose a wok that has heat-resistant and easy-to-grip handles.
Adjustable Heat Settings: This is important. Go for one that has temperature or heat control knobs. Also, check the temperature range. An electric wok may have up to 400 °F temperate range that can be adjusted as per your needs.
Budget: Set your budget before buying an electric wok. Usually, the cheaper ones may come for as low as $30, but they are not durable. If you plan to use the wok frequently, invest a bit more.
Electric woks are handy and incredibly useful kitchen tools. These are compact, easy to use, and are fit for anyone who has a small kitchen. These are multipurpose and can be used for frying, braising, boiling, and steaming. If you loved any of the woks from the above list, grab that today!
Expert's Answers for Readers Questions
What size of wok should I buy?
It depends upon your cooking requirements. You will get woks between 10 and 20 inches. For a family of four, go for one with a diameter between 12 and 14 inches.
What can I cook in an electric wok?
You can use it for stir-frying, braising, boiling, steaming meat, fish, and veggies.
Do electric woks work well?
Yes, if they are well-maintained.
Do you need to put oil in a wok?
Yes, if you are frying any dish.
Recommended Articles
The following two tabs change content below.

Latest posts by Harini Natarajan (see all)

Harini Natarajan
As Chief Editor, Harini sets the tone and editorial direction for StyleCraze to deliver engaging, interesting, and authentic content revolving around women's health, wellness, and beauty. She has over 14 years of experience in content writing and editing for online media. She specializes in the areas of Beauty, Lifestyle, and Health & Wellness and is proficient in Medical Sciences (Biology, Human Anatomy and Physiology, and Biochemistry). Her background in Biomedical Engineering helps her decode and interpret the finer nuances of scientific research for her team. Harini is a certified bibliophile and a closet poet. She also loves dancing and traveling to offbeat destinations.