13 Best e.l.f. Products For The Face, Eyes, And Lips – 2023
Something for everybody from none other than one of the best makeup brands, e.l.f. If you are a pro in the makeup world or just getting started, you must add some of the best e.l.f products out there to your vanity kit. Few cosmetics brands can set a benchmark and stick to their quality of products over the years and e.l.f (eyes lips face) is one of them. Be it their range of moisturizing lipsticks, natural-finish foundations and concealers, or highly-pigmented eye shadows, you name it and e.l.f has something for you enriched with its trademark cruelty-free and vegan formulations. Not only that, you get premium quality makeup products at a very affordable price as well. Phthalates-free and paraben-free, you know you are doing your face and skin real good when you use any of these affordable beauty products. Now with the many options available out there, we have curated the 13 best e.l.f products to help you get started!
Top 13 Of The Best e.l.f. Cosmetics Products For Face, Eyes, And Lips
Prepare your skin to give your makeup long-lasting power with this Hydrating Face Primer. One among the best e.l.f. makeup products and America's #1 primer, this creamy formula creates a flawless and smooth canvas for your makeup to adhere to. This extra layer between your skin and the powder will help make your makeup stay put all day long. Besides that, it also minimizes pores and gives your skin a radiating appearance. True to its name, this formula keeps your skin hydrated and fresh, thanks to the addition of ingredients such as grapes and vitamins A, C, and E. Check out this review for a detailed understanding about the product.
Pros
Boosts complexion
Delivers a natural matte finish
Hydrates and smoothes skin
Doubles as a foundation
Vitamin-infused formula
Ensures long-lasting makeup look
Cons
May have a strong smell
Might take a long time to dry
Price at the time of publication: $12.04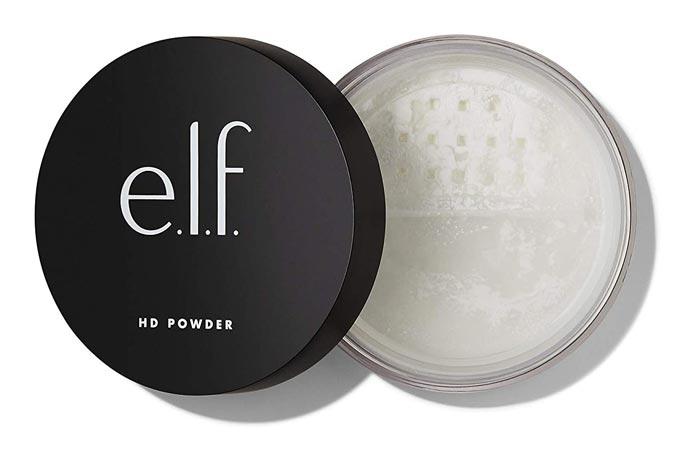 Want to set and secure your base makeup while also blurring out fine lines and wrinkles? This High Definition Powder is your go-to. This loose powder formulation creates a soft-focus effect to minimize all the imperfections while lending your skin a smooth and illuminating finish. All you have to do is swirl a powder brush over this soft and translucent powder and apply it on your face and neck. You can use this powder on its own for a natural-looking finish or to set foundation and concealer. This video review will help you understand more about the product.
Pros
Long-lasting
Versatile formula
Lends a smooth finish
Gives you a radiant complexion
Conceals imperfections and fine lines
Can also be used to highlight and contour
Cons
May not work well for dry skin
Might look ashy on some skin tones
Price at the time of publication: $6.0
Get a fresh, glowing skin and accentuated cheekbones with e.l.f. Baked Highlighter's shimmering color. Award-winning products, this formula works exceptionally well for both wet and dry makeup applications. Apply it dry for a sheer wash of color or wet for a vibrant look. Not only does this product highlight your cheekbones, but it also enhances other facial features such as your brow bone, Cupid's bow, and the inner corners of the eyes. You can also add it to your regular lotions to get a shimmering body lotion. In addition to giving your skin a luminous glow, this radiant highlighter powder is enriched with vitamin E and jojoba, apricot, sunflower, grape, and rosehip oils that keep your skin nourished and hydrated for long. If you are still unsure, check out this honest review.
Pros
Shimmer finish
Brightens complexion
Available in 2 other colors
Nourishing oils pamper your skin
Ideal for wet and dry applications
Lends sheer pigmentation when applied dry
Cons
Might be difficult to get any product onto the brush or fingers
Price at the time of publication: $5.91
With this 4-shaded Contour Palette, you can contour, bronze, and highlight your cheeks, forehead, nose, and other facial features. This powder formula is easy to use and gives our face an extra definition. The multi-purpose product features shades that range from light to medium. It has all the necessary nudes to help you achieve any look you want, day or night. You can use a single shade or mix and match them to create a hue that is closest to your skin tone. Whether you prefer a dramatic or a natural look, with this customizable palette you can do it all.
Pros
4 shades
Create a custom shade
Contains vitamin E
Nourishes skin
Sculpts and brightens the face
Cons
May not be pigmented enough
Price at the time of publication: $9.99
e.l.f. Flawless Finish Foundation can be an excellent addition to your list of makeup products. Suitable for all skin types, this liquid foundation evens out skin tone and texture, giving you a more smoothened and bright complexion. As the name suggests, this oil-free foundation formula goes on smoothly and blends naturally to lend an undetectable flawless, natural semi-matte finish. This best-selling product is lightweight and oil-free, so rest assured it won't leave a cakey or greasy texture on your face. Moreover, it provides full coverage that lasts all through the day. This semi-matte finish foundation is available in various shades and 3 undertones, making it easy for you to choose a tone that complements your skin.
Pros
Lightweight
Full coverage
Easy to blend
Oil-free formula
40 shades and 3 undertones
Suitable for all skin types
Long-lasting semi-matte finish
Cons
May not be suitable for extremely sensitive skin
Price at the time of publication: $6
Make moisturizing your skin a routine and promote healthy and beautiful skin. Everyone knows moisturizing your face is essential if you want to keep skin problems at bay. So if you are ever thinking of buying a new moisturizer, do consider this option. With a small amount of e.l.f. Daily Hydration Moisturizer, you can keep your skin hydrated for long. It is formulated with purified water, skin-nourishing ingredients like jojoba, aloe, and vitamin C, and antioxidants such as shea butter and grape. This formula soothes your skin and locks in moisture to give you smooth and supple skin.
Pros
Antioxidant-rich
Lightweight formula
Sulfate-free
Lightly scented
Soothes and protects your skin
Provides deep nourishment
Absorbs into the skin easily
Cons
May not be suitable for sensitive skin
Price at the time of publication: $5.6
Whether you want to conceal your dark circles or mask your acne scars, this 16HR Camo Concealer has got you covered. It comes with a large doe-foot applicator that ensures even and accurate makeup application and maximum coverage. All while the creamy formula goes on easily and blends smoothly to dry into a matte finish. It is highly pigmented, delivers a 16-hour full coverage, and settles into your skin without cracking or creasing. This concealer can also be used as a highlighter and contouring product.
Pros
Lightweight
16-hour wear
Oil-balancing formula
Intensely pigmented
Ideal for all skin types
Available in different shades
Does not settle into fine lines and wrinkles
Cons
Might have a thick consistency
Price at the time of publication: $5.99
The key to achieving a flawless makeup look is by getting the product to blend smoothly, and this becomes a hundred times easier with this large, fluffy brush. With its dome-shaped head and densely packed bristles, this blending makeup brush picks up the right amount of product and presses it into the grooves of your face for even and maximum coverage. All while the thick handle offers an excellent grip for easy maneuverability. The bristles are made of ultra-fine synthetic fibers that are cut, shaped, and put together by skilled artisans. This brush is so soft that it can be used to blend out any formula, be it liquid, mousse, or powder.
Pros
Ensures easy blending
Helps to build coverage
Large dome-shaped head
Easy to maneuver
100% animal hair-free synthetic bristles
Can be used to blend blush, foundation, and bronzer
Cons
Price at the time of publication: $8.38
Looking for a high-quality eyeliner that does not burn a hole in your wallet? Turn to this e.l.f. Black Liquid Eyeliner. This liquid liner is easy to use as it includes a fine tip brush that delivers neat and precise lines and provides a defined look without tugging or pulling your eyelid skin. Plus, the color is highly pigmented, lending a rich black finish that stays put for long. Whether you prefer a natural eye makeup look or bold, think effect, this eyeliner can do it all. Since this is a smudge-proof formula, you can go for long periods without re-applications and touch ups.
Pros
Smudge-proof
Long-wearing
Easy to use
Gentle formula
Creates defined lines
Features a fine tip brush
Cons
May have a watery consistency
Might take several coats to get a visible black line
Price at the time of publication: $5.8
The e.l.f Cosmetics SRSLY Satin Lipstick is as smooth as satin. This creamy and rich lipstick nurtures your lips with a vibrant color for a bold pout. The formulation is mess-free and easy to apply. It clings to the contours of the lips while providing intense moisture. It is ultra-nourishing and hydrating, with jojoba oil, macadamia seed oil, and meadowfoam seed oil infusions to nourish and protect your lips.
Pros
Creamy formula
Moisturizing formula
Ultra-nourishing
Vibrant color payoff
Easy to apply
Cons
None
Price at the time of publication: $4.99
This Illuminating Eye Cream is exactly what your dull, puffy under eyes need to perk back up. Thanks to the nourishing blend of skin-loving ingredients like vitamin E, cucumber, and jojoba, this water-based cream will instantly hydrate the delicate skin around your eyes to eliminate puffiness while also reducing dark circles. This formula will illuminate your eyes and make you look refreshed. You can use this cream morning and night and apply it over your eyelids to soothe the skin. Using it along with your acne-fighting skincare and anti-aging serums is sure to provide you with a youthful glow.
Pros
Rich formula
Minimizes dark circles
Deeply hydrates skin
Infused with purified water
Recommended for under-eye area and eyelids
Cons
May not be suitable for sensitive skin and eyes
Price at the time of publication: $9.99
The e.l.f. Cosmetics Rose Gold Eyeshadow Palette includes ten silky powder shadows that glide smoothly on your eyelids and offer intense color payoff. These high-pigment eyeshadows are ideal for highlighting, shading, and defining eyes as bold or natural as you like. The combination of matte and shimmer shades allows you to wear this incredible palette to both formal and informal events. It is inexpensive, pigmented, and made from safe and gentle ingredients.
Pros
Shimmery matte finish
Highly pigmented
Glides smoothly
Cons
None
Price at the time of publication: $10
13. e.l.f. Beauty Shield Magnetic Mask Kit
There is nothing more relaxing than putting your feet up and chilling with a face mask on, isn't it? At least, we think so! Face masks make your skin look better, and some of them can also have a calming effect on you. So, if your skin needs some serious detox, look no further than this! e.l.f. Beauty Shield Magnetic Mask Kit is the perfect solution for purifying your skin. This kit contains a magnetic mask, a magnet wand, and 20 magnet wand covers. The iron-based mask and magnetic wand combined together help remove surface impurities and minimize the appearance of pores. The formula is also enriched with vitamins C and E, carrot seed oil, sunflower seed oil, and argan oil, which rejuvenate your skin, leaving it soft, clean, and refreshed.
Pros
Extracts impurities
Softens and brightens skin
Rich in antioxidants and vitamins
Magnet covers ensure mess-free removal
The magnet wand includes a scoop-like end
Keeps skin protected against pollutants
Cons
Might be difficult to remove
May leave an oily film on your face.
Price at the time of publication: $20
Before you decide to add some of these e.l.f. Cosmetics to your beauty arsenal, let us take you through the list and help you understand the different vegan makeup products of the brand.
Best Beauty Products From e.l.f. Cosmetics Of 2023 – A Buying Guide
What Are The Different e.l.f. Products
Primer: A primer is one of the most essential beauty products as it creates a smooth surface for the rest of your makeup to adhere to. We believe it is a vital step in your makeup routine that you should miss. It makes your skin soft and your makeup lasts longer. No matter what your skin type, e.l.f. has a primer for you – whether it is an illuminating primer that gives an instant glow, mineral-infused makeup primer for smooth texture, squalene-infused primer that helps minimize pores, or a moisturizing formula that keeps your skin hydrated and supple.
Foundation: The brand has foundations in various formulations, finishes, and coverage to help you achieve your desired look. Make sure to choose the right foundation shade and type that matches your skin tone and texture.
Concealer: e.l.f. has all types of concealers that can skillfully hide imperfections, dark circles, and acne and correct skin discoloration. Whether you want color-correcting concealers or sheer or full-coverage ones, the brand offers all! You can choose any of them depending on how much and what you want to cover up.
Face Powder: Similar to a primer, a face powder helps makeup stay on for longer. e.l.f. Face powders and makeup setting powders come in different finishes such as matte, semi-matte, and glowy. If you want any skincare benefits, you could choose from oil-absorbing or hydrating formulas. If you have dry skin, you can also opt for setting sprays instead of compacts.
Blushes/Bronzers: Blushes and bronzers can elevate your look to a whole new level. Use blush to enhance your cheekbones and add a healthy flush of color on your face, and a bronzer to give your skin a sun-kissed effect. The brand has shimmer and matte bronzers that can give you a subtle appearance or a glam look. As for blushes, you can choose from stick, powder, and cream blushes. In addition, they also offer contouring palettes.
Eyeshadow: The brand's eyeshadows are available in so many different shades and finishes, so there is something for everyone. If you want to add a little pizzazz to your look, opt for the liquid glitter eyeshadow. And for days when you want something neutral, eyeshadow palettes in nude tones work best. You can also find eyebrow pencils and glitter eyeliners to elevate your eye makeup. You can pick those formulated with kaolin clay as it ensures the color stays on for long hours.
Mascara: Mascara can make or break your look, so it's essential to choose a formula based on your eyelash type and what effect you want to create. e.l.f. has all mascara types, from lash extending to volumizing to curling formulas.
Brushes: Much like their other products, e.l.f. makeup brushes are affordable and good quality. They have brushes in every shape and size, such as smokey eye brush, Kabuki face brush, small tapered brush, and fan brush, among others. The brand also offers gentle makeup removers to remove your makeup and keep your brushes clean.
Why Trust StyleCraze?
The author of this article, Srijani Roy Chowdhury, is an avid makeup enthusiast who loves reviewing different products. She has curated a list of the best beauty products from e.l.f. cosmetics after researching, checking reviews, and trying some of the products out herself. This list is for all those keen on using premium-quality makeup products at affordable prices. These products will hydrate and lend a smooth finish to your skin.
Frequently Asked Questions
How good is e.l.f. Cosmetics? Are the products toxic?
e.l.f. Cosmetics is a makeup and skincare brand that is mainly known for providing high-quality makeup products and natural skincare to consumers at a budget-friendly price. Plus, all their products are 100% vegan and cruelty-free, which means they do not test on animals and don't contain animal-derived ingredients.
All of the products do not contain any of the nasty stuff that might be bad for your skin. They are free from sulfates, parabens, phthalates, hydroquinone, triclocarban, triclosan, and nonylphenol ethoxylates. So to answer the latter part of the question, we can safely say that the products are not toxic. But some products might contain certain ingredients that may not work for individuals with sensitive skin.
Do e.l.f. products expire?
Yes, of course. Much like any other makeup brand, e.l.f. products also come with an expiry date. The expiry date may vary depending on the product.
Does Ulta carry e.l.f. products?
Yes, e.l.f. products have been available in Ulta's online store since 2017.
Are e.l.f. products gluten-free?
Although the brand does not use gluten or beeswax in their products, they do not promise whether the machinery used to manufacture the products is free of gluten.
Are e.l.f. products paraben-free?
Yes, the products are paraben-free and do not contain any other toxic chemicals.
Are e.l.f. brushes good?
Yes, the brushes are good in that they are soft and work efficiently. Moreover, they are 100% animal hair-free. They are made of Taklon, which is a synthetic and anti-bacterial fiber material.
Why is e.l.f. so affordable?
The term cheap does not equal low-quality products. e.l.f. prides itself on producing high-quality products at an affordable price. The reason the products are cheap is because of its minimalistic packaging, and the fact that the brand does not spend on advertising or brand endorsements. When the brand was launched, they started off with inexpensive products that gained them a lot of consumers and popularity. Now that they have so many customers, the brand can afford to churn out good quality products for low prices.
What e.l.f. products are Jeffree Star-approved?
Not all, but some products are Jeffree Star-approved, such as the baked highlighter. Star is a popular YouTuber who does makeup reviews, and any product that gets his seal of approval is said to be good.
Is e.l.f. made in China?
Yes, e.l.f. products are made overseas, mainly in China. But they do not sell their products in China due to their cruelty-free policy.
Recommended Articles
How To Keep Your Skin Hydrated