11 Best Elizabeth Arden Perfumes
These colognes have amazing note blends to make you fall in love with them.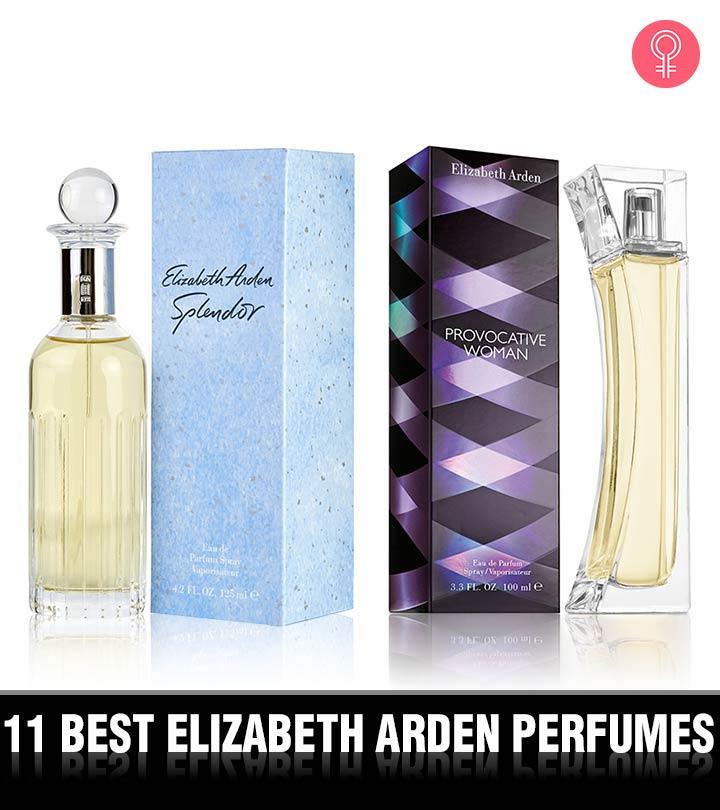 We have just what you need if you are looking for the best Elizabeth Arden perfumes for women. Elizabeth Arden had a dream of creating a cosmetic empire, and at the age of 30, she decided to bring her dream to reality. Her first perfumes to gain popularity in 1934 were the Arden Beauty, Blue Grass, Green Tea series and 5th Avenue series, and the Mediterranean. Her perfumes were like no other and gathered customers worldwide. Even today, there is a massive market for these scents. If you have been waiting to try one, here are the 11 highest-rated scents to pick for your perfume collection.
11 Best Elizabeth Arden Perfumes For Women
Review
Red Door is undoubtedly the most popular fragrance from Elizabeth Arden. The 'Shimmer' edition of this classic was released in 2008 and is a lighter alternative to the original. It is enriched with Japanese pear, yuzu leaves, blackberry, and pink pepper as the top notes. With a musky base, its dry-down is what reveals the roots of this perfume. If you love a good fruity-floral scent with a touch of spicy and woody notes, this fragrance is meant for you. This light and refreshing scent is perfect for those cold winter evenings and special occasions and is not one bit pretentious.
Pros
Perfect for winter
Long-lasting fragrance
Enormous sillage
Suitable for nighttime use
Suitable for all adult age groups
Cons
None
Price at the time of publication: $60.0
Review
The sparkling, fresh floral compliment-worthy scent of My Fifth Avenue evokes the energy of one of the most famous streets in the world – Fifth Avenue, NYC. It features crisp citrus notes that are complemented by feminine florals. If you're a lady looking for a woody-fruity scent with a hint of jasmine, My Fifth Avenue is for you as it adds a touch of luxury.
Pros
Long-lasting fragrance
Medium sillage
Perfect for daytime use
Value for money
Cons
None
Price at the time of publication: $65.0
With its distinctive feminine idea and first 2009 release, "Pretty by Elizabeth Arden" has established itself as a captivating flower scent. The fragrance, sold in 27 different nations, starts with the energizing aroma of italian mandarin and orange flowers blended with peach juice. Next, the delicate essence of petalia, pink lily, starry jasmine, and peony makes up the fragrance's core, which is the heart notes. Finally, the blend of musk, creamy amber, and jacaranda wood covers the fragrance's base notes that evokes sensory experience. It is a vibrant floral scent that is extraordinarily charming and enhances mood.
Pros
Can be used by men and women
Timeless appeal fragrance
Smells clean and fresh
Can be used any time
Cons
Price at the time of publication: $25.99
Review
Elizabeth Arden has captured that moment of blissful peace you experience with the first sip of tea with its exquisite blend of White Tea perfume. Dominated by its fresh tea scent, this delicate fragrance also has a hint of warm, fluffy musk, and powdery iris. It manages to be low-key without being boring, making it perfect for daily wear or the office.
Pros
Mild fragrance
Medium sillage
Suitable for office wear
Suitable for all age groups
Cons
Price at the time of publication: $62.0
Review
Sunflowers is an incredibly versatile perfume that is suitable for women of all ages. This zesty, crisp fragrance is ruled by luminous lemon, orange blossom, rosewood, bergamot, melon, and sweet peach notes. Its sensual base is composed of cedar, amber, moss, musk, and sandalwood. But, the star of this fragrance is the sunflowers that shine through to brighten things up with its versatility. It is perfect for spring or summer days.
Pros
Soft sillage
Suitable for daytime wear
Suitable for all age groups
Perfect for the summers
Cons
Needs frequent reapplication
Review
The Green Tea Fig is a rustic countryside fragrance inspired by sweet fruit with a sweet and delightful concept. This perfect perfume for a hot summer day. It opens with the refreshing Bergamot, Clementine and Fig Leaves, mixing into the heart notes of Green Tea Accord, Kadota Fig, and Violet Leaf. Lastly, Tonka Bean, Musk, and Clary Sage are wrapped in musky fruity-floral essence. The warm, sparkling green tea scent spray is ideal for day wear. To better understand the fragrance of the Elizabeth Arden Green Tea Fig Eau de Toilette Spray, check out a detailed review in this YouTube video.
Pros
Fresh scent
Suitable for all day wear
Suitable for office events
Value for money
Cons
None
Price at the time of publication: $39.5
Review
The Arden Beauty Eau De Parfum comprises floral and warm spicy notes. The top notes include rice flower, iris, and bergamot. The middle notes comprise rhubarb, lotus, ginger, orchid, and lily. The base notes of this perfume are musk, sandalwood, and amber. The perfume has a pleasant smell which goes well with everyday wear.
Pros
Long lasting scent
Moderate sillage
Ideal for daily wear
Cons
None

Price at the time of publication: $21.96
Review
The Green Tea Mimosa by Elizabeth Arden houses the green tea vapors and citrus scents on the top, Moroccan Mimosa Absolute at the middle notes, and Heliotrope Ambrette Seed at the base. The elegant fragrance is rejuvenating and fresh. It lifts one's aura and emotional connection, making one look and feel more joyful than ever. This gracious fragrance is ideal for morning wear.
Pros
Refreshing scent
Calming fragrance
Perfect for the summers
Value for money
Cons
Price at the time of publication: $39.5
Review
White Tea from Elizabeth Arden is a memory of the first sips of tea. The musky-woody floral fragrance for women was launched in 2017. The base notes of ambrette, exotic woods, tonka bean, and amber form the woody-musky flavor, while the heart notes of White Tea, White Iris, and Mate enhances femininity of the perfume. The top sea notes, mandarin orange, fern, and sage burst the real essence of this heartwarming experience that tea gives you. It is ideal to be worn for daily day-to-night wear and middays.
Price at the time of publication: $18
Review
If you love all things floral and nature, then Elizabeth Arden Splendor is the one for you. This perfume, a luscious combination of floral and green notes, was launched in 1998. Based on the warm notes of cedar, amber, and sandalwood, the floral notes of rose, magnolia, and lily dominate the heart notes. The burst opening of the fragrance is sweet with the touch of peony, bergamot, and wisteria. This irresistible floral scent is a flush of herbal freshness and is an ideal pick for everyday occasions. Have a look at this video and learn more about the Elizabeth Arden Splendor.
Pros
Suitable for spring and summer
Suitable for all age groups
Perfect for daytime use
Budget-friendly
Cons
Price at the time of publication: $16.97
Review
Meditteranean from Elizabeth Arden is a reminiscence of clear blue skies, bright sunshine, and soothing breeze by the seashore. This woody floral fragrance houses the base of sandalwood, musk, and amber. The heart notes of magnolia and orchids make way to the playful combination of peaches, oranges, and plum as the top notes. This sensual fragrance has timeless elegance which is a reminder of all beach holidays.
Pros
Suitable for summers
Suitable for all age groups
Perfect for daytime wear
Budget-friendly
Cons
Not long-lasting
Price at the time of publication: $25.01
Shopping Guide
Elizabeth Arden was founded by the legendary innovator and tireless entrepreneur, Florence Nightingale Graham, who went by her business name Elizabeth Arden back in 1910. It all started out with a little salon called 'Red Door' on New York's Fifth Avenue. Although it was created back in the time of the Great Depression in America, the fragrance shop still flourished.
Arden grew her business at an impressive rate and became one of the wealthiest women in the world. Did you know that Arden was the first person to introduce eye makeup to the women of America? Or that she was the first to make travel-sized products? Pretty cool, right?
As of today, the brand is globally recognized for its range of innovative beauty products, skin care products, makeup, and distinctive fragrances. Arden's iconic signature fragrance Red Door, which was created in 1989, is still a classic even among celebrities.
Price Range
Elizabeth Arden perfumes can cost you anywhere between $30 and $70. Its Green Tea and White Tea range fall under the budget-friendly category. The Fifth Avenue collection is mid-range, while the Red Door collection falls on the expensive side.
Why Trust StyleCraze?
The writer of this article, Esha Saxena, has a keen interest in beauty and makeup-related products. Blending her passion into her research, she compiled this list of the best Elizabeth Arden perfumes. She scoured numerous product reviews to shortlist the best products available in the market. Each product includes a complete description of its important aspects for your convenience. She has also provided a buying guide to help you make an informed decision.
Frequently Asked Questions
Which Elizabeth Arden perfume smells best?
The most popularly loved scent from Elizabeth Arden is the Red Door.
How long does Elizabeth Arden perfume last?
An Elizabeth Arden perfume has a sweet scent with longevity for up to 5 to 6 hours approximately. And even after that duration, it doesn't really fade away completely.
Is Elizabeth Arden perfume cruelty-free?
Yes. Elizabeth Arden perfumes do not use animals to test the quality of their products. It is cruelty-free.
Recommended Articles