10 Best Ellipticals For Small Spaces To Improve Your Fitness
Work out on your legs from anywhere with these user and space-friendly tools.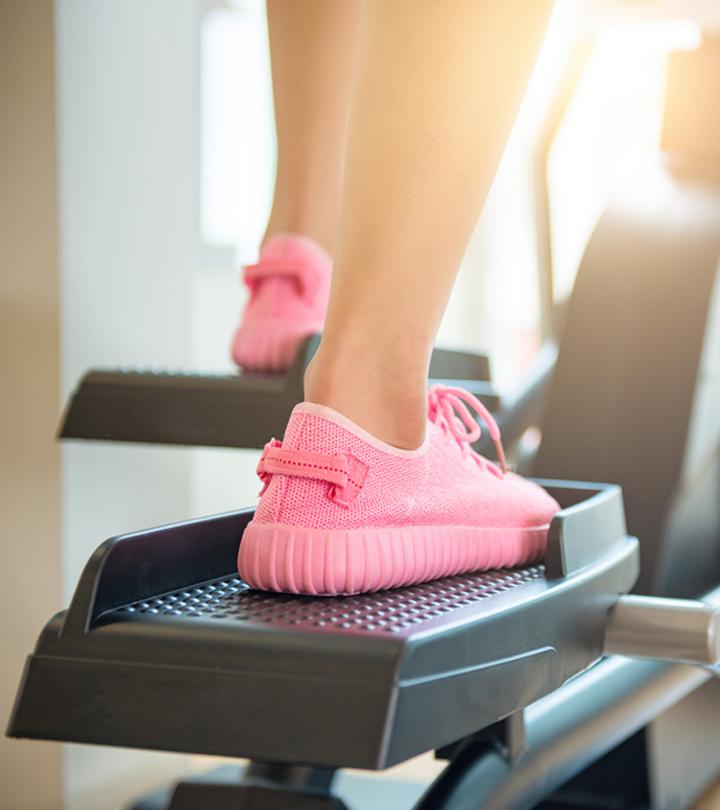 Workout from home while you work from home! If there's anything that the recent pandemic has taught us, it is that not only can a sudden lockdown render your gym closed indefinitely, but crowded gyms can also be a hotbed for infections and viruses. There's no reason for your fitness goals to go out the window just because you're home-bound! One of the most versatile pieces of equipment to help tone and sculpt your entire body, the elliptical machine is one that scores high points when it comes to functionality and practicality in a neat, compact package.
The best elliptical for small spaces is one that is compact, portable, and allows you to workout both your upper and lower body efficiently. It ensures you crush your fitness goals and get into the best shape of your life without compromising on space or time. With a wide variety of different types of exercise machines available in the market, the choices are endless! Not sure where to start? Check out our pick of the 10 best ellipticals for small spaces in 2023 and get ready to flaunt those well-earned gains.
What Is A Compact Elliptical?
As the name suggests, a compact elliptical is one which fits in easily in small and cramped spaces while allowing you to get a full body workout in the comfort of your home. They are the hottest new trend at a time when people find themselves homebound and itching to get back to their fitness regime. The ideal addition to any modern living space, a compact elliptical is an investment in your health that you won't regret.
Get Fit At Home With The 10 Best Small & Compact Ellipticals
Crush your fitness goals and complete a full-body workout in the comfort of your home with this cute and functional elliptical machine which is ideal for small spaces. Featuring a compact design, this modern home essential allows you to engage both your upper and lower body while minimizing the impact on your joints. The extended stride and adjustable abdominal cushion add to its features. A multipurpose digital monitor, comfortable abdominal pad, and non-slip foot pedals make it an absolute joy to get your cardio in. Easy to store in your closet or against the wall, you no longer have an excuse to miss your workout when you get this small elliptical machine for home! Click here to check out a detailed personal review of this product.
Pros
Easy-to-read multifunctional digital monitor
Comfortable abdominal pad
Non-slip foot pedals
Full-motion arm exercisers
Slim foldable design
Cons
Some might find that this elliptical machine tends to squeak a bit when used.
Price at the time of publication: $95.97
Now you can get your cardio in while you're finishing up your work presentation! This small elliptical machine for a small apartment fits under most desks and allows you to improve your lower body muscular endurance and blood circulation while you're working from home. Ideal for the multitasking young woman who doesn't like to compromise on her health, this neat little machine features large textured foot pedals, an easy-to-use digital monitor, and 8 levels of adjustable resistance to get the most out of your workout. You can use it under the office desk or even at your couch, and its quiet operation and magnetic resistance make it a smooth workout equipment. So what are you waiting for? Get your hands on this elliptical for small spaces and start working on that summer bod! To understand the nuances of the product in detail, you can check out this review.
Pros
8-level adjustable resistance
Compact, portable design
Glide wheels and non-slip foot pedals
Convenient digital monitor
Cons
Some might find that this machine is a bit loud when used.
Price at the time of publication: $129.97
Here is an incredible 2-in-1 exercise machine which combines a small elliptical with a stationary bike for a compact powerhouse to meet all your fitness needs. An easy-to-use digital monitor displays essential information like distance covered, time, and speed so you can easily track your calories burned. This small, compact elliptical machine allows you to mix it up and choose between low-impact cardiovascular variations so that you don't get bored of your workout. So what are you waiting for? Hop on to this incredible machine and get ready to start toning up! Check out this YouTuber's review of this product.
Pros
2-in-1 exercise machine
Adjustable tension knob
Fully adjustable seat
Electronic console to track exercise
Cons
Some might find this exercise machine a bit difficult to assemble.
Glide and stride the way to a healthier and fitter version of yourself with this compact elliptical for small spaces which is the ideal mix of functional and practical. This neat machine has a ton of cool features to keep you entertained while you log those steps. A streamlined console not only displays the distance covered and calories burnt, it also allows you to travel the globe with various destinations shown on the screen to help you track your miles. Padded handlebars with heart rate contact grips, a space-saving design, and a choice of 16 levels of variable resistance are just some of the reasons why this home exercise machine is a hot favorite.
Pros
Space-saving, ergonomic design
Streamlined console with multiple features
Padded handlebars with heart rate contact grips
Convenient built-in media rack
Cons
Some might find it a bit inconvenient that the console doesn't have a backlight.
Price at the time of publication: $549.99
Ditch the expensive gym membership and save time by getting your daily sweat sesh in the comfort of your own space! Alternate between using an elliptical and a stepper with this 2-in-1 machine which is ergonomically designed to allow smooth movement while being gentle on the joints, allowing even high-intensity interval training. Lightweight and durable, it offers 8 levels of resistance control and a straightforward LCD computer with a built-in media shelf. Compact and quiet, it is the ideal addition to your living room to incorporate a more active lifestyle without compromising on precious time and space.
Pros
2-in-1 elliptical and stair stepper
Compact and durable design
Straightforward LCD computer with built-in media shelf
8 levels of resistance control
Cons
Some might find that this machine tends to be a bit unstable when used.
Price at the time of publication: $298.99
Break free from your sedentary lifestyle and step up your fitness game with this convenient and small elliptical machine which fits right under your desk. Offering 8 resistance levels, this whisper-quiet small elliptical has extra-long pedals, allows bi-directional stride motion, and features an LCD screen which makes it easy to track your workouts. The ideal choice for active seniors, busy professionals, and those recovering from an injury, this portable elliptical machine definitely deserves a try if you're looking for critical workout features!
Pros
Customizable pedal height
Bi-directional stride motion
8 resistance settings
Functional LCD Screen
Cons
Some might find the weight of this exercise machine a bit heavy.
Don't let the bad weather outside be an excuse for you to skip your workout! Get all the advantages of running without the strain on your knees with this space-saving elliptical which can be set up anywhere in your home with its compact and portable design. Ideal for the fitness enthusiast, this trainer comes packed with some cool features which include a digital monitor to track your progress, built-in pulse rate sensors in the handlebars, large textured non-slip foot pads, adjustable resistance, and a convenient phone and tablet holder. Ensuring a quiet and efficient total body workout, this elliptical is the ideal addition to your fitness regime.
Pros
Conveniently-placed wheels for easy portability
Textured non-slip foot pads
Adjustable resistance
Digital monitor for reliable tracking
Cons
Some might find the assembly instructions of this elliptical trainer a bit difficult to understand.
Step it up, chase away the blues, and get those endorphins pumping with this compact, space-saving elliptical which allows you to get in a full workout with minimal equipment. Feel the burn on both your upper and lower body with this versatile fitness machine which comes with an ergonomic non-slip design, an easy-to-use monitor, and variable resistance settings. The ideal elliptical for use by the entire family, young and old, this is the ideal way to get ready for the summer party season without indulging in expensive gym memberships.
Pros
Compact and portable design
Non-slip foot rests
Versatile and durable
Functional digital monitor
Cons
Some might find that this machine is a bit noisy when used.
Elevate your fitness regime and get ready to reveal your fittest self with this amazing small elliptical machine which allows you to target different parts of your body for a complete workout. Featuring a comprehensive LCD display, this fitness machine features comfortable padded handlebars, 8-level magnetic resistance, and built-in wheels for easy portability, making it the ideal machine for those living in apartments and cramped spaces. Invest in your health and fitness and give this elliptical a try, you'll definitely thank us later!
Pros
Strong bearing capacity of 220 lbs
Durable
Pulse handlebar to track heart rate
8-level magnetic resistance
2 built-in wheels for easy portability
Large anti-slip foot pedals
Cons
Some might find that this elliptical tends to wobble a bit when used on wooden floors.
Build muscle and burn fat efficiently and get ready for swimsuit season with this small elliptical machine which is the ideal accessory to turn any room in your house into an at-home gym. Ergonomically designed for fast results, this compact machine allows you to tone your arm muscles and sculpt those legs with the help of full motion arm exercisers, large non-slip foot pedals, and an easy-to-use computer display which ensures you meet your target. A convenient tension control knob allows you to adjust the resistance so that you get the most out of your workout without wasting any precious time.
Pros
Full motion arm exercisers with non-slip handlebars
Convenient transportation wheels
Tension control knob to adjust resistance
Ergonomic and versatile design
Cons
Some might find that this machine tends to squeak a bit when used.
Now that we've had a look at our pick of the 10 best ellipticals for small spaces in 2023, let us look at some things to consider when picking the best machine for your fitness goals.
What To Look For When Buying An Elliptical For Small Spaces
When it comes to furnishing your living space with an essential piece of exercise equipment, it is important to make sure that the design suits both you and your space. Pick a small elliptical which has a compact design and can be easily tucked into any corner or closet, especially if you're in a space crunch. An under-desk design works best for people who like to multitask and get their workout done while finishing up their presentation. Don't hesitate to try a few before picking an elliptical which is ergonomically designed, functional, and gets you excited about elevating your fitness game.
Whether you like your electrical elliptical machine to be parked in one corner of your living room, or you'd like the freedom to wheel it to the room of your choosing, this is a factor to consider when picking your fitness machine. It is best to pick a small elliptical which is lightweight, compact, and easy to assemble.
There is a wide range of additional features available in the market and it is best to pick an elliptical which has all the features you need. A digital display which shows data like distance covered, speed, and calories burnt is ideal for someone who likes to track their workout. Some ellipticals come with grip sensors to help track your heart rate for those who like to monitor their cardiovascular health. Non-slip foot pads, ergonomically designed handlebars, and a foldable design, are all great features to consider when picking an elliptical to meet your fitness needs.
Why Trust StyleCraze?
Shreya Vishwanathan, the author of this article, is fitness and health enthusiast. She loves helping her readers find the right fitness products. She went on a hunt for the best ellipticals for small spaces. With the help of extensive research, she made a list of them to help her readers workout in the comfort of their home. The ellipticals are portable and help you do both upper and lower body workouts.
Frequently Asked Questions
Are small ellipticals worth it?
Absolutely! Small ellipticals allow you to meet your fitness needs without compromising on space or time. They are an essential addition to any modern living space and will help keep you fit and healthy when you are homebound.
Is a compact elliptical worth it?
A compact elliptical is a great investment in your health and will help you meet your fitness goals in the comfort of your home. They are a great idea for those who live in apartments and don't want to waste precious real estate on bulky gym equipment.
How much space do you need for an elliptical?
This depends on the model you pick, but generally, small ellipticals are compact and have a foldable design which allows you to tuck them into any closet or corner of your room.
What muscles does a mini elliptical work?
An elliptical is a great way to get a full body cardiovascular workout In. It works all parts of the body and helps you tone your arms, sculpt your legs, and strengthen your core.