10 Top-Selling Embryolisse Skin Care Products To Try Now
It is time to make your skin shower in the healthy extracts nourishing fruits and flowers!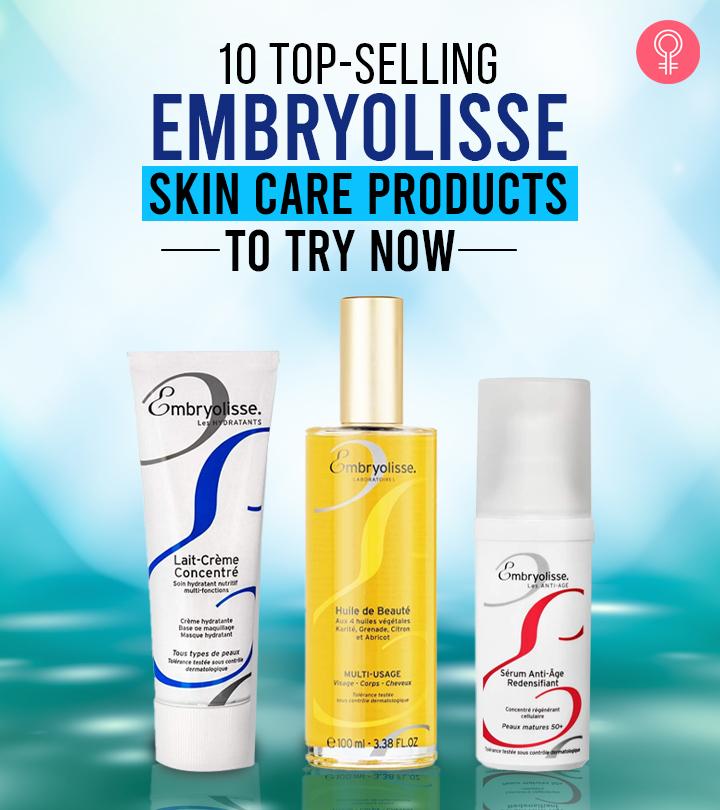 The products by Embryolisse hydrate and nourish your skin. The best Embryolisse products are formulated with extracts of flowers and fruits that pamper your skin. In addition, these products are paraben-free, vegan, and are suitable for all skin types. Moreover, the products are infused with collagen and hyaluronic acid that condition your skin.
Let's look at the list of the 10 best Embryolisse products. Read on.
The 10 Best Embryolisse products you Must Try Now
The Embryolisse Lait-Crème Concentre refreshes and smoothens your skin, protecting it against free radical damage. It contains aloe vera that heals damaged cells and brightens your skin. Soy protein and shea butter nourish and hydrate the skin. Beeswax and vitamins help retain skin moisture and keep the skin supple. This cream can be used as a face mask and post-sun-care skin treatment. You can also use it as a makeup primer and makeup remover. This product is long-lasting, lightweight, and non-greasy.
Key Ingredients: Shea butter, Beeswax, Aloe vera, and Soy proteins
Pros
Long-lasting
Can be used for post-shave care
Non-greasy
Affordable
Lightweight
Non-greasy
Cons
Not suitable for oily skin
The Embryolisse Filaderme Emulsion is loaded with essential nutrients that moisturize the skin and prevent dryness by relipidizing it. It contains shea butter and squalane that help repair dead and damaged skin.  Beeswax and aloe vera act as skin barriers and make your skin youthful, glowing, and refreshing. This face cream visibly eliminates twinges and dander. The gentle formula is long-lasting and absorbed quickly.
Key Ingredients: Shea butter, Beeswax, Aloe vera, and Vegetable squalane
Pros
Long-lasting
Lightweight
Absorbed quickly
Moisturizes the skin
Cons
The Embryolisse Serum Anti-Age Redensifiant is a cell regenerating serum that enhances skin elasticity. It is infused with polyphenol and vitamin E, which help make the skin smooth and plump. Metabiotic resveratrol and hyaluronic acid help regenerate collagen and tighten the skin. This serum hydrates and refreshes the skin without feeling heavy and greasy. It is recommended for elderly beauties of 50+ ages.
Key Ingredients: Metabiotic resveratrol, Vitamin E, Hyaluronic acid, and Collagen
Pros
Non-greasy
Lightweight
Diminishes fine lines and wrinkles
Cons
The Embryolisse Hydra-Mat is a mattifying face moisturizer that contains sugar derivate and apricot oil. Corn starch absorbs the excess oil while squalane and allantoin soothe the skin, reducing inflammation. Vitamin E acts as a skin barrier and maintains the skin's pH level. This moisturizer smoothens and softens the skin. It also catalyzes the renewal of dead and damaged cells, imparting a youthful glow to your skin.
Key Ingredients: Shea butter, Aloe vera, Vitamins A, E, and F, Almond oil, Corn starch, and Vegetable squalane
Pros
Absorbed easily
Long-lasting
Matte finish
Softens the skin
Cons
The Embryolisse Cleansing Bar eliminates impurities and makes the skin soft.  The gentle formula is enriched with wheat germ plant oil, which moisturizes the skin. It is dermatologically tested,  soap-free, and preservative-free. The natural oil enriched light fragrance provides the perfect bathing experience. This product is ideal for dehydrated skin.
Key Ingredients: Wheat germ plant oil
Pros
Affordable
Soap-free
Preservative-free
Gentle formula
Dermatologically-tested
Cons
The Embryolisse Embryoderme is an anti-aging cream that prevents wrinkles and sagging. It is tailor-made for mature skin to impart a youthful glow and helps exfoliate dead cells. This cream contains omega 9, vitamin E, and hyaluronic acid that strengthen the skin's lipid barrier to smoothen fine lines. The active ingredients like shea butter, beeswax, aloe vera, and soy extract boost collagen and elastin production of the skin. This anti-aging cream also revitalizes and nourishes the skin.
Key Ingredients: Omega 9, Vitamin E, Hyaluronic acid, Shea butter, Beeswax, Aloe vera, Soy extract, and Lactic acid
Pros
Adds radiance
Long-lasting
Lifts saggy skin
Prevents fine lines and wrinkles
Fragrance-free
Cons
The Embrolisse Creme Exfoliante eliminates dead cells and makes your skin radiant. It gets rid of unwanted impurities and restores the original skin tone. This exfoliating cream is formulated with bamboo powder that promotes cell renewal. Other soothing ingredients like hyaluronic acid, vitamins A, E, and F, and beeswax nourish, rejuvenate, and soften your skin.
Key Ingredients: Bamboo powder, Beeswax, Hyaluronic acid, Vitamin A, Vitamin E, and Vitamin F
Pros
Gentle formula
Pleasant fragrance
Cons
The Embryolisse Huile de Beaute is a multipurpose oil that nourishes and moisturizes your hair, face, and body. It eliminates impurities and protects the skin from dust and pollutants. This beauty oil contains natural ingredients like coconut oil, lemon oil, apricot oil, and pomegranate oil. These ingredients help nourish dry skin and scalp. This product is lightweight, non-greasy, and is absorbed quickly into the skin.
Key Ingredients: Apricot oil, Pomegranate seed oil, Coconut oil, and Apricot oil
Pros
Lightweight
Non-greasy
Absorbed quickly
Pleasant fragrance
Cons
The Embryolisse Eau de Beaute Rosamelis is a face toner that eliminates dirt and dust without disturbing the skin's pH balance. It contains a blend of rose, orange blossom, hamamelis, and cornflower waters that rejuvenate the skin and enhance the skin tone.  This toner is rich in vitamin C that helps clean the pores and reduce their size.
Key Ingredients: Rose, Orange, Cornflower, and Hamamelis waters
Pros
Brightens the skin
pH balanced
Soothes the skin
Cons
The Embryolisse Hydra-Masque neutralizes free radicals and restores your skin's radiance. It contains hyaluronic acid that penetrates the skin and binds the water retaining cells. Almond and sesame oil regenerate, hydrate, and strengthen the skin. Allantoin and glycerin keep the skin fresh and silky, while vitamins A, E, and F diminish the appearance of fine lines and wrinkles. This hydrating face mask helps keep the skin plump, toned, and smooth.
Key Ingredients:  Hyaluronic acid, Sweet almond oil, Vitamin A, Vitamin E, Vitamin F, Glycerine, Allantoin, and Beeswax
Pros
Adds glow
Softens the skin
Reduces fine lines and wrinkles
Cons
Why Trust StyleCraze?
The author of this article, Shiboli Chakraborti, is a certified skin care coach. She loves experimenting with new arrivals on the market and creating comprehensive articles on the same. She sifted many user reviews on trusted online forums and conducted in-depth research to shortlist the best offerings from this brand. The products on the above list are vegan and are suitable for all skin types.
Frequently Asked Questions
What is Embryolisse made of?
Embryolisse skin care products contain aloe vera, shea butter, collagen and elastin, beeswax, vegetable squalane almond oil, aloe vera, tropica starch, and emollient oil. They also contain essential vitamins like A, E, and F, which improve your skin health.
Is Embryolisse non-comedogenic?
Yes, Embryolisse creams and lotions are non-comedogenic. They do not block the pores, thus allowing your skin to breathe.
What is Embryolisse cream used for?
Embryolisse creams are multifunctional – they help remove dead skin cells, tone your skin, and add glow.
How do you use Embryolisse?
Embryolisse skin care products can serve as a face cream, moisturizer, makeup primer, makeup remover, and exfoliator.
Recommended Articles