The 15 Best Eminence Organic Skin Care Products of 2023
Natural and sustainable skincare formulations to nourish and pamper your skin.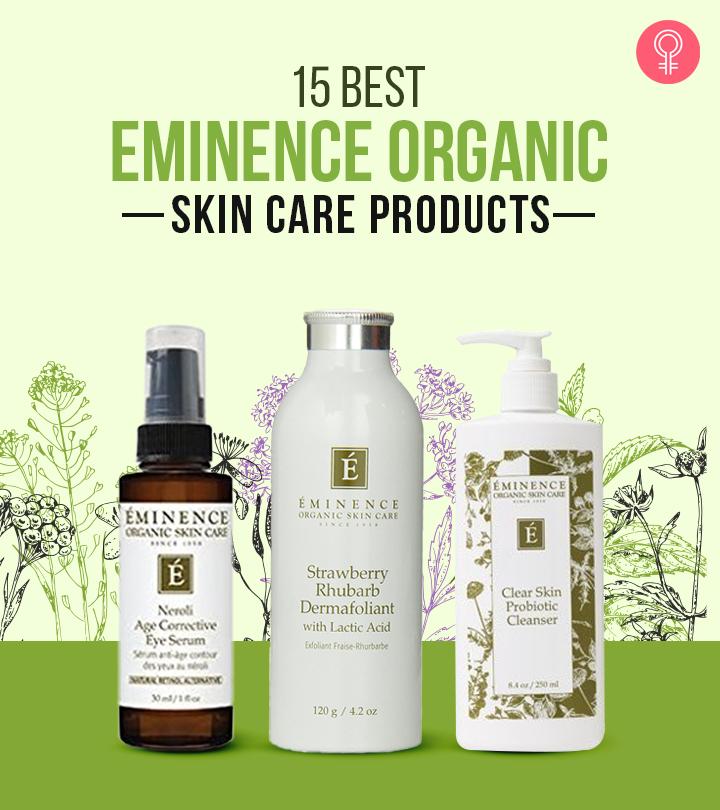 The Lancer skincare line is formulated to revolutionize skincare products by replacing the traditional in-office technique with sustainable skincare. It's only natural to look for the best Dr. Lancer skincare products since they are vegan, paraben-free, and cruelty-free, as opposed to most brands in the market. This brand was launched by Dr. Harold Lancer, a revered name in dermatology. He is the one behind the famous Lancer Method – a three-step procedure that promotes cell renewal and skin rehydration by using 'Interlocking Chemistry'. Hillary Clark, a makeup and skin care expert says, "Eminence was one of the first clean and organic lines that cater to cell integrity and health. The quality of ingredients and formula methods are pristine." We have listed some of our top picks for Dr. Lancer products for you to address skin concerns effectively. Check them out below!
15 Best Eminence Organic Skin Care Products Available Right Now
Eminence Citrus Exfoliating Wash is one of the most iconic products from this brand. It has skin-loving ingredients that balance sebum production without disrupting the skin barrier. It reveals clear and radiant skin and offers intense nourishment to it. The formula contains lime juice, shea butter extracts, silica, and grapefruit. Its astringent properties tighten your skin and diminish the size of pores. It also gets rid of all the dead dermal cells and impurities effectively. Meadowfoam seed oil gives your skin a hydrating effect as it locks in moisture to promote healthy and supple skin.



Pros
Reduces hyperpigmentation and dark spots
Offers intense nourishment
Removes dead skin cells
Locks in moisture
Hydrates the skin
Cons
None


Quick Tip
Follow up with an emulsified Eminense rosehip whip moisturizer for the best results.
Price at the time of publication: $27.39
Are you looking for a product that boosts collagen production and tightens your skin? It is ideal for people that are sensitive to retinol and want the benefits of natural Vitamin A. Eminence Bamboo Firming Fluid is an excellent anti-aging serum. It has a potent formula of antioxidants and other essential ingredients like vitamin A, coconut oil, essential oils, castor oil, and vitamin C. This anti-aging serum reduces the visible signs of aging, maintains the pH balance of your skin, fights free radicals, and tightens the skin.
Pros
Boosts collagen production
Reduces fine lines and wrinkles
Maintains pH balance
Tightens the skin
Cons
None
Price at the time of publication: $42.26
Eminence Coconut Age Corrective Moisturizer is soothing and gentle on your skin. Its super-hydrating formula consists of coconut oil, coconut water, Swiss green apple stem cells, and a natural retinol alternative complex to reduce the noticeable signs of aging. Coconut water helps maintain the pH balance of your skin. This cream penetrates deep into your skin to strengthen and tone it from within.
Pros
Offers intense moisturization
Soothes the skin
Reduces fine lines and wrinkles
Maintains pH balance of the skin
Suitable for dry skin
Cons

Quick Tip
Use a pea-sized amount of this moisturizer, as it melts very quickly and covers the face effortlessly.
Price at the time of publication: $102.07
Eminence Clear Skin Probiotic Cleanser gives you clear and radiant skin. It is a multitasking hero for mature, problematic skin. Its potent formula contains ingredients like cucumber that tones the skin and reduces the size of pores, yogurt that exfoliates and moisturizes the skin, and sweet almond milk that softens it. It also contains tea tree oil, willow bark extracts, and an astringent Biocomplex. This facial cleanser prevents breakouts, controls excess oil production, and fights the signs of aging. It balances and protects your skin to improve its overall texture.
Pros
Minimizes the sizes of pores
Prevents breakouts
Controls excess oil
Improves skin texture
Moisturizes the skin
Softens the skin
Cons
Not suitable for all skin types

Quick Tip
Emulsify it with a few drops of water before applying it to your face to get the best results.
Price at the time of publication: $26.85
Eminence Strawberry Rhubarb Dermafoliant is a powder-based exfoliator formulated to purify and brighten your skin. It has a sophisticated blend of physical and chemical exfoliants – ideal for delicate skin. Its rich blend of strawberries, rhubarb, rice, lactic acid, Biocomplex, chickpea flour, oat flour, and heilmoor clay exfoliates your skin to gently buff away all the skin impurities and dead skin cells. Its active ingredients also control excess oil and are ideal for treating skin concerns like hyperpigmentation, acne, large pores, and dark spots.
Pros
Brighten the skin
Exfoliates the skin
Tightens the pores
Fights wrinkles
Deeply cleanses the skin
Cons
Price at the time of publication: $39.71
Pamper your skin with the Eminence Eight Greens Phyto Masque. This product is like a green juice for your face; it remineralizes and energizes cellular function. This professional face mask rejuvenates your dull skin with the help of skin-renewing organic ingredients like honey, vitamin A, E, C, algae extracts, and coenzyme Q10. These organic extracts treat menopausal breakouts, fine lines, wrinkles, and skin inflammation. The vitamins A, C, and E in it combat free radicals.
Pros
Reduces dullness
Reduces menopausal breakouts
Reduces fine lines and wrinkles
Prevents skin inflammation
Cons
Price at the time of publication: $31.04
Eminence Strawberry Rhubarb Masque is the go-to face mask for treating dull and dehydrated skin. Its enriching formula is a combination of strawberry, rhubarb, shea butter, grape seed oil, hyaluronic acid, and Biocomplex. This face mask is useful for removing skin impurities, minimizing large pores, and improving skin tone and texture. Each of these ingredients is effective for plumping up your skin and reducing the visible signs of aging to give you healed, unwrinkled, and youthful-looking complexion.
Pros
Hydrates the skin
Removes skin impurities
Reduces the appearance of large pores
Fights fine lines and wrinkles
Imparts a youthful-looking complexion
Cons
None
Price at the time of publication: $49.97
Don't wait till your lips are on the brink of cracking to use the Eminence Citrus Lip Balm for smooth and healthy lips. Its formula is enriched with sunflower seed wax, shea butter, lemon balm, and botanical peptides that restore your lips' moisture and make them soft and supple. Bioavailable peptides nourish delicate lips and promote collagen production. No wonder this lip balm is one of the top favorites of the beauty editors! It is not just a regular lip balm – it is a treatment that is beneficial for hydrating and protecting your lips.
Pros
Heals cracked lips
Moisturizes the lips
Prevents skin damage
Makes your lips soft and supple
Cons
None
Price at the time of publication: $21.34
Brighten up your face with the Eminence Stone Crop Gel Wash. It is a gel-based skin-lightening facial cleanser. It is a nourishing face wash with ingredients like stonecrop, shea butter, and soap base. It removes the dehydrated cells to reveal an even complexion and soften the texture of your skin. This gentle face wash is free from sodium lauryl sulfate (SLS).
Pros
Lightweight
Removes dead, dry skin cells
Evens out the skin tone
Improves skin texture
Suitable for acne-prone skin
Cons
None
Price at the time of publication: $26.12
Have a long and tiring daily schedule and need some refreshment? Try out the Eminence Stone Crop Hydrating Mist. This facial mist is formulated without any parabens, phthalates, GMOs, synthetic dyes, or petrochemicals. Its key ingredients include stonecrop juice that moisturizes your skin and evens out the skin tone. It also contains lavender and jasmine extracts that protect your skin from hyperpigmentation and sun damage. With this facial mist, hydrating your skin on the go is extremely easy. It is also suitable for all skin types.
Pros
Hydrates the skin
Evens out the skin tone
Protects skin from sun damage
Suitable for all skin types
Cons
None
Price at the time of publication: $26.0
Eight hours of sleep is not enough to have healthy, glowing skin the next morning. Repair your skin overnight with the Eminence Monoi Age Corrective Night Cream. This night cream is infused with an advanced Biocomplex of organic botanicals that reduce the visible signs of aging. Its nourishing formula has a rich blend of ingredients like monoi, an argan stem cell complex, shea butter, argan oil, evening primrose oil, jojoba oil, and grapeseed oil. This cream improves skin elasticity and gives you a glowing complexion.
Pros
Fights the signs of aging
Improves skin elasticity
Smoothens the skin
Suitable for mature skin
Cons
Price at the time of publication: $49.8
The Eminence Strawberry Rhubarb Hyaluronic Serum is an anti-aging serum prepared from botanical ingredients. It comprises a unique botanical hyaluronic acid and marshmallow root, which hydrates the skin without causing dryness. The rich composition of cica, strawberry, and rhubarb extracts soothes, exfoliates, and rejuvenates the skin. The antioxidant-rich nutrient blend increases the radiance and provides a long-lasting effect. The naturally occurring salicylic acid in strawberries gently exfoliates dry, dehydrated skin.
Pros
Botanical formula
Hydrating ingredients
Antioxidant-rich formula
Offers long-lasting effect
Increases radiance
Cruelty-free
Paraben-free
Phthalate-free
Sulfate-free
Cons
None
Price at the time of publication: $31.75
Looking for a basic facial cleanser that suits your daily cleansing needs? Go for the Eminence Age Corrective Monoi Exfoliating Cleanser. This facial cleanser has exfoliating ingredients like finely ground olive seeds, Swiss green apple stem cells, monoi, natural fruit extracts, and a Biocomplex. Exceptional makeup remover and a must have for delicate, reactive skin. These ingredients promote new cell growth, improve skin elasticity, and offer antioxidant protection from free radicals.
Pros
Exfoliates the skin
Promotes new cell growth
Improves skin elasticity
Prevents free radical damage
Cons
None
Price at the time of publication: $26.39
Eminence Clear Skin Probiotic Moisturizer is a skin-quenching lightweight moisturizer that diminishes blemish-causing bacteria and clears all the existing bumps. It restores compromised barriers and nourishes inflamed, reactive skin. It also rescues inflamed skin. Its power-packed formula consists of cucumber juice, willow bark extracts, yogurt, tea tree oil, calendula oil, shea butter, and a Biocomplex. Its natural astringent properties. It also soothes inflamed skin, absorbs excess oil, removes dead skin cells, reduces flaking, and maintains the right moisture balance.
Pros
Diminishes blemish-causing bacteria
Soothes skin irritation
Absorbs excess oil
Eliminates flakiness
Moisturizes the skin
Cons
Price at the time of publication: $37.04
Looking for an instant remedy to get rid of dark circles and puffy eyes? Eminence Hibiscus Ultra Lift Eye Cream tightens the skin and de-puffs tired eyes. See-the-difference results for puffy, tired eyes. It is an anti-aging cream infused with hibiscus, ice wine active, caffeine, botanical peptides, green algae, and stevia extracts. This eye cream shows almost instant results. Say goodbye to tiring eyes and look fresh all day!
Pros
Improves skin elasticity
Restores moisture
De-puffs eye bags
Minimizes dark circles
Tightens the skin
Cons
None
Price at the time of publication: $49.89
The Eminence skincare products are globally known for being organic and environment-friendly. These products offer rich nourishment to your skin and diminish the size of the pores. The skin care products from Eminence can get rid of dead skin cells, dirt, and impurities effectively. They hydrate your skin to improve your skin texture and keep it as supple as possible. Eminence products also boost collagen production while reducing the appearance of premature aging signs, including fine lines, dark spots, and wrinkles.
Why Trust StyleCraze?
Oyendrila Kanjilal is a certified skin care coach who loves trying our different available brands of skin care products. But, when it comes to skin care brands, Eminence Organics is one of her favorites because it effectively addresses all your skin woes. All the products mentioned in the list have been well researched and thoroughly reviewed based on user feedback and reviews. These products are paraben-free, vegan, and cruelty-free.
Frequently Asked Questions
What are the best Eminence products?
The Eminence Citrus Exfoliating Wash, Eminence Clear Skin Probiotic Cleanser, Eminence Organics Coconut Age Corrective Moisturizer, and Eminence Citrus Lip Balm are some of the best Eminence products.
Is Eminence skincare organic?
Eminence, skincare products are genuinely organic products made with organic, naturally derived, and Biodynamic® ingredients.
Is Eminence made in Hungary?
Eminence products are formulated in Hungary.
How long do Eminence products last?
Eminence products last for up to 12 months.
Is Eminence skin care medical grade?
No. However, most of their products contain medical-grade ingredients.
Is Eminence plant-based?
Yes. Most Eminence products have plant-based ingredients in their formulas, but all products are not entirely plant-based.
What Eminence products are good for rosacea?
The Eminence Organic Skin Care Coconut Age Corrective Moisturizer is good for soothing the skin. Also, the Eminence Organic Skin Care Stone Crop Hydrating Mist is a good option for rosacea-prone skin.