15 Best Enzyme Masks To Get Clear And Glowing Skin
Exfoliate with these gentle yet powerful masks for visibly radiant and youthful skin.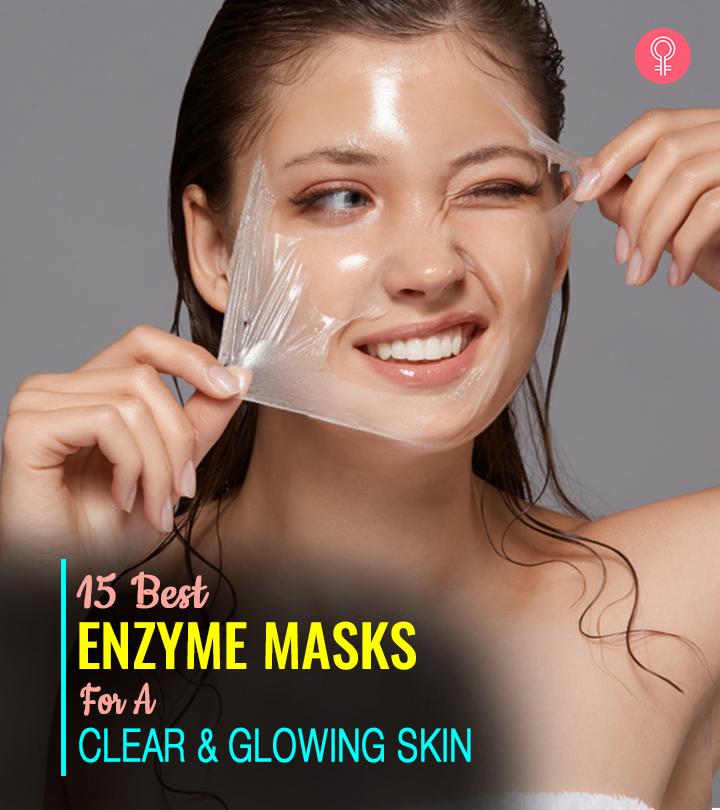 Scrubbing is an integral part of the skin care regimen. It is not surprising to state that it can affect other skin care procedures. This is where the best enzyme masks play a key role. Not only do they exfoliate your skin, but they also soothe it. They are even loaded with antioxidants that benefit the skin in multiple ways. If you have sensitive skin or experience rashes whenever you use those chemical-laden scrubs, then enzyme masks can be your best bet. The best part about these masks is they are fruit-based. Check out the 15 enzyme masks in this post and pick one that suits you the best.
15 Best Enzyme Masks To Gently Exfoliate Dead Skin
The insta natural Exfoliating Glycolic Face Mask And Face Scrub helps exfoliate and hydrate your skin. It reduces the appearance of enlarged pores and leaves your skin glowing, soft, and smooth. This facial mask helps refine and brighten your dull, uneven skin. It contains glycolic acid that boosts cell turnover. Turmeric fights inflammatory aggressors and soothes the skin. Vitamin C enhances collagen production and helps tighten your skin. Aloe vera supports the skin's natural barrier and nourishes your skin.
Pros
Cruelty-free
Paraben-free
No synthetic dyes
SLS-free
Preservative-free
Mineral oil-free
Petroleum-free
Formaldehyde-free
TEA-free
DEA-free
MEA-free
Suitable for all skin types
Cons
None
Peter Thomas Roth Pumpkin Enzyme Mask rejuvenatesand transforms dull and lifeless skin. This exfoliating pumpkin enzyme peel mask with alpha hydroxy acid and aluminum oxide crystals polishes the skin, evens out the uneven skin tone, and gets rid of dirt and impurities. It also has anti-aging properties that help smoothen fine lines and wrinkles to reveal younger, firmer, and revitalized skin. However, alpha hydroxy acid (AHA) may increase your skin's sensitivity to the sun, which may increase the possibility of sunburn. Use a sunscreen and limit sun exposure while using this product and for a week afterward. Use the mask once a week and leave it on for 3-7 minutes to get astonishing results. Check out this YouTube video for a detailed understanding of the Peter Thomas Roth Pumpkin Enzyme Mask. 
Pros
Reduces dullness
Exfoliates and polishes the skin
Evens out the skin tone
Gets rid of dirt and impurities
Reduces fine lines and wrinkles
Makes the skin firm
Cons
May increase the risk of sunburn
Expensive
L&I Apothecary Arista Pumpkin Facial Peel is formulated to replenish and brighten dull and lifeless skin. Pumpkin fruit, glycolic acid, vitamins E and C, cinnamon, ginger, and nutmeg powder offer over 100 beneficial nutrients to the skin. This super-active gentle enzyme peel contains 1-3% glycolic acid that deeply exfoliates the skin. It suits all skin types – dry, oily, combination, and sensitive. The hydrating power of this enzyme mask helps reduce the signs of aging like fine lines and wrinkles. It is vegan, cruelty-free, and fragrance-free. Applying it once a week can help return the glow on your skin and improve its health. 
Pros
l Nourishes the skin
l Replenishes and brightens the skin
l Deeply exfoliates the skin
l Suitable for all skin types
l Reduces the signs of aging like fine lines and wrinkles
l Imparts a healthy glow to the skin
l Vegan
l Cruelty-free
l Fragrance-free 
Cons
Andalou Naturals Bioactive 8 Berry Fruit Enzyme Mask contains Resveratrol Q10, the super antioxidant that supports the skin's well-being and youthful vitality. Goji berry glycopeptides improve the skin tone and texture. Ultra-hydrating aloe vera moisturizes and nourishes the skin. This enzyme mask can also be used on sensitive and mature skin. It is formulated with Advanced Fruit Stem Cell Science that renews skin at the cellular level and results in visible age-defying results. The antioxidants in it slow down cellular damage and stimulate the skin-firming collagen and elastin. The natural fruit enzymes reveal your skin's healthy vitality for soft, poreless, and ageless beauty. Leave it on for 10 minutes before rinsing to rejuvenate the skin. 
Pros
Restores the skin's youthful vitality
Improves skin tone and texture
Moisturizes and nourishes the skin
Suitable for sensitive and mature skin
Reduces fine lines and wrinkles
Tightens the skin
Cons
ELEMIS Papaya Enzyme Peel is a smooth cream peel that contains an exotic cocktail of natural fruit enzymes from African papaya and far-eastern pineapple. The fruit enzymes in it gently exfoliate, purify, and regenerate tired, dull, dry, and lifeless skin. Extracts of bladder wrack and sunflower remineralize and condition fatigued skin. Porphyridium and vitamin E protect the skin from free radical damage. This enzyme mask leaves your skin feeling fresh, soft, clean, and rejuvenated. For an honest review of Bliss Pumpkin Powerhouse Resurfacing & Exfoliating Enzyme Face Mask , click on this YouTube video.  
Pros
Spreads easily
Gently exfoliates the skin
Reduces dullness
Moisturizes the skin
Protects the skin from free radical damage
Refreshes and rejuvenates the skin 
Cons
Bliss Pumpkin Powerhouse Resurfacing & exfoliating Enzyme Face Mask is a whipped exfoliating facial mask formulated to refine and brighten the skin for a bright and luminous complexion. Pumpkin enzymes and AHAs remove dead skin, promote new cell growth, and minimize fine lines and discoloration. Sodium hyaluronate binds moisture to your skin and makes it look plump and youthful. The nutrient-rich shea butter softens and promotes skin elasticity. Prebiotics protect the skin against free radicals. Your skin is left looking restored, radiant, and renewed after using this mask. It is 100% cruelty-free and free from toxins like parabens, phthalates, SLS, and SLES. Before purchasing, you can take a look at this YouTube video for a detailed review. 
Pros
Refines the skin texture
Brightens the complexion
Removes dead skin cells
Promotes new cell growth
Minimizes fine lines and discoloration
Makes the skin look plump and youthful
Softens the skin
Protects the skin from free radical damage
Cruelty-free
Paraben-free
Phthalate-free
SLS-free
SLES-free 
Cons
None
Mario Badescu Enzyme Revitalizing Mask contains alpha hydroxy acid, papaya enzymes, and grapefruit extracts that exfoliate dry and dead skin. Antioxidants and vitamins A and E give your skin a flawless and glowing appearance. This enzyme mask has a non-drying and moisturizing formula. Its skin-perfecting formula evens out the skin tone and reduces the appearance of fine lines and wrinkles. Check out the review of CeraVe Hydrating Cream-to-Foam Cleanserfor more information. 
Pros
Exfoliates dry and dead skin
Imparts a flawless glow
Moisturizes the skin
Evens out the skin tone
Reduces fine lines and wrinkles 
Cons
None
COSMEDIX Pure Enzymes Cranberry Exfoliating Mask polishes dull skin. It is formulated with the nourishing combination of cranberry enzymes and lactic acid. This gentle exfoliating mask leaves your skin feeling extremely soft, supple, and plump. The moisturizing gluconic acid attracts and retains moisture in the skin. Pure enzymes also help protect the skin from environmental stressors. The Chirally Correct L-Lactic Acid and Cranberry Enzymes exfoliate the dull surface cells and pore-clogging impurities. This enzyme mask is free of harsh chemicals and skin irritants like fragrances.
Pros
Reduces dullness
Unclogs pores
Gentle formula
Makes skin soft, supple, and plump
Moisturizes the skin
Protects the skin from environmental stressors
Free of harsh chemicals
Fragrance-free 
Cons
Osmosis Skincare Cranberry Enzyme Mask is an anti-aging firming mask. It hydrates, soothes, and tightens mature skin. The aloe vera in it hydrates and speeds up cell renewal by up to 8 times. This cranberry enzyme and L-Lactic acid firming mask gently exfoliates and removes dead skin and damaged cells. This mask is infused with antioxidants that protect and polish the skin and leaves it feeling firm and smooth with a healthy glow.  It moisturizes and protects the skin from UV rays. It is suitable for all skin types.

Pros
Reduces fine lines and wrinkles
Hydrates the skin
Soothes and tightens mature skin
Protects the skin from sun damage
Smoothens the skin
Imparts a healthy glow
Suitable for all skin types 
Cons
Glimmer Goddess Organic Papaya & Pineapple Enzyme Face Mask gently exfoliates, brightens, and improves the texture and elasticity of facial skin. It also helps reduce breakouts and blackheads. It smoothens your skin, evens out the skin tone, reduces discoloration, and decreases fine lines and wrinkles on mature skin. It also reduces inflammation and soothes the skin. It has a natural lifting effect and is suitable for sensitive skin. It is free of chemicals, fragrances, and toxins.
Pros
89% organic natural ingredients
Exfoliates the skin
Brightens the skin
Improves skin texture and elasticity
Smoothens the skin
Evens out the skin tone
Reduces discoloration
Decreases fine lines and wrinkles
Reduces inflammation
Suitable for sensitive skin
Free of chemicals, fragrances, and toxins
Reasonably priced
Cons
None
Valjean Labs Renew Collagen + Fruit Enzymes Sleeping Mask removes dead and dull skin for refreshed and rejuvenated skin. It is infused with collagen that rehydrates the skin and fruit enzymes that exfoliate gently, leaving the skin energized. This mask firms the skin, keeps it deeply hydrated for a youthful and healthy appearance. It also makes the skin smooth and soft. In addition, it is cruelty-free and free from parabens.
Pros
Overnight treatment
Hands-free exfoliation
Cruelty-free
Paraben-free
Cost-effective
Cons
The smell might bother sensitive noses.
It might cause breakouts in some users.
go Pure Enzyme Masque is formulated with natural pumpkin and papaya enzymes that combat dull skin. Glycolic acid exfoliates the dead skin cells. Rose hip oil and jojoba oil provide skin soothing and additional hydration benefits. This anti-aging face mask is formulated with enzymes and antioxidants that help provide a smoother-looking complexion, dissolve the impurities, and improve the look of dull skin. Cocoa butter and she a butter provide deep hydration and moisturization. Leave this mask on for 5-10 minutes and remove with it a damp cloth to reveal glowing and flawless skin.
Pros
Exfoliates the dead skin
Soothes and additional hydrates the skin
Reduces dullness
Provide deep hydration and moisturization
Paraben-free
Formaldehyde-free
Propylene glycol-free
SLS-free
Dye-free
Fragrance-free
Cruelty-free
Reasonably priced 
Cons
Exfoliate dry and dull surface skin cells with the Andalou Naturals Kombucha Enzyme Exfoliating Mask. This mask is infused with powerful ingredients such as argan stem cells, grapefruit kombucha, pineapple, and papaya enzymes that slough off the skin's impurities to prevent breakouts, keep it hydrated, and smoothens the surface for a spotless appearance. The willow bark in the formula boosts circulation for a rosy complexion, while vitamin C renews skin cells for a youthful tone. Moreover, aloe vera soothes the skin and protects its barrier from pollutants.
Pros
 Refreshes skin
 Prevents acne and pimples
 Boosts cell renewal for a youthful glow
 Vegan
 Cruelty-free
 Gluten-free
 Non-GMO
 Alcohol-free
Cons
 Sensitive skin may experience redness
Aloette Aloepure Restorative Enzyme Peel removes dead skin cells and hydrates the skin, making it soft with a healthy glow. It is a natural mask with pineapple, papaya, grapefruit, and cucumber fruit enzymes that exfoliate the skin and remove impurities to restore a hydrated and radiant complexion. It also contains Aloeganic aloe vera that smooths and softens the skin. This cruelty-free chemical face peel is suitable to be used once a week for all skin types.
Pros
Suitable for all skin types
Cruelty-free
Gluten-free
Sulfate-free
Hydroquinone-free
Cons
Remove dull skin and rejuvenate it through a moisture boost with the Image Vital C Hydrating Enzyme. This mask has fruit enzymes that gently exfoliate your skin, making it nourished, healthier, and radiant. It also has two types of Vitamin C to remove dead skin cells, prompt collagen production, and minimize blemishes for a clarified skin. Moreover hyaluronic acid and vitamin E work together to protect and retain moisture for a plump skin tone.
Pros
 Lightweight
 Clarifies skin for a radiant glow
 Anti-aging benefits
 Hydrates your skin
 Smooths the skin
 Clinically-tested
 Cruelty-free
 Gentle on skin
Cons
None
What Are Enzyme Masks Actually?
Enzyme masks are fruit-based peel-off or wash-off masks that are made of 80% natural ingredients. They act as chemical exfoliants. Thus, you do not have to rub them into your skin to scrub off impurities. They are not as harsh as chemical exfoliants. They are gentle and can be used on sensitive skin.
Check out the benefits of enzyme masks in the next section.
Benefits Of Using An Enzyme Mask
Gets rid of the dead skin layer on the surface of your skin
Removes impurities
Removes acne-causing bacteria
Brightens the skin
Evens out the skin tone
Makes the skin glow
Makes the skin soft and supple
Plumps up the skin
Makes the skin look youthful and radiant
Removes blackheads 
Are There Any Side Effects Of Using An Enzyme Mask?
If you have very sensitive skin, you may experience redness and swelling. Also, avoid applying an enzyme mask on cuts, burns, or acne pustules. It may aggravate the pain and inflammation.  
Enzyme masks are great for exfoliating the dead skin on the face and revealing flawless, glowing skin. They do not contain salicylic acid or beta hydroxy acid and are, therefore, gentle on the skin. However, they are more potent than a sheet mask. Use an enzyme mask once a week or two weeks, and you will start to feel and see the difference. Get one of the enzyme masks listed above and flaunt your good skin! 
Why Trust Stylecraze?
Oyendrila Kanjilal is a certified skin care coach whose passion lies in writing well-researched beauty content for her readers. She advocates the importance of using enzyme masks as they ensure healthy and glowing skin. She curated this list after reading the product specifications and analyzing the user feedback available in various online platforms. The masks mentioned in this article offer gentle exfoliation and leave your skin feeling nourished.
Frequently Asked Questions
Are enzyme masks good for acne?
Enzyme masks are good for reducing acne scars and pigmentation. Do not use them on active acne as that may irritate your skin. Consult your dermatologist if you have active acne.
What should I expect after an enzyme peel?
Your skin should appear clearer and feel soft after an enzyme peel. Enzyme peel masks soothe the skin and make it glow. They also reduce blackheads and whiteheads considerably.
How often should you do an enzyme peel?
Initially, use it just once a week. Use it once in two weeks after a few uses. Consult your dermatologist to customize it for your skincare routine.
Is an enzyme peel a chemical peel?
No, an enzyme peel is not a chemical peel. Enzyme peels are gentler and more skin-friendly because they only use enzymes from fruits such as pineapples, pumpkins, papaya, and pomegranate.
Can I use retinol after an enzyme peel?
No, it is not recommended to use retinol after an enzyme peel. Especially, people with sensitive skin should avoid combining retinol with an enzyme peel as it might irritate the skin more.
How long does it take to see results from an enzyme peel?
You can witness visible results within a week after adding enzyme peels to your skin care regime. In some cases, it might also take up to two to three weeks for any significant changes to show.
What do you do after using an enzyme mask?
After peeling off an enzyme mask, you can wash your face with cold water to soothe post-peel sensations. Apply your moisturizer and do not forget to put on a good sunscreen if you need to go out. Keep your skin abundantly hydrated.
Can you wear makeup after an enzyme peel?
It is better not to use makeup after an enzyme peel. Some experts suggest not to wear makeup for a week after using an enzyme peel.
Recommended Articles