16 Best Epionce Skin Care Products To Try In 2022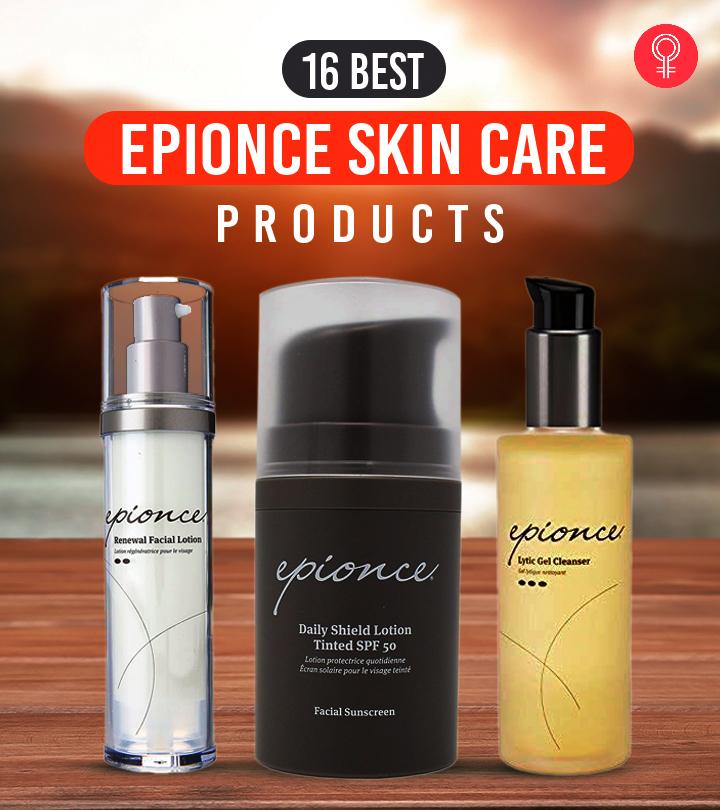 If you plan to upgrade your skin care regimen and include the best Epionce skincare products in your routine, you have come to the right place. We have curated a list of the most sought-after offerings from the brand available online.
Dr. Carl Thornfeldt, a well-known clinical dermatologist, started Epionce, a trustworthy and well-respected skin care line. Millions of individuals rely on Epionce products to help treat skin-related problems and restore the skin's health. The main goal of this line is to create items that contain potent ingredients that are good for your skin. Their products are multi-purpose and can be used by the entire family. Moreover, Epionce products eliminate all hard impurities while protecting your skin from damaging UVB and UVA radiation. Scroll down to know more about their top-of-the-line products!
16 Best Epionce Skin Care Products to Add To Your Beauty Regimen
Epionce Daily Shield Tinted Lotion is infused with broad spectrum SPF 50. This tinted moisturizer offers you a subtle and healthy-looking glow. It is formulated with botanical ingredients and antioxidants that prevent the premature signs of aging. It has a lightweight formula that suits sensitive skin, and it can be used as a moisturizer before putting on your makeup.
Pros
Broad spectrum SPF 50
Subtly tinted
Offers a healthy-looking glow
Prevents skin damage
Prevents signs of aging
Suitable for sensitive skin
Cons
The Epionce Gentle Foaming Cleanser helps maintain the pH balance of your skin, which is crucial for maintaining an even-toned complexion. This effective, gentle facial cleanser removes dirt, oil, and all traces of makeup with its mild foaming formula that reaches deep into the pores and cleanses your skin. It is packed with moisturizing ingredients that help in tightening your skin. Willow bark extract removes all the dead skin cells and soothes skin inflammation. Glycerin offers hydration and prevents skin irritation caused by aggressive skin care products. Lastly, this soothing cleanser gives you soft and smooth skin.
Pros
Maintains the pH balance of the skin
Maintains an even-toned complexion
Protects the skin's natural moisture barrier
Offers deep cleansing
Softens and smoothens the skin
Cons
Epionce Renewal Facial Lotion has a hydrating formula that protects the natural moisture balance of your skin. This lotion shields your skin from the damaging inflammatory factors that might cause premature aging. It penetrates deep into your skin to prevent fine lines, wrinkles, roughness, and dark spots. Use this lotion regularly to see a visible improvement in your skin as it gives you bright and radiant skin, improves the skin texture, and soothes mature skin. Ingredients like meadowfoam and flaxseed extracts soothe skin inflammation. Dates and apple fruit extracts reduce the appearance of existing dark spots. Rosehip, safflower, and avocado extracts smoothen and hydrate your skin. Lastly, the essential fatty acids and ceramides in this lotion diminish wrinkles while making your skin look healthy.
Pros
Protects the skin's natural moisture barrier
Diminishes fine lines and wrinkles
Evens out the skin
Hydrates the skin
Smoothens the skin
Soothes skin inflammation
Reduces dark spots
Cons
Enrich and repair your skin with the Epionce Intensive Nourishing Cream. This nourishing moisturizer works on dry and damaged skin and essentially restores its health and vitality. It uses Cellular Targeting Technology to offer long-lasting effects. This technology allows lipids and peptides to strengthen your skin barrier. The Soft Focus Technology of this anti-aging cream gives you a radiant complexion, boosts collagen production, and resists the visible signs of aging. Epionce Intensive Nourishing Cream also provides intense hydration to help repair the damage in mature skin.
Pros
Hydrates mature and irritated skin
Imparts a radiant glow
Fights the signs of aging
Repairs skin damage
Offers long-lasting results
Suitable for dry and sensitive skin
Ideal for mature skin
Cons
Epionce Renewal Facial Cream is an intensive anti-aging cream. Its clinically proven skin renewal formula regenerates your skin. It is enriched with active hydrating ingredients like meadowfoam and flaxseed extracts that work well on sensitive skin issues like inflammation and flakiness. The rosehip, safflower, and avocado complex softens and smoothens your skin while protecting it from harmful environmental aggressors. The antioxidants in this cream prevent the signs of aging caused by free radicals. Regular use of this product relieves skin irritation, improves skin firmness, and makes your skin look healthy and radiant.
Pros
Diminishes the signs of aging
Soothes inflammation
Protects skin from environmental pollutants
Repairs damaged cells
Softens and smoothens the skin
Suitable for sensitive skin
Cons
None
Does your under-eye area look dull and tired all day long? Try out the Epionce Renewal Eye Cream. This anti-aging under-eye cream tightens the skin around your delicate under-eye area. It contains a potent formula that prevents the signs of aging. Its active ingredients include date fruit extract that nourishes delicate skin, meadowfoam and flaxseed extracts to minimize inflammation and offer intense hydration, and rosehip extract to brighten your skin. The Soft Focus Technology diminishes the visible signs of aging and roughness on your skin. The Epionce Renewal Eye Cream helps you achieve healthy, refreshed, and youthful-looking eyes.
Pros
Strengthens the under-eye area
Tightens the skin
Prevents the signs of aging
Minimizes inflammation
Reduces crow's feet
Cons
Are you looking for a cleanser that removes the rigid impurities effectively from your face? Epionce Lytic Gel Cleanser is a foaming gel cleanser that removes dirt and excess oil while giving you a fresh appearance. This cleanser offers gentle exfoliation, eliminates the dead skin cells clogging your pores, prevents breakouts, and improves the dull complexion of your skin. It contains willow bark extract that exfoliates and unclogs pores and refines your complexion. Date fruit extract minimizes the appearance of fine lines and wrinkles. Menthol soothes the skin and relieves irritation. Lastly, marshmallow extract acts as an anti-inflammatory ingredient to reduce puffiness. The potent ingredients in this cleanser treat severe skin issues like acne, dermatitis, eczema, and psoriasis.
Pros
Unclogs pores
Gently exfoliates your skin
Diminishes fine lines and wrinkles
Soothes inflammation
Reduce puffiness
Suitable for acne, dermatitis, eczema, and psoriasis
Cons
Not suitable for all skin types
Repair and strengthen your skin with the Epionce Enriched Firming Mask. This hydrating face mask has a potent blend of precursor lipids, antioxidants, and humectants that protect your skin's natural barrier and offer you a healthy appearance. Ingredients like meadowfoam and flaxseed extracts provide intense hydration and antioxidant benefits. Willow bark, on the other hand, offers anti-irritant and anti-inflammatory benefits. This skin-firming mask protects your skin from free radical damage.
Pros
Hydrates the skin
Tightens the skin
Combats free radical damage
Soothes inflammation
Cons
None
Having excessively oily skin often results in an unbalanced skin complexion. Epionce Purifying Toner reduces sebum production and treats bacterial and fungal growth on the skin. The willow bark extract in it acts as a natural astringent and reduces excess oil while reducing the appearance of enlarged pores. The formula is also enriched with soothing ingredients like cucumber and lavender extracts to reduce irritation, redness, and inflammation. This facial toner helps you maintain balanced and healthy skin.
Pros
Prevents bacterial and fungal infection
Reduces oiliness
Minimizes pores
Soothes the skin
Reduces redness
Cons
Epionce Renewal Lite Facial Lotion is a lightweight anti-aging moisturizer that works best on oily skin. It is enriched with ingredients that heal skin damage and reduce the appearance of fine lines, wrinkles, dark spots, and uneven skin tone. This hydrating lotion smoothens your skin without making it greasy. The nourishing ingredients correct the signs of damage to create a smooth texture and give you an even-toned complexion. These ingredients also tighten your skin to make you look more youthful. The antioxidants in this lotion combat the free radicals that cause the signs of damage. The ultra-light formula does not leave your skin feeling greasy.
Pros
Lightweight
Non-greasy
Reduces skin inflammation
Heals skin damage
Smoothens the skin
Creates an even-toned complexion
Cons
Epionce Milky Lotion Cleanser gently cleanses your skin without causing any skin irritation or inflammation. Its creamy formula removes oil, dirt, impurities, and stubborn makeup. It strengthens the skin's moisture barrier and improves skin elasticity and firmness. This calming, soothing, and moisturizing cleanser eliminates redness to create a soft, smooth, youthful, and even skin texture. Wash your face daily with this face wash to enjoy radiant skin every day. It works wonders on sensitive, post-procedure, and rosacea-prone skin.
Pros
Reduces skin irritation and inflammation
Strengthens the natural moisture barrier
Makes your skin smooth and soft
Improves skin elasticity and firmness
Cons
None
Epionce Intense Defense Serum is an anti-aging serum with a rich blend of concentrated botanical extracts that target, correct, and prevent the visible signs of aging. Ingredients like palm, cottonseed, and linseed oils hydrate and heal the skin and promote skin elasticity. Hyaluronic acid reinforces the skin's natural moisture barrier, while niacinamide increases skin firmness. Achiote extract stimulates cellular renewal to reduce fine lines, wrinkles, and hyperpigmentation.
Pros
Hydrates the skin
Reduces fine lines and wrinkles
Maintains the skin's natural moisture barrier
Improves skin elasticity and firmness
Minimizes pores
Reduces hyperpigmentation
Cons
Epionce Purifying Wash is a gentle face wash with a soft and effective formula that reduces breakouts, blemishes, and large pores. This face wash is suitable for acne-prone, oily, and combination skin. Its formula contains 0.6% salicylic acid that penetrates the pores to stop further breakouts and minimize the appearance of blemishes. Marshmallow extract and menthol treat skin inflammation and soothe your skin. This powerful cleanser also contains coconut oil to reduce dryness.
Pros
Offers a relaxing and calming effect
Prevents breakouts
Treats acne and blemishes
Moisturizes the skin
Suitable for acne-prone skin
Cons
None
Every part of your body requires nourishment and moisturization. Epionce Renewal Enriched Body Lotion targets the signs of aging occurring on your body. Its advanced formula contains natural ingredients such as avocado oil, shea butter, and rosehip oil to moisturize the dry areas. It infuses the skin cells with essential fatty acids and ceramides to prevent skin irritation, inflammation, and itching and helps rebuild damaged skin barrier. Your skin gets the perfect amount of pampering with this creamy body lotion.
Pros
Moisturizes the skin
Strengthens the skin's natural moisture barrier
Soothes skin irritation
Minimizes the signs of aging
Rich, creamy texture
Cons
None
As the name suggests, Epionce Renewal Calming Cream offers optimal hydration and a calming effect to sensitive skin with issues like eczema. It is enriched with meadowfoam, oatmeal, rosa canina, and safflower extracts that nourish the skin and boost collagen production. Thus, it tightens the skin while reducing itching and irritation.
Pros
Clinically proven formula
Renews the skin's natural moisture barrier
Soothes the skin
Tightens the skin
Non-comedogenic
Can be used on face and body
Suitable for sensitive skin
Cons
Epionce Restorative Hand Cream heals the dry and damaged skin on your hands and soothes chapped and cracked fingers. It comes in a convenient pocket-friendly size, so you can carry it along anywhere you want. This hand cream gets absorbed quickly to soften and moisturize your hands. The organic raspberry seed oil present in it provides anti-inflammatory and antioxidant benefits and restores the skin's natural barrier. This ingredient is also rich in omega fatty acids that hydrate and plump up thin skin. This lotion has a rich and creamy texture, but it does not make your hands feel greasy.
Pros
Moisturizes the skin
Repairs skin damage
Soothes chapped fingers
Offers protection against sun damage
Travel-friendly
Non-greasy
Cons
None
Why Trust Stylecraze
As a certified skin care coach, Oyendrila knows what it takes to look and feel your absolute best every day. Here, she talks about the best Epionce skincare products that can help you treat a host of skin conditions and restore skin health. Her extensive research into each option's features and benefits and scrutiny of the reviews make her a reliable source of information.
Frequently Asked Questions
Does Epionce really work?
Clinical trials have shown that Epionce skin care products work on your skin to treat severe skin issues without causing skin irritation.
Are Epionce products medical-grade?
Dr. Thornfeldt created the Epionce skin care line for his patients to treat all their skin concerns. It is the original medical-grade botanical skin care line
What does Epionce Lytic TX do?
Epionce Lytic Tx is a moderate-strength product that helps cleanse pores, smoothen the visible appearance of imperfections, and improve the skin texture.
Recommended Articles