7 Top Ranking Essence Mascaras Of 2023
Now get those darker and fuller lashes that you have always wanted with these top mascaras.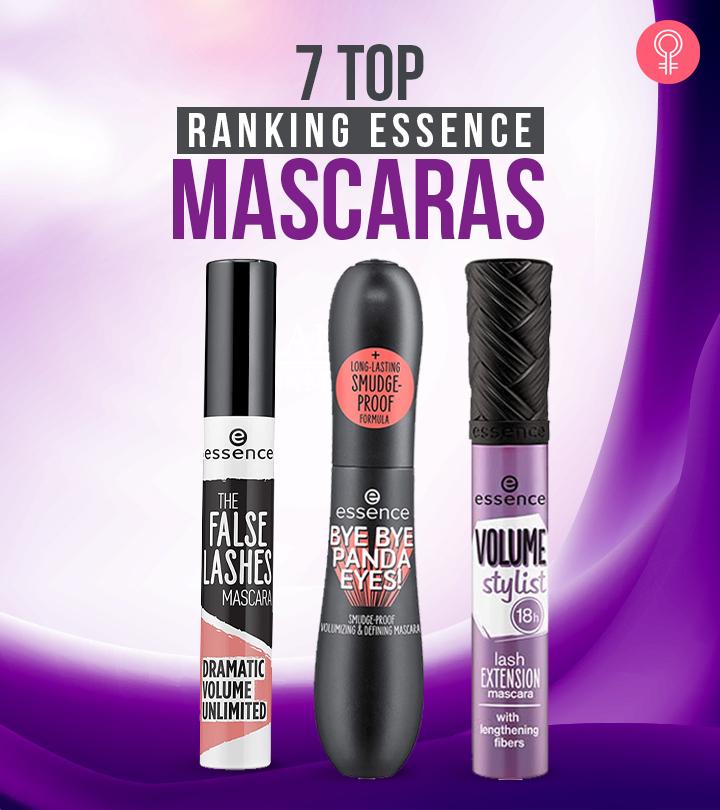 Collectively, the best essence mascaras are adored and recommended by thousands of ladies all over the world. Why? Certified cruelty-free and affordable, these mascaras are engineered to highlight your lashes and give them a defining and bold look. Here is a list of essence mascaras you can buy that can give you that glamorous look!
7 Best Selling Essence Mascaras Of All Time On Amazon
The Essence Lash Princess False Lash Effect Mascara defines, lengthens, and separates each lash to deliver a fuller and bolder look. The straight, conic-shaped fiber brush strokes your eyelashes to add volume. This mascara for sensitive eyes is resistant to water and does not smudge, flake, or fade You may check more about this product in this video.
Pros
Non-clumpy
Lasts all day
Hypoallergenic
Non-flaky
Does not fade
Smudge-proof
Gluten-free
Paraben-free
Cons
Runny consistency
Might cause a burning sensation
Price at the time of publication: $4.99
This mascara from Essence provides your lashes with sensational volume and sculpted length. The creamy formula covers each lash seamlessly in a single swipe. The unique elastomer applicator helps define your eyes without tugging and pulling. This mascara for thin lashes lasts throughout the day without fading, flaking, or clumping. Check out this video to learn more.
Pros
Lightweight
Paraben-free
Easy to remove
Long-lasting
Ophthalmologically tested
Non-clumpy
Non-flaky
No tugging or pulling
Cons
Price at the time of publication: $4.99
The Essence Bye Bye Panda Eyes offers defined, voluminous, bold lashes without smudging. The tubing formula coats each lash with a tube-like wrapping. This high-end mascara is waterproof and does not smudge, smear, flake, or fade.The fine bristled applicator enables easy and precise application. Watch this video for more information about the product.
Pros
Vegan
Water-resistant
Smudge-proof
Long-lasting
Fragrance-free
Paraben-free
Oil-free
Alcohol-free
Acetone-free
Easy to remove
Cons
None
Price at the time of publication: $4.99
This essence Lash Princess Curl & Volume Mascara is perfect for gorgeous, dramatic curls! The volumizing formula with a peanut-shaped fiber brush helps you achieve an intense curl without worrying about clumping. This natural mascara is cruelty-free and lasts all day without getting smudged.
Pros
Smudge-free
Buildable
Cruelty-free
Paraben-free
Quick-drying formula
Non-clumpy
Long-lasting
Volumizing
Cons
None
Price at the time of publication: $4.99
The Essence Lash Extension Mascara is specially designed with lengthening fibers to make your lashes appear longer and voluminous. The convex-shaped fiber paddle brush reaches even the smallest lashes, adding definition. The long-lasting formula keeps your eyelashes curled for up to 18 hours. This fiber mascara lets you get through your day without smudging, flaking, or fading.
Pros
Long-lasting wear
Smudge-proof
Does not flake or fade
Cons
Price at the time of publication: $4.99
The Essence Lash & Brow Gel Mascara shapes your lashes while promising a longer stay. The wide-bristled brush is designed to sculpt and define your eyelashes. You can create a well-groomed look by applying the mascara to the lashes as well as your eyebrows.
Pros
Vegan
Lightweight
Long-lasting
Cons
For a dramatic, fully volumized look that does not clump, look no further than the essential Double Trouble Mascara! This lash-lifting mascara has an exclusive double-sided brush to add natural-looking curls and volume to your lashes for an intense finish. The waterproof formula does not budge, and the product is easy to remove. Get the look of your dreams with this long-lasting, hassle-free mascara!
Pros
Paraben-free
Buildable coverage
Oil-free
Alcohol-free
No microplastic particles
Long-lasting
Fragrance-free
Cons
None
Price at the time of publication: $5.99
No makeup look is complete without mascara. Some are long-lasting and won't smear no matter what you do. Essence is one of the brands known for its superior quality and affordable mascaras. However, the formulations and quality vary. To make your Essence mascara shopping more accessible, here is a buying guide to help you choose the best one.
How To Choose The Best Essence Mascara
Sparse lashes: If you have very fine and thin eyelashes choose a mascara with a thick and rounded brush. These lash fibers can plump and lengthen your lashes for a fuller look.
Short lashes: For short lashes, choose a mascara with a thick and wide wand that volumizes the lashes. This ensures every lash is elevated and defined separately.
Straight lashes: Choose a curling mascara if you have straight lashes that just won't curl.
Long lashes: To enhance long lashes, pick a mascara with tiny bristles that can capture your lashes and curl them for a well-defined look.
Uneven lashes: If you have uneven lashes, pick a mascara that is formulated to add definition and nourishment to the lashes. A formula infused with essential oils and keratin to promote hair growth is suitable.
Natural Look: For a natural look, go for shorter bristles, as it picks up lesser products. It also gives a clump-free and smooth application with a natural volume.
Lifted look: Choose a fine, fiber-bristled spiral brush to lift your lashes. This mascara effectively separates your lashes and gives a salon-style lifted effect.
Bold and dramatic look: Choose a volumizing and lengthening mascara with a thick or dense brush for a bold and dramatic look.
Depending upon the amount of time you wear your mascara daily, choose the durability of the formula. Choosing a formula that lasts longer than 8 hours, is smudge-proof, and is waterproof is ideal. This ensures that your eye makeup stays put for hours.
Why Trust StyleCraze?
Baishali Bhattacharya is certified in makeup artistry. She curated this list of the best Essence mascaras for bold, voluminous eyelashes by conducting extensive research of hundreds of user reviews online. The brand Essence has been a cult-favorite for its mascaras as they are affordable and cruelty-free. The author recommends these mascaras based on their ingredients, durability, and safety.
Frequently Asked Questions
Is Essence mascara good for sensitive eyes?
Yes. Many Essence mascaras are ophthalmologically tested and free of harsh chemicals like paraben and phthalates. Therefore, they are safe for sensitive eyes.
Does Essence mascara make your eyelashes fall out?
No. Essence mascaras are easy to remove and do not cause the lashes to fall out. However, improper mascara removal procedures can cause your lashes to fall.
How do you remove Essence mascara?
• Soak a cotton pad with a few drops of makeup remover.
• Press the pad on the eyes and let it stay for a few seconds.
• Gently swipe the cotton pad slowly downwards against the lashes and get the mascara off.
• Use a Q-tip to remove the excess product.
Can I use Essence mascara every day?
No. Skip using Essence mascara daily if you have delicate lashes as it can cause them to fall. Also, see if the product mentions its suitability for daily use. Otherwise, skip using it every day.
Is essence mascaras toxic-free?
No, Essence is not a toxic-free brand. Although most mascaras from the brand are free of chemical additives, certain mascaras contain chemicals to improve their shelf life.
Recommended Articles