11 Best Essential Oil Spray Bottles To Chill Out In 2021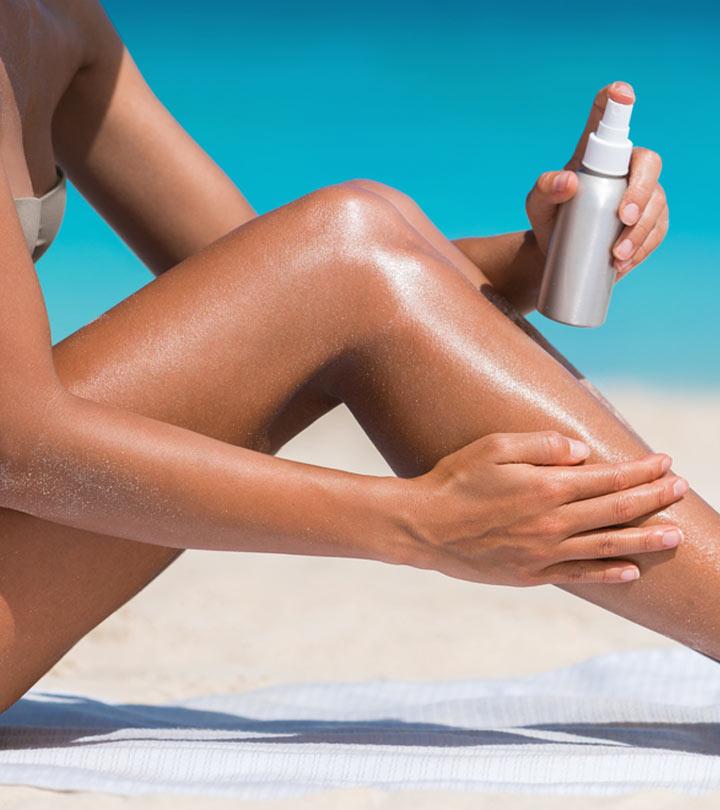 After a long day of fighting environmental aggressors, you deserve a good spritz of essential oil to liven up your mood. Have you been experimenting with essential oil recipes lately? Wondering how to bottle them? Be it for your skincare or haircare routine or to indulge your senses in luxury, finding the perfect essential oil spray bottle is a must. You don't want to end up with one that hardly pumps out anything, or worse, ones that could over-spray and nauseate you.
In these unprecedented times, self-care is everything. We want you relaxed, de-stressed, and smelling amazing. Hence, it is important for us that our readers find a leak-free and easy-to-use spray bottle for essential oil that calms you and brings you joy. We have put together a list of the best ones, so that you don't end up wasting your precious time. Here's our guide to the 11 best essential oil spray bottles in 2021.
11 Best Essential Oil Spray Bottles In 2021
Looking for a spray bottle that is made of sustainable materials? Switch to the Beautify Beauties Flairosol Hair Spray Bottle. Powered with pre-compression technology, this flairosol spray bottle spritzes mist that lasts for 1.2 seconds. It has a fixed output of 1.25 cc per second. This product lets you dispense mist at 360°, so you can spray areas in your body that you wouldn't otherwise be able to reach.
Pros
Even spray
Silicone-free
Travel-friendly
Ergonomic design
Comfortable handle grip
Cons
Some may find the capacity too little.
Not a fan of plastic? Looking for an eco-friendly option? Try Sally's Organic Amber Glass Spray Bottle. This amber color bottle will keep your essential oils safe and will not deteriorate when you fill it with citrus oil blends. You can use this multipurpose and reusable bottle to store some leave-in conditioner for your hair, and it even doubles up as a room freshener. Simply fill in the bottle with your favorite essential oil to make your bedroom smell heavenly.
Pros
Cruelty-free
Adjustable nozzle
BPA and lead-free
Pharmaceutical grade
Protection from harmful UV light
Cons
The bottle isn't transparent.
Whether you want to lay your hair down, indulge in some aromatherapy, or you want to spritz some essential oils to unwind after a long day, this Hydior Clear Glass Spray Bottle is one of the best finds. This is one of the best glass spray bottles for essential oils. It dispenses fine mist without any leakage. You can wash and reuse these bottles, thus saving the planet by not adding to the landfill. It is made of high-quality glass and boasts a non-slip design.
Pros
BPA-free
Lead-free
Travel size
Tight-fitting nozzle
Includes extra sprayers, labels, and tools
Cons
Are on the hunt for good spray bottles for your essential oils? An ergonomically-designed high-quality make, this Yamyone Travel Size Spray Bottle is one of the most durable products in the market. It dispenses fine mist evenly and is incredibly lightweight, making it an ideal choice for your travels. This spray bottle for essential oils holds a decent volume for its size and serves various spraying needs from spritzing essential oils to DIY blends.
Pros
Leakage-free
BPA-free
Sealed bottle mouth
Food-grade material
Cons
The sprayer may not be up to the mark.
Looking for spray bottles for at-home blends of essential oils? With an adjustable nozzle and a trigger sprayer that allows you to dispense your essential oils in different ways, be it as a spritz or a stream, this blue glass spray bottle for essential oils can do it all. The package includes a metal funnel, which you can use to store your essential oil mix and 4 labels to mark your bottles. The nozzle allows for 90° rotation, and the kit includes 2 extra caps. This glass spray bottle for essential oils is dishwasher-safe and reusable.
Pros
BPA-free
Non-toxic
Eco-friendly
UV protection
Cons
Some may find it slightly expensive.
This pack of 2 Dyhaxa Amber Glass Spray Bottles has a customizable stream setting, which is one of our favorite features of the bottle. The ergonomic design and volume control make these spray bottles an attractive buy. These amber spray bottles for essential oils package includes 2 funnels for refills, 24 vinyl labels, 1 label storage box, labels, 2 spill-proof caps, 2 trigger sprays, and 2 protective silicone sleeves.
Pros
Non-toxic
Reusable
Easy to clean
Detachable head
Cons
The nozzle may not last too long.
Looking for an all-purpose spray bottle that does more than just essential oil spritzes? Well, in these Zena Plastic Spray Bottles, you'll find your match. Besides storing your essential oil DIY blends, you can also use them for other purposes like cooking, gardening, and cleaning. You can interchange between the 2 spray settings – mist and steam, depending on your requirement. It comes with 2 labels in burgundy and cobalt.
Pros
Lightweight
Easy to use
Stylish design
Ergonomic grip trigger
Cons
The sprayer may become loose after extended periods of use.
Made of high-quality plastic, this pack of 2 reusable plastic spray bottles fits comfortably in your everyday handbag and is an excellent choice for travel. You won't have to worry about leakages in your handbag in these plastic spray bottles for essential oils, the nozzle fits tightly and is equipped with a leak-proof loop from the inside. The AKPOSE Hair Spray Bottles dispenses fine mist and works great for essential oils, perfumes, and other beauty and skincare solutions.
Pros
BPA-free
Lightweight
Durable trigger
Portable design
Includes labels
Cons
Some may find the spray pump slightly rigid.
This sleek set of 4 mini aluminum bottles are one of the most durable options you'll find in the market for essential oils. You can refill essential oils as and when it gets over and reuse these bottles for as long as you want. It is made of high-quality aluminum and has a transparent cap on the top of the nozzle to prevent dust from clogging it up.
Pros
Rust-proof
High-quality aluminum
Lightweight
Convenient to carry
Cons
With a wide mouth and specialized essential oil dispensing design, this Renewalize Essential Oil Misting Bottle is one of our favorites. Made of food-safe glass, this spray bottle protects essential oil blends from UV ray damage and prevents environmental chemicals from leaching into the oil. The package includes labels and the measurement markings to keep track of when you need a refill.
Pros
Oil filter
Easy to refill
Does not clog
Continuous fine mist spray
Cons
Some may find the capacity too little.
This pack of 2 travel-sized bottle sprayers is made of high-quality plastic and can be reused multiple times. Besides being an essential oil spray bottle, you can also use it for spritzing toner on your face, for cleaning purposes, and in aromatherapy. It has a spring-load button, making it easy to use, and a cap that shields it from dust. This fine mist sprayer is powered with a leak-proof design.
Pros
BPA-free
Recyclable
Easy to clean
High-quality clear plastic
Cons
Now that you are all caught up on essential oil spray bottles available in the market, let's take a look at a few parameters to consider while picking one for hair oil.
How To Choose Spray Bottle For Hair Oil?
Here are a few things you must analyze before buying a spray bottle for hair oil
Adjustable Nozzle: It doesn't matter whether you have long or short hair, but it helps when you have an adjustable nozzle to control how much oil you can dispense.
Sustainable: If you don't want to feel guilty about adding to the landfill, make sustainable choices, like a spray bottle that can be refilled repeatedly.
Toxin-free: Make sure the material is BPA-free and free of other harsh chemicals that may leach into your oil and eventually ruin your hair quality.
Visibility: It is advisable to buy a bottle that isn't made of opaque, but rather a transparent or translucent material so that you can keep track of when you need to refill the bottle next.
Dishwasher-safe: Cleaning small-mouthed spray bottles can be quite the task, so it is best to buy one that is dishwasher-friendly to save you the trouble of cleaning it with your hands.
Leak-proof: Ensure the nozzle is tight, and the bottle is equipped with leak-proof technology to avoid creating a mess during use.
Finding a leak-proof and durable essential oil spray bottle can be tough, especially when the market is flooded with choices. The trick is always doing your research and understanding your needs before making a purchase. Sure, it may not cost much, but you don't want to spend your time and labor buying something and eventually returning an item and adding to your stress, do you? Indulging in essential oils should be relaxing and not stressful.  We hope we have done justice to your needs and included every requirement and feature you would look for in your spray bottle. Just make a list of the key features you look for and then identify the product from our list for the best match.
Frequently Asked Questions
Can you put hair oil in a spray bottle?
Yes, of course, but make sure you put it in one that is sturdy enough to handle an oil blend. Also, it would help if the bottle is made of toxin-free materials.
Can I put castor oil in a spray bottle?
Yes, but pouring it in the bottle can be tricky because it is extremely dense. Use a funnel to avoid a mess.