13 Best Essential Oils For Dry Skin And How To Tutorials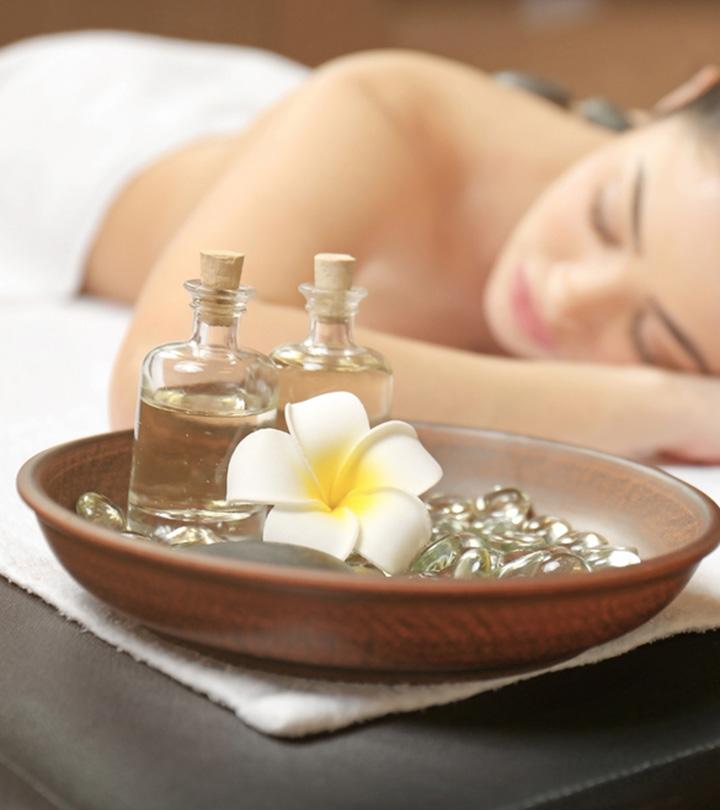 Winter is coming! And you have to stock up all your skin care products before it turns your skin into arid land. Before blaming the weather for your skin, why don't you use the best essential oils for dry skin this winter? Though your skin becomes extremely dry during winter, it is better to start indulging in the right products at the right time rather than waiting for the weather to act on your skin and make it dull and dry. One of the best ways to take care of your skin is using essential oils. They are pure plant oils and contain all the active ingredients and essence of that plant. The natural qualities of the oils, along with their therapeutic components, provide intense nourishment and comfort to your skin. Since most essential oils are safe to use on the skin, you may not worry about any side effects.
Are you confused about which one to choose? We have a list of the best 13 essential oils for dry skin. Keep reading to know more about them and understand how they benefit your skin.
13 Best Essential Oils For Dry Skin You Must Try In 2022
If you haven't tried castor oil on your skin yet, then you are totally missing out on a gem. This 100% pure and cold-pressed castor oil is a godsend solution to deal with dry and cracked skin. Widely known and used by beauty mavens in their skin and hair care routines, this all-natural conditioner moisturizes the skin intensely to leave it soft, smooth, and healthier than before. Try it!
Pros:
Vegan
Cruelty-free
USDA-certified, organic, and unrefined
Ideal to use on hair, lashes, and brows too
Free from alcohol, preservatives, and artificial fragrances
Cons:
Escape to the meadows of lavender with this aromatic essential oil! Soothing your dry skin like a balm; also ensures a healing process for your mind, body, and soul. Designed with a dropper for hassle-free usage, this oil conditions and heals dryness to restore the optimal health of your skin too. Also, its soothing scent will make you a fan of lavender oil in no time. Don't believe us? Give it a try.
Pros:
100% pure and natural oil
Cruelty-free and therapeutic
Calms irritated skin and sunburns
Treats acne and prevents aging signs
Ideal to use for aromatherapy, clear breathing, massages, and more
The ultra-violet and light protected bottle ensures premium quality.  
Cons:
Fragrance may be overpowering for some
Satiate your dry skin with some coconuty bliss! Viva Naturals' lightweight coconut oil moisturizes dry and irritated skin without leaving a greasy feeling behind. Apply it generously and watch it absorb and add a natural glow to your skin within minutes. Also, it boosts hydration and repairs damaged skin as well. And given its versatility, you can use it for hair care, nails, and as a face moisturizer too.
Pros:
USDA-certified
Absorbs quickly
Ensures soft and silky skin
Organic and 100% pure
Free from preservatives and added fragrances
Cons:
The dispensing pump may be a hassle.
Like a breather for your skin to revive and repair! This undiluted and 100% pure blend contains a mixture of multiple essential oils such as eucalyptus, laurel leaf, cardamom, pine, tea tree, lemon, and peppermint. So, pamper your skin with these intense and therapeutic oils as it is a great option to treat dry skin, acne, and anxiety. For the best experience, dilute it with a carrier oil of your choice, and you'll never need those chemicals-packed creams to treat dryness again.
Pros:
Steam-extracted oils
Gc-ms tested for purity
Ensures mess-free usage with an eyedropper
Heals, calms, and repairs dry and cracked skin
Cons:
Do you have dry and sensitive skin? If yes, then you must try this fractionated coconut oil by Premium Nature. 100% natural and ideal for the most sensitive skin out there, get rid of dryness, rashes, and other skin woes with this lightweight healer. Also, it absorbs quickly and will not leave a greasy or sticky feeling after applying. And the best part, you can use this carrier oil for aromatherapies too, as this essential oil guarantees an ultra-soothing experience always.
Pros:
Colorless and odorless
Leaves skin ultra-smooth and soft
Moisturizes and conditions skin intensely
Restores younger-looking appearance
Promotes thicker and stronger hair growth 
Cons:
Not ideal for acne-prone skin
One word— indulgence! Bask in this pure blend of rose petals, bergamot, peony, sweet almond oil, vitamin E, and apricot oil for some intense moisturizing therapy. Whether you are dealing with dryness, early signs of aging, cracked skin, or uneven skin tone, Provence Beauty Rose Multi-use Oil guarantees deep moisturizing, smoothening, firming, and brightening effects. Being one of the best essential oils for dry aging skin, it is ideal for hair care, nail care, and softening fingertips too. Try it!
Pros:
Improves skin's elasticity
Boosts skin's cell metabolism
Treats sun spots, wrinkles, scars, and fine lines
Vegan and cruelty-free
Long-lasting, safe, and ultra-nourishing
Free from alcohol, parabens, and phthalates 
Cons:
Mature skin users— here's some carrot love for you! Banish those aging signs, detoxify, and balance oil production with pure carrot seed oil. Cold-pressed, unrefined, and 100% organic, this carrot seed oil is rich in provitamin A, beta carotene, vitamin E, and more, making it ideal for dry and dehydrated skin. And did we mention it can treat sun damages and improve complexion too? Add it to your therapeutic skin care sessions already!
Pros:
Corrects uneven skin tones
Improves the appearance of the skin
Protects, repairs, and heals intensely
Leaves skin soft, smooth, and supple
Fragrance-free and paraben-free
Vegan, cruelty-free, and kosher-friendly
Cons:
Not ideal for acne-prone skin
When it comes to all-natural moisturizers for dry skin, tea tree oil is a must-try. So, if you are looking for herbal and natural treatment to get rid of dryness, cracked, or flaky skin, this tea tree essential oil will be ideal. 100% pure with a hint of spiciness, it is a great option to add to your winter skincare routine for purifying, moisturizing, and revitalizing your skin too. Do not skip it!
Pros:
Provides deep conditioning
Repairs and heals damaged skin
Boosts skin cell renewal and improves texture
Ideal to use with carrier oils for dry skin
Cons:
Are you looking for something light, refreshing, yet moisturizing enough to use daily? We have the ideal match for you! Boost your skin's hydration levels with this daily hydrating body oil by SheaMoisture. Infused with 100% pure coconut oil, shea butter, coconut milk, and acacia senegal, it locks in the natural moisture and pampers intensely to leave a soft and smooth glow. And if you are worried about the greasy feeling, don't be! For it is one of the best hydrating essential oils for dry skin and guarantees to be non-greasy and non-sticky too.
Pros:
Cruelty-free oil
Moisturizes intensely
Nourishes to improves complexion
Quick-absorbing and lightweight
Suitable for all skin types
Petroleum-free, phthalate-free, paraben-free, sulfate-free, and more
Cons:
Good for your skin and your mood swings! Watch the sweet and floral scent of this ultra-hydrating essential oil uplift your mood while it comforts your skin with its soothing components. Yep, ylang-ylang oil extracted from the ylang-ylang flowers will make your skin revive and bloom with its intense moisturizing effects. Leaving your skin irresistibly soft, smooth, and flaunt-worthy, there's no reason why you should give this essential oil a miss.
Pros:
Sweet and exotic aroma
Leaves a radiating glow
Chemical-free and organic
Ideal for massages, aromatherapy, and more
Cons:
Is dryness making your skin look cracked, aged, and rough? Try this plant therapy infused with 100% jasmine absolute! Pampering your skin with its floral and earthy scents, watch this soothing balm comfort your skin and eliminate dryness like a pro. All you have to do is mix this undiluted and organic solution with your carrier oil or any other skincare product to enjoy the ultimate bliss of jasmine! Floral therapy, anyone?
Pros:
Uplifts the mood
Moisturizes and hydrates intensely
Improves skin's smoothness and texture
Aromatherapist-certified, non-GMO, and cruelty-free
USDA-certified, high-quality, and GC-MS-tested
Cons:
This pure and sweet almond oil may look like any other oil, but its benefits will surprise you. From eliminating dryness, cracked skin, UV damages, scars, stretch marks to reducing dark circles, this 100% pure almond oil is a godsend solution for all skin woes. Ensuring beautiful, nourished, and moisturized skin with every use, give it a try to beat winter dryness or protect skin from everyday stress and damages. Want more? It is infused with lavender and lemongrass essential oils too. Still, want to miss it?
Pros:
Combats aging signs and hydrates intensely
Improves skin tone and prevents acne
Vegan and cruelty-free
Ultra-soothing and relaxing
Non-greasy and applies smoothly
Lightweight and quick-absorbing
Ideal to use on hair, face, and body
Suitable for acne-prone and all skin types
Cons:
Fragrance may be overpowering for some
Lastly, this botanical blend of oils promises radiating skin with its divine formula! A must-try for those who are not a fan of coconuty fragrances, this one has jojoba oil, grapeseed oil, and apricot oil instead. Leaving your skin moisturized and pampered inside out, it is an ideal essential oil for dry skin on the feet, hair, face, and body too. Plus, the oil also contains spearmint, lemongrass, cedar, juniper, eucalyptus, and niaouli oils. Besides this, these oils are antimicrobial and antiseptic, making them a must-try for therapeutic baths and massages. Do not skip it!
Pros:
Lightweight and quick-absorbing
Moisturizes intensely and glides smoothly
Non-GMO, high-quality, and cruelty-free
Paraben-free, gluten-free, and synthetic fragrance-free
Cons:
Dryness, adios! There you go; those were the 13 best essential oils for dry skin that you must explore in 2022. Do you need our guidance with choosing the right essential oils for dry skin? Or are you wondering how to use it? Read the buying guide below.
Buying Guide
How To Choose The Best Essential Oil For Dry Skin?
Before you choose the product, look for the following features in it:
Combats Dryness: Check if the essential oil is suitable to treat dryness or is ideal for dry skin. Also, if you have sensitive or acne-prone skin, you must consider your skin condition before buying. 
Ultra-nourishing: To counter dryness, choose an oil with an ultra-nourishing, hydrating, and moisturizing formula to boost moisture levels and restore the optimal health of the skin.
Organic formula: The bliss is in purity. Pick a product that is USDA-certified as it guarantees the organic status of the oil. Also, organic ones are ideally preferred to enjoy the true benefits of the oil.
Non-greasy and quick-absorbing: The oil should be lightweight, quick-absorbing, and non-greasy unless you want your skin to have an unwanted shine or oil build-ups.
Chemical-free: Lastly, let no chemicals come in your way as you try to heal and fight dryness. Hence, check if the product is free from all harsh chemicals such as added fragrances, parabens, sulfates, phthalates, more.
How To Use Essential Oils On Dry Skin?
There are multiple ways to use essential oils on dry skin. However, concentrated essential oils should not be used directly on the skin as they are heavy and might cause irritation. Dilute them in carrier oils such as coconut oil, almond oil, etc., before applying, or you can add it to your skin creams, bath, face masks, or body mist as well.
Now, who's ready to unleash their natural glow with these heavenly tonics? Feel comforted with the bliss of mother nature as these organic blends turn your skincare routine into therapeutic sessions. Helping your skin heal, repair, and retain its moisture levels, you no longer have to worry about cracked and flaky skin again. Hurry, pick your oil therapy today!
Why Trust StyleCraze?
The author of this article, Sneha Manandhar, is a skincare aficionado and loves to stay updated on skincare solutions. With an intent to help her readers pick the best essential oils for dry skin, she did thorough research and read many product reviews. She curated a list of the most effective ones. The products in the list have therapeutic components and nourish your skin perfectly.
Frequently Asked Questions
Are Essential Oils Good For Dry And Itchy Skin?
Yes, absolutely! Essential oils not only repair dry and itchy skin but deliver a therapeutic experience with their soothing blends. So, you can use these essential oils for dry itchy skin.
Are Essential Oils Good For Dry And Aging Skin?
Yes, they are! Mature skin users must opt for essential oils to get rid of weather-related dryness or cracked skin. These oils will retain the moisture, boost hydration, and leave your skin smooth and soft.
Why Is Essential Oil Bad For Skin?
Using essential oil in concentrated form or excessively can lead to rashes and irritation. Hence, you must either switch to a diluted or daily-use formula or not use it more than twice or thrice a week.
Recommended Articles