11 Best Essential Oils For Eczema To Prevent Scaly & Itchy Scalp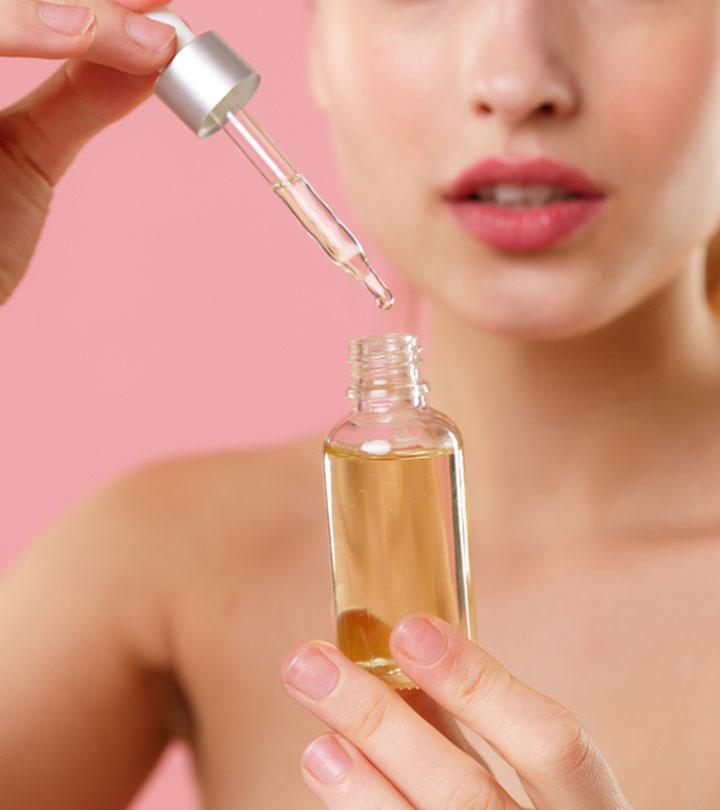 Dealing with eczema-prone skin is tricky. You have to be cautious about what goes on it all the time. But what if we said that some of the best essential oils for eczema work well to prevent flare-ups? Essential oils are popular for aromatherapy, especially for inducing sleep. But they also ease eczema-irritated skin effectively. These oils have antimicrobial properties and help to manage acne too. They also control the itching caused by eczema and soothe the dry and inflamed skin. They lock in moisture and hydrate the skin as well as leave behind a smooth look.
If you want to know how exactly essential oils work for eczema, how to apply them, and which oils work the best, this article will answer all your queries. We have compiled a list of the 11 best essential oils that are very effective for eczema. You can choose the one that best suits your skin type. Keep reading to learn more about them!
11 Best Essential Oils For Eczema To Soothe And Repair Your Skin
If you suffer from eczema, you are likely to have a scaly and itchy scalp. A good eczema oil treatment like this one can alleviate itching and provide immediate relief. It cools and stimulates your scalp with ingredients such as tea tree oil and aloe vera that deeply nourish your hair and prevent breakage. The oil also contains peppermint and sunflower seed oils that work together as a natural antibiotic and antiseptic with antifungal properties to soothe any skin inflammation or red patches.
Pros
Unscented
Cruelty-free
Gluten-free
Promotes hair growth
Free from dyes, parabens, and mineral oils
Cons
Some may find the texture to be a bit greasy.
Rich in fatty acids and antioxidants, this 100% pure tamanu oil moisturizes the skin and fights damage caused by free radicals. It nourishes and restores dull and dry skin while fading dark spots and discoloration. It also accelerates skin cell regeneration for healthy skin and serves as an ideal treatment for skin conditions such as rosacea, acne scars, and eczema.
Pros
Organic
Undiluted
Non-greasy
Non-comedogenic
Free from dyes, parabens, and mineral oils
GC/MS certified
Cons
Some may find the formula of this oil a bit too thick.
This one tops our list as one of the best antibacterial essential oils for eczema. Extracted from turmeric roots, it has anti parasitic, anti-allergic, and antifungal qualities that make it an exceptional beauty and skin care product. It soothes and calms your skin while providing immediate relief to skin inflammation and redness. Suitable for dry skin, this oil reduces blemishes, wrinkles, and joint pains, while promoting hair growth and maintaining scalp health.
Pros
GMO-free
Cruelty-free
Treats dandruff
Organic formula
Free of toxins and additives
Cons
The herbal scent may be unpleasant for some.
10 times more effective than tea tree oil, this manuka oil is ideal for sensitive skin. Imported from the East Cape of New Zealand, it soothes skin irritation, itching, and redness. Its potent antifungal, antibacterial, and anti-inflammatory properties make this an excellent treatment for eczema, acne, and psoriasis. Free from harmful additives and preservatives, it heals and repairs dry and cracked skin.
Pros
Free from additives
100% organic formula
Heals wounds and scars
Suitable for dry, cracked skin
Ideal for skin conditions like eczema and acne
Cons
In rare cases, it may cause skin rashes. It is recommended to do a patch test before application.
This miracle coconut oil rids server symptoms of eczema-prone skin. It hydrates and moisturizes your skin while reducing inflammation and redness. Made of essential fatty acids with antimicrobial properties, it treats various skin disorders and offers protection from harmful bacteria. This fractionated coconut oil works as an excellent carrier oil for other oils and prevents eczema and other fungal infections.
Pros
Unscented
Non-greasy
Zero added fillers
Does not stain clothes
Cons
Some may find the oil hard to rinse off.
Extracted and distilled from premium-quality tea tree plants, this is one of the most effective essential oils for eczema treatment. Tea tree oil is abundant in antiviral and antibacterial properties, which soothes the skin and improves its overall health. It also combats oiliness and repairs dry, cracked, and calloused feet. With its anti-inflammatory and antimicrobial properties, tea tree oil is a popular choice to reduce swelling, acne, and redness.
Pros
Fights dandruff
Strengthens nails
Prevents hair loss
Reduces acne scars
Offers smooth and clear skin
Cons
The aroma of this oil may be overwhelming for some.
If you are a fan of lavender aromatherapy, you will love this calming oil that comes with a pleasant, floral scent. Known for its antifungal properties, this oil keeps eczema and itching at bay while reducing inflammation. It also combats redness and irritation while tackling stress and headaches. Not only will this oil help you relax and transport you to a soothing tranquil space, it also reduces the appearance of blemish, acne spots, and hyperpigmentation.
Pros
Cleanses skin
Provides relief from eczema
Can be diluted with other carrier oils
Reduces appearance of skin imperfections
Cons
Some find that the scent of this oil takes a while to dissipate.
Powered with anti-inflammatory properties, this sunflower seed oil for eczema treatment soothes itchy and inflamed skin. It boosts the skin's natural barrier to improve hydration, leaving you with youthful-looking, healthy skin. This Life-Flo Pure Sunflower Oil smoothes dry and cracked skin while fading the appearance of wrinkles and fine lines. It also contains antioxidants and vitamins A, C, and E to protect your skin from free radicals.
Pros
Provides hydration
Restore the skin's moisture barrier
Repairs dry, damaged hair
Controls frizz
Great carrier oil for aromatherapy
Cons
Some may find the texture of this essential oil slightly thick.
Extracted from the resin inside the boswellia tree, this frankincense oil for eczema rejuvenates hair and skin. It heals wounds and scars naturally and is excellent for those who have parched, dry skin as it improves hydration and locks in moisture. It also supports and maintains the skin's health and is a great soothing agent. It has anti-aging properties and reduces the appearance of blemishes, fine lines, and wrinkles.
Pros
Toxin-free
Organic formula
No additives or fillers
Unfiltered and undiluted essential oil
Cons
Some may find the consistency slightly runny.
This oil offers relief from several skin conditions such as psoriasis, rosacea, and eczema. This essential oil's antifungal and antibacterial properties significantly reduce inflammation, protect the skin against infections, and boost skin cell regeneration. Free from parabens, phthalates, gluten, synthetic fragrances, and artificial colors, it is an excellent massage oil that soothes sore muscles.
Pros
Vegan
Cruelty-free
Boosts immunity
Free of additives
Suitable for aromatherapy
Cons
May requires a carrier oil for application
This patchouli essential oil alleviates irritation and itchiness associated with eczema and works like a charm to moisturize dry skin. With its antibacterial, anti-inflammatory, and antioxidant properties, it treats acne and dry and cracked skin. It also reduces the appearance of scars, acne, and athlete's feet. It has antiseptic properties to prevent skin infections, leaving you with healthy, nourished skin. Truly a versatile oil, it is free of all harmful chemicals.
Pros
Fades wrinkles
Elevates mood
Improves complexion
GC/MS certified
Cons
The scent may not be long-lasting
Now that you are caught up on the best essential oils for eczema, here's a breakdown of how you can choose one for yourself.
How To Choose The Best Essential Oils For Eczema?
Therapeutic grade essential oils

A therapeutic grade essential oil means it has been bottled straight after distillation. This process ensures high-quality raw essential oils. Artizen Fractionated Coconut Therapeutic Grade Carrier Oil, Naturopathy Lavender Therapeutic Grade Essential Oil, and Edens Garden 100% Pure Oregano Essential Oil are some examples of such therapeutic grade essential oils for eczema.
GC/MS (Gas Chromatography and Mass Spectrometry) tested

This test detects if your essential oil is free of mixed oils, solvents, additives, and other chemicals. The Pur360 Tamanu Oil and Plant Therapy Patchouli Essential Oil are both GC/MS tested by a third laboratory to ensure fair practice.
Essential oils are often over-processed and loaded with synthetic additives to get the right texture and smell. It's best to stay clear from these formulas and look for organic tags on your essential oil. Up Nature Turmeric Essential Oil, NZ Country Manuka Oil, and Naturenics Tea Tree Oil are great examples of organic essential oils.
How To Use Essential Oils For Eczema?
Step 1 – Dilute oil
The best way to use essential oils for eczema is to dilute your oil. Mix it with a carrier oil in a 1:2 ratio.
Step 2 – Mix it with water
Mix this diluted oil with water and store it in a glass bottle
Step 3 – Apply
Gently apply the mixed oil with a dropper or a cotton ball on your affected area and massage it in.
Benefits Of Essential Oils For Eczema
Reduces itching
Essential oils are loaded with hydrating and moisturizing properties to relieve eczema related itching. Applying essential oils every day soothes skin and hydrates dry patches that lead to itching.
Anti-inflammatory properties
Powered with anti-inflammatory properties, essential oils like calendula essential oil, jojoba oil, sunflower seed oil, and coconut oil, reduce swelling, redness, and pain caused by eczema.
Soothes skin
Borage and jojoba essential oil calms irritation caused during eczema and soothes your skin intensely. Jojoba essential oil is also a powerful moisturizer that prevents dry, cracked, and itchy skin.
Reduces chances of infection
Powered with antimicrobial properties, essential oils such as coconut oil boost the skin's immunity and reduce the risk of catching an infection.
Why Trust StyleCraze?
The author, Kirtana Divakar, is a skin care enthusiast. She loves experimenting with and reviewing different skin care products for her readers. She went through numerous user reviews on multiple forums and brand websites to curate this list of the best essential oils for eczema that can ease irritated skin effectively. The listed products may control the itching caused by eczema and soothe dry and inflamed skin.
Frequently Asked Questions
Can essential oils help eczema or atopic dermatitis?
Yes, essential oils such as peppermint, tea tree, coconut, and lavender oils, with their antimicrobial properties can address the concerns of eczema, atopic dermatitis, and seborrheic dermatitis.
Can essential oils make eczema worse?
Several essential oils with antibacterial, antifungal, and antiseptic properties are a great way to complement your treatment for eczema. However, it is always advisable to check with your dermatologist for any potential risk of allergies.
Can you put tea tree oil on eczema-damaged skin?
Tea tree oil is widely popular for its healing properties. However, it is advisable to dilute it with a carrier oil before application in order to boost its effectiveness.
Recommended Articles