The 12 Best Evaporative Coolers – Reviews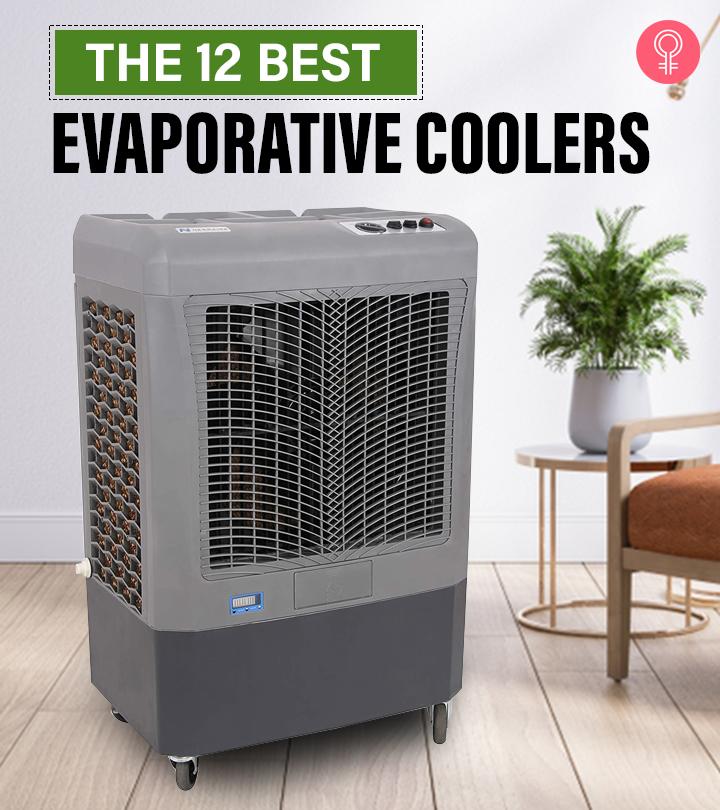 If you live in a humid or hot climate, an evaporative cooler is what you need. Unlike the standard air coolers, these devices are portable, compact, lightweight, affordable, and provide adequate cooling for small to medium rooms. They are also easy to install and prevent the hassle of ventilation. The best thing is that evaporative air coolers consume less energy and save on your energy bills. We have listed the 12 best evaporative coolers available online. Scroll down to check them out!
The 10 Best Evaporative Coolers
The Honeywell Indoor Outdoor Portable Evaporative Cooler is designed to be used at pool parties, on the porch, and backyard BBQs as it is made of UV- resistant material and has a GFCI cord. It comes with a top-loading ice compartment equipped with continuous water connection hose and triple sided cooling pads for reducing temperature through evaporation. You can set the timer for 7.5 hours, while the full-featured remote control enables operation without leaving your couch or hammock. It has three humidity settings provide optimal relative humidity levels for the space.
Features
Size: 18 x 13.8 x 33.7 inches
Material: Plastic
Weight: 24.9 pounds
Water Tank Capacity: 6.6 gallons
Cooling Area: Up to 320 sq. ft.
Warranty: 1 year
Pros
Durable
Lightweight
Energy-efficient
Detachable water tank
Made of UV resistant material
Cons
The Hessaire Portable Evaporative Cooler comes with four high-quality locking casters for portability. Its three fan speeds provide even distribution of cool air and wide coverage. The three rotary controls enable the fan, oscillation motor, and pump to be controlled independently. Its three-sided cooling pads that increase the evaporative area and provide better cooling.
Features
Size: 24 x 16 x 38 inches
Material: Plastic
Weight: 39 pounds
Water Tank Capacity: 10.3 gallons
Cooling Area: Up to 950 sq. ft.
Warranty: 1 year
Pros
Easy to operate
Easy to maintain
Affordable
Continuous fill option
Mechanical control panel
Palm grill design
ETL certified
Cons
The Trustech Evaporative 2-in-1 Air Cooler has a bladeless fan design with three fan and speed modes offering extensive coverage. The 1-8 hours preset timer makes the device more energy-efficient and saves 50% of your electric bills. This tower fan is remote-controlled, and the fuselage running engine covered in the fan eliminates noise. You can monitor the water level through the transparent water level window. It is ideal for your office or bedroom. 
Features
Size: 31.8 x 12.6 x 11 inches
Material: Plastic
Weight: 15.27 pounds
Water Tank Capacity: 1 gallon
Cooling Area: Up to 120 sq. ft.
Warranty: 1 year
Pros
Ultra-quiet operation
Bladeless design
Easy to clean
Easy to store
Environment-friendly
Cons
The HAPPEY Personal Air Cooler provides instant cooling and reduces noise up to 50 dB, letting you enjoy work and sleep time. This mini air cooler purifies, humidifies, and refrigerates the air, keeping small and medium-sized rooms cool.  The three wind speeds and adjustable blowing direction in 80° allow you to create your cooling zone. This space-saving cooler does not use refrigerant.
Features
Size: 15x15x18 cm
Material: ABS plastic
Weight: 1.23 pounds
Water Tank Capacity: 0.07 gallons
Cooling Area: 1-2 sq. ft.
Warranty: 1 year
Pros
Space-saving
Adjustable blowing direction
7-color LED lights
Energy-efficient
Eco-friendly
Lightweight
Quiet operation
Affordable
Cons
The hOmelabs Evaporative Cooler is energy-efficient and durable. This indoor swamp cooler has a water tank capacity up to 10 liters of ice and water for added cooling. It features an LED control panel and remote-controlled operation to set the time, swing direction, temperature, speed, and mode easily.
The oscillating vents use only water for fast and even air distribution of cool air, unlike traditional air coolers that use heavy compressors or refrigerant gas. It also comes with a humidifying function and keeps the air breezy. The 24-hour programmable timer help save energy by turning the unit on and off automatically. Its visible and audible low-water indicator helps you monitor the water level of your cooler. The removable and reusable nylon air filter provides clean, cool air protecting your family from dust and pet hairs.
Features
Size: 14.7 x 13.1 x 34
Material: Plastic
Weight:45 pounds
Water Tank Capacity: 2.6 gallons
Cooling Area: Up to 200 sq. ft.
Warranty: 1 year
Pros
24-hour programmable timer
Low-water indicator
Washable air filter
Lightweight
24-hour programmable timer
LED control panel
Cons
This swamp air cooler reduces the room temperature effectively by 11°F and humidifies the air naturally. The bladeless design makes it safe to use and easy to clean. It is environment-friendly, does not have a compressor, and does not use chemical refrigerants. The 1-gallon water tank is easy to clean and fill and also brings up the surrounding humidity by 82%.
It has three speed settings, 40° swing in low, medium, or high speed, and four modes – normal, sleep, natural, and cooling. The 15-hour timer and remote control feature let you control the device from 20 feet, while the built-in handle ensures easy movement. It is equipped with a powerful motor and air amplifier technology that generates a smooth air stream constantly. 
Features
Size: 35.51 x 14.41 x 10.5 inches
Material: Plastic
Weight: 15.27 pounds
Water Tank Capacity: 1 gallon
Cooling Area: Up to 120 sq. ft.
Warranty: 1 year
Pros
Sleek design
3 wind speeds
15-hour timer
Built-in handle
20 feet remote controlled
Quiet operation
40° oscillation
Cons
The AMEIKO Portable Air Cooler comes with three fan speeds that cools down hot air quickly and works at low noise.  The seven soft lighting feature soothes mood and creates a relaxing atmosphere. It is designed with a handle that makes portability easy. 
Features
Size: 1 x 5.9 x 5.9 inches
Material: Plastic
Weight:85 pounds
Water Tank Capacity: 0.10 gallons
Cooling Area: 1-2 sq. ft.
Warranty: 1 year
Pros
Quiet operation
7 built-in soft lights
Energy-efficient
Cons
The NewAir Portable Indoor Cooler is a personal air humidifier with a compact design and wide oscillation. This cooler features high-density cooling pads and a removable water tank for easy refilling. It has three fan speeds and two operation modes, remote control feature, and a whisper-quiet operation. It uses 75 percent less energy than standard air coolers and is ideal for patio picnics and camping.
Features
Size: 25 x 12.75 x 34.5 inches
Material: Plastic
Weight: 20 pounds
Water Tank Capacity: 1.76 gallons
Cooling Area: Up to 250 sq. ft.
Warranty: 1 year
Pros
Sleek design
Lightweight
Eco-friendly
Quiet operation
Ideal for indoor and outdoor use
Cons
The Silini Mini Air Cooler is engineered with unique hydro cooling technology that uses a special filter to turn the hot air into cool air. It comes with three adjustable speed settings and a silent fan for better control. The built-in soft lamp also makes it a decorative piece. This stylish and compact device looks perfect on a bedside or coffee table. 
Features
Size: 5.9 x 6.3 x 7.5 inches
Material: Plastic
Weight:95 pounds
Water Tank Capacity: 0.15 gallons
Cooling Area: 1-10 sq. ft.
Warranty: 1 year
Pros
Compact design
Built-in soft light
Lightweight
Low noise level
Cons
The filter is not removable.
The DUOLANG Outdoor Portable Air Cooler offers intense air cooling with super low energy consumption. It can be used in garages, warehouses, and BBQ areas. This 4-in-1 appliance works as an air purifier, humidifier, fan, and air cooler. It also features an extra-wide wind outlet for powerful airflow. The 15.9-gallon water tank meets your daily needs during summer, and the four caster wheels prevent dumping ensure easy movement.
This air cooler is equipped with an ice compartment, body-level air throw, and humidity control to regulate the moisture output. The thick, plant fiber curtains ensure high water absorption capability and large evaporation area. It comes with a removable and washable dust filter, six-meter remote control, and a touch panel feature.
Features
Size: 4 x 17 x 42.2 inches
Material: Plastic
Weight:5 pounds
Water Tank Capacity: 15.9 gallons
Cooling Area: Up to 654.8 sq. ft.
Warranty: 1 year
Pros 
6 meter remote control
Removable and washable filters
Touch control panel
Weather-resistant
Large water tank capacity
Cons
Does not work well in extremely humid conditions.
Let's look at a few things to consider while buying aen evaporative cooler.
How To Choose The Right Evaporative Coolers – Buying Guide
Size: The size matters if you want to use the evaporative cooler in multiple places. Small and medium-sized coolers are easy to move from one place to another. If you have a compact apartment, measure the size and dimensions of your room and buy an air cooler accordingly. Go for an appliance that can be placed in different locations.
Noise Level: Portable air coolers are noisier than the standard air coolers. However, the noise level should not exceed 65dB if you are looking for a quiet air cooler.
Cost: Most portable air coolers cost $30 to $300 based on the features and design. Analyze your requirements and do not pay extra for the features you do not need. Most of the portable air coolers are energy-efficient, which also saves money in the long run.
Check out the following section to know the advantages of evaporative air coolers.
Advantages Of Evaporative Coolers
They decrease the room temperature by 5 to 6 degrees. However, the drop in temperature depends on the external weather.
They consume lesser energy than air conditioners.
They are budget-friendly.
Evaporative coolers expel unpleasant odor, dust, and fumes and improve air quality.
They are sturdy and provide hassle-free installation.
How Evaporative Air Coolers Work
These coolers work on the principle of evaporative cooling. They feature a water tank filled with ice water or ice. Through a wicking pump, the water wets a porous media or absorbent. The fan pulls in the hot air of your room that passes through the wet material and evaporates the moisture outwards, taking the heat with it. The fan blows cool air inside and reduces the room temperature.
Evaporative coolers are an inexpensive and practical solution for creating a personal cooling zone. They provide efficient cooling for compact places and save on your energy bills. However, before investing in one, consider important factors like the cooling power, area, modes, size, and price to make the right buying decision. Pick one from the above list to help you sail through summer!
Expert's Answers for Readers Questions
How cool does an evaporative cooler get?
The coolness of the evaporate cooler depends on the amount of water vapor present in the air. If the water vapor or humidity is high, cooling will be less.
Can you put ice in an evaporative cooler?
Yes, you can put ice for effective cooling. Some evaporative coolers come with built-in ice chambers, and some don't. In the latter case, you can put the ice in the water chamber directly.
Do you need an open window for evaporative cooling?
Yes, it is necessary to open the windows during evaporate cooling. The cooler adds water to the air, resulting in humidity. Opening the windows will aid the exit of hot air, bringing down the room temperature.
At what humidity do evaporative coolers become ineffective?
If the humidity level is between 60% to 100 %, evaporate coolers will become ineffective.
How can I improve the efficiency of my evaporative cooler?
You can increase the cooling efficiency of evaporative coolers by following these methods:
Keep the windows open when the evaporate cooler is working.
Ensure that the water tank is full and side pads are wet.
Clean the cooler regularly.
How do you calculate CFM for an evaporative cooler?
Multiply the space to be cooled (in square feet) by ceiling height (in feet). Divide this number by the recommended air changes per hour. The recommended air exchanges per hour for an evaporative cooler is between 20-40, with the average at 30.
How long do evaporative coolers last?
With the proper care, evaporate coolers lasts can last for 3 to 4 years.
Recommended Articles
The following two tabs change content below.

Latest posts by Harini Natarajan (see all)

Harini Natarajan
As Chief Editor, Harini sets the tone and editorial direction for StyleCraze to deliver engaging, interesting, and authentic content revolving around women's health, wellness, and beauty. She has over 14 years of experience in content writing and editing for online media. She specializes in the areas of Beauty, Lifestyle, and Health & Wellness and is proficient in Medical Sciences (Biology, Human Anatomy and Physiology, and Biochemistry). Her background in Biomedical Engineering helps her decode and interpret the finer nuances of scientific research for her team. Harini is a certified bibliophile and a closet poet. She also loves dancing and traveling to offbeat destinations.