10 Best Everyday Handbags of 2022
Complement your outfits with essential accessories to complete your looks.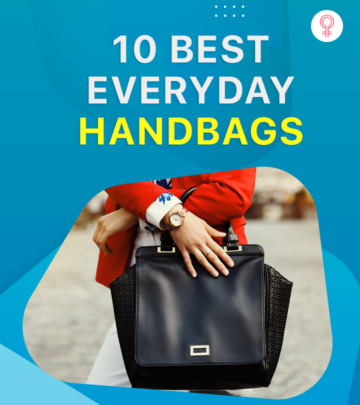 For a woman, a handbag is a must-have accessory because it not only adds to her style but keeps all her essentials handy. However, it is also true that sometimes finding the best everyday handbags that can fulfill all your needs is a little tricky. That's where our list of the best daily handbags is going to help you decide. Scroll down to see the list of some of the best handbags that can keep your essentials organized!
15 Best Everyday Handbags
The ALDO Jerlini Black Bag is made of top-quality faux leather that is durable and chic. It has one big compartment to hold all your go-to items and one small compartment to carry your valuable accessories. This bag is lightweight and features a removable crossbody strap that makes it easy to wear. The clasp in the front ensures the bag is locked and all your belongings are safe. This bag has more than 2,000 honest reviews on Amazon where customers have praised it for being convenient and well-made.
Specifications
Bag Dimensions: 5″ x 8.5″ x 4.5″
Material: Fauxleather
Compartments: 2
Pros
Durable
Lightweight
Sturdy
Spacious
Adjustable strap
Cons
Price at the time of publication: $39.98
The Covelin Women's Retro Sling Shoulder Bag is made of high-quality soft polyether leather and has a polyester-lined interior. This medium-sized everyday handbag can easily hold your essentials, such as cosmetics, mobile phone, tablet, wallet, and charger. It comes with a top zipper closure and has two main compartments separated by one middle-zipped pocket. It also features two open side slots, one oblique zippered pocket on the front and one at the back for holding small items. This bag reflects the retro look and is available in different neutral colors to easily match any outfit. Its adjustable shoulder straps allow you to style it like a sling bag, tote bag, or crossbody bag. With more than 4,000 rave reviews on Amazon, this product is one of the most trusted handbags for being waterproof and roomy.
Specifications
Bag Dimensions: 4″ x 4.7″ x 7.9″
Material: Polyetherleather
Compartments: 2
Pros
Spacious
Easy to maintain
Adjustable shoulder strap
Lightweight
Travel-friendly
Cons
Unusual odor
Flimsy stitches
Price at the time of publication: $17.99
The Dasein Satchel Handbag is made up of high-quality vegan leather. It has high-quality gold-toned detailing that makes it look classy. The rolled leather top handles feel very comfortable while carrying the bag. These handles are strengthened by the double metal decoration that adds life to them. The purse also comes with bottom studs which prevents fast wear and tear. It features one center compartment with a zipper closure and two side pockets with magnetic snap closure. The bag is spacious enough to carry all essential items, including an iPad. The handbag come with one clutch in which you can easily fit iPhone XS Max. It comes with adjustable and removable shoulder straps that add to its functionality. This bag is available in a variety of colors and printed patterns and goes well with every outfit. It has received more than 9,000 reviews on Amazon for having sturdy handles and roomy compartments.
Specifications
Bag Dimensions: Bag – 14″ x 10.5″ x 5″; Clutch – 9″x 6″ x 1″
Material: PUleather
Compartments: 1
Pros
Tear-resistant
Retains shape
Vegan leather
Anti-scratch
Sturdy
Good capacity
Optional strap
Cons
Price at the time of publication: $39.99
The vintage classic Fossil Jolie Handbag is made of superior-quality leather/polyurethane trim that accentuates your everyday outfit. It can easily fit your phone and iPad. The internal lining is made of recycled polyester. The everyday handbag comes with one side pocket with a magnetic snap and one zipper pocket to hold the go-to items. It has one adjustable and detachable crossbody strap and one short shoulder strap. The detailing of this handbag is done with old English brass, which gives it a classy look. This bag has more than 1,000 reviews on Amazon that talk about its comfortable straps and roomy design.
Specifications
Bag Dimensions: 11″ x 3″ x 8″
Material: Genuine leather
Compartments: 1
Pros
Multiple pockets
Spacious
Sturdy
Removable strap
Cons
Price at the time of publication: $133.38
The Hiigoo Fashion Cotton Canvas Handbag is made of 100% cotton and has a cotton lining and leather zips. The bag can carry all your essential items for daily use. It comes with two big pockets with magnetic closure and one big pocket with zipper closure to keep the items more organized. For being extremely lightweight and functional, this handbag has received more than 4,500 reviews on Amazon.
Specifications
Bag Dimensions: 02″ x 5.12″ x 11.81″
Material: Cotton canvas
Compartments: 2
Pros
Easy to maintain
Lightweight
Durable
Spacious
Sturdy
Travel-friendly
Available in multiple colors
Cons
Price at the time of publication: $21.99
The Kipling Sabian Crossbody Mini Bag is made of 100% nylon. It can carry your wallet, phone, and other small items easily. This small yet classic bag can be paired with all your outfits. It comes with a front zip pocket and a flap closure with a magnetic snap to make all your items easily accessible. It also has one money keychain and an internal zip pocket. The shortest strap length is about 27.5 inches, and the extended strap length is around 53.25 inches. With a multitude of compartments, this bag is ideal for everyday use.
Specifications
Bag Dimensions: 75″ x 5.75″ x 3.5″
Material: 100% Polyamide
Compartments: 1
Pros
Key clasp
Adjustable crossbody strap
Lightweight
Durable
Water-resistant
Cons
Price at the time of publication: $25
The LeSportsac Classic Deluxe Everyday Bag is made of synthetic and lightweight fabric that makes it look iconic and adds to its functionality. This fashion-forward bag has many zippered compartments to keep all your essential items handy. It also comes with adjustable shoulder straps and soft, synthetic lining. The shoulder drop length is around 23.75 inches.
Specifications
Bag Dimensions: 14″ x 5″ x 9.75″
Material: Synthetic
Compartments: 1
Pros
5 pockets
Spacious
Lightweight
Durable
Cons
Price at the time of publication: $126.99
The Lovevook Handbags are well-designed with superior-quality cross-textured synthetic leather. The set includes three pieces – a shoulder bag, a tote bag, and a clutch. They have detailed stitching, which adds to their durability and gives them a classic look. The tote bag can carry all your essentials and easily accommodate an A4 file. It has one main compartment, a zipper pocket, and two slot pockets. The medium messenger handbag comes with an adjustable shoulder strap. The small wristlet clutch features a magnetic buckle. The set is available in a variety of rich and beautiful colors that can match all outfits.
Specifications
Bag Dimensions: Tote Bag – 11.8″ x 4.5″ x 9.8″; Medium Messenger Bag – 10″ x 3.7″ x 7.1″; Clutch Purse – 9.6″ x 6.6″
Material: Synthetic leather
Compartments: 1 (Tote and shoulder bags)
Pros
Set of 3
Spacious
Adjustable straps
Smooth and durable zips
Cons
Price at the time of publication: $37.99
The lightweight Notag Crossbody Bag is ideal for travel and everyday use. It is made of top-grade polyester fabric with an upgraded slip-resistant linen shoulder strap. The classic silver zippers are smooth and add to its aesthetic appeal. The bag has two side pockets, three front zipped pockets, one back zipped pocket, and two zippers, and two open pockets in the interior. You can organize a whole variety of your essentials neatly in this bag. It comes with adjustable shoulder straps that let you style the bag either on your shoulder or across the body. It is available in four colors and two sizes.
Specifications
Bag Dimensions: 2″ x 4.3″ x 9.4″
Material: Water-resistant nylon
Compartments: 1
Pros
Heavy-duty zippers
Water-resistant
Lightweight
Spacious
Sturdy
Anti-slip strap
Adjustable straps
Multiple pockets
Cons
None
Price at the time of publication: $21.99
The Sunshinejing Canvas Vintage Shoulder Bag is made of thick, high-quality canvas and leather weaved fabric to offer reliable performance. The sturdy and durable construction of this handbag makes it durable against everyday wear and tear. This bag is large and spacious enough to hold everything from laptops, 2-inch binders, and groceries to iPads and A4 folders. It comes with one secure zipper, one cell phone bag, one card bag, and a removable and adjustable shoulder strap.
Specifications
Bag Dimensions: 29″ x 5.12″ x 15.75″
Material: Canvas
Compartments: 1
Pros
Durable
Reinforced design
Lightweight
High capacity
Available in different colors
Cons
None
Price at the time of publication: $20.78
A handbag is an essential accessory for any occasion. For professionals, the everyday handbag is important since it can carry many necessities that are required daily. With so many styles, colors, types of materials, and prices on the market, it can be difficult to find a handbag that is just right for you to use every day. So consider the following points while buying an everyday handbag.
What To Consider When Buying Everyday Handbags – Buying Guide
Material: When choosing a bag, an important consideration is the material. Choose one that complements your style and personality. Handbags are available in different shapes and sizes and are made up of different materials. You can look for leather which is reliable and easy to style. Nylon bags are the best option if you are under a strict budget. Eco-friendly fashion enthusiasts can go for vegan leather or cotton. All these materials are sturdy and complement different styles.
Price: Consider the price when buying an everyday bag. A reasonably priced bag can easily become your favorite. Avoid getting a really expensive handbag just because you want it to be fancy.
Anti-Scratch: Get a handbag with a soft lining to prevent it from being scratched. This is especially important if you carry your keys or any sharp item in your bag. Choose a handbag that is made of durable to avoid unnecessary scratches, wear, or tear.
Adjustable Strap: A handbag with an adjustable strap makes it easier for you to carry and use. Make sure that you have enough room on the strap to carry it comfortably when not in use. A quality handbag provides comfort and convenience.
Color: You can opt for subtle shades if you require the bag for everyday use. However, choose the color depending on the occasion of the day and your outfit.
Lightweight: For daily use, choose a handbag that is lightweight while avoiding bulky bags, which are heavy to carry. A large and bulky bag is not very flattering. Opt for a handbag that is lightweight and still carries your essentials.
We hope our list of the best everyday handbags will help you in choosing the most suitable option for your needs. Our favorite is the ALDO Jerlini Black Bag. Despite its pricey tag, this handbag comes has made it to the top, owing to its designer look, high capacity, and sturdy construction. Add it to your wardrobe and make your outdoor life convenient and stylish.
Why Trust StyleCraze?
The author Baishali Bhattacharya is a fashionista. Her enthusiasm for current trends keeps her informed of what's new in the fashion world. Her recommendations can be relied on as they are unbiased and are well thought out. This list of everyday handbags helps the users pick handbags that speak to their personality, needs, and budget. These are durable, spacious, stylish, and made with good-quality materials.
Frequently Asked Questions
What should you carry in your everyday bag?
Carry your cardholder, keys, hair brush and ties, moisturizer, lip balm, portable charger, hand sanitizer and masks, medications, umbrella and purse in your everyday bag.
What is the best color for an everyday handbag?
Nude colors are the best for an everyday handbag. Nudes complement all kinds of outfits and are the sober option.
What is the size of an everyday handbag?
Opt for medium size everyday handbags. They are usually 22 inches long, 14 inches wide, and 9.5 inches deep.
What is the best designer everyday handbag?
The LeSportsac Classic Deluxe Everyday Bag is the best designer everyday handbag. It comes in a unique design with adjustable shoulder straps and multiple zippered compartments, making it a practical yet fashionable bag.
How to keep your handbag safe?
Invest in handbags that have buckled flaps over your zippers or those that come with clips to hold the zipper. Such bags are better protected from theft. And, if you want to protect the shape of your bag, stuff it with acid-free paper or purse pillows. In addition, clean the inside of your bag every week to maintain the luster of the material.
Recommended Articles