10 Best Exercise Balls For Improving Core Stability & Balance – 2022
Add an exciting element to your regular gym routine to liven up your workout.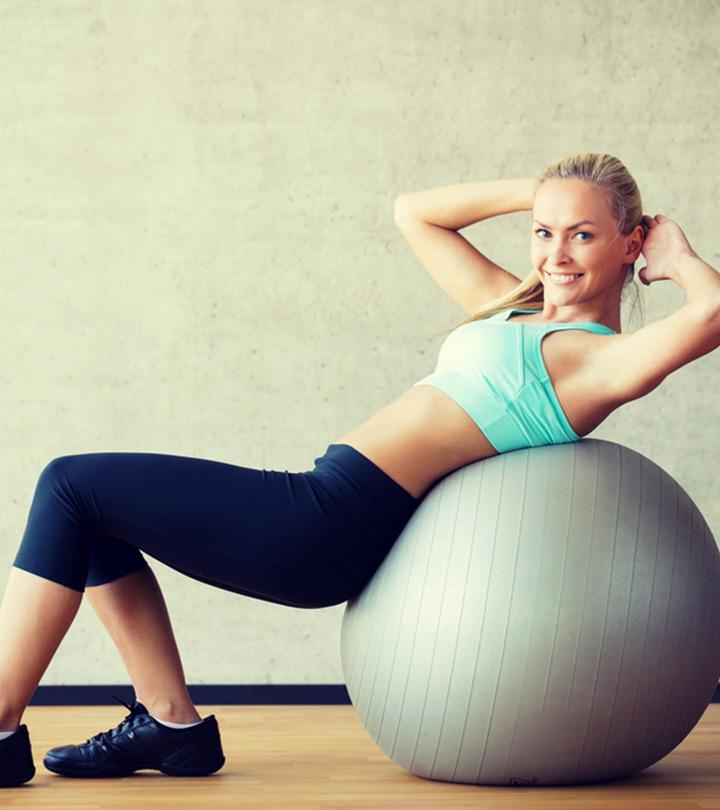 If you're hoping to make your workouts more fun and challenging, get yourself the best exercise balls available. Ideal for exercising at the gym, in the office, or at home, these balls are a versatile way to engage your core by performing a range of balancing and stabilizing exercises that strengthen the abdominal muscles. If that wasn't enough, the equipment also helps you relieve back pain, keeping you active and energized throughout the day. Pick your favorite exercise ball off this list, and get ready to kickstart your fitness journey in a whole new way!
10 Best Exercise Balls To Check Out Right Now
URBNFit Exercise Ball is ahigh-quality exercise ball that will last for many years. It is made from high-grade ultra-tough PVC material with an anti-burst property and is perfect for fitness stability, balance, and yoga. The gym-grade exercise ball with a high grip surface can withstand the most rigorous, weighted, and tough workouts. It is great for improving core strength, balance, and coordination.
This exercise ball is ideal for stretching and strengthening the abdominal, core, and lower back muscles.
Key Features
High-grip, non-slip surface
Kit includes a quick inflation balloon-type hand pump, extra plugs, and a workout guide
Can withstand weight up to 2000 lbs
Sizes Available: 45 cms, 55 cms, 65 cms, 75 cms, and 85 cms
Colors Available: Black, blue, pink, red, silver, purple, and green 
Pros
Durable
High quality
Unisex design
Odorless
Cons
Gaiam Classic Balance Ball Chair is a great alternative to a desk chair.It was created with the help of chiropractic pioneer, Dr. Randy Weinzoft. It is specifically designed for users who are between 5' and 5'11 tall, with a weight capacity of 300 lbs. It promotes proper alignment and relieves back pain and soreness associated with sitting for long periods. The ball is removable and can be used without the chair. Take a look at this video to know more about the product.
Key Features
Developed under the consultation of a chiropractic pioneer
Boosts energy and focus
Kit includes a removable 52 cms yoga ball, a chair base, a metal ball holder, a support bar, an air pump, 4 easy-glide caster wheels, and a desktop exercise guide.
300 lbs weight capacity
Product dimensions: 22" x 22" x 31"
Weight: 13 lbs 
Pros
Ergonomic
Relieves back pain
Easy to assemble
Easy to inflate
Cons
If you want to buy an exercise ball that is able to withstand your workouts, get the Trideer Exercise Ball. Its anti-burst material is extra thick, which makes it durable. It is a high-density ball with 2000 mm thickness. Its non-toxic, eco-friendly, and hypoallergenic PVC material can withstand up to 2200 lbs of weight.
This versatile exercise ball is suitable for yoga, back and abdominal training, pregnancy exercises, low-impact exercises, and pilates. It can also be used as an office chair. This exercise ball can relieve your back pain and improve your posture. You may check more about this productin this video.
Key Features:
Perfect for gym, home, and office use
l  Kit includes a quick inflation foot pump, 2 air stoppers, and an instruction guide
Available in multiple colors
2200 lbs weight capacity
Sizes Available: 38-45 cms, 48-55 cms, 48-65 cms, 68-75 cms, and 78-85 cms
Pros
Anti-slip surface
Anti-burst design
Eco-friendly
Free from BPA and heavy metals
12-month warranty
Cons
Inconsistent size
Difficult to inflate
Live Infinitely Exercise Ball is specially designed for beginners. It is made from an extra-thick professional-grade PVC material that does not burst property and is 100% BPA- and latex-free. It can support up to 2200 lbs. This exercise ball can withstand up to a 2-cm cut without deflating.
It can improve your core strength and posture and is a great replacement for your desk chair.  
Key Features
Suitable for at-home workouts, yoga, and birthing
Kit includes a free workout e book, a hand pump, 2 air plugs, online exercise guides, and a valve remover tool.
2200 lbs weight capacity
Sizes Available: Ranging from 55 cms to 95 cms
Colors Available: Blue, green, black, purple, and silver 
Pros
Anti-slip ridges
Anti-burst tested
Non-toxic
Free from BPA, latex, heavy metals, and phthalates
1-year unlimited warranty
Cons
Inconsistent shape
Difficult to inflate
Black Mountain Exercise Stability Ball is the perfect workout tool as it offers balance and stability. It is great for anyone who likes to work out at home. This static-strength stability ball can withstand up to 2000 lbs and is designed for all age groups. It is a professional-grade stretching ball that is designed to improve core strength, balance, and overall agility.  
Key Features
Kit includes a foot pump and a starter brochure
Multi-colors
2000 lbs weight capacity
Available in multiple colors
Sizes Available: 45 cms, 55 cms, 65 cms, 75 cms , 85cms 
Pros
Durable
Easy to inflate
Affordable
Lifetime manufacturer's warranty
Cons
Cheap material
Inconsistent shape
Balance From Anti-Burst Exercise Ball is designed with anti-slip technology and is ideal for light and intense workouts.Its thick and durable material does not burst features. It is available in 5 sizes and can withstand up to 2000 lbs of weight.
This exercise ball is free from heavy metals and phthalates and is perfect for at-home workouts, office use, and birthing.
Key Features
Kit includes a foot pump, a plug, a remover, and a measuring tape
2000 lbs weight capacity
Sizes Available: 38-45 cms, 48-55 cms, 58-65 cms, 68-75 cms, and 78-85 cms
Colors Available: Purple, teal, silver, and pink
Pros
Slip-resistant
Non-toxic
Easy to clean
2-year warranty
Cons
Smarter Life Exercise Ball is a compact exercise ball for anyone looking for a cheap way to improve their balance and agility. It is made from a professional-grade PVC that does not burst. It can withstand up to 2000 lbs. It is free of toxins and harmful metals and is useful for a wide variety of exercises like yoga, pilates, and Cross Fit to tone muscles, increase cardio endurance, build strength, and control weight. This exercise ball is available in 4 sizes and is resistant to punctures. 
Key Features:
Kit includes a hand pump, a measuring tape, plugs, a ball plug removal tool, an exercise guide, and a bonus e book
Anti-slip technology
Anti-burst tested
2000 lbs weight capacity
Available in 10 colors
Sizes Available: 45cms, 55 cms, 65 cms, and 75 cms 
Pros
Durable
Non-toxic
User-friendly
Pet-friendly
Cons
RGGD & RGGL Exercise Ball Chair is a multipurpose fitness tool for long-term and safe use. It is made from non-toxic PVC that is safe for people with allergies.It is also 1.5 mm thicker than regular PVC. Thus, it provides ample rigidity and stability for technical moves. It can also withstand up to 2100 lbs of pressure without bursting.
This exercise ball chair is perfect for beginners and intermediate users as well as advanced athletes. It can enhance poses like hip openers and back bends, and is an alternative to a chair while working at your desk or watching television. RGGD & RGGL yoga ball chair is available with two adjustable resistance bands and is great for pregnant ladies who want to alleviate the discomfort in their spine, hips, or lower back.
Key Features:
Honeycomb structure surface
Kit includes a quick inflation foot pump, a stability ring, a workout guide, and a user manual
2100 lbs weight capacity
Size: 65 cms 
Pros
Puncture-resistant
Slip-resistant
Leak-proof
Odor-free
100% explosion-proof
Easy to clean
Cons
Reports of accessories missing when delivered
This is the best portable exercise ball with an easy-to-carry hand pump. It is made of extra-thick anti-burst PVC material that can withstand heavy loads up to 2200 lbs. It has a great degree of resistance to sharp objects and is eco-friendly. It has a non-slip ribbed body that makes it great for tossing, bouncing, and squeezing. It offers perfect stability for all kinds of fitness training such as at-home exercises and gym workouts. It can also be used as a desk chair and while birthing.
Key Features:
100% recycled material
2200 lbs weight capacity
Sizes Available: 45 cms, 55 cms, 65 cms, and 75 cms
Pros
Anti-slip ribbed body
Anti-burst material
Eco-friendly
Cons
Pro Body Pilates Mini Exercise Ball is the best mini exercise ball. It is one 9 inches in diameter! It is made from a low-odor PVC material that is free from six common harmful phthalates. It is highly recommended by physical therapists and trainers as it is perfect for improving your balance, core strength, and flexibility and toning the inner thighs.
It comes with a straw for inflation and a plug to withstand high pressure. This ball is great for core strength, balance, back rehabilitation, and toning and sculpting with pilates, yoga, or other fitness exercises. 
Key Features:
Size: 9"
Colors Available: Aqua, black, blue, and yellow 
Pros
Easy to inflate
Odorless
Anti-burst design
Great quality
Cons
Exercise balls are great for getting fit right at home. But, there are a few factors that you need to consider before you buy one. Check them out in the buying guide below! 
Exercise Balls – Buying Guide
Exercise balls are versatile in nature. These are used for many different purposes, like physical therapy, rehabilitation, and as an office chair replacement. You can also use them as yoga balls. While buying one, you need to keep some points in mind: 
1. Types Of Exercise Balls
Exercise balls are available in different types, sizes, and colors. Some exercise balls are made with high-quality material and anti-burst features. These exercise balls are offered in various sizes. These sizes depend on the height to weight ratio.
Additionally, these stability balls come with many accessories like hand or foot pumps for inflation. 
2. Qualities Of The Best Exercise Balls
Size: Exercise balls are available in different sizes. Some brands provide exercise balls for specific heights and activities. A few companies offer them along with chairs for office and classroom purposes. You can get these exercise balls for your kids too.
Weight:You must buy an exercise ball that suits your weight. Some brands provide size charts of exercise balls along with the weight that they can withstand. Go through it once or call up customer service before you place your order to figure out the best ball for you.
Burst-resistant: The exercise ball you buy must have an "anti-burst" label. These exercise balls can get damaged in the long run. But, even if it gets damaged, the ball should deflate instead of exploding.
Durability: Buy an exercise ball that is robust enough to support your activities and will last a long time. Make sure the exercise ball is made of durable and thick material and can withstand heavyweight. You should also check the warranty offered by the manufacturer before buying. 
3. Type Of Workout
There are different exercise balls available for beginners, moderate users, and advanced users. Figure out which category you fall under before making your purchase. Usually, the exercise balls for advanced users are made of thicker material and are a bit more expensive.
4. Choosing The Right Exercise Ball For Your Height
The size of the exercise ball that you get depends on your height. Check out the table below to figure out the diameter of the exercise ball and what height it is suitable for.
| Exercise Ball Diameter | Person's Height |
| --- | --- |
| 45 cms | 5′ and under |
| 55 cms | 5'1″– 5'8″ |
| 65 cms | 5'9″– 6'2″ |
| 75 cms | 6'3″– 6'7″ |
| 85 cms | 6'8″ and taller |
Instructions For Using An Exercise Ball
When sitting upright on an exercise ball, keep the following points in mind:
Your feet should be flat on the floor for even weight distribution.
Your knees should be level or slightly lower than your pelvis, creating an angle of 90° or slightly higher at the hips and knees.
Your pelvis, shoulders, and ears should be in a vertical line, and your body should not be leaning in any direction as it will disrupt your balance.
If you work from home, it is necessary to do some minimum exercises to keep yourself active and fit. The best exercise balls listed in our article help to improve the overall strength of muscles and the body and encourage proper posture. So consider investing in an exercise ball that keeps your body fit. Some balls listed above provide great grip, and others are best for toning your muscles. In addition, some balls are leak-proof and explosion-proof, ensuring convenient and safe workout sessions at home. However, stay away from the balls that have a sticky surface.
Why Trust StyleCraze?
The author, Aditi Naskar, has a diploma in health & wellness and finds her passion in helping people pick the right products through her well-researched reviews. She has compiled this list of best exercise balls after thoroughly going through a wide range of products, their specifications, effectiveness, and cost. These exercise balls, endorsed by many users through their reviews, have an anti-slip surface, burst-proof design, and are easy to inflate.
Frequently Asked Questions
How much weight can a 65 cms ball hold?
It can hold weight up to 2200 lbs without any injuries when used properly.
How much should I pump up my exercise ball?
It depends on the height of your exercise ball. Use a measuring tape to make a mark on a wall at the height your ball should be and inflate your exercise ball up to that mark.
Can you inflate an exercise ball with a bike pump?
Yes. You can inflate your exercise ball with a bike pump. Usually, you can inflate it with any type of air pump such as an air compressor, an air mattress pump, and a vacuum on the reverse setting.
Note: Do not inflate your exercise ball in an environment below 20°C.
How long do exercise balls last?
The exercise balls that are used at home can last up to 5 years, while the exercise balls used in gyms last up to 1-2 years.
How much weight can an exercise ball hold?
It depends on the size of the exercise ball. However, some models are capable of holding up to 300 lbs of weight.
How many calories do you burn while sitting on an exercise ball?
Working out on an exercise ball can burn around 4.1 calories per hour.
Can an exercise ball explode?
Yes, an exercise can explode when you surpass its weight capacity.
Recommended Articles
The following two tabs change content below.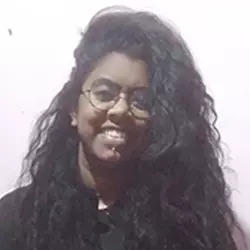 Aditi Naskar has a postgraduate degree in English literature from Presidency University, Kolkata, a bachelor's degree in education from WBUTTEPA,...
more