11 Best Exercise Bikes For Seniors of 2023 With A Buying Guide
Get back into your desired shape without affecting your fragile back and knees.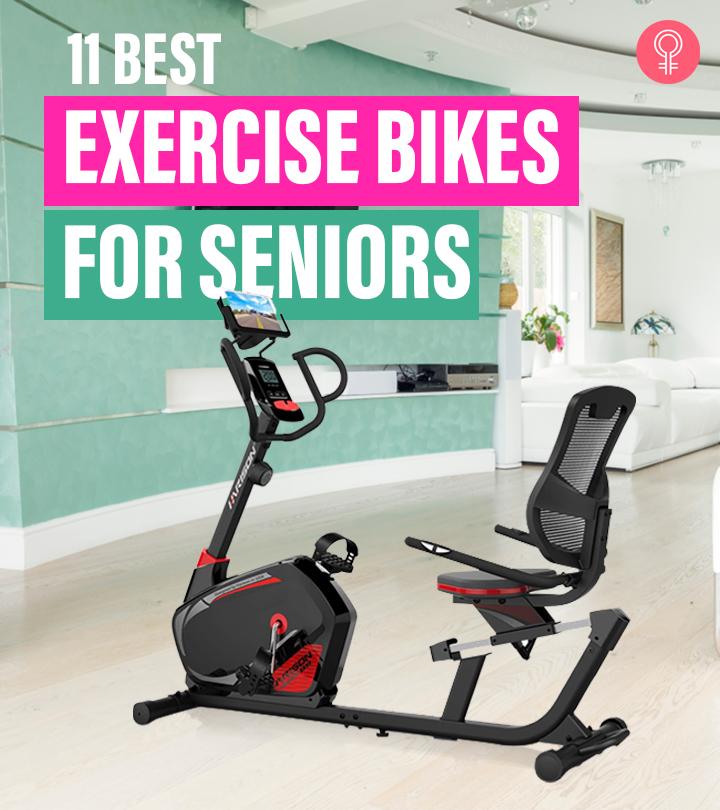 Exercise bikes are a great way to stay in shape irrespective of your age. When you invest in the best exercise bike for seniors with all the desired features, you get to exercise without worrying about impact on your knees or your back. When your exercise bike has an adjustable backrest and seat, you get to set a height that makes pedalling easy. We've compiled a list of the 11 best exercise bikes constructed for seniors to help them keep fit.
11 Best Exercise Bikes For Seniors
The JEEKEE Recumbent Exercise Bike provides strong power, high inertia, and smooth riding experience with its advanced two-way external magnetic flywheel technology. The flywheel is driven by a dual-belt mechanism that produces only 20dB of sound, making it a quieter alternative to the conventional chain-type equipment. It uses the highest quality 8 neodymium magnets that enable uniform resistance and allow the user easy to change the intensity.
The large cushioned seat and backrest with a 9-position seat adjustment take the pressure off your tailbone and spine and gives you the proper stride and effortless riding experience. It also features a video holder and LCD console that gives you real-time data of distance, calories, speed, time, and pulse. The hand pulse sensors monitor your fitness status, and the adjustable pedal straps prevent falling off.
Specifications
Dimensions: 5×19.3 x 39 inches
Weight: 66 pounds
Color: Black
Material: Premium steel
Resistance Levels: 8
User Height Range: 4'9″ to 6'5″
Maximum User Weight: 300 pounds
Pros
Value for money
Easy to assemble
Adjustable pedal strap
Video holder
Multi-function monitor
Pulse grip
1-year parts free replacement
Cons
Price at the time of publication: $284.99
The Pooboo W2682 Recumbent Exercise Bike provides a comfortable and quiet riding experience with8 levels of magnetic resistance. This bike equips an LCD monitor that tracks and displays your exercise data – speed, time, distance, calories burned, and the odometer. The phone holder can allow you to enjoy exercise and entertainment simultaneously. You can also adjust the length of the bike depending on your height, with its 7 holes position adjustment. The bike seat uses high-density foam with leather wrapping to support your back. Its foot-strapped counter balanced weighted pedals, and the foam rubber-coated side handrail ensures your safety while exercising. The transport wheels allow you to move the bike conveniently without lifting it. Check out this video to better understand the functions of this product.
Specifications
Dimensions: 28 x 15 x 20.66 inches
Weight: 7 pounds
Color: Black
Material: Steel
Resistance Levels: 8
User Height Range:4'6" to 6'5"
Maximum User Weight: 300 pounds
Pros
Transport wheels
Safety handrail
LCD monitor
Phone holder
Non-slip pedals
Length adjustment
Cons
None
Price at the time of publication: $259.99
The Lanos Folding Exercise Bike comes with the qualities of both an upright and a recumbent bike. The LCD digital monitor displays time, calories, speed, and distance in miles. The pulse sensors built-in on the side handlebars track your heart rate. Be assured of a quiet and smooth ride with its precision-balanced flywheel. Its phone or tablet holder lets you enjoy your favorite videos while working out. The compact design enables easy storage as can you fold it to half, while it can be moved easily with the transportation wheels. You can customize your bike exercise with 10 levels of adjustable magnetic tension control. The cushioned and adjustable seat ensures a comfortable ride and an optimal sitting position. Watch this YouTuber's review to get a better idea about the product and its functions.
Specifications
Dimensions: 32x20x41 inches
Weight: 45 pounds
Color: White
Material: Premium steel
Resistance Levels: 10
User Height Range: 4'6″ to 6'5″
Maximum User Weight: 330 pounds
Pros
Cushioned seat
Sturdy
Quiet flywheel
Transportation wheels
Adjustable magnetic tension
Cons
Price at the time of publication: $199.99
The HARISON Magnetic Recumbent Exercise Bike has a heavy-duty stainless steel frame and combines performance and design. It features a step-through design for easy entry and exit from the bike along with built-in wheels for easy transportation. The 14-level magnetic resistance allows you to create a customized workout – adjust the tension level for an easy or difficult workout. The US Mute Magnetic control system provides a quiet exercise. It also comes with a "Smooth torque" cranking system that provides a consistent and effortless pedaling motion. The adjustable high-density foam padded seat and backrest offer ideal support for a correct posture. This exercise bike for seniors exemplifies a convenient indoor exercising experience with the 2-in-1 iPad and water bottle holder and a multi-function LCD display.
Specifications
Dimensions: 24 x 21.65 x 51 inches
Weight: 20 pounds
Color: Black
Material: Steel
Resistance Levels: 14
User Height Range: 4'8″ to 6'4″
Maximum User Weight: 350 pounds
Pros
High-speed flywheel
Over sized seat
Adjustable backrest
Real-time digital monitor
Multi-function LCD display
Sliding seat rail
Cons
The sliding tube might malfunction.
Price at the time of publication: $469.99
The Sunny Health & Fitness Magnetic Recumbent Exercise Bike assists you in a full-body workout. The handlebars transform the bike into a low-impact fitness machine. It has different resistance levels to allow you to pick your comfort level. While pedaling, the bike ensures arms, shoulders, and back exercise, resulting in a high-calorie burn. The digital monitor encourages you to track your distance and time spent on the machine. It is equipped with pulse sensors to monitor your pulse rate, while extra padded cushion seats offer pressure point relief. You can also adjust the seat by flicking the seat handle. Additionally, the device comes with wheels for easy portability.
Specifications
Dimensions: 60 x 25.5 x 52 inches
Weight: 95.7 pounds
Color: Grey
Material: Alloy Steel
Maximum user weight: 350 pounds
Resistance level – 8
Pros
Digital monitor
Pulse sensors
Extra-wide cushioned seat
Non-slip handlebars
Floor stabilizers
Phone holder
Cons
Price at the time of publication: $349.0
The Schwinn 230 Recumbent Bike lets you track time, calories, and distance while giving you the option of comparing it to your previous workouts. It comes with 22 preset workout programs, 2 user settings, goal tracking, and a streamlined console with a range of features. The ergonomic handlebars are adequately padded and have pulse rate sensors. The ventilated and countered seat is equipped with a lunar supporting backrest. The 20 levels of resistance and the high speed, high inertia perimeter weighted flywheel ensure a smooth and comfortable workout. The dual-track LCD window system monitors up to 13 display feedbacks.
Specifications
Dimensions: 64 x 27.7 x 49.9 inches
Weight: 6 pounds
Color: Black
Material: Steel
Resistance Levels: 20
User Height Range: Up to 6'2"
Maximum User Weight: 300 pounds
Pros
LCD screen system
Seat rail slider system
Charging USB port
Sturdy
Water bottle holder
Media shelf
Ventilated and contoured seat
Cons
None
Price at the time of publication: $549.99
The Exerpeutic 1000 High Capacity Recumbent Exercise Bike features a V-belt drive and precision-balanced flywheel that enable quiet operation. The Smooth torque cranking system provides a consistent pedaling motion. This exercise bike for seniors also comes with an LCD display that shows calories burned, time, distance, speed, and heart rate. It includes a hand pulse monitor that is an important asset to always staying within the prescribed heart rate range. The extended leg stabilizers and the strap-on large pedal ensure a safe and secure workout. This exercise bike offers 8 levels of magnetic resistance for a wide range of workout intensities.
Specifications
Dimensions: 54 x 22 x 34 inches
Weight: 63 pounds
Color: Gray
Material: Steel
Resistance Levels: 8
User Height Range: 5'3" to 6'6"
Maximum User Weight: 300 pounds
Pros
Large pedal design
Transport wheels
LCD display
Over sized seat cushion and backrest
Extended leg stabilisers
V-belt drive
Cons
None
Price at the time of publication: $215.32
Benefits Of Recumbent Exercise Bikes
No Stabilization Required: One of the prime advantages of a recumbent exercise bike for seniors is there is less to almost no stabilization required to ride this bike. It has a back pad to rest your upper body, meaning you have stabilized automatically in the chair – you only have to exercise your lower body.
Low Risk Of Back Pain: Compared to traditional exercise bikes, there is a lower risk of back pain when using a recumbent exercise bike. With no backrest, you have to maintain your posture constantly, with a high risk of developing back pain. A recumbent bike eliminates this and lowers your risk of back pain.
Reduced Tension On The Knees: A recumbent exercise bike tends to lessen the overall tension on the knee joint. This is because the knees move in the front of the body and the total force acting on the front of your knee is less. This leads to a more balanced movement across your knees.
Long Workout Length: Riding for a long time has mental and physical health advantages. With reduced tension on the knee joints and enough support to your back, you can work out for a long time. Thus, a recumbent exercise bicycle for seniors maximizes workout benefits without physical strain.
Check the following section for types of exercise bikes.
Types Of Exercise Bikes
1. Upright Stationary Bikes
The upright bike is the most popular kind of exercise bike. It is similar to your regular bicycle, with the pedals placed right under your body. It engages your core and leg muscles and is perfect for a great cardio workout. You can exercise in both the sitting and standing positions. However, it has a small seat and is not comfortable for long workout sessions. Also, the upright position puts pressure on your knees and wrists. 
2. Indoor Cycles
Indoor cycles are similar to upright bikes, with a few differences in design. These cycles allow the user to stand while cycling, engaging multiple muscle groups. They burn more calories in comparison to other exercise bikes. Most indoor cycles work on batteries and offer easy movement in the house.
3. Recumbent Bikes
Recumbent bikes have a reclining design. The seat is like a chair that allows the user to lean back. The pedals are in front of the feet, unlike an upright bike. The side handlebars provide the utmost support and reduce stress on the joints. Recumbent bikes offer a low-intensity workout. However, it is the best option for older adults with knee or back issues.
There are a lot of different elements that need to be considered before you set out to buying a recumbent exercise bike for seniors. From checking the cushioning of the seat and back support to figuring out the accommodating height, you need quite a bit of research to end up with the ideal bike for seniors. Let us look at some of them below. 
Things To Look For In A Recumbent Exercise Bike For Seniors
8. Comfort
Comfort is the most significant factor when purchasing workout equipment. While recumbent exercise bikes are already comfortable in their design, things like cushioning of the seat, distance from the bike pedals, and seat adjustability make all the difference. Seniors will benefit from a large and softly cushioned seat with an adequate foot distance from pedals, depending on their height.
9. Features
Some recumbent bikes come with a range of hi-tech features, making them user-friendly and comfortable. Look for features, such as LCD display consoles, Bluetooth connectivity, heart rate monitors, USB ports, and pre-programmed workouts.
10. Difficulty
The difficulty level differs based on an individual's intended use of the exercise bike and the kind of workout. Most exercise bikes for seniors start with the base resistance level of 1. The more intensity levels a bike has, the more versatile it would be to increase and decrease the resistance in small increments. Most of them come with 8 resistance levels, but advanced models may have upto 40.
11. Resistance Type
Most recumbent exercise bicycles for seniors have one of the three mechanisms: magnetic brakes, eddy brakes, or a manual resistance knob. Magnetic resistance is the most common and has a simple mechanism – the brake pad is attached to the cable and connected to the tension knob for adjusting the resistance level. The eddy brake uses electric current to function, wherein the bike comes with an adapter and needs to be plugged into an electric outlet. The manual resistance knob is a simple knob connected using a cable wire that needs to be turned to set the resistance. In recumbent exercise bikes, the resistance (or tension) mechanism is a magnetic or eddy brake.
12. Weight Capacity
A good recumbent stationary bike for seniors allows extra weight capacity to facilitate accidental weight gains. A high weight capacity also indicates that the bike is sturdy and stable, allowing better balance during workouts. Weigh yourself before buying a bike to confirm if it can support your weight.
13. Seat Quality
Choose a recumbent bike that has a large or oversized seat and backrest. It should be heavily padded to provide maximum comfort and keep back problems at bay. An adjustable seat and backrest are great features to consider.
14. Storage Space
Even with the most basic features and smaller footprints, a recumbent exercise bike would be bulky and occupy a lot of floor space. Ensure you have enough space for indoor usage before purchasing one.
15. Flywheel Weight
The flywheel weight is a measure of the fluidity of the pedals. A light flywheel would make the pedal jerk and lead to accidents. But a heavy flywheel offers a more comfortable pedaling experience. Choose a minimum flywheel weight of 15-20lbs for intense usage. 
That was our list of the best exercise bikes for seniors. These products will accommodate most of your needs. Order one now based on your preference and requirements!
Why Trust StyleCraze?
The author, Aditi Naskar, has a diploma in health and wellness and reviews fitness-based products for Stylecraze. She came up with the list of the best exercise bikes for senior citizens considering their quality, sturdiness, adjustable features, and comfort. These bikes have been shortlisted after thorough research and analysis of user reviews posted online. These exercise bikes are easy to assemble and disassemble, and help one stay in shape by providing a comfortable riding experience.
Frequently Asked Questions
Is an upright or recumbent bike better for seniors?
Recumbent bikes have lower and broader seats than upright bikes, making them comfortable to sit in. They also help you exercise your thighs, glute, and calf muscles without much effort, which is ideal for seniors. Therefore, recumbent bikes are better.
Is an exercise bike good for a 70-year-old?
Yes. Exercise bikes are low-impact equipment excellent for a 70-year-old to exercise and build their core muscles without strain.
How long does it take for seniors to exercise on a bike?
Seniors must ride the bike and exercise for 20 to 30 minutes three to five times weekly.
Does using an exercise bike impose a high impact on your knees?
No. Using an exercise bike imposes a low impact on your knees. The riding movement lubricates the knee joints and eliminates muscle stiffness.
Can a stationary bike be used every day?
Yes. Use a stationary bike to improve the strength of your lower body.
Will using an indoor cycling bike give me a full-body workout?
Yes. Indoor cycling bikes aid your full-body workout. They stabilize your core and back muscles, support your upper body, increase your glutes' resistance, and strengthen and tone your leg muscles.
Recommended Articles