6 Best Exercise Bikes For Spinal Stenosis – 2023
Improve your lower back ache with exercise bikes that address muscle strain and neck pain.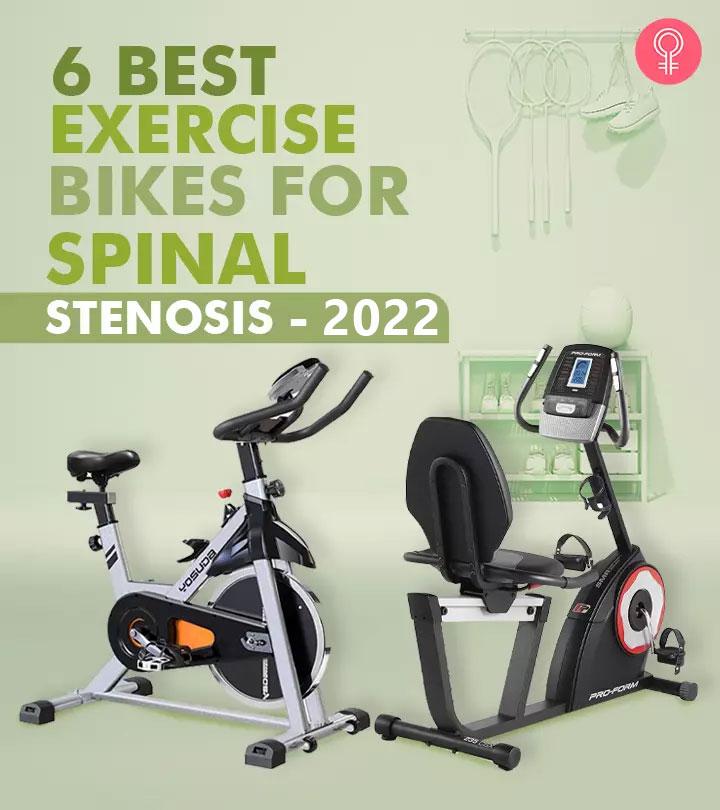 Spinal stenosis is a medical condition in the lower back and the neck. It narrows down the spaces in your spine, putting pressure on your nerves. In such cases, surgery is a common choice. Instead, sometimes, the best exercise bike for spinal stenosis can benefit you. These exercise bikes are specially crafted to reduce pressure and tension by providing support to your lower back.
But before buying the exercise bike, you must consider features like storage space, display panel, adjustable handlebars, padded seat, foot straps, and more. This article brings you the 6 ideal exercise bikes to relieve the pressure. In addition, we have also mentioned a buying guide that will help you pick the best exercise bike. Keep scrolling to know more!
6 Best Exercise Bikes For Spinal Stenosis
Marcy Recumbent Exercise Bike features a step-through design that enables mobility during a workout. Its 14-gauge steel tubing is durable and strong enough to offer the stability and support you desire. Its 8 magnetic levels of resistance take control of your workout simply by turning the tension knob. Its LCD screen serves the role of a speedometer, it displays speed, time, distance, and calories burned. This best exercise bike for spinal stenosis comes with a saddle designed with a high-density form to improve comfort. It also features weighted pedals to provide optimum foot support, while its adjustable foot strap ensures a perfect fit.
Specifications
Material: Plastic
Weight: 61 pounds
Maximum height: 37.5 inches
Maximum weight recommendation: 300 lbs
Pros
Portable
Steady
Noiseless
Easy to mount
Durable
Pedal with foot strap
Portable
Heavy-duty construction
Cons
Seat padding isn't great
Resistance transition isn't smooth
Price at the time of publication: $140.83
Yosuda Indoor Exercise Bike has a heavy-duty steel frame and 35lbs flywheel that guarantee absolute stability during workout. It uses a belt-drive system that ensures reduced noise and quiet operation. Its non-sleep handlebar can be adjusted in two ways, while the 4-ways padded seat with 25-35 inches inseam height provides comfort to patients with spinal stenosis. This exercise bike for spinal stenosis has an ultra-clear LCD monitor designed to display odometer, calories burned, time distance, and speed. Keep your phone/iPad on the iPad holder to enjoy your favorite music during your workout. Adjustable cage pedals keep you safe during fast rides. Its other amazing features include a water bottle holder to help you hydrate and transport wheels for improved portability.
Specifications
Material: Steel
Weight: 68 pounds
Maximum height: 35 inches
Maximum weight recommendation: 270 lbs
Pros
Portable
Noiseless
Easy to mount
Display workout progress
Steady
Comfortable
4-ways seat adjustment
12 months free replacement of parts
Cons
Does not support people over 270 lbs
Price at the time of publication: $303.99
The Schwinn Upright Exercise Bike works well for patients with spinal stenosis. It comes with enhanced Bluetooth connectivity that allows pairing with app-based tracking tools. In addition, it offers 25 levels of resistance to help you achieve all your fitness goals. The dual-track LCD monitor with a blue backlit exhibits important workout information, including the 29 preloaded workout programs. Its oversized pedals come with toe straps to let every member of your family enjoy using this bike. Lastly, its handlebars are padded and adjustable, so that you can ride comfortably.
Specifications
Material: Steel
Weight: 59.4 pounds
Maximum height: 55.2 inches
Maximum weight recommendation: 300lbs
Pros
Monitors heart rate
Comfortable
Contoured seats
Steady
Portable
Bluetooth-enabled
Includes USB charging port
Cons
Difficult to find its replacement parts
Price at the time of publication: $529.0
Marcy Upright Magnetic Exercise Cycle features high-quality 14-gauge steel alloy tubing with a powder coating finish. It ensures a sleek design, improved performance, and durability. This magnetic resistance machine is equipped with 8 difficulty levels. Use the tension knob to alternate the terrains and attain your workout goals. In addition, it features an LCD screen to show speed, distance, time, and calories burned. Its adjustable seats improve comfort and can accommodate various body sizes. Its pedals are designed with adjustable foot straps, enhancing stability and safety.
Specifications
Material: Alloy Steel
Weight: 41 pounds
Maximum height: 48.75 inches
Maximum weight recommendation: 300lbs
Pros
Sturdy
Adjustable seat
Extra-large display
Compact
Portable
Cons
Price at the time of publication: $131.75
ProForm 235-CSX Recumbent Bike has an oversized and adjustable seat that provides the best lumbar support for patients with spinal stenosis. It features a silent magnetic resistance which reduces the sound coming from every pedal stroke. Its EKG grip pulse sensor accurately records your heart rate to improve your cardiovascular health. Its large LCD shows precise readings for cadence, calorie burned, and distance. It has 18 levels of resistance that you can alter manually, or you can also use the iFit Trainers auto-adjust feature.Its transport wheels improve mobility while the water bottle holder gives easy access to water.
Specifications
Material: Steel
Weight: 102 pounds
Maximum height: 61 inches
Maximum weight recommendation: 275lbs
Pros
Backrest support
Noiseless
Easy to assemble
Durable
Cons
Price at the time of publication: $418
Enjoy your workouts with the Sunny Health and Fitness Magnetic Resistance Recumbent Bike! As it comes with a device holder attached to it, where you can watch your favorite movies and web shows or just browse the web while you work out. This exercise bike is equipped with 12 workout presets and comes with a super-comfy, cushioned backseat with mesh back support to offer stability and give you just the right amount of comfort. Plus, it also features a bottle holder, performance monitor, floor stabilizers, non-slip handles, and transportation wheels to move the equipment around with ease. It's got just about everything you need for an intense body workout.
Pros
Performance monitor
Device holder
Bottle holder
Pulse sensors
Mesh back, cushioned seat
Non-slip handles
Heavy-duty frame
Cons
The screen times out quickly
Price at the time of publication: $369.99
Now that you have chosen the best exercise bikes for yourself let us advise you about using them efficiently. Keep scrolling to learn ahead.
How To Use the Exercise Bike For Spinal Stenosis?
Saddle Angle, Height, and Position: Always adjust the seat angle to support your body weight fully. Minimize excess downward or upward tilt to avoid exerting pressure on the joints. Secondly, the seat height must be adjusted to suit your height and leg length. The easiest way is to stand beside your stationary bike and adjust the saddle to reach your hip bone height. Thirdly, the knee and the feet should all be aligned; that's why you'll need to adjust the seat in a backward and forward position.
Adjust the handlebars: Another important thing you should do before starting your workout on an exercise bike for spinal stenosis is to adjust the position and height of the handlebars. This minimizes the pressure you exert on your shoulder. Always level the shoulder with your elbows and hips to protect your back and neck.
Pedal and Pedal Straps/Clips: Your foot's ball must always be on the pedal center while riding. Also, the foot stroke and the foot's ball should level up to minimize pressure on the toes. If you bought an exercise bike for spinal stenosis with a pedal strap, ensure you secure your feet accordingly to improve stability.
Resistance: Bikes have different resistance levels, and you need to find the right one of your training goals. However, always start low and progress as you increase endurance and stamina.
Are you worried about whether an exercise bike will help you with spinal stenosis? Well, read the next section to clear all your doubts by learning all about these bikes' advantages.
What Are The Benefits Of Using An Exercise Bike For Spinal Stenosis?
Strengthen core muscles: Exercise bike for spinal stenosis targets the right muscles while ensuring an aerobic workout and keeping the spinal structure healthy. The core muscles on the abdomen and back are responsible for maintaining stability and posture. The best exercise bike for spinal stenosis will keep your posture and stability upright, thus minimizing back pain. In addition, when you develop endurance, you'll have improved stability and core strength, which help prevent future back injuries and pain.
Reduces pressure on the lumbar spine: Upright or recumbent bikes for spinal stenosis are designed with unique features like back support and seats that minimize the pressure exerted on the lower back (lumbar spinal region). There will be less impact on the lower back, so there won't be too much strain on your neck and back. Leaning forward while on an upright exercise bike minimizes back pain.
Eases Joint Pain: Recumbent or upright stationary bikes can be very helpful in reducing joint pain. By sitting on a recumbent bike, you'll get enough support on your lower back, and since you are in a reclined position, less weight will be exerted on the ankles and knees. Also, cycling lubricates the joints and reduces stiffness, ensuring improved joint health.
Safer Choice: The other benefit of using the best exercise bike for spinal stenosis is that they are safe. No extra balance is needed when mounting or dismounting it. Stationary bikes aren't designed to be pedaled while the user stands up, which doesn't strain your back. As a result, these exercise bikes for spinal stenosis minimize the risk of injury while promoting recovery.
Intrigued by the benefits of using exercise bikes? Now, let's review the points to consider for buying the best exercise bike for spinal stenosis.
How To Select The Best Exercise Bike For Spinal Stenosis?
Good Backrest: The first important factor anyone looking for the best exercise bike for spinal stenosis should consider is good back support. Always opt for ergonomic seats with a sturdy and soft cushion that naturally support your lumbar spine. Furthermore, consider if the backrest can be adjusted either backward or forward that helps you maintain a slight and comfortable bend.
Handlebars: Despite a stationary bike having back support, handlebars can also improve comfort. Generally, handlebars are designed in two places. The first option is one next to your seat cushion and the other in front under the display. Both have pros and cons but go for the former option if you need to relax your arms. Otherwise, choose the latter if you need to cycle while maintaining an upright posture.
Secure Foot Straps: Those who move around most of their time find it challenging to maintain the spine stable in a neutral position. Therefore, consider an exercise bike for spinal stenosis with pedals and adjustable fastening foot straps.
After going through our review of the top 6 best exercise bikes for spinal stenosis, we are sure you've got helpful information that can help you make the right buying decision. However, not all exercise bikes for spinal stenosis are designed the same. Therefore, we advise you to look at all their features carefully to make an investment that suits your individual need. A flimsily constructed bike can cause injuries and pose a safety hazard. That's why we encourage you to look for durability and sturdy exercise bikes. So, choose the best for yourself from the above details.
Why Trust StyleCraze?
Aditi Naskar, the author, has a diploma in health and wellness and is very enthusiastic about researching different fitness gears. She has conducted thorough research to provide you with the best exercise bike for spinal stenosis. These products are a must for people experiencing spinal stenosis, who do not want to let it grow to the level that would need surgery. These exercise bikes help reduce pressure and tension on your lower back and provide you with proper support.
Frequently Asked Questions
What activities should be avoided with spinal stenosis?
High impact workout isn't ideal for those with spinal stenosis as it can worsen the symptoms of this condition. Don't stand or walk for longer periods, jog, or engage in contact sports, as they can harm the spine.
Are exercise bikes bad for the back?
No! Exercise bikes have been uniquely designed to minimize the force or pressure exerted on the lower back pain. In addition, the exercise bike for spinal stenosis helps strengthen your core muscles to have improved posture and stability, keeping your back healthy.
Can you ride a bike with spinal stenosis?
The symptoms of spinal stenosis may worsen as you age, but that doesn't mean you'll not be able to ride your stationary bike. You must only observe starting with a low resistance level and being consistent, and your condition might improve.
Is static cycling good for spinal stenosis?
Yes, static cycling improves spinal stenosis and has been proven beneficial in users.
What exercise machine is good for spinal stenosis?
Stationery bikes and elliptical machines are good for spinal stenosis. They are low impact and help flex the back and relieve stenosis.
Will using an exercise bike strengthen the lower back?
Yes, using exercise bikes strengthen the leg and thigh muscles and aid in strengthening the lower back.
Recommended Articles