15 Best Exercise Bikes For Home Workouts – 2023
Get your heart racing while you ace that home workout with high-performance fitness tools.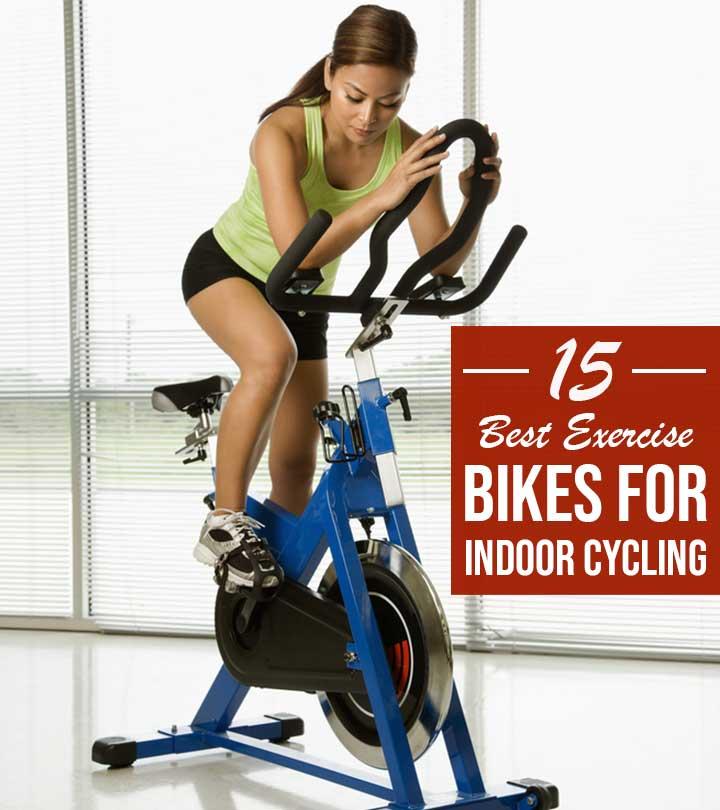 In an age when virtually all business is being conducted from home, planning to stay indoors for your workouts might be a good idea. All you need is the best exercise bike to get your daily dose of cardio. These stationary bikes allow you to reach your daily movement goal and maintain your health by fulfilling specific needs, especially if you are dealing with back or knee issues. If you love exercising any time, anywhere, without having to worry about the weather, this list is for you.
Check out the top 15 recommendations for exercise bikes with reviews and choose the one that seems like the right option for you and your home.
The Top 15 Exercise Bikes of 2023
This exercise bike can support up to 300 lbs of weight, which is more than any other regular exercise bikes available on the market. It has a large seat, so people of any body shape and size can use this bike easily. It doesn't make any noise while you use it. It has an LCD display where you can see your time, speed, calories burned, and the distance covered. Go ahead and check out this YouTuber's video for more details about the product.
Pros
Foldable
8-level magnetic tension control
Hand pulse sensor
Space-saving
Cons
Pedal straps are not durable.
Mileage resets after 999.9 miles.
Price at the time of publication: $143.04
This recumbent stationary bike has a compact design that easily fits into small spaces. It has an adjustable, padded seat, so people of any height can use it comfortably. It comes with an LCD display that shows the time, speed, distance, and calories. It also has adjustable resistance with eight levels of resistance. The foam covered handles offer extra support to the back and arms while exercising. The pedals are designed to provide maximum foot support. To get a better understanding of the product, you can check out this video on YouTube.
Pros
Pedals have safety straps
Recumbent handlebars
Transport wheels for easy movement.
Sturdy
Cons
Assembling the bike may be a bit troublesome.
Price at the time of publication: $140.83
This stationary exercise bike has a heavy-duty steel frame construction that can support weight up to 300 lbs. This bike comes with Bluetooth smart cloud fitness. You can connect it to the  MyCloudFitness app to manage the reading and keep track of your workout goals. It has a smooth torque cranking system that helps to keep the pedaling motion smooth and consistent. The large seat and backrest make it convenient for users of all sizes.
Pros
Large seats and backrest
Hand pulse for heart rate monitoring
Leg stabilizers prevent movement while exercising.
Has a phone holder
Cons
Assembling it is tedious.
Price at the time of publication: $300.87
This exercise bike has an X-frame design, which is easy to fold and doesn't take much space. The seat is large and anatomically designed. It has multi-grip handlebars that support you while using the bike. It has eight levels of manual resistance that you can easily control through its dial knob. It is a great budget option for small spaces. Check out the review of this product for more information.
Pros
3-piece pedal crank offers added durability.
Adjustable strap foot pedals
Console powered by 2AA batteries
Cons
No button to turn off the console.
Price at the time of publication: $129.99
This bike is supported by a heavy-duty flywheel, steel frame, and crank that make it really sturdy. Its resistance system gives you a realistic riding-on-a-road feeling. It has an adjustable seat attached to a knob that helps to move it in any direction you want to. This helps to maintain a comfortable position while you work out.
Pros
Adjustable multi-grip handlebar
Has a bottle holder
Doesn't make any noise
Transportation wheels
Cons
The distance between seat and handlebars is not comfortable for short people.
The YOSUDA Folding Exercise Bike provides three modes of exercise, including upright, recumbent, and arm resistance bands. Thus, it helps to give you a complete body workout by utilizing different muscles in the body. The exercise bike's noise-free feature allows you to exercise wherever you want. Plus, it comes with a soft, comfortable oversized seat for maximum comfort. Its superior folding design enables it to save space. It also features a large-screen monitor and built-in sensors to record and monitor your exercise data.
Pros
Heart rate sensor
LCD display
Video holder
Anti-slip pedals with strap
Ultra-soft seat
Cons
The seat might be uncomfortable for some users
Price at the time of publication: $144.49
This is a stationary upright bike that has a 14-gauge steel tube frame, which makes it extremely sturdy. Its magnetic resistance has eight levels of difficulty that can be adjusted with a tension knob to meet your fitness levels. The adjustable seat can accommodate people of any height and frame. The pedals are ergonomically designed to support your movements.
Pros
Ergonomic design
Has transport wheels
Has counterbalance pedals to provide foot support and control
Continuous manual resistance
Cons
The seat may not feel comfortable.
Price at the time of publication: $131.75
This bike has a comfortably padded seat that can be adjusted in four ways. It has a 22 lb flywheel with high inertia and resistance that helps you control your riding pace easily. Its chain drive mechanism ensures a smooth ride. It can support up to 220 lbs of weight. The rubber foam paddle handlebars help in extending the duration of your workout. The toe clip pedals with straps prevent your feet from slipping.
Pros
Digital monitor
Transportation wheels
Felt pad resistance
Cons
Handlebars are a bit tough to adjust.
Speedometer auto-resets often.
Noisy
Price at the time of publication: $154.85
This stationary exercise bike has a contoured seat with forearm rests. The handlebars are ergonomically designed and feature heart rate grip sensors. It has a 3-piece crank and a water bottle holder and also features 25 levels of computer-aided resistance. This bike has quick keys to 12 profiles and 9 heart rate programs and supports up to four user profiles. It has a sturdy frame that can support weight up to 300 pounds.
Pros
Dual track LCD screen
Built-in speaker with USB port
Bluetooth connectivity
Cons
Noisy
No numeric value for heartbeat
Tough to install
Price at the time of publication: $529.0
The sturdy Dripex Bike is quite durable and made of a heavy-duty steel frame. This machine offers smooth operation and extensive support for a variety of challenging workouts. It also comes with a built-in LCD screen which allows you to track your speed, time, distance, calories burned, and odometer. The most impressive part is that you can customize it according to your needs as it comes with adjustable seat height, saddle fore, and handlebar. Another key feature is that it provides a separate space to keep your phones or tablets as you work out.
Pros
Built-in LCD screen
Adjustable seat, saddle, and handlebar
Mobile device holder
Quiet exercise bike
Multi-position handlebars
Flat pedals with toe strap
Padded saddle
Cons
The digital LCD may malfunction
Price at the time of publication: $299.99
The Original Peloton Bike gives you a unique workout experience! It helps recreate the excitement of a studio fitness class and offers convenience, just like a personal trainer. This stationary bike is compact and can easily fit into small places. It comes with an adjustable seat, handlebar, and multitouch screen, which can be positioned according to different heights. In addition to that, it comes with amazing features such as a built-in microphone, speaker system, 5-megapixel front-facing camera, and Bluetooth connectivity. The Delta-compatible pedals and resistance knobs make it a worthwhile product for fitness enthusiasts.
Pros
Comes with a multi-touch screen
Has a speaker system
Offers Wi-Fi and Bluetooth connectivity
Built-in microphone
Compact design
Cons
The seat may not be comfortable
Price at the time of publication: $1445
This stationary bike is great for those who have mobility issues and for the elderly. The pedals are adjustable, so you do not have to lift your feet too much to use it. This stationary bike has eight calibrated magnetic resistance, so it doesn't make noise. This portable under-desk cycle has a 5-function LCD display where you can check your speed, distance, calories, and time.
Pros
Patented magnetic resistance mechanism
Quiet operation
Smooth pedal motion
Cons
The digital LCD may malfunction.
Price at the time of publication: $179.0
This multi-functional exercise bike has a premium steel frame and is constructed with 14 gauge steel tube, which makes it durable. Another advantage of this exercise bike is that it has an innovative resistance system that involves a fan instead of a flywheel. This fan helps to increase the resistance when you pedal faster. You can adjust the seat in this bike to maintain a proper body posture while pedaling.
Pros
Transport wheels
Adjustable seat
Adjustable levelers
2 years warranty
Cons
Noisy
A few parts may not be durable.
Price at the time of publication: $340.12
This bundle includes the indoor cycle, stretch pads, media tray, floor mat, and a polar heart rate monitor. This cycle has a V-shaped design that is close to the road-bike frame. It is a Bluetooth-enabled device that enables you to connect it with the Keiser M Series app to get a real-time graph and monitor your heart rate and other parameters.
Pros
Compatible with multiple apps
No noise
Durable
Smooth operation
Cons
Price at the time of publication: $1895.0
The LANOS Workout Bike can fold into a flat storage position! The folding exercise bike not only helps you burn some extra calories but also helps you save some space, thanks to its superior foldable design. It offers a complete body workout and is super easy to assemble too. Plus, it comes with an LCD screen to track your fitness and a phone holder and offers a smooth, quiet ride. This bike is suitable for all ages and genders, including elderly people.
Pros
Easy to assemble
Folding exercise bike
Saves space
LCD monitor display
Noise-free
Cons
Price at the time of publication: $179.99
A stationary exercise bike is an excellent choice for those who love to work out at home. There are several benefits of having a stationary exercise bike at home. Check them out.
Benefits Of Stationary Bike Workout
It Helps Boost Cardiovascular Health: Aerobic exercise is excellent for boosting your cardiovascular health. It helps improve blood circulation and oxygen flow in your body.
It May Helps With Weight Loss: Although weight loss depends on the intensity of the workout and other factors, an indoor cycle can assist in quick calorie burning.
Good For Low-Impact Workout: A low-impact workout mainly focuses on strengthening your muscles without hurting your joints and bones. A stationary cycle is the best way to do low-impact workouts.
Strengthens Your Muscles: Pedaling helps strengthen the muscles of the legs and lower body. If you are mindful of your posture during your workout, it can also help work your core muscles.
When buying an exercise bike, there are several points that you should consider.
What To Consider Before Picking An Exercise Bike
Style: Exercise bikes are of three types – recumbent, upright, and spinning. Pick a style that you feel is good for you and meets your expectations.
Weight Of The Flywheel: More flywheel weight means comfortable and smooth rides. However, bikes with more flywheel weights are usually expensive. If you are a beginner, stick to a weight between 15-22 pounds. Advanced riders may opt for more weight.
Programming Of The Bike: Check the display option along with resistance options and the basic measurements. Also, check for features like calories, heart rate monitoring, etc.
Depending on your fitness level and workout goals, you may pick a bike that meets all your needs. Here are the options that are available.
Different Types Of Exercise Bikes
Recumbent Bike: These bikes have a wider seat and allow you to sit in a reclined position. Recumbent bikes support your body and put less stress on it. They are ideal for less intense workouts and for those who have mobility and joint issues.
Upright Bikes: These bikes are similar to regular bikes and are the most common type of stationary bikes. They are great for cardio workouts and help strengthen your core and leg muscles. These bikes can be used both sitting and standing. However, the smaller seats may get uncomfortable for longer workout sessions.
Spinning Bikes: These bikes are meant for high-intensity workouts. They have adjustable handlebars, so you get a full-body workout. The body position on this bike mimics your body position on a regular bike. It has heavy flywheels, so you burn more calories with an intense workout.
You have to be extremely careful when using a stationary bike or while working out. Here are some tips you can follow when using a stationary bike.
A Few Tips To Follow While Using Exercise Bike
Maintain the balance, or you may fall off the bike and injure yourself.
Do not push too hard because you might develop muscle fatigue or an injury due to the repetitive motion.
Maintain proper body posture. Chandel Stallworth, a pilates, strength training, and corrective exercise expert, suggests, "Ideally, you want to have a ten to twenty-degree bend in your knee when your foot is at the bottom position on the pedal. Anything greater than this can cause pain in your knees, hip, and or low back as you ride." You may also ask a professional trainer for help.
If exercising in a group, do not feel pushed to keep up with the other people's pace. Maintain your own pace, and do not drain your muscles out.
Always consult a doctor before using an exercise bike, especially if you have heart or blood pressure-related issues.
Why Trust Stylecraze
Aditi Naskar, our author, has a diploma in health and wellness. She has a deep interest in helping her users meet their fitness goals. She has gone through numerous customer feedback online and collated this list of the best exercise bikes you can choose from. These bikes save space, don't make noise, and help you keep track of your calories and speed.
Frequently Asked Questions
Can you lose fat by riding a stationary bike?
Stationary bikes may help you shed calories. However, for weight loss, you may need to follow an exercise routine and a proper diet.
How many times a week should I use my exercise bike?
You may do it regularly as per your stamina levels or as guided by your professional trainer.
Is an exercise bike as good as cycling?
No. Cycling activates your muscles and improves the strength of your upper body and core. It helps you to achieve a full-body workout. On the other hand, riding an exercise bike primarily focuses on building your leg strength.
What are the benefits of riding an exercise bike every day?
Riding an exercise bike daily improves cardiovascular strength, reduces body fat, activates lower body muscles, and enhances mental health.
How much weight can an exercise bike hold?
Generally, exercise bikes have a weight capacity of 400 pounds.
What resistance should I use on an exercise bike?
If you are a beginner, keep your resistance level between one to four. Then, slowly, bump up the resistance setting when you get accustomed to the bike and its increased speed.
What are the benefits of adjustable kettlebells?
Adjustable kettlebells are extremely convenient as it allows you to have a range of different weights in just one piece of equipment and hence take minimal space. They are also more affordable and can be a good addition to your home gym.
What is the best kettlebell weight?
The most recommended weight for kettlebells is 8 kg for women and 16 kg for men. However, it can also depend on your own fitness level and goal.
Do kettlebells work your full body?
You can perform both strength and aerobic moves with a kettlebell and can target muscle in your entire body.
Recommended Articles