10 Best Exercise Equipment For Seniors To Stay In Shape
Stay fit and in perfect health as you age by ensuring that your body stays active.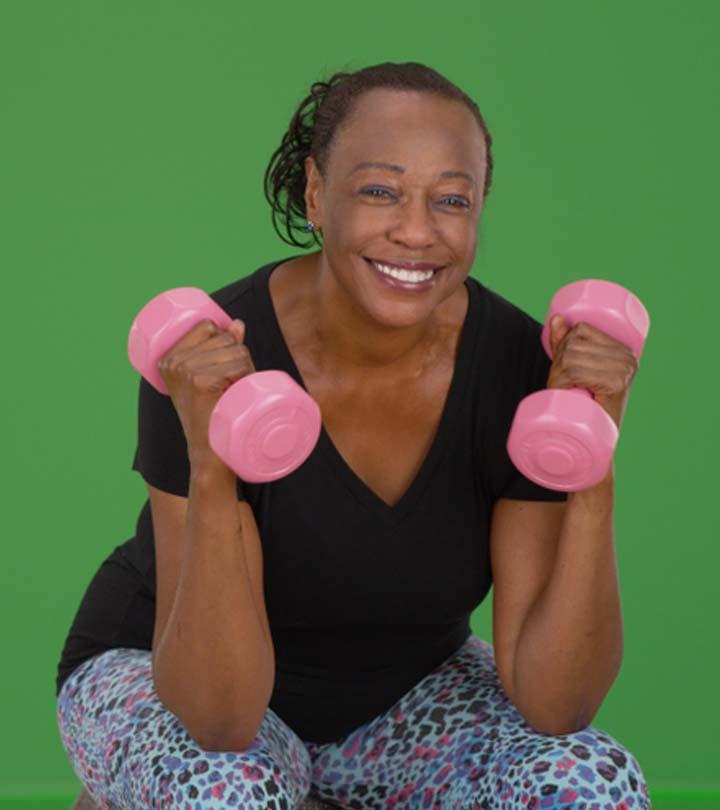 Agility and fitness are basic necessities in day-to-day life, more so with advancing age. Workouts play an important role in maintaining one's health and staying fit and active. But with age, the limitations of the body tend to increase and people are left with very few choices to keep themselves in good shape. Adding to this is the dreadful pandemic looming on mankind, keeping everybody behind closed doors and limiting access to gyms and parks.
In such scenarios home workouts seem to be the best option, and having exercise equipment at home lends support to the idea of home workouts. Installing exercise equipment at home is beneficial in a way for older adults as they can workout according to their will and wish without having to step out of the comfort of their home. Weather conditions and other factors do not become a hindrance in the workout routine either. But is your brain in a tizzy as to which exercise equipment are the right choice for the elderly? Fret not, as we list down the 10 best exercise equipment for seniors to form a healthy workout routine in 2023.
10 Best Exercise Equipment For Seniors To Workout In 2023
Loss of balance with advancing age will be a thing of the past with the Bosu Home Balance Trainer for low-impact workout. It makes your workouts more challenging and fun as you learn to move with control on a dynamic surface that is not very stable. Also known as "half ball", this is perhaps one of the best home gym equipment for seniors that helps in doing workouts such as cardio workout, endurance training, muscular strength building, flexibility exercises, bodyweight exercises, etc. This low-impact strength training for older adults supports user weight of upto 300 lbs and comes with a hand pump and downloadable owner's manual. Watch this video to get a detailed review of the product.
Pros
Helps improve balance
Aids in doing various workouts
Eases movement with control
Manual and pump included
Can take user weight upto 300 lbs
Cons
Does not retain air and deflates quickly
The base might come off in a few months
Price at the time of publication: $144.99
Exercising at the comfort of home is made easier for seniors with the Lanos Workout Bike For Home. This 2-in-1 recumbent bike has 10 magnetic resistance levels for customized user needs. With an LCD display screen, this home exercise equipment for seniors allows you to monitor and track the results of your workout session. It comes with a manual and instruction video to allow for easy assembly and its ultra-quiet design makes sure you workout without causing disturbance to others. Owing to its lightweight and space-saving folding design, it is one of the best portable exercise equipment for seniors.
Pros
Portable and convenient
Easy to assemble and customize
Ultra-quiet design
Built-in LCD monitor display
Space-saving design
Supports user weight upto 330 lbs
Cons
The machine may start making squeaking noises after some time.
Price at the time of publication: $179.99
Workout anytime and anywhere with the DeskCycle Under Desk Bike Pedal Exerciser. This portable sitting exercise equipment for obese seniors has 8 resistance settings and fits under your desk to facilitate a mini workout even while at work. The bi-directional pedals have velcro straps to adjust according to user comfort and the removable LCD display comes with 6 functions to help you keep an eye on your speed, time, calories burnt, heart rate, and more. So, whether it is for rehabilitation or for fitness purposes, this is one of the best pedal exercisers for seniors. Here's a video to help you know more about this product.
Pros
Portable
Easy to set up
Whisper quiet operation
Bi-directional pedals
Adjustable straps for comfort
Removable LCD display
Cons
The pedals start to come off in some time due to improper threading.
Price at the time of publication: $179.0
Make your workout sessions extra productive with the Yes4All Foam Exercise/Balance Pad. Made with premium-quality TPE foam, this portable exercise equipment for seniors aids in gaining balance and strength while you workout. This anti-slip foam pad is multipurpose and can be used as a cushion for physiotherapy. It comes in 2 sizes for convenience of the user, is sweat and water proof and can be cleaned after use. Whether rehabilitation, physical therapy or aiding in workouts, this balance and stability device for seniors comes in handy every time.
Pros
Slip resistant
Water resistant
Lightweight
Multiple uses
Enhances workouts
Easy to clean
Cons
Home workouts will seem easy as a breeze with JEEKEE Recumbent Home Exercise Bike. With a long frame, this exercise equipment for balance for senior citizens has 9 seat positions to fit users in the height range 4'9" – 6'5". It has 8 neodymium magnets which enhance the resistance of the bike, making for a smoother and quieter workout. A large seat and backrest keep your spine and tailbone from strains and the recumbent design helps build endurance and strength while improving the blood circulation and keeping the joints pain-free. You can also track your workout using the LCD display screen which adds to making this one of the best exercise peddlers for seniors.
Pros
Ergonomic design
Smooth belt system
Quiet while operation
8 resistance levels
LCD display for tracking
Cons
Some may find the assembly difficult.
Price at the time of publication: $259.99
Eva Rodriguez, a NASM certified personal trainer and a Certified Life and Weight Loss Coach, mentions, "Recumbent bikes allow you to exercise your thighs, calves, and glute muscles with less strain than an upright bike. Since recumbent bikes put less strain on your joints, this piece of equipment is ideal if you have arthritis or joint pain."
The Vanswe Recumbent Exercise Bike offers infinite slide seat adjustment compared to other bikes that have fixed seat positions. In this way, you can place your legs in a comfortable position according to your height. It features 16 levels of magnetic resistance that can be adjusted during the workout. The dual-belt system facilitates an easy, smooth, and quiet workout session. It even comes with a wide LED display to help you track your status, like time, speed, calories burned, pulse, and odometer. Plus, this exercise bike comes with a thick, plush cushion that offers you excellent support and proper posture and puts less strain on your joints. It is equipped with two wheels and Bluetooth technology.
Pros
LED display with backlight
Bluetooth connectivity
Adjustable seat
Free fitness data app
Quiet functioning
Comfortable
Cons
Price at the time of publication: $269.99
Convenience is key when older adults work out, and LifePro FlexStride Plus Elliptical Trainer offers just that. This leg exercise machine for seniors is compact and can be transported easily to use anywhere. It has 8 resistance levels that are calibrated, keeping in mind the user's needs. Elliptical trainers for seniors are great for overall exercising, and you can use this compact elliptical for seniors to burn calories, boost metabolism, and improve blood flow and lymphatic drainage after a workout session while tracking all this on the LCD monitor provided on the workout equipment.
Pros
Portable
8 resistance levels
Wide non-slip pedals
LCD display monitor
Compact and convenient
Cons
Tends to slip away while pedalling
Price at the time of publication: $179.99
The Sunny Health & Fitness Recovery Walking Treadmill, as the name suggests, is for those who are recuperating and need to be careful in their workouts. This joint-friendly workout tool for the elderly and young adults has a low-lying deck with shock absorption that does not strain the joints while you work out. The digital monitor on the front helps you track the calories, time, speed, distance covered, mode, etc. while the padded handrails keep you from slipping mid-workout and provide additional support. With a 2.5 peak horsepower motor that can run at a speed range of 0.6 mph to 5 mph, this walking aid for older adults is perhaps one of the best home exercise equipment that can be used by young adults as well.
Pros
Portable
Non-slip padded handlebars
Low lying shock-absorbent deck
Digital display panel
Strong motor
Emergency stop clip
Cons
The self-installation process can be time taking and tedious.
Price at the time of publication: $491.08
Seniors can now work out at home with ease and convenience with the HARISON Magnetic Recumbent Exercise Bike. This sitting exercise machine for elderly people helps to improve the strength of the whole body and maintain fitness. This stationary bike has 14 magnetic resistance levels and the slide rail at the bottom lets you adjust the seat according to your convenience. With a tablet and water bottle holder, your entertainment and thirst are taken care of, while the LCD display screen on this elderly exercise equipment lets you track the progress you make as you workout.
Pros
Portable and convenient
Heavy-duty steel frame
14 resistance levels
Adjustable seat and backrest
LCD display screen
Features tablet and bottle holder
Cons
The equipment may be noisy.
Price at the time of publication: $469.99
The Healthy Seniors Chair Exercise Program brings to you a set of resistance bands for seniors' therapy and workouts. This exercise equipment for seniors at home is developed by a physical therapist specifically for people looking for rehab and older adults. One box of this chair-based exercise contains an exercise guide booklet, a set of handles for better grip, and a set of resistance bands. One can build strength, stability, flexibility at their own pace, using either the low-intensity band or the medium intensity band according to one's convenience. So whether it is pilates, yoga, warm-up, regular workout, or recovery and therapy, this upper body exercise equipment and chair exercises for seniors help you do it all while sitting.
Pros
Portable
Easy to use
Low impact and safe
Multipurpose
Exercise booklet provided
Handles provided
Great for gifting
Cons
The bands might start coming apart upon rigorous usage.
Price at the time of publication: $25.99
Choosing The Best Exercise Equipment For Seniors- Buying Guide
Trial before purchase
Before you purchase exercise equipment, it is best to try it out at a fitness centre/gym or some place else. It makes one aware about the equipment they are about to buy.
Compatibility
It is important to ensure that the equipment is compatible to one's height and weight to reap the maximum benefits of workout and avoid the risk of injuries.
Easy to install
When you set out to buy exercise equipment, you should make sure that it comes with a guide with a clear set of instructions to help the user assemble the machine without any problems.
Easy operation
The exercise equipment that you wish to buy should be easy to operate and should not end up confusing the user as to how it should be used. Make sure to read the user manual or watch instructional videos to make sure you are using the equipment the right way.
Plan before buying
Before buying an exercise equipment for oneself, one should chalk out a routine and fit the machine into it so that you reap the maximum benefits of the workout done on it. 
Tips To Stay Away From Injury While Using Exercise Equipment
Full-body fitness should be the goal rather than just cardio, balance, flexibility, or strength training alone.
Do not overdo any exercise. Know your limits and stick to it strictly.
Drink lots of fluids pre and post workout to prevent dehydration and other problems.
Take adequate breaks in between exercises to avoid strain and overexertion.
Wear comfortable clothes that won't get in the way of your exercise or get stuck on to the equipment and cause an accident.
Always read the user's manual or watch an instruction video before trying out new equipment to know how to operate it.
If the exercise equipment has been installed at home, make sure to double check the stability to avoid accidents.
Exercising and keeping oneself fit is very important for people of all ages. But as one grows older, the physical capability and strength of the body tends to reduce, hence limiting the scope of heavy workouts. Moreover, venturing out to the gym and the park for exercising and walking also depend on many factors like weather, means of transport, or simply the willingness of the individual to step out. But a man has to do what a man has to do to stay agile and active despite advancing age. Hence, developing a workout routine at home is necessary and exercise equipments for seniors come in as a respite. So, all you have to do is pull your socks up, play a groovy track and get going on the best exercise equipment for seniors right at the cozy comfort of your home!
Why Trust StyleCraze?
The author, Shreya Vishwanathan, is a fitness enthusiast who loves to review different products. She went through numerous user reviews and on multiple online forums and websites to curate this list of the best exercise equipment for seniors to help them stay in good shape. She also considered parameters like safety, quality, ease of use, and functionality before shortlisting the products. The products listed in this article help improve the strength of the body and maintain fitness.
Frequently Asked Questions
Is treadmill good for seniors?
Yes, treadmills help set up an easy home workout routine for seniors as they can choose the speed and time of walking without having to worry about the weather conditions and other factors.
What exercise equipment should older adults avoid?
Using weights for deadlifts and squats, using the leg press machine, extensive stair climbing, and long runs are things that older adults must avoid to keep away from injuries.
What are the pros and cons of  exercise equipment for seniors?
Using exercise equipments at home with advancing age might have its advantages and disadvantages. Let us have a look at them both to help decide better before making a pick for oneself:
Are ellipticals good for seniors?
Yes, an elliptical is an ideal workout device for seniors who want to stay fit and need mobility. You can opt for the LifePro FlexStride Plus Elliptical Trainer to boost your metabolism and overall wellbeing.
Is riding a stationary bike better than walking?
Cycling can be better for burning calories and it can help you increase your lower body strength whereas, walking is a cost-efficient method to maintain bone density. Riding a stationary bike will give you the same effects as riding a bike with the added bonus that it puts less pressure on your joints.
Are weight machines good for seniors?
Yes, weight machines are good for seniors to maintain muscle mass and improve bone and joint health.
Are manual treadmills good for seniors?
Treadmills with safety features are the best and a manual treadmill needs more muscle mass to operate and burn more calories, but they are technologically simple. Some seniors find it easier to use while others don't.
How often should a senior work out?
A senior is usually recommended to work out for 30 minutes 5 days a week.
What workout can help seniors improve their balance?
You can use the Yes4All Foam Exercise/Balance Pad to perform workouts such as single limb stance, rock the boat, back leg raise, etc.
What are some tips for working out at home?
Choose a safe place for your workout to prevent accidents. Use gym equipment and your workout devices only after you know the correct way to use them. Keep your equipment clean and have somebody available at earshot when you work out so that you can easily seek help if there is any mishap.