13 Best Exercise Mats For At-Home Workouts – Top Picks Of 2022
Lay these cushioned mats and get ready to tone your body and strengthen your muscles.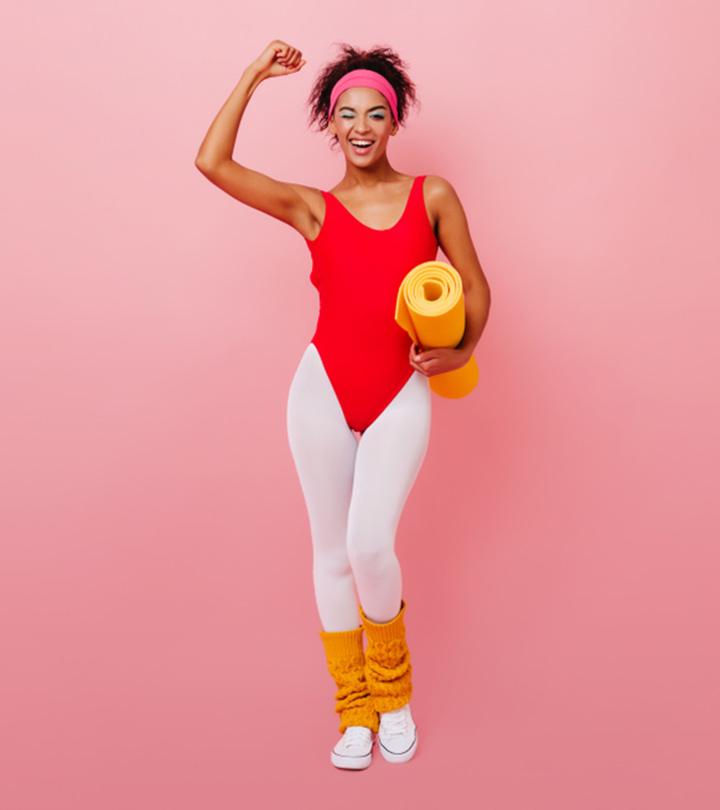 Regular exercise and a healthy diet play an important part in your overall fitness. If you are not able to hit the gym as often as you like, you need to get your hands on the best exercise mat to be able to train from the comfort of your home. Workout at home might get tricky and dangerous if you don't cushion the floor enough. A good exercise mat not only gives you the grip and cushioning but also provides the right support for your body through all the movements. Be it yoga, stretches, pilates, weightlifting, or intense cardio moves, an exercise mat helps reduce the impact and uneasiness of a hard floor.
"The bottom line is," says personal trainer David Rosales, a certified personal trainer for strength & conditioning and sports performance, "a proper mat makes home workouts safer and more comfortable, and will help you get the most out of your workouts.
Many factors come into consideration while investing in a good exercise mat. Thickness, grip, firmness, functionality, material, size, patterns, and even colors can all affect your choice of workout mat. While the one you get should be functional in all the right aspects, it should also look pleasant and welcoming to your eyes to keep you motivated every day. To help you get started, we have enlisted the 13 best exercise mats for you to choose from and take care of your body better.
13 Best Exercise Mats To Help You Get Fit
For your daily dose of fitness, you need not look any further than the GoYoga All-Purpose Exercise Yoga Mat by BalanceFrom, which is available in 7 unique colors to choose from. With non-slip surfaces on both sides, this exercise mat will help keep you protected from injuries or accidents. Made of high-density foam material, this thick workout mat ensures that your spine, elbows, and knees don't meet the hardwood floor underneath. You won't have to worry about painful elbows after a plank anymore! The 71-inch long and 24-inch wide yoga mat is a good fit for you if you're anywhere below 6 feet. You can also easily clean this water-resistant all-purpose mat with just water. Oh, and it's crowning glory? An adjustable Velcro strap that allows you to take it wherever you go. Go through this video review for a detailed understanding of the product.
Pros
Portable
Easy to clean
Lightweight
Slip-resistant traction
Thick and soft cushioning
Durable material
Cons
May not be suitable for people who are 6 feet and above.,
If you dread extended workout sessions, these excellent Reversible Yoga Mats by Gaiam may change your mind. Available in a range of 25 colors and patterns, these soft and thick exercise mats will get you excited to exercise. With a textured double slip-resistant surface and a reversible feature that reveals interesting patterns on both sides, this mat is suitable for all kinds of floor exercises. The soft cushioning protects your joints from accidents and keeps you safe while you are sweating it out. If you are looking for the perfect workout mats for home, this mat is your best bet! You can even download the free yoga classes that come with this mat.
Pros
Reversible pattern
Non-slip material
Comfortable thick cushioning
Value for money
Lightweight and durable
Cons
A fantastic addition to the rest of your exercise equipment, this folding exercise mat by ProSourceFit boasts a 3-time fold feature to help you store the mat easily. The cushioning is incredibly thick, providing your joints soft support to ensure an injury-free workout. Strong enough for yoga, strength training, or gymnastics, this mat is made of PVC and EPE foam. Even if you sweat on it, don't sweat it as this tri-fold exercise mat is waterproof, making it easy to clean. The vinyl surface material doesn't tear or stretch, and the handles make it portable. Check out this video for a detailed review of the product.
Pros
Durable
Travel-friendly
Compact for storage
Water-resistant
Suitable for tall people
Cons
The surface might be too hard for some.
A high-quality exercise mat can make a world of difference to your workout routine, and the Gruper Yoga Mat does just that! Made of a thick, soft, and elastic high-grade foam rubber, this mat makes landing during your bodyweight exercises like squat jumps, or lying down during your difficult yoga pose pain-free. It is also made from non-toxic materials, so rest assured that you're doing the environment some good. The mat is waterproof, which means you have to be careful with sweat that may cause you to slip, but this feature can also make cleaning your mat super easy! This non-slip exercise mat protects you through all your burpees and planks. You can opt between the 2 sizes available, depending on your fitness goals and comfort levels.
Pros
Portable and easy-to-store
Water-resistant
Anti-slip surface
Available in 2 sizes
Rubber cushion is highly comfortable
Resistant to tears
Cons
Some may find the smell of the mat to be persistent.
If you're on the lookout for the best fitness mat, you should consider this high-quality and high-performance PRO Yoga Mat by Manduka. Equipped with a closed-cell surface, this large exercise floor mat doesn't allow any moisture to seep in. This means it's not only easy to clean but will last you a long time without any tearing. The top-tier material allows you to workout comfortably at home or during outdoor exercises without any fears of slipping or falling. The soft cushion keeps your joints safe and your body at ease during an intense workout session. The padding is available in 2 types, both of which are equally dense and durable.
Pros
Waterproof
Good grip
Suitable for both yoga and weight training
Odor-free
Durable
Cons
The mat may feel a little firm
One of the best exercise mats on this list, the Dralegend's TPE Yoga Mat is made such that it is easy on your skin so that you can say goodbye to any irritation. The TPE component is gentler than other rubber mats by being anti-slip, lightweight, and odorless. No one likes slipping during a workout — unless that's part of your Zumba routine! Made with non-slip technology and a textured surface that gives you a firm grip and maximum support, you can jump all you want without risking hurting yourself. The TPE also absorbs moisture, taking the anti-skid feature to a whole other level. But don't worry, it's super easy to clean as you only need soap and water and it'll be as good as new!
Pros
Portable
Lightweight
Durable
Anti-skid technology
Stays put during heavy exercise
Soft cushioning
Cons
Investing in an Ewedoos Yoga Mat can revolutionize your fitness journey by making it more fun and comfortable in the long run. Made with premium non-slip technology that equips the bottom layer with tire threads, this dual-color, thick exercise mat is a perfect companion for your at-home workouts. The TPE material is high-density, providing extra cushioning for your knees, elbows, and spine, so you feel safe and supported. The 0.25- inch padding on this stretching mat does not disappoint. And to keep it clean, just wipe it down with some water and leave it to dry. Yes, it's that simple! Not only that, the TPE in this fitness mat makes it odorless and eco-friendly. Now your workouts are as good for the earth as they are for your body, so get moving!
Pros
Odorless
Dermatologically-tested
Handy carry strap
Durable
Easy to clean
Non-slip surface
Resistant to wear and tear
Comes with a strap for easy carriage
Cons
Some may find the mat to be a bit slippery.
Do you prefer a big yoga mat to exercise comfortably without putting your feet out? Try the Gxmmat Yoga Mat. It works well on most floor surfaces and is your perfect companion if you like pilates, yoga, stretching, workouts, or any exercises as your go-to fitness routine. It is roomy enough to feel like your own little personal gym and is made of non-slip surfaces on both sides with octopus suckers, allowing for a tight grip. This padded stretching mat has a 6 mm memory foam that will keep your joints safe as you stretch towards a healthier body. This yoga exercise mat is a non-toxic, eco-friendly mat free from the 6P.
Pros
 Octopus suckers at the bottom
 Tear-resistance
 Soft shock absorption
 Easy to clean
 Lightweight
Cons
 Might not be as big as is visible in the picture
The SPRI Exercise Mat is cushioned with wonderfully thick poly-foam to give you support and care while you work out. You can roll it out in your room, gym, or even outdoors for an intense sweat session, and it'll help to keep your body comfortable. Whether you enjoy strength training, pilates, yoga, or cardio, this lightweight yet thick exercise mat is a stepping stone to reaching your fitness goals. One of its best features is an in-built handle cut out in the mat that makes it so much easier if you dislike the hassle of straps and bags. Just roll it up, and you're good to go!
Pros
Slip-resistant
Easy to clean
In-built handle
Lightweight
Durable
Cons
Those who are 6 feet and above or those with a broader frame may find this mat small.
Let's face it, plain and standard exercise mats may easily be available, but a printed fitness mat can be a gamechanger in your routine. That's why AIMERDAY's Premium Print Yoga Mats have eye-catching detail and color that will keep you motivated as you exercise. This thick exercise floor mat is made with a unique triple-layer, where the middle layer has an anti-tear mesh. The double-layer structure is designed with anti-slip technology for the strongest grip during your planks as a bonus. The soft cushioning in this exercise mat for hardwood floors ensures that your hips, spine, and knees are comfortable and safe during high-intensity movement. Free from latex, the AIMERDAY workout mat is eco-friendly and safe for your skin.
Pros
Anti-skid technology
Odorless
Adjustable carry strap
Lightweight
Non-toxic materials
Durable
Cons
Color and print may gradually fade
ATIVAFIT fitness mats bring you a range of 6 aesthetically pleasing colors that will upgrade your style as you work out. They're made with TPE material that is eco-friendly and recyclable, so you won't have to worry about any harsh chemicals near you. For yoga fanatics and beginners alike, this large exercise mat has a set of body alignment lines to get you started and help with stability. The closed-cell surface doesn't allow any dust, sweat, or moisture to flood the mat and makes cleaning easy. With a 6 mm thickness, the ATIVAFIT Non-Slip TPE Yoga Mat gives your joints optimum support during yoga and stretching sessions, and the material is free from latex, PVC, and phthalates.
Pros
Portable
Lightweight
Easy to clean
Waterproof
Cons
The mat may stretch with prolonged use
Not ideal for high-intensity exercise
A perfect workout mat that can be used both indoors and outdoors, the XGEAR Premium TPE Yoga Mat will be your best workout buddy. The TPE is non-toxic, recyclable, and offers better abrasion than other traditional materials. It comes with a handy dual-use strap that is convenient not only to carry your yoga mat around but also to help you stretch and warm-up fatigued muscles. Get more than what meets the eye with this padded exercise mat with a wave bottom layer to keep your fitness mat in place while you train for any type of exercise. The 6 mm cushioning protects and alleviates pain in your knees, hips, spine, and joints. The waterproof XGEAR mat is easy to clean and is also anti-tear, so it'll last longer.
Pros
Water-resistant
Strap can be used to carry and warm-up
Cushioning heals painful joints
Sustainable material
Anti-tear and anti-slip traction
Cons
Might curl at the ends
Slightly expensive
Do you want an exercise mat that can also be used as a floor mat and a kids' playmat? The MRO's yoga mat can be rolled out at your studio, gym, or even outdoors to give you the ultimate exercise experience! Best suited for high-intensity workouts, pilates, cardio, or jump rope, this padded workout mat protects your floors as you train. The material is composed of high-density foam technology that is soft enough for your joints and firm enough to hold your movement. The surfaces are textured and designed to be anti-slip so that you can work out safely. And to top it off, there are no latex, silicone, or phthalates. With reduced noise and vibration, don't worry about disturbing your neighbors the next time you decide to have a Zumba dance party! It's one of the best exercise mats for home out there.
Pros
Non-toxic and eco-friendly material
Non-slip design
Can be used with or without shoes
Durable
Lightweight
Comes with a free jump rope and towel
Cons
Gets slippery when wet, so it may need to be cleaned frequently.
Now that we have looked at some of the best exercise mats to supplement your fitness routine let's look at how you can choose one that's best for you.
How To Choose The Best Exercise Mat
Choosing an exercise mat that is at least 5 mm thick will give you the right amount of cushioning that is perfect for gentle movements like yoga and pilates. If you're into high-intensity training and cardio, you can opt for a fitness mat that is 6 mm and above for optimum softness. The cushion is suitable for your joints and helps alleviate any pain. A 5ft long mat is generally comfortable for daily use.
Exercise mats stay rolled up most of the time, so those that take up the least space are a great find. Foldable fitness mats or tri-fold exercise mats don't take up much space and can be stored away after you have finished your workout.
Since exercise mats are placed on the floor so often, they can easily collect a lot of sweat, dust, and bacteria. Look for fitness mats that are waterproof and moisture-wicking so that they can be easily washed with antibacterial soap and water and air-dried. If your mat is machine-washable, that's all the more reason to invest in it because it may be time-consuming to scrub down your mat frequently manually.
You might need to carry your mat to and from the gym or exercise studio, so they need to be lightweight to prevent burdening your shoulders and back. An accompanying strap will help make them portable. Some fitness mats come with a cut-out handle and can be a good option if you find straps to be irritating.
Mats made with natural materials like plant rubber are a good fit for people with skin concerns. Even though they may be heavy on the pocket, they are generally better for your skin's health. Fitness mats made of synthetics like PVC are cheaper and may not last very long, but they guarantee high performance. Opting for exercise mats made without harsh chemicals like latex and silicone can also be sustainable and eco-friendly.
Most exercises can involve jumping or dancing, and fitness mats made of textured surfaces that provide optimum grip will keep you safe as you move around. A mat with anti-slip traction ensures that the mat doesn't move when you do, and you won't skid or fall while you sweat it out.
So, there you have it, folks! We not only looked at the 13 best exercise mats that are trending right now, but you also know how you can choose one that is best suited to your needs and preferences. Investing in your health will bring you nothing but happiness and joy in the long run. Even though there's a plethora of exercise equipment out there, a fitness mat is so versatile that it will support you through whatever type of movement you enjoy. If you're a gym rat or just getting started on your fitness journey, a mat will only help you get better. So, go ahead and get your body moving while you invest in these wonder mats!
Why Trust StyleCraze?
Shreya Vishwanathan, the author of this article, is a fitness enthusiast and loves reviewing and recommending health and fitness-related products. She understands that if you cannot hit the gym as often as you like, you need to get your hands on the best exercise mat to be able to train from the comfort of your home. Therefore, she devoted hours of research and considered the feedback of multiple users on trusted online forums to hand-pick the best exercise mats for the list. The products mentioned here are durable, lightweight, travel-friendly, and resistant to tears.
Frequently Asked Questions
What is the best thickness for an exercise mat?
An exercise mat that is 0.5-inch thick is suitable for the average person. However, a 1-inch thick fitness mat for people with weak and sensitive joints would be more appropriate.
Can I use a yoga mat instead of an exercise mat?
As the name suggests, yoga mats are optimized for gentle movements like yoga, stretching, or pilates. They are not strong enough to handle higher intensity exercises like weightlifting or cardio. It is essential to choose a mat according to the type of activity you are frequently engaged in not to have to go back to invest in multiple products.
How do you clean an exercise mat?
You can use an exercise mat cleaner to clean your exercise mat. You can also mix a few drops of dishwasher with two warm cups of water in a spray bottle and use it on the surface of your exercise mat with a clean cloth.
How often should you replace your exercise mat?
Replace your exercise mat every 6-12 months.
What is the difference between a yoga mat and an exercise mat?
A yoga mat has a rough surface for a stronger grip than an exercise mat. On the other hand, an exercise mat has a soft texture and absorbs sweat during exercise.
What should a yoga mat be made of?
It is better for yoga mats to be made of natural rubber because these has more durability.
What are the different types of yoga mat?
PVC yoga mats, natural rubber yoga mats, TPE yoga mats, NBR yoga mats, and EVA yoga mats are different types of yoga mats.
Do I need a thick mat for yoga?
Yes. Thin yoga mats are better for stability, but thick yoga mats offer cushioning and are suitable for therapeutic yoga postures.
Recommended Articles