15 Best Exfoliating Face Washes To Keep Your Skin Youthful & Radiant
For visible differences in your overall skin health in a short time. Once you get your hands on the best exfoliating face wash, nothing can keep you from flaunting gorgeous skin. Washing your skin properly is the secret to keeping your skin smooth and acne-free. While a good cleanser can keep the grime and dirt away, it merely brushes through the dead cells on your face. Using an exfoliator on your face removes the dead cells that eventually clog pores and paves the way for rashes and pimples. Here are 14 specialists recommended exfoliators to choose from.
15 Best Exfoliators For Your Face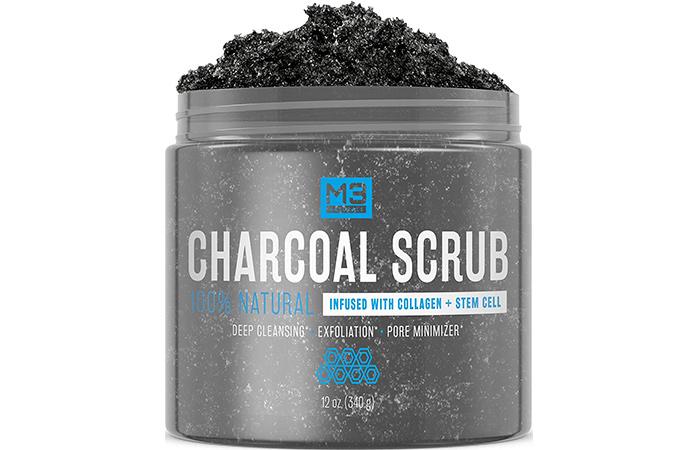 The M3 Naturals Activated Charcoal Scrub clears clogged pores and reveals a fresh complexion. This results-driven scrub contains Dead Sea salts to cleanse impurities from your skin. The scrub is infused with collagen and stem cells to increase skin cell longevity and provide anti-aging benefits. It removes impurities, toxins, dirt, pollution, and bacteria from the pores and helps balance the pH level of the skin. It helps reduce pore size, acne, blackheads, cellulite, stretch marks, and scars. It is cruelty-free. This exfoliating scrub leaves the skin feeling moisturized and fresh.
The acne-fighting and nourishing scrub contains activated charcoal, Dead Sea salts, collagen, fruit stem cell, coconut oil, aloe vera, jojoba oil, and spinach. Activated charcoal traps chemicals and prevents them from being absorbed into the skin. Dead Sea salts are mineral-rich and can reduce skin issues, like acne, eczema, and psoriasis. Collagen helps rejuvenate the skin and repair damaged skin tissues. It also protects the skin from free radicals. Fruit stem cells are rich in antioxidants, and they increase cell turnover and collagen production. Coconut oil is a great emollient and moisturizes the skin. Aloe vera is also a good emollient and has antioxidant properties and anti-inflammatory properties. Jojoba oil contains vitamins B and E and minerals. Spinach also helps hydrate the skin.
Apply the scrub on damp skin. Massage it in with a circular scrubbing motion. You can also use a body brush to increase the scrubbing effects and increase stimulation. Rinse it off. This exfoliating scrub can be used on the face and body too.
Ingredients
Dead Sea Salt, Aloe Barbadensis (Organic Aloe Vera) Juice, Cocos Nucifera (Coconut) Oil, Simmondsia Chinensis (Jojoba Oil), Cocamidopropyl Betaine, Emulsifying Wax NF, Stearic Acid, Aleurites moluccana (Kukui Nut) Oil, Spinacia Oleracea (Spinach) Extract, Activated Charcoal, Xanthan Gum, All Natural Fragrance Blend, Hydrolyzed Collagen, Malus Domestica Fruit Cell Culture Extract.
Pros
Makes the skin soft and smooth
Creamy lather
Minimizes pores
Hydrates and moisturizes the skin
Contains all-natural ingredients
Reduces wrinkles
Cons
May be difficult to wash off.
May not suit sensitive skin.
Price at the time of publication: $26.61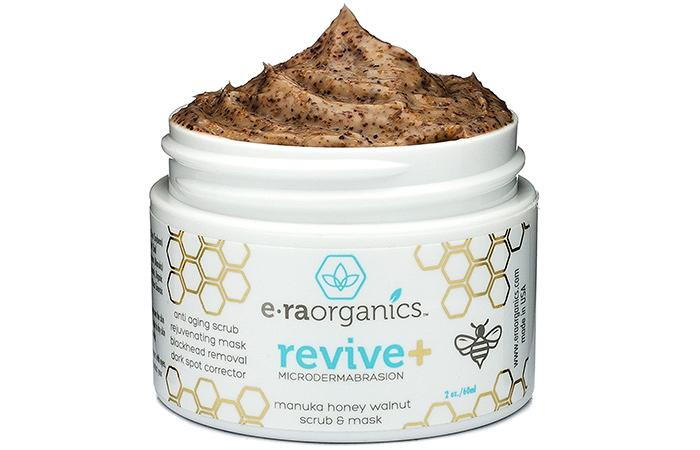 The Era Organics Revive+ Microdermabrasion Manuka Honey & Walnut Scrub & Mask is suitable for dull, dry, and sensitive skin types. It removes blackheads and dead skin cells, exfoliates dull skin, minimizes and cleans pores, and moisturizes your skin. This scrub gently loosens dirt, grime, and dull skin. It also nourishes new cells, repairs damaged skin, and fades stretch marks and acne scars. It makes the skin soft and youthful. You can leave the scrub on as a facial mask. It helps balance the skin tone and reduces fine lines, wrinkles, and age spots. The scrub uses minerals and vitamins that heal the skin and restore it. It also has anti-aging ingredients that keep the skin youthful.
The scrub uses natural ingredients like aloe vera, manuka honey, walnut, and vitamin C.  Aloe vera has antibacterial and anti-inflammatory properties that protect and soothe the skin. Manuka honey hydrates the skin and increases cellular recovery. It also prevents aging and boosts collagen production. Canola oil has a high omega-3 content that makes the skin smoother. In the place of microbeads, this scrub uses walnut shell, which exfoliates the skin and removes old and dead skin cells. Orange oil is antifungal, anti-aging, and antibacterial. It is also rich in vitamin C, which protects the skin and treats acne. Cehami has antimicrobial and anti-inflammatory properties and has also been proved to be thrice more effective than aspirin as an analgesic.
The scrub is for all skin types. You don't require a micro dermabrasion machine to use it. Massage the scrub on your face for a few minutes and then rinse it off. If you want to use it as a mask, leave it on for 5-10 minutes.
Ingredients
Organic Aloe Barbadensis Gel (Aloe Vera), Emulsifying Wax, Behentrimonium Methosulfate, Juglans Regia (Walnut) Shell Powder, Panthenol (Vitamin B5), PPG3 Caprylyl Ether, Leptospermum Scoparium Mel (Manuka Honey), Lecithin, Oat Amino Protein, Organic Citrus Sinensis (Orange) Oil, Cehami (Centipeda Cunninghamii), Phenoxyethanol.
Pros
Makes the skin soft and smooth
Removes blackheads
Reduces ingrown hair
Reduces hyperpigmentation
Hydrates the skin
Professional-grade
Suitable for sensitive and acne-prone skin
Cons
May cause breakouts or an allergic reaction.
Price at the time of publication: $23.99
The  Obagi 360 Exfoliating Cleanser is a daily face cleanser that promotes healthy skin and clear pores. It contains papaya acids and polylactic acid, which assist in eliminating impurities and oil from deep inside the pores. It includes panthenol to decrease inflammation and provide a more even tone. The gentle exfoliation also eliminates dead skin cells, ensuring that your skin remains bright and vibrant. Regular use of this face wash helps reduce the signs of premature aging, hyperpigmentation, fine lines, and wrinkles, as exfoliation promotes cell regeneration.
Ingredients
Water (aqua), Polylactic Acid, Decyl Glucoside, Glycerin, Sodium Cocoyl Isethionate, Cocamidopropyl Betaine, Sodium Lauroamphoacetate, Sodium Methyl Cocoyl Taurate, Acrylates/C10-30 Alkyl Acrylate Crosspolymer, Fragrance, Phenoxyethanol, Caprylyl Glycol, Sodium PCA, Panthenol, Sodium Hydroxide, Chlorphenesin, Ethylhexylglycerin, Hexylene Glycol, Disodium EDTA, Sodium Hyaluronate, Papain, Carbomer, 1,2-hexanediol, Algin.
Pros
Improves skin texture
Protects skin from environmental damage
Moisturizes dry skin
Enhances the skin texture
Non-abrasive
Makes skin soft
Gentle
Not tested on animals
Suitable for sensitive skin
Cons
None
Price at the time of publication: $42
The Hanalei Gentle Face Scrub cleanses and exfoliates the skin to reveal baby-soft skin that is healthy and supple. The results-driven scrub is formulated with natural ingredients such as papaya enzymes that gently break down dead skin cells and contains jojoba beads that offer gentle physical exfoliation. This scrub is also infused with coconut water that hydrates and nourishes the skin. Regular use of this scrub can improve the appearance of dull, uneven skin and leave the skin feeling smooth and refreshed.
Ingredients
Papaya Enzymes, Jojoba beads, Coconut water, Water, Glycerin, Sodium cocoyl isethionate, Cetearyl alcohol, Stearic acid, Glyceryl stearate, Carica papaya (papaya) fruit extract, Cocos nucifera (coconut) water, Simmondsia Chinensis (jojoba) seed oil, Cocos nucifera (coconut) oil, Macadamia ternifolia seed oil, Argania spinosa kernel oil, Butyrospermum parkii (shea) butter, Cetyl alcohol, Xanthan gum, Phenoxyethanol, Ethylhexylglycerin, Fragrance.
Pros
Offers great hydration
Suitable for all skin types
Cruelty-free
Vegan
Free of harsh chemicals (parabens, phthalates, gluten)
Gentle enough for daily use
Cons
None
Price at the time of publication: $25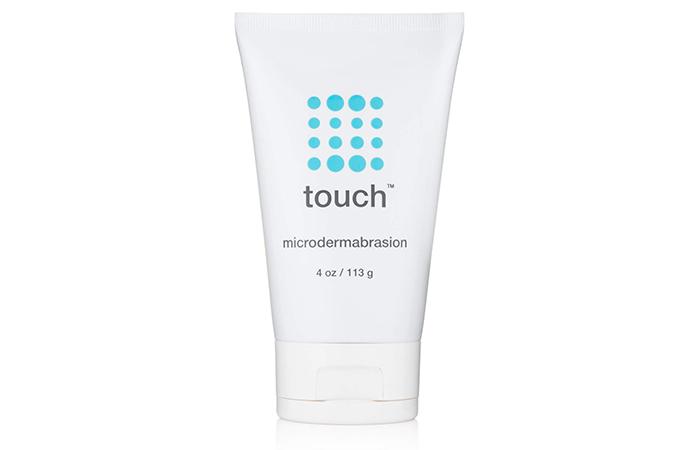 The Touch Micro dermabrasion facial scrub exfoliates the skin with micro crystals infused in the moisturizing cream. This hydrating exfoliant leaves the skin polished, smooth, and glowing. It reduces wrinkles, dullness, blemishes, acne scars, and blackheads and minimizes the size of pores. The alumina micro crystals are finely ground with even edges to gently exfoliate the skin. The results-driven scrub helps even out the skin tone and tightens pores.
The scrub contains chamomile, green tea, and aloe vera extracts that protect the skin with their anti-inflammatory, antioxidant, and hydrating properties. It also contains allantoin, which has healing properties and can stimulate the growth of healthy tissues. The scrub improves skin elasticity and enhances the absorption of skin care products.
This cruelty-free, non-drying scrub is suitable for all skin types, including acne-prone, dry, oily, and combination skin. It does not contain irritating acids but only moisturizing non-comedogenic agents. It is an anti-aging face exfoliator. It does not contain artificial coloring, parabens, sulfates, or drying alcohols.
Ingredients
Purified Water, Alumina, Capric/Caprylic Triglyceride, Propylene Glycol, Glycerine, Cetyl Alcohol, Glyceryl Stearate, PEG-100 Stearate, Jojoba Oil, Allantoin, Chamomile Extract, Green Tea Extract, Menthyl Lactate, Aloe Barbadensis Leaf Extract, Xanthan Gum, Ammonium Acryloyldimethyltaurate/VP Copolymer, Magnesium Oxide, Phenoxyethanol, Ethylhexylglycerin, Fragrance.
Pros
Makes the skin soft
Cleanses and minimizes pores
Reduces blemishes, fine lines, and wrinkles
Improves skin elasticity
Enhances absorption of skin care products
Paraben-free
Sulfate-free
Alcohol-free
Cons
Price at the time of publication: $18.95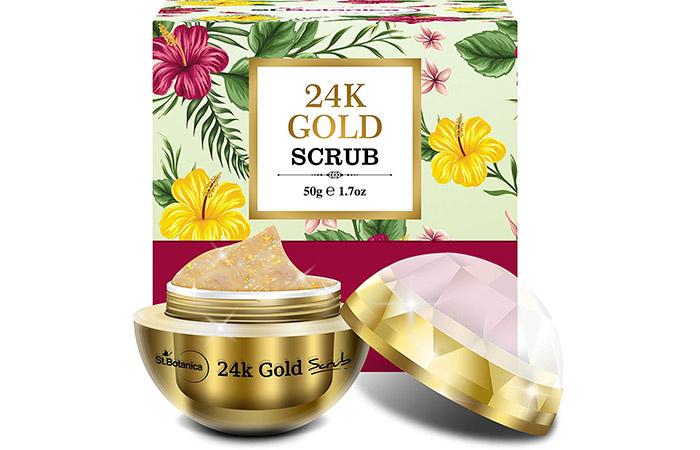 St. Botanica 24K Gold Face Scrub is the best anti-aging and skin-brightening scrub. It is infused with 24K gold, hyaluronic acid, vitamin C, retinol, hydrolyzed collagen, walnut shell granules, and natural oils that have proven efficacy in improving skin health. This skin-firming scrub helps reduce the appearance of fine lines and wrinkles. It is formulated with a blend of skin-loving nutrients that act against blemishes, blackheads, in-grown hairs, and blocked pores.
24K gold is the main ingredient in this scrub that imparts an opulent and radiant glow to your skin. It also locks in moisture to give you ultra-hydrated skin. Gold exhibits anti-inflammatory properties that reduce acne breakouts and swelling to leave your skin nourished and hydrated. Retinol repairs and defends your skin from free radicals and promotes skin cell renewal. Hydrolyzed collagen is another important ingredient that helps maintain skin elasticity and improves moisture levels. The pure and cold-pressed oils in it – like argan and jojoba oils – revitalize and hydrate your skin and fight the signs of aging.
Ingredients
Walnut Granules, Glycerin, Vitamin C (Sodium Ascorbyl phosphate), Vitamin B3 (Niacinamide), Retinol (Vitamin A), Hydrolyzed Collagen, Botanical Hyaluronic Acid (Cassia Hyaluronate 1% Soln), Geranium (Pelargonium graveolens) Essential Oil, Vitamin E, Golden Virgin Jojoba (Simmondsia chinensis) Cold Pressed Oil, Aloe Vera (Aloe barbadensis) Leaf Extract, Gotu Kola (Centella asiatica) Leaf Extract, Green Tea (Camellia sinensis) Leaf Extract, Bisabolol Extract, Ginkgo Biloba Leaf Extract, 24k Gold Pure, Organic Moroccan Argan (Argania Spinosa) Cold Pressed Oil.
Pros
Anti-aging formula
Renews the skin
Improves skin elasticity
Reduces the appearance of fine lines and wrinkles
Minimizes blackheads and blocked pores
Moisturizes the skin
Imparts a youthful glow
Suitable for all skin types
Not tested on animals
Cons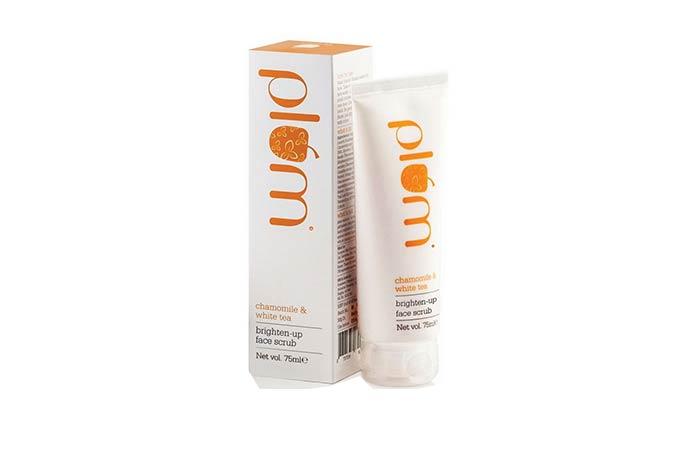 Plum Chamomile & White Tea Brighten Up Face Scrub is an antioxidant-rich face scrub. It scrubs away dirt and dullness to reveal a brighter side of your skin. This face scrub is enriched with antioxidant-rich botanical extracts that leave your face looking brighter, fresher, and healthier.
It contains antioxidants and phytonutrients like chamomile extract, white tea, and sunflower oil that soothe irritated skin and redness. It acts against free radicals that cause oxidative damage and helps your skin bounce back. The cellulose beads and walnut powder balance out the scrubbing. It also contains aloe that soothes stressed skin. It removes all dead skin cells without drying out your skin, making it perfect for dry, normal, and combination skin types.
Ingredients
Water or Aqua, Sunflower Seed Oil, Stearic Acid, Walnut Shell Powder, Cellulose Beads, Cetearyl Alcohol, Glyceryl Stearate, Olive Oil PEG-7 Esters, Glycerine, Titanium Dioxide, Polysorbate-80, Triethanolamine, Phenoxyethanol, Ethylhexyglycerine, Aloe Vera Juice, Chamomile Flower Extract, White Tea Leaf Extract, Gingko Biloba Leaf Extract, Green Tea Leaf Extract, Olive Leaf Extract, and Rooibos Leaf Extract.
Pros
Long-lasting moisturization
Scrubs away dead skin cells
Revives sun-exposed skin
Balanced exfoliation
Vegan
Cruelty-free
Paraben-free
Phthalate-free
SLS-free
No harmful ingredients
Cons
Not suitable for sensitive skin
Price at the time of publication: $318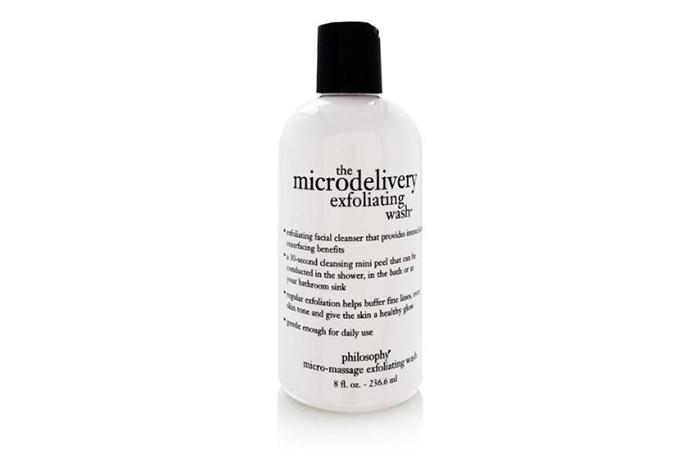 The Philosophy Microdelivery Exfoliating Wash uses a unique sulfate-free formula that is gentle enough for daily use. The mild exfoliating wash can be used as a facial cleanser. It is designed to cleanse and replenish the skin. It also provides resurfacing benefits, like stimulating collagen for firmer skin, improving skin texture, and evening out the skin tone. It also minimizes acne scars and fine lines and prevents sun damage. It may also help treat skin lesions. Apply two to three pumps of the wash on slightly damp skin. Massage it in for 30-60 seconds. Follow it up with moisturizer and needed treatment.
Ingredients
Water (aqua), decyl glucoside, sodium cocoyl apple amino acids, diatomaceous earth, acrylates⁄steareth-20 methacrylate crosspolymer, glycerin, disodium cocoamphodiacetate, borago officinalis seed oil, phytosterols, tocopherol, tocotrienols, squalene, oryza sativa (rice) bran wax, panthenol, sodium magnesium silicate, tetrasodium edta, sodium hydroxide, citric acid, methylchloroisothiazolinone, methylisothiazolinone.
Pros
Makes the skin soft and smooth
Sulfate-free
Resurfacing benefits
Gentle
Cons
The bottle is difficult to squeeze.
Price at the time of publication: $29.0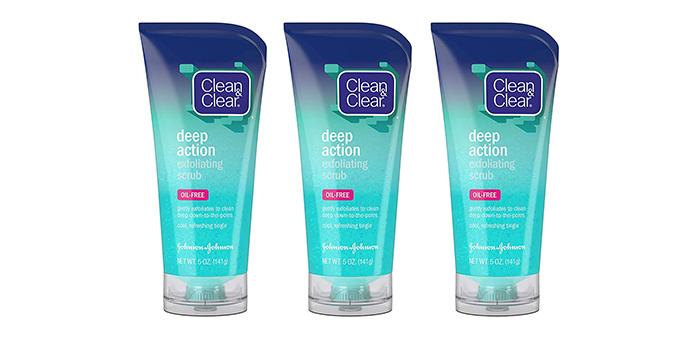 The Clean & Clear Deep Action Oil-Free Exfoliating Face Scrub helps clean the pores and exfoliates the skin's surface to remove oil, dirt, and makeup. It helps invigorate and clear the skin. The scrub is made from a unique oil-free formula and does not contain plastic micro beads. It rinses your skin clean without clogging the pores. It soothes the skin and leaves it feeling soft and fresh. It is suitable for oily, normal, and combination skin types. When you apply it on your face, it provides a tingly, cooling sensation, which revitalizes the skin.
Pros
Gentle
Oil-free
Does not clog pores
Suitable for everyday use
Plastic microbead-free
Cons
May cause breakouts
Does not exfoliate much
Price at the time of publication: $16.35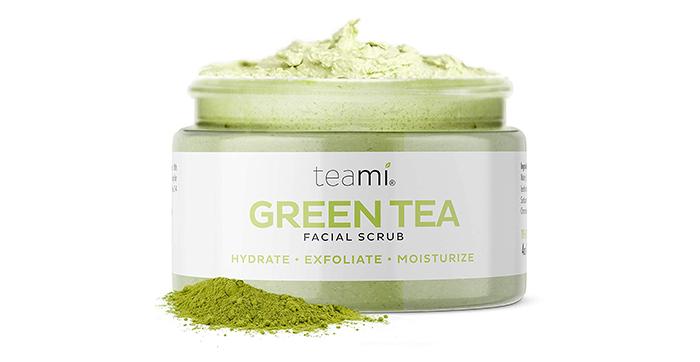 The Teami Matcha Green Tea Face Scrub is gentle and non-abrasive. It exfoliates the skin without stripping it of its natural oils. It contains matcha green tea extract, lemon grass, and sugar. The matcha green tea extracts help fight acne, reduce the size of pores and blemishes, and purify the skin from within. Sugar stimulates new skin generation and improves the complexion. Lemongrass cleanses the skin deeply, removing dirt, dust, and greasy residue. It also unclogs the pores.
This scrub removes makeup residue and dead skin cells, leaving the skin looking cleaner. It also reduces wrinkles and fine lines, brightens the skin, and hydrates it. It is non-greasy and can be used by men and women. The scrub is vegan-friendly, 75% organic, non-GMO, and free of chemicals and artificial fragrances. It results in clearer skin by reducing spots, skin imperfections, large pores, and blemishes, balancing the skin tone and pH level. It can also be used as a body scrub.
Apply the scrub on damp skin and massage it in circular motions. It turns into a creamy lather, and the oils get absorbed into the skin. The skin is left hydrated, smooth, bright, and even-toned. Use it twice or four times a week for best results.
Ingredients
Sucrose (Cane Sugar), Glycerin (Vegetable Based), Aqua (Distilled Water), Organic Camellia Sinensis (Matcha Green Tea), Sorbitol, Sodium Cocoyl Isethionate, Disodium Lauryl Sulfosuccinate, Prunus Dulcis (Sweet Almond Oil), Sodium Chloride, Phenoxyethanol, Green Tea & Lemongrass Botanical Essence, Chromium Oxide.
Pros
Non-abrasive
Non-greasy
Vegan
Brightens and rejuvenates your skin
Gentle
Cruelty-free
Cons
Not suitable for sensitive skin.
May cause breakouts
Price at the time of publication: $23.9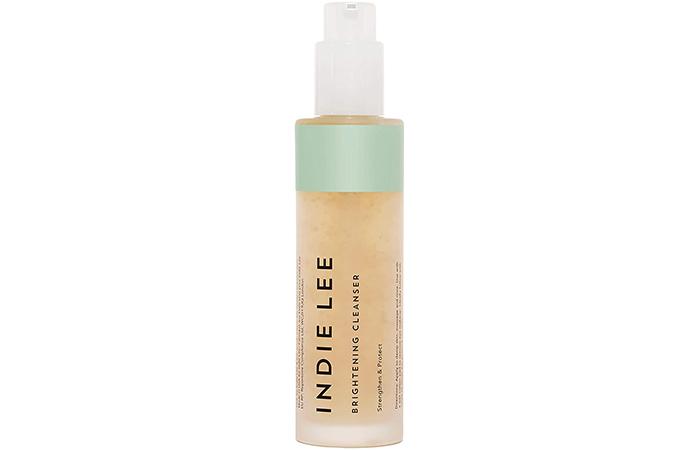 The Indie Lee Brightening Cleanser removes makeup and impurities from deep within the skin. This cleanser can also be used as an exfoliating mask. It contains strawberry seed oil, hydrolyzed wheat protein, and tomato extracts, which strengthen the skin. These ingredients also firm and protect the skin, leaving it hydrated and glowing. It brightens the skin and smoothes uneven skin tone. It also removes waterproof makeup like eyeliners. It is suitable for all skin types.
Apply the cleanser on damp skin and massage it in. Rinse it off with water. Wipe it off with a cotton ball or pad to remove makeup. Follow it up the CoQ-10 Toner. This cleanser doesn't contain parabens, aluminium, petrolatum, BHA, BHT, phthalates, coal tar dyes, siloxane, DEA, MEA, & TEA, sulfates, formaldehyde, synthetic fragrance, talc, mineral oil, nanoparticles, and triclosan.
Ingredients
Purified Water (Aqua), Decyl Glucoside (Veg. Oils & Sugar), Disodium Coco-Glucoside Citrate, Coco Glucoside (Coconut and Sunflower Oil), Glyceryl Oleate, Hydrolyzed Wheat Protein, Xanthan Gum, Fragaria Chiloensis (Strawberry) Seed Oil, Lycopene (Tomato), 1,3 propanediol, Ethylhexylglycerin, Potassium Sorbate.
Pros
Makes the skin soft
Gentle
Firms and protects the skin
Paraben-free
Sulfate-free
Phthalate-free
Petrolatum-free
Talc-free
Mineral oil-free
No nanoparticles
Cons
Contains gluten
May dry out the skin
Price at the time of publication: $32.0
Clean away impurities and dirt with the Neutrogena Bright Boost Resurfacing Micro Polish. It is clinically proven to rejuvenate dead skin cells and removes aging dullness with 3x polishing power. In addition, the polish effectively smooths and brightens your skin. This resurfacing face cleanser is infused with Glycolic acid and Mandelic AHA that removes dead skin cells that promote fine lines and wrinkles.
It also refines the appearance of pores without over drying or irritating the skin, brightens the complexion, and improves skin tone. In addition, the rich cream formula blends well on your skin, making it easier for application.
Ingredients:
Water, Cetyl Alcohol, Cellulose, PPG-15 Stearyl Ether, Glycerin, Mandelic Acid, Glycolic Acid, Polysorbate 60, Steareth-21, Sodium Hydroxide, Potassium Cetyl Phosphate, Phenoxyethanol, Caprylyl Glycol, Fragrance, Xanthan Gum, Tocopheryl Acetate, Disodium EDTA
Pros
Suitable for all skin types
Lightweight
Non-comedogenic
Tested by dermatologists
Cons
None
Price at the time of publication: $17.6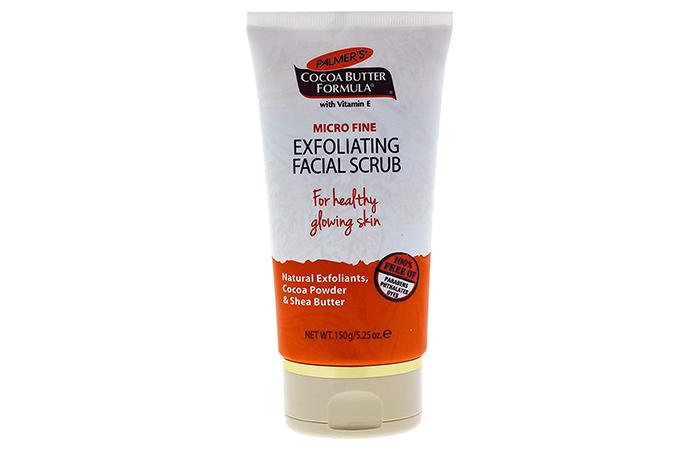 The Palmer's Cocoa Butter Formula Exfoliating Facial Scrub uses natural exfoliants like milk, crushed walnut shells, and cocoa powder to gently exfoliate the skin. It also contains evening primrose that hydrates and soothes the skin. It contains cocoa butter, coconut oil, shea butter, olive oil, and vitamin E. The butters and oils exfoliate skin and make it glowing, soft, and nourished. Vitamin E has antioxidant properties that prevent blemishes and early aging.
The scrub leaves the skin smooth and bright. It also increases the absorption of other skin care products. It hydrates and moisturizes the skin. The micro-fine crushed cocoa beans exfoliate the skin and remove dead cells to leave the skin feeling smooth and younger. Apply the scrub to clean and damp skin in circular motions. Wash it off after a minute or two. Use it 1-2 times a week for refining pores and to get a brightening effect.
Ingredients
Water, Sodium Laurylglucosides Hydropropylsulfonate, Glycine Soja (Soybean) Oil, Lauramidopropyl Betaine, Glyceryl Stearate, PEG-100 Stearate, Theobroma Cacao (Cocoa) Extract, Sorbitan Sesquioleate, Glycerin, Juglans Regia (Walnut) Shell Powder, Stearyl Alcohol, Theobroma Cacao (Cocoa) Powder, Butyrospermum Parkii (Shea) Butter, Theobroma Cacao (Cocoa) Seed Butter, Fragrance (Parfum), Oenothera Biennis (Evening Primrose) Root Extract, Aloe Barbadensis Leal Juice, Tocopheryl Acetate, Hydrolyzed Milk Protein, Lactose, PVP, Tetrasodium EDTA, Hydroxyethylcellulose, Phenoxyethanol, Sodium Acetate, Cellulose, Methylisothiazolinone, Butylphenyl Methylpropional, Alpha-Isomethyl Ionone, Benzyl Salicylate, Benzyl Benzoate, Limonene, Linalool.
Pros
Makes skin smoother and brighter
Enhances the absorption of other skin care products
Gentle
High-quality, plant-based ingredients
Cons
Not suitable for acne-prone skin.
May be harsh for sensitive skin
Price at the time of publication: $21.49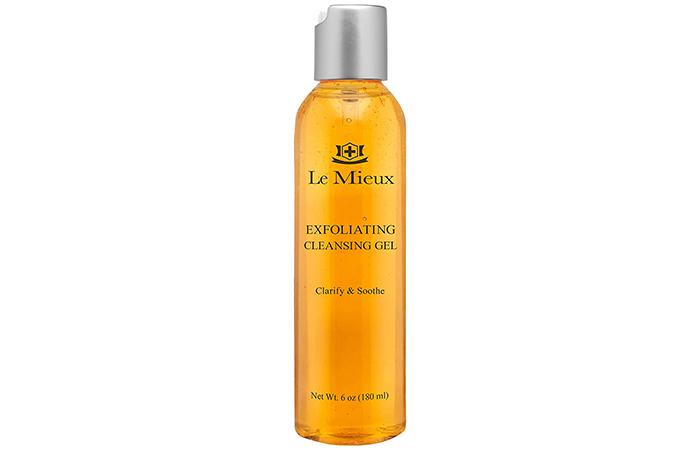 The Le Mieux Exfoliating Cleansing Gel is an oil-free deep pore cleanser that contains salicylic acid naturally obtained from willow bark and lactic acids that remove blemishes. They also prevent new breakouts by removing excess oil and dead skin cells. It contains 13 botanical extracts that soothe and restore balance to the skin. It also contains hyaluronic acid and aloe vera, which provide the moisturizing base for this clarifying deep clean gel. It does not contain thickeners, binders, fillers, sulfates, or parabens and is cruelty-free. This product is specifically made for combination, oily, and acne-prone skin.
Apply a small amount of the gel and massage it onto your skin gently, allowing it to lather nicely. Massage it in circular motions. Rinse it off with lukewarm water. Use the gel twice a day for smoother skin.
Pros
Oil-free
Paraben-free
Sulfate-free
Cruelty-free
No thickeners, binders, or fillers
Contains 13 botanical extracts
Prevents new breakouts
Lathers well
Cons
Price at the time of publication: $28.05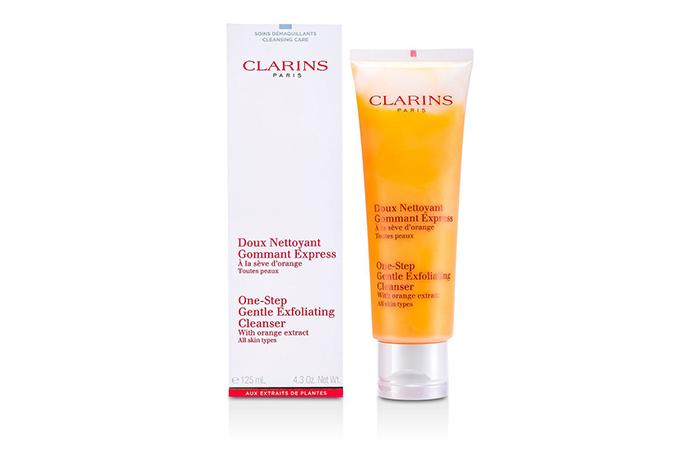 The Clarins One-Step Gentle Exfoliating Cleanser is a gentle exfoliator that purifies and smoothes the skin with natural botanicals. It uses orange extract to purify and firm the skin. Orange contains vitamin C, which helps in collagen production that firms and tightens skin. Vitamin C is also an antioxidant that helps keep the skin young and prevents aging and damage due to free radicals. The cleanser enhances the skin's softness and improves suppleness. It protects skin and preserves its natural pH balance.
Pros
Gentle
Makes skin soft and supple
Refreshing smell
Suitable for daily use
Cons
Some skin types may develop an allergic reaction
Price at the time of publication: $37.99
The first step to skin care is cleansing it thoroughly. It is crucial to remove all makeup, dirt, debris, pollutants, dead skin, and oil from the skin to prepare it for the following skin care products. So, exfoliating face washes are essential. With so many cleansers in the market, you may get baffled about which cleansing products to use. Let us guide you with some pointers to keep in mind while choosing the best exfoliating face wash.
Things To Consider While Choosing The Best Exfoliating Face Wash-Buying Guide
1. Ingredients to avoid: Avoid face washes containing parabens, phthalates, alcohol, and synthetic fragrances. They dry out your skin and cause abrasions. Additionally, they may trigger acne and cause skin allergies.
2. Skin Type:
Normal Skin: Choose a gentle exfoliator that maintains the natural moisture balance of the skin. For example, cleansers containing coffee or papaya extracts can remove dirt effectively and provide a healthy glow to the skin. Avoid walnut or other heavy nut oils, as they may cause allergies. You can read reviews and watch videos of tester's experiences with the products to gain a better understanding of what ingredients in the product best suit normal skin types.
Oily Skin: Pick face washes with fruit extracts like apricot or pineapple. These ingredients have fine grains that pull out excess oil and dirt from the pores. They do not cause micro-tears in the skin and are gentle. Additionally, look for ingredients like jojoba beads and aloe vera in your exfoliator. They control sebum production and maintain the pH balance of your skin. Even salicylic acid cleansers unclog pores and are suitable for oily skin.
Dry Skin: Choose face washes containing moisturizing oils. Ingredients like honey and coconut oil nourish the skin while gently removing dirt particles to provide a smoothing texture.
Combination skin: Opt for face washes containing rose water, activated charcoal, and vitamin C that control the sebum production in the oily parts and hydrate the dry skin patches. These cleansers also balance your skin's pH level.
Sensitive skin: Choose hypoallergenic formula containing AHA and BHA acids. Chemical exfoliation with these removes excess sebum and dead skin while smoothing out your skin. In addition, pick products containing rice powder, green tea, aloe vera, and oat granules that are gentle on the skin and have soothing properties.
3. Formula: Choose a creamy formula that foams up easily. They gently exfoliate your skin and quickly cleanse the dirt, dead skin cells, and excess sebum without causing much abrasion. You can also check reviews about the formulation and see if it suits your skin type.
Why Trust StyleCraze?
Shiboli Chakraborti is a certified skincare coach. She thinks that exfoliation is an essential step in one's skincare journey. Since finding the right exfoliator can be hard, she has tried out multiple exfoliators and combined the list of the top products available in the market. These exfoliators contain the perfect combination of organic ingredients such as aloe vera and honey that cleanse your pores deeply and keep your skin soft and smooth.
Frequently Asked Questions
What is the difference between exfoliators and cleansers?
Cleansers are meant to remove dirt, makeup, and grime that clog pores. They also remove any bacteria on the skin. They can be used on an everyday basis.
Exfoliators remove the layer of dead skin cells along with impurities that clog your pores. They reveal a new smoother and younger layer of skin cells. Exfoliators are often used once or twice a week.
What are the benefits of using exfoliating face washes?
Exfoliating face washes unclog your pores, reduce the risk of acne, improve blood circulation and lymphatic drainage, and allow better penetration of skin care products.
How often should you use exfoliating face washes?
Use exfoliating face washes once or twice weekly for the deep cleansing of your pores and to balance the production of natural oils.
Is exfoliating face wash good for daily use?
No. Using exfoliating face washes daily strips your face's natural oils and turns it dry. Unfortunately, they also can irritate your skin.
What not to do after exfoliating?
Do not wash your face immediately after exfoliating. The active ingredients get washed away and fail to benefit the skin in the long run. So, let the ingredients set in for some time, then rinse your face. Also, avoid stepping out in the sun after using an exfoliating face wash to prevent sun damage.
What should you put on your face after exfoliating?
Apply a moisturizer to your face after exfoliating.
Recommended Articles