The 14 Best Exfoliating Gloves Of 2020 To Try Now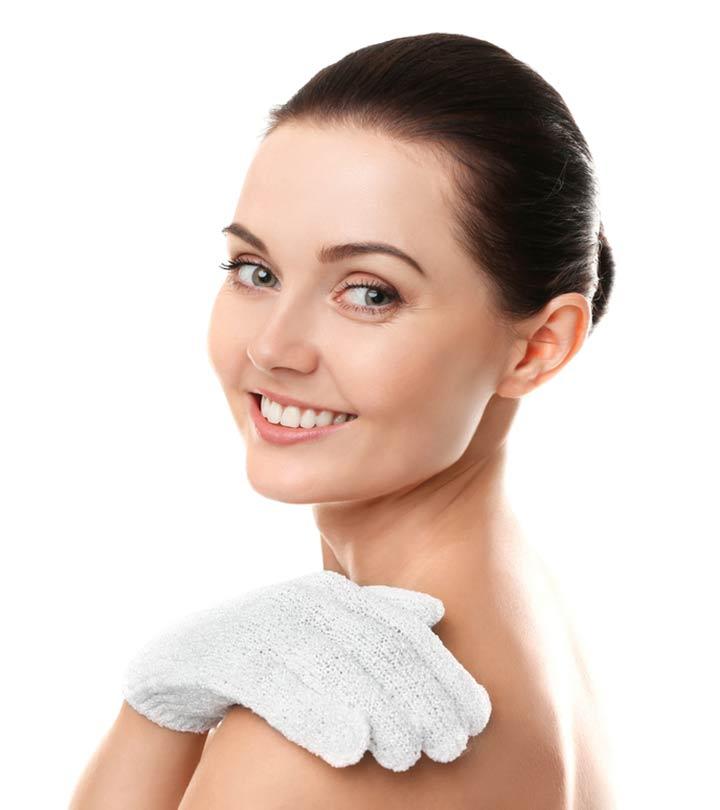 Repeat after us, 'I will exfoliate my body at least once a week'. Internalize it and practice it religiously as well. Well, why should one exfoliate their skin? Exfoliating helps the skin heal and rejuvenates it by removing dead skin cells and cleaning out pores. As we grow older, the process of cell regeneration slows down. This means that old skin cells shed at a slower pace, too. When old skin cells pile up on the surface of the skin, it makes the skin look dull, rough, and dry. Dead skin cell build-up also causes excess oil that clogs pores, which further leads to blemishes and acne issues.
What then, is the best way to exfoliate the skin. It isn't just the skin care products you carefully choose, but it also matters what type of a scrubber you use. The best thing you can use to exfoliate your skin is an exfoliating glove. Exfoliating gloves paves the path for moisturizing products to seep deeper into the skin, which ultimately makes them more effective. In this article, we will cover the benefits of using exfoliating gloves, how to use them correctly, and the top 14 exfoliating gloves.
Let's jump right in!
Top 14 Exfoliating Gloves Of 2020
Trade your plastic net scrubbers for these non-toxic exfoliating gloves made of 100% high-quality natural vegetable fiber. Its comfortable interior and the friction it provides make it easy to remove dead skin. The highly-elastic cuff gives it a snug fit on the wrist. These machine washable gloves quickly produce rich foam, making it easy to cover a larger surface area at one go. It can be used on both hands and is suitable for both men and women. With regular use of this exfoliating glove, you can maintain skin health and also brighten or even out your skin tone.
Pros
Made of 100% natural vegetable fiber
Non-toxic
Soft interior
Can be used on both hands
Excellent elastic rubber band
Affordable
Cons
It shrinks after being soaked in water, so it needs to be stretched to fit the user's hand
The pack comes with one mitt only
As the name suggests, these exfoliating gloves by Earth Therapeutics work to scrub away all your dead skin cells, unclog pores, and leave your skin fresh, healthy, and hydrated. It's reasonably thick, fits comfortably, and lathers exceptionally well. You will notice that even after months of use, it will not lose its structural integrity, neither will it creep towards discoloration. Made of the 100% nylon, these gloves are easy to use, easy to wash, and dries fairly quickly.
Pros
Thick yet soft
Lathers well
Made of 100% nylon
Available in other colors
Dries quickly
Cons
Bring home the spa experience with Elbahya's exfoliating Kessa mitt. This effective gem gently removes the surface layer of dead skin, detoxes the body, improves blood circulation, and reduces bumps. Made from biodegradable rayon fiber, it deeply cleanses pores and any residue left behind by oil, soap, lotion, and other such products. If you suffer from keratosis pilaris, this exfoliating glove will be the best choice for you as it peels away rough dead skin and adds a healthy glow to it. It is also helpful in reducing blackheads and fighting ingrown hair.
Pros
Luxury spa experience
Suitable for people who have keratosis pilaris
Available in a wide range of colors
Rolls dead skin off
Comfortable elastic wrist band
Easy to wash and dries quickly
Cons
May not fit well on large hands
At Zakia's, they have one secret to achieving flawless, radiant, and healthy skin – scrub, scrub a little more, and then, a little more! They believe that no matter how often you cleanse and moisturize your skin, it will never have a rich glow without getting rid of dead skin cells from the surface. This mitt helps in removing old skin cells and other particles from your skin to make room for healthy new ones. Spun out of a traditional Moroccan design, this exfoliating glove is made from biodegradable rayon, and its unique crepe fabric gently but quickly removes impurities and excess oil from the skin.
Pros
Durable
Tradition Moroccan design
Made of biodegradable rayon
Can be used in both hands
Unique crepe fabric
Cons
Although these exfoliating gloves may look like simple winter gloves, they are far from ordinary. One of the first things you will notice about this glove is its textured exfoliation surface, which gets rid of dry skin, helps ingrown hair, and calms itchiness. It also improves blood circulation and removes harmful toxins from your body. While we are at it, let's list out its other benefits, too. It reduces cellulite, helps with lymphatic drainage, fights acne and keratosis pilaris, and allows moisturizers to seep in better. So, what are you waiting for? Get your hands on these magic gloves and let it give you healthy and smooth skin you've always desired.
Pros
Affordable
Extra-stretchable
Suitable for all skin types
4 pairs in one packet
Removes toxins from your body
Good for people with keratosis pilaris
Cons
Some may find the material too thin
Add a splash of wonderful to your shower-time with this loofah sponge and exfoliating pad mitt. This double-sided bath mitt is made from high-quality PVC and fabric material, which works well in reducing allergies and is safe for all skin types. Its 2-in-1 design (bath mitt+loofah) works together perfectly to lather cleansing products quickly and scrub dead skin, grime, dirt, and other particles away. By using this exfoliating mitt, you can expect better skin instantly.
Pros
Double-sided bath mitt
Made of high-quality PVC material
Ideal for all skin types
Bath mitt+loofah
Available in many colors
Cons
Some may find the elastic strip too tight
If you are having a hard time finding the best exfoliating gloves in an array of colors, these ones by Mooerca will please not just your eyes, but also satisfy you with its effectiveness. It works to improve skin texture, promotes healthy skin, stimulates blood circulation, all while leaving the skin soft and rejuvenated. It helps in clearing clogged pores and reduces acne as well. Regular use of these gloves can soften rough skin and keep it hydrated. It comes in 2 sizes – small and big, so you never have to worry about the fit.
Pros
Comes in two sizes that fit most (small and big)
Pack contains 12 pairs (24 gloves in total)
Available in fun and bright colors
Extremely stretchable
Can be machine washed and dried
Made of 100% high-quality nylon
Cons
Colors may bleed during the first few uses
Have you ever used sisal fiber products? If you haven't, let us jot down its benefits first. It's sustainable and renewable, is anti-static, anti-bacterial, moth and rot-resistant, and also biodegradable. Are you sold on the material yet? If yes, then get your hands on this dainty yet useful sisal bath glove by Baudelaireaccessories. Made of 100% hand-harvested natural sisal fiber, this exfoliating glove is crafted by a women's cooperative in Columbia.
Pros
Made of 100% sisal fiber
Anti-bacterial
Eco-friendly
Durable
Cons
Do you wish that every shower felt like a full body massage? If yes, with these exfoliating bath gloves, you can achieve a real massage experience. Available in three variations, these gloves scrub off dead skin and impurities from the surface layer, revealing flawless, clean, and healthy skin. Made of 100% nylon fiber, the natural white gloves are best for light exfoliation, while the blue and grey gloves are ideal for moderate and heavy exfoliation, respectively. These gloves are extremely stretchable, and the five-finger feature makes forgotten and niggly parts of the body accessible as well.
Pros
100% nylon fiber
3 distinct variations for light, moderate, and heavy exfoliation
The material stretches to accommodate most hand sizes
Helps fight acne, rashes, and eczema
Cons
One of the quickest drying exfoliating shower gloves, this uniquely designed mitt by Supracor is one to look out for. Made from a flexible honeycomb pattern, it cleanses, exfoliates, and stimulates the lymph system by releasing the toxins that produce cellulite. This, in turn, is what eliminates the puffiness from the skin. One has to simply scrub in upward strokes towards the heart to stimulate the lymphatic system. It is also a fantastic glove for cell regeneration, and made for people who prefer a firmer texture for exfoliating their skin while giving it a massage-like experience.
Pros
Anti-fungal
Anti-bacterial
Firm texture
Made from a flexible form of honeycomb
Easy to wash and dry
Cons
An award-winning exfoliation mitt, it is no surprise that these gloves are one of the best selling ones. Made with a unique fabric texture, it gets rid of buildup and dead skin cells instantly to reveal visibly cleaner and radiant skin. It also evens skin tone and prevents dullness while giving your skin a fresh and revitalized look. Not only does it improve circulation, but it also stimulates collagen production, which actively fights the signs of aging. Along with these qualities, it reduces ingrown hair, flattens out pesky bumps (and keeps it at bay forever), and as an added advantage, it allows skin care products to seep in better.
Pros
Award-winning exfoliation mitt
Helps fight the signs of aging
Reduces ingrown hair
Helps skin care products penetrate better
Smoothes the skin's surface for self-tanning products
Cons
Hop on the charcoal loving bandwagon, because if you haven't, you're missing out on a lot. These luxurious exfoliating gloves are infused with bamboo charcoal, and it helps in not only deep exfoliation but also in purifying your pores. How then does this glove work? The toxins on your skin stick to the activated bamboo charcoal in the gloves, which makes it a fantastic cleanser and detoxifier. As charcoal is all-natural, you need not worry about any harsh chemicals seeping into your skin. Scrub away your dead skin cells with these gloves like there's no tomorrow.
Pros
Affordable
Infused with bamboo charcoal
Deep exfoliation
Gets rid of dry skin and spots
Cons
Might be a little too loose for dainty hands
When choosing a skin care product, we carefully check the ingredients. We want only the most natural ingredients that won't clog our pores or leave our skin worse than it was. We also want these products to penetrate deeper so that we can have healthy, glowing skin. This glove by Skinerals does just that, and a whole lot more. Use these gloves for an intense scrubbing session and let it remove dead skin, dirt, and impurities from within and help your skin care products work their magic. Oh, also, the padded microfiber mitt is ideal for all skin types.
Pros
Ideal for all skin types
Durable microfiber mitt
Scrubs dead skin and impurities from the surface of the skin
Instantly improves the texture of the skin
Cons
Some may find the material thin
Do you want your skin to look, feel, and breathe better? Slip on these spa-treatment gloves before you take a bath. A dry exfoliation will remove dry skin from the surface, making way for a deeper cleansing experience. As these gloves are incredibly soft, you can even use it daily. Regular use of this glove will improve circulation, unclog pores, fight acne, and also help in new cell generation. It also evens skin tone and can be used on the face as well. So, stop your struggle of fighting dry, flaky, itchy skin and give yourself the wonderful gift of velvety skin that you've always longed for.
Pros
Super-soft
Can be used on the face as well
Cruelty-free
Unbleached
Cons
Some may find it a little too tight
Benefits Of Using Exfoliating Gloves 
Let's take a look at some of the benefits of exfoliating gloves:
Makes your skin soft, smooth, and radiant
Removes the top layer of dead skin cells from the face and body
Reduces cellulite
Relaxes stiff muscles and reduces stress
Improves circulation
Helps skin care products seep in better
Helps in cell regeneration
Evens skin tone
Unclogs pores and prevents acne
Helps combat the signs of aging
Gets rid of ingrown hair
Reduces water retention and helps in weight loss 
How To Use Exfoliating Gloves 
Here is how you can use an exfoliating glove:
Step 1: Pick an exfoliating glove that's right for you.
Step 2: Step into the shower and get your body wet for a few minutes. You can wash your hair in the meantime. Do not apply any products on your body yet.
Step 3: Wet your exfoliating gloves and add the product of your choice on it. An exfoliating scrub would be the best product to use.
Step 4: Scrub your whole body thoroughly, starting from the bottom towards your heart, in upward strokes.
Step 5: Don't forget to scrub behind your ears, neck, elbows, knees, behind the knees, the ankles, and other body parts that we don't pay too much attention to.
Step 6: Wash the product off with water along with the exfoliating gloves. Hang it to dry immediately.
Step 7: Once you have dried yourself, apply a nourishing body butter or moisturizing lotion to lock the moisture in your skin.
So, there you have it, the 14 best exfoliating gloves of 2020, carefully hand-picked, all under one roof. We've also listed the benefits and how you can use an exfoliating glove. So, what's stopping you from achieving the best skin ever this year? Write to us about which exfoliating gloves caught your fancy and which ones you'd like to try immediately. If you have an interesting exfoliating technique you'd like to share with the rest of our lovely readers, do keep those instructions flowing in. Till then, keep scrubbing, keep glowing.
Expert's Answers for Readers Questions
Do exfoliating gloves really work?
Yes, it scrubs off dead skin cells from the surface, paving way for new cells. It also fights acne and peels away dry, flaky skin. You can also use it with exfoliating products for an optimal cleansing experience.
Are exfoliating gloves good for your skin?
Yes, exfoliating gloves are very good for skin health as it improves circulation, removes the top layer of dead skin, helps skin care products seep in better, and also unclogs pores among other benefits.
How do you exfoliate your body with gloves?
Wet your entire body for a few minutes and then start scrubbing your body clean. You will notice dirt, grime, dead skin cells roll off from your skin. Exfoliating gloves can be used with or without exfoliating skin care products.
Recommended Articles