15 Best Exfoliators For Acne To Buy Online In 2023
These exfoliators will help manage acne and give you bump-free and radiant skin.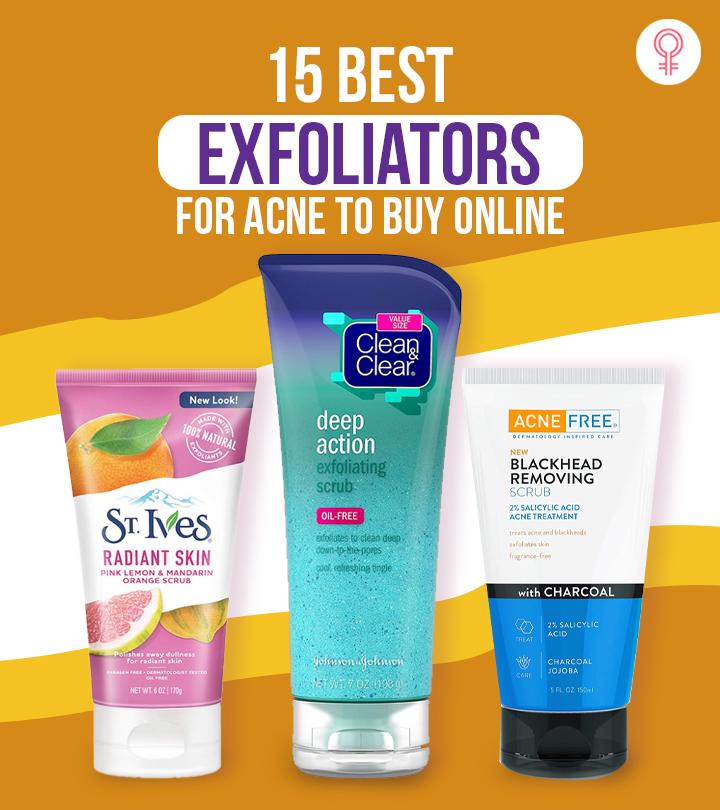 If you are someone who has been suffering from acne-prone skin and wants to bring it under control, the best exfoliators for acne could be your best bet. Your skin care routine is not complete unless you use a good-quality exfoliator. Dr Priya Gill, a leading Malaysian dermatologist, says, "Exfoliation is a procedure to remove the dead skin cells from the surface. In addition to clearing away dry and dead skin, exfoliation aids in enhancing  the skin's radiance, clarity, and youthfulness." Exfoliators help remove dead skin cells, clear your pores, and prevent severe breakouts. Check out this article to find out our curated list of the best acne exfoliators. Scroll down!
What Does Exfoliation Do To Your Skin?
Exfoliation is a significant part of every skin care routine. It helps slough off the dirt and impurities from your skin pores, remove dead skin cells, and improve the skin texture. Exfoliation also reduces the appearance of blemishes, blackheads, and scars. Check out our list of the best exfoliators for acne-prone skin below.
15 Best Exfoliators For Acne To Buy Online In 2023
Pros
Fragrance-free
Paraben-free
Clinical-proven results
Cons
None

Pros
Fragrance-free
Color-free
Preservative-free
Cons
None
Pros
Moisturizing
Alcohol-free
Paraben-free
Cons
Pros
100% natural crystals
Cons
Pros
Dermatologist-tested
Paraben-free
Non-comedogenic
No animal testing
Cons
None
Pros
Cruelty-free
Paraben-free
Sulfate-free
Easy to use
Gluten-free
Dermatologist-recommended
Cons
May cause allergic reaction
Pros
Suitable for everyday use
Oil-free formula
Moisturizing
Cons
Contains SLS
Contains artificial fragrance
Pros
Paraben-free
Cruelty-free
Gluten-free
Vegan
Artificial fragrance and color-free
Professional-grade
Cons
Pros
Mineral oil-free
Paraben-free
Phthalate-free
Alcohol-free
Synthetic fragrance and color-free
Not tested on animals
Formaldehyde-free
DEA and GMO-free
Triclosan-free
Dermatologically tested
Cons
Might cause allergic reactions
Sticky texture
Pros
Paraben-free
Sulfate-free
Hydrating
Cons
None
Pros
Premium natural ingredients
Cruelty-free
Suitable for all skin types
Non-greasy
Non-comedogenic
Lightweight
Cons
Pros
Easy to use
Fragrance-free
Cons
May cause allergic reaction
Pros
Fragrance-free
Paraben-free
Vegan
Cruelty-free
GMP-certified
Sulfate-free
Gluten-free
Cons
None
Pros
Paraben-free
Synthetic fragrance-free
Formaldehyde-free
Phthalate-free
Mineral oil-free
Cruelty-free
Cons
Pros
Non-comedogenic
Oil-free
Paraben-free
Suitable for all skin types, even for those with active breakouts
Brightening
Cons
None
The best exfoliators for acne help eliminate excess sebum and dead skin cells. They also unclog pores and treat the root cause of acne while increasing cell turnover. But how to choose the best exfoliator for acne that works? Here are a few important things to consider before buying the best exfoliators for acne to get clear, radiant, and youthful skin.
Things to Consider Before Buying Best Exfoliators for Acne
Avoid using skin exfoliators that contain harmful chemicals. These chemicals, like SLS, paraben, phthalate, and sulfate, are hard on the skin cells. They cause dryness and breakouts and take away your skin's natural moisture. Also, avoid exfoliators that contain artificial fragrances, alcohol, and mineral oil.
Comedogenic cosmetic products clog skin pores and decrease their breathability. This gives rise to issues like acne. Go for the exfoliators that are non-comedogenic and do not clog facial pores. These exfoliators are lightweight and penetrate quickly into the skin, allowing it to breathe freely.
The best exfoliator for acne should have the right ingredients that actually work and improve skin health. Look for salicylic acid, green tea extract, rosemary extract, and vitamin C to eliminate acne. Chamomile, grapefruit extract, and aloe vera should also be used to soothe inflammation.
Make sure that your exfoliator is dermatologically tested. It must be gentle and non-drying that suits various skin types without causing any allergy or irritation. The exfoliator should have a mild or no fragrance.
No matter which exfoliator you are using, these are a few safety tips that you should keep in mind.
Exfoliation Tips To Keep In Mind
Avoid using an exfoliator every day. Over-exfoliation can cause redness, irritation and further worsen the acne condition. Always use an exfoliator not more than twice a week.
When using a physical exfoliator, do not use too much force as it may cause scratches, redness, bruises, and may irritate any active breakout.
Avoid exfoliation after bleaching your skin or after laser treatments.
Exfoliation makes your skin sun-sensitive. Always use sunscreen to avoid sunburns and other signs of photodamage.
Why Trust StyleCraze?
The author, Oyendrila Kanjilal, is a certified skin care coach who recommends regular exfoliation for oily and acne-prone skin to help control acne. The products mentioned in this list have been carefully researched and selected after sifting a host of reliable user reviews online. These best exfoliators for acne help clear pores, remove dead skin cells, and provide a healthy glow to your oily skin.
Frequently Asked Questions
What is the difference between physical and chemical exfoliators?
Physical exfoliators are scrubs that have a grainy consistency and remove dead skin cells. On the other hand, chemical exfoliators are facial acids or peels that promote skin cell turnover.
Is exfoliating good for acne?
Yes. There are several exfoliators including products containing salicylic acid that can reduce the appearance of acne and help in fading acne scars. However, you may want to steer clear of physical exfoliants like textured cloths or scrubs that can cause bleeding or irritate the skin.
Does exfoliating worsen acne?
No, exfoliation helps in removing dirt, impurities, and dead skin cells that give rise to acne. However, choose exfoliators that are gentle on the skin and would not aggravate cystic acne.
How often should I exfoliate if I have acne?
While it depends on your skin's tolerance, a general estimate for exfoliation on acne-prone skin is two to three times a week.
Why do I get more acne when I exfoliate?
Exfoliation decreases dead skin cells buildup but the friction may inflame your skin leading to redness and breakouts. People with acne-prone skin should opt for chemical exfoliants since they do not require scrubbing.
Do dermatologists recommend exfoliating for acne?
For acne-prone skin, dermatologists usually recommend exfoliating with a mild and gentle chemical exfoliator.
How do I know if I am over-exfoliating?
You will know if you are over-exfoliating when your skin feels irritated and you get a burning sensation. Your skin may also become red with the appearance of tiny pimples.
Recommended Articles