15 Best Exfoliators For Acne To Buy Online In 2022
These exfoliators will help manage acne and give you bump-free and radiant skin.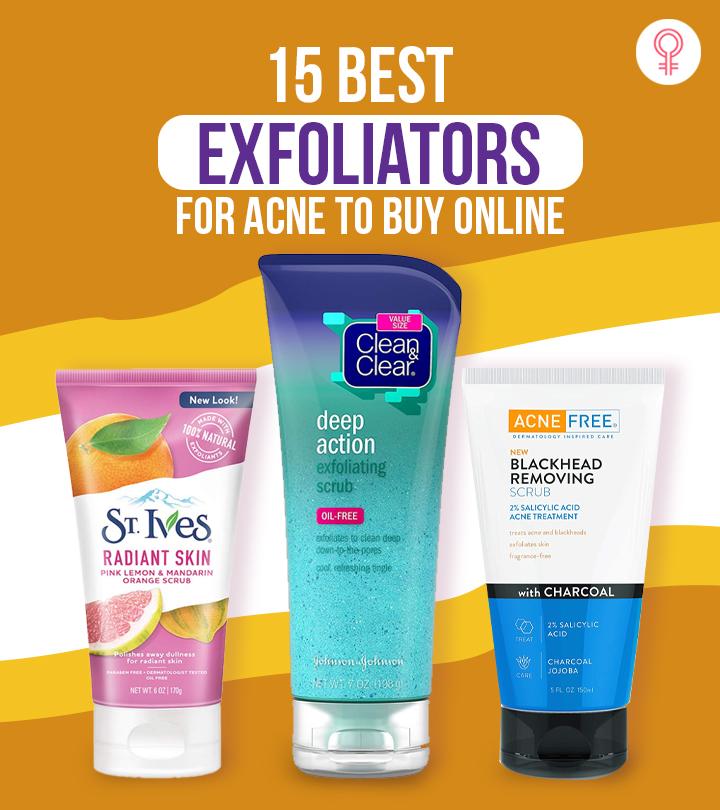 If you are someone who has been suffering from acne-prone skin and wants to bring it under control, the best exfoliators for acne could be your best bet. Your skin care routine is not complete unless you use a good-quality exfoliator. Dr Priya Gill, a leading Malaysian dermatologist, says, "Exfoliation is a procedure to remove the dead skin cells from the surface. In addition to clearing away dry and dead skin, exfoliation aids in enhancing  the skin's radiance, clarity, and youthfulness." Exfoliators help remove dead skin cells, clear your pores, and prevent severe breakouts. Check out this article to find out our curated list of the best acne exfoliators. Scroll down!
What Does Exfoliation Do To Your Skin?
Exfoliation is a significant part of every skin care routine. It helps slough off the dirt and impurities from your skin pores, remove dead skin cells, and improve the skin texture. Exfoliation also reduces the appearance of blemishes, blackheads, and scars. Check out our list of the best exfoliators for acne-prone skin below.
15 Best Exfoliators For Acne To Buy Online In 2022
The Paula's 2% BHA Liquid Exfoliant is a gentle leave-on exfoliant that gets absorbed quickly into the skin. It contains 2% salicylic acid (maximum strength) to promote the skin's natural exfoliation process by unclogging pores and minimizing their appearance. It reduces the appearance of wrinkles and evens out skin tone and texture. The product is safe for daily use and is perfect for all skin types. Check out the honest review of the Paula's Choice 2% BHA Liquid Exfoliant in this video.
Key Ingredients: Salicylic acid
Pros
Fragrance-free
Paraben-free
Cons
None
This is a gentle exfoliator that does not contain any harsh chemicals. The Toyo Cure Natural Aqua Gel gently removes dead skin cells from your skin, and can also be used on hands, necks, elbows, and heels. The formula is enriched with 90% activated hydrogen water and is free of fragrance, color, and preservatives. It also contains natural ingredients like aloe leaf, gingko biloba, and rosemary extracts. These ingredients help in reducing the appearance of pores and blackheads, and getting a bright complexion. Take a look at this video for a detailed review of the Toyo Cure Natural Aqua Gel.
Key Ingredients: Activated hydrogen water, Aloe leaf extract, Gingko biloba leaf extract, and Rosemary extract
Pros
Fragrance-free
Color-free
Preservative-free
Cons
None
The E.ra Organics Face Exfoliator promises radiant and youthful skin. It helps in removing stubborn blackheads, and cleansing and minimizing pores. The scrub is enriched with aloe vera, manuka honey, walnut, and vitamin C that boost your skin's moisture levels. These ingredients protect your skin from free radical damage and premature aging. Regular use of this scrub will help reduce acne and fade the acne scars. The exfoliator can also be used as a face mask to enhance skin tone and radiance. Watch this video of the E.ra Organics Revive+ Microdermabrasion Manuka Honey Walnut Scrub & Mask to better understand the product.
Key Ingredients: Manuka honey, Walnut, and Aloe vera
Pros
Moisturizing
Alcohol-free
Paraben-free
Cons
The Microdermabrasion Crystals Skin Care Booster by Needcrystals is a powerful exfoliant that provides anti-aging benefits to your skin. It removes the thick layer of dead skin cells to reveal a healthy and vibrant complexion. The exfoliator stimulates blood circulation, fades blemishes and acne, and unclogs pores. The crystals are made of aluminum oxide and can be used with any microdermabrasion equipment. The scrub is also great for minimizing age spots, wrinkles, and stretch marks.
Key Ingredients: Alumina
Pros
100% natural crystals
Cons
The St.Ives exfoliating scrub contains pink lemon and mandarin peel that polish away imperfections from your skin to reveal a healthy glow. The scrub provides moderate exfoliation, helps to even out your skin tone, and makes your skin smoother and softer. The exfoliant also contains 2% salicylic acid to help reducing acne, acne scars, and blemishes. The formula is non-comedogenic.
Key Ingredients: Pink lemon, Mandarin orange, 2% salicylic acid
Pros
Dermatologist tested
Paraben-free
Non-comedogenic
Cons
None
The DRMTLGY Face Exfoliator has a gentle formula that exfoliates dead cells and debris from your skin's surface. It is enriched with sugar cane, lemon, apple, and green tea extracts. The glycolic acid present in sugar cane removes dead skin cells, dirt, and oil from your pores. The lemon extract clarifies the skin and softens it, while the vitamin C derived from apple provides antioxidants to your skin to minimize environmental damage. The antioxidants present in green tea provide anti-aging benefits to keep the skin youthful. The scrub also helps in reducing acne, acne scarring.
Key Ingredients: Sugar cane, Lemon, Apple, and Green tea extracts
Pros
Cruelty-free
Paraben-free
Sulfate-free
Easy to use
Gluten-free
Cons
May cause allergic reaction
The Clean & Clear scrub deeply cleans out pores and exfoliates the skin to remove dirt, oil, and makeup. It has a non-comedogenic and oil-free formula, which is gentle on the skin. The exfoliator can be used every day to reduce blemishes and acne.
Key Ingredients: Glycerin
Pros
Suitable for everyday use
Oil-free formula
Moisturizing
Cons
Contains SLS
Contains artificial fragrance
The Dermalogica Daily Microfoliant comes in powder form and gets activated when it comes in contact with water. The powder then releases enzymes that accelerate cell renewal to make your skin smooth and bright. The microfoliant is enriched with papain, salicylic acid, and rice enzymes that polish your skin. It also contains rice bran, white tea, and licorice extracts to balance out uneven skin tone and a blend of colloidal oatmeal and allantoin to calm the skin. The product minimizes acne breakouts and has a gentle formula that is safe for daily use.
Key Ingredients: Papain, Salicylic acid, Rice enzymes, Licorice, and Grapefruit extracts
Pros
Paraben-free
Cruelty-free
Gluten-free
Vegan
Artificial fragrance and color-free
Cons
The Humane Clarifying Toner is a 2-in-1 product that helps in reducing acne and acne scars. The toner-exfoliator is enriched with 2% salicylic acid and green tea extract to prevent acne breakouts. It removes excess oil and dead skin cells from your pores. Green tea has moisturizing properties and reduces redness and inflammation, and provides your skin with a dose of antioxidants. It also protects your skin from environmental stress and balances your skin's pH levels. The gentle formula is safe for everyday use.
Key Ingredients: 2% Salicylic acid and Green tea
Pros
Mineral oil-free
Paraben-free
Phthalate-free
Alcohol-free
Synthetic fragrance and color-free
Not tested on animals
Formaldehyde-free
DEA and GMO-free
Triclosan-free
Cons
Might cause allergic reactions
Sticky texture
The Touch Microdermabrasion exfoliator contains micro-crystals that polish your skin. It gives a youthful and glowing complexion by fading fine lines and wrinkles. The a
Key Ingredients: Alumna crystals, Allantonin, Chamomile, Green tea, Aloe vera
Pros
Paraben-free
Sulfate-free
Hydrating
Cons
None
The L'amore Gommage exfoliating cream restores your natural skin while gently removing unwanted toxins and dead skin cells. The cream has a gel-like texture that gently cleanses, hydrates, and balances the skin pH. It reduces blemishes, blackheads, and acne, improves skin texture, and hydration levels. The exfoliating cream is enriched with cucumber, papaya, radish root, rose, sandalwood, jasmine, pineapple, orange, lavender, melon, and raspberry extracts. All these ingredients provide essential nourishment and antioxidants to your skin to keep it healthy.
Key Ingredients: Cucumber, Orange, Raspberry, Papaya, Radish root, Rose, Sandalwood, Jasmine, Pineapple, Lavender, Melon
Pros
Hydrating
Paraben-free
Sulfate-free
Alcohol-free
Cons
This Acne Free Blackhead Removing Face Scrub contains maximum strength salicylic acid to minimize acne breakouts and remove blackheads. The jojoba oil and charcoal in the formula clarifies your skin and improves skin tone. The scrub also contains m
Key Ingredients: Charcoal, Jojoba oil, 2% Salicylic acid, Ceramides, and 2.5% Benzoyl peroxide
Pros
Easy to use
Fragrance-free
Cons
May cause allergic reaction
The LilyAna Charcoal Face Scrub helps clean away dead skin cells and gives your skin a radiant glow. ontains all-natural and vegan ingredients and is free of any artificial fragrances.
Key Ingredients: Charcoal, Lavender oil, Tea tree oil, Aloe vera, Sunflower oil
Pros
Fragrance-free
Paraben-free
Vegan
Cruelty-free
GMP-certified
Sulfate-free
Gluten-free
Cons
None
The Farmacy Deep Sweep 2% BHA Pore cleaning toner contains 2% salicylic acid and papaya enzymes that minimize the look of pores to reveal a healthy-looking complexion. Moringa and papaya extracts in the formula draw out excess oil from the pores without stripping the skin of its natural moisture. It also contains antioxidant-rich cholrella extract that gently nourishes and soothes damaged skin.
Key Ingredients: Moringa, Chlorella, Papaya, 2% BHA
Pros
Paraben-free
Synthetic fragrance-free
Formaldehyde-free
Phthalate-free
Mineral oil-free
Cruelty-free
Cons
The BeauKON Orange Facial Peeling Gel exfoliates your skin to make it smoother and improve your complexion. The formula reacts to the oils that your face produces to remove sebum, oil, and dead skin cells effectively. It is enriched with orange fruit extracts that promote collagen production and neutralize free radicals. The gel also combats dark spots and refreshes your skin.
Key Ingredients: Orange fruit extracts
Pros
Sulfate-free
Paraben-free
Cons
Strong fragrance
May cause allergic reactions
No matter which exfoliator you are using, these are a few safety tips that you should keep in mind.
Exfoliation Tips To Keep In Mind
Avoid using an exfoliator every day. Over-exfoliation can cause redness, irritation and further worsen the acne condition. Always use an exfoliator not more than twice a week.
When using a physical exfoliator, do not use too much force as it may cause scratches, redness, bruises, and may irritate any active breakout.
Avoid exfoliation after bleaching your skin or after laser treatments.
Exfoliation makes your skin sun-sensitive. Always use sunscreen to avoid sunburns and other signs of photodamage.
Why Trust StyleCraze?
The author, Oyendrila Kanjilal, is a certified skin care coach who recommends regular exfoliation for oily and acne-prone skin to help control acne. The products mentioned in this list have been carefully researched and selected after sifting a host of reliable user reviews online. These best exfoliators for acne help clear pores, remove dead skin cells, and provide a healthy glow to your oily skin.
Frequently Asked Questions
What is the difference between physical and chemical exfoliators?
Physical exfoliators are scrubs that have a grainy consistency and remove dead skin cells. On the other hand, chemical exfoliators are facial acids or peels that promote skin cell turnover.
Is exfoliating good for acne?
Yes. There are several exfoliators including products containing salicylic acid that can reduce the appearance of acne and help in fading acne scars. However, you may want to steer clear of physical exfoliants like textured cloths or scrubs that can cause bleeding or irritate the skin.
Does exfoliating worsen acne?
No, exfoliation helps in removing dirt, impurities, and dead skin cells that give rise to acne. However, choose exfoliators that are gentle on the skin and would not aggravate cystic acne.
How often should I exfoliate if I have acne?
While it depends on your skin's tolerance, a general estimate for exfoliation on acne-prone skin is two to three times a week.
Why do I get more acne when I exfoliate?
Exfoliation decreases dead skin cells buildup but the friction may inflame your skin leading to redness and breakouts. People with acne-prone skin should opt for chemical exfoliants since they do not require scrubbing.
Do dermatologists recommend exfoliating for acne?
For acne-prone skin, dermatologists usually recommend exfoliating with a mild and gentle chemical exfoliator.
How do I know if I am over-exfoliating?
You will know if you are over-exfoliating when your skin feels irritated and you get a burning sensation. Your skin may also become red with the appearance of tiny pimples.
Recommended Articles