13 Best Exfoliators For Sensitive Skin That Are Gentle – 2023
Gentle exfoliators that do not irritate your skin and bring out your inner glow!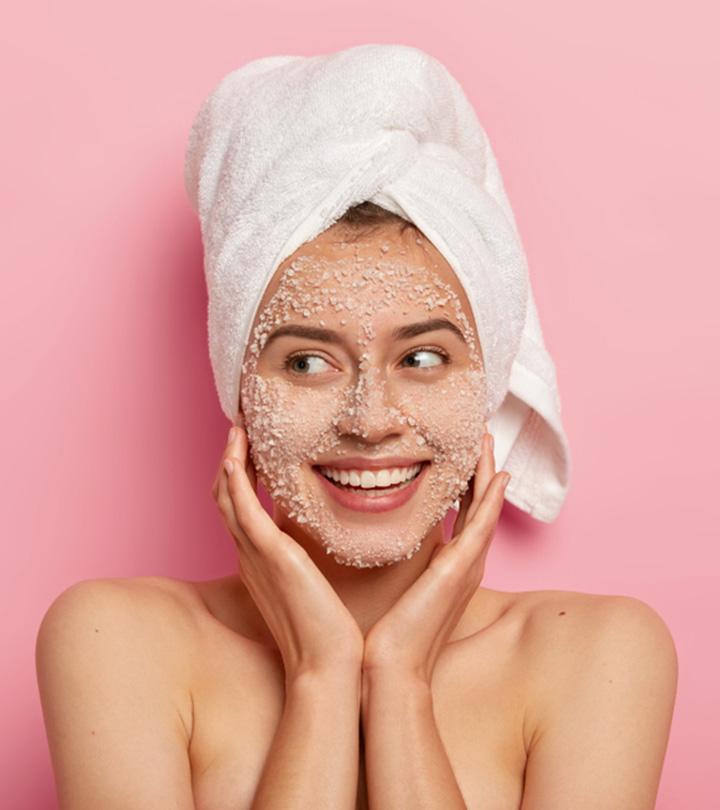 Exfoliation is a crucial step in the skin care regimen. However, exfoliating sensitive skin can be tricky unless you use the best exfoliator for sensitive skin. Sensitive skin may react to any product or ingredient, and that is why it is extremely important to evaluate products and ingredients before buying.
Exfoliation helps to remove the dead skin cells and clear the pores. It helps improve the skin texture, speed up cell regeneration, and soften the skin. Moreover, exfoliating regularly can make your skin look squeaky clean and prevent acne breakouts, blackheads, and whiteheads. If your skin looks dull and is missing that natural radiance, it is time to test the products listed out here. Here, we provide an extensive list of exfoliators that can be used on sensitive skin without worrying about any irritation or breakouts. Keep reading to choose the best exfoliator to attain that happy, healthy, and glowing skin.
13 Best Exfoliators For Sensitive Skin That Buff Away Dead Cells
Pros
Unclogs pores
Improves skin texture
Anti-aging properties
Paraben-free
Fragrance-free
Cons
Price at the time of publication: $30.99
Pros
Adds glow
Improves skin tone
Oil-free formula
Hypoallergenic
Non-comedogenic
Cons
Price at the time of publication: $8.84
Pros
Moisturizes skin
Dermatologist tested
Gluten-free
Cruelty-free
Free of parabens and sulfates
Cons
Price at the time of publication: $5.35
Pros
Combats dark spots
Reduces fine lines and wrinkles
Ideal for oily skin
Improves skin texture
Reduces breakouts
Cons
May not be suitable for extremely dry skin
Price at the time of publication: $22.9
Pros
Prevents premature aging of the skin
Offers intense hydration
Balances skin tone
Removes blackheads
Fades acne scars
Cons
May not be suitable for oily skin
Price at the time of publication: $23.99
Pros
Reduces pores and black spots
Improves skin tone and texture
Adds Radiance
Non-comedogenic
Oil-free
Alcohol-free
Cons
Price at the time of publication: $17.6
Pros
Fights environmental aggressors
Improves skin texture
Nourishing
Vegan
Gluten-free
Alcohol and paraben-free
Cons
Price at the time of publication: $12.0
Pros
Gentle formula
Supports natural surface cell turnover
Sensitive skin-approved
Non-irritating and non-comedogenic
Suitable for all skin types
Cons
Contains artificial fragrance
Price at the time of publication: $24.94
Pros
Has antioxidants
Hydrates
Alcohol-free
Paraben-free
Cons
Some may find the consistency watery.
Price at the time of publication: $25.99
Pros
Reduces fine lines
Adds glow
Keeps the skin moisturized
Cruelty-free
Cons
Some may find it little harsh on their skin
Price at the time of publication: $98.0
Pros
Removes excess oil
Anti-inflammatory properties
Suitable for all skin types
98% vegan
Free of preservatives
Cons
Some may find the consistency watery.
Price at the time of publication: $13.99
Pros
Offers gentle exfoliation
Soap-free
Alcohol-free
Paraben-free
Cons
Price at the time of publication: $19.99
Pros
pH neutral formula
Non-abrasive
Delivers a youthful glow
Dermatologist-tested
Cruelty-free
Cons
Price at the time of publication: $68.0
If you have given this list of the 13 best exfoliators for sensitive skin a read and are confused about which one to pick, let us help you out. Our buying guide will help you determine the factors worth considering before purchasing an exfoliator.
How To Choose Best Exfoliator For Sensitive Skin
There are 2 types of exfoliators — chemical and physical exfoliants, and you can choose either for your sensitive skin. Chemical exfoliation breaks the bonds between the cells, which makes it easier to wash away the dead skin layer. Physical exfoliators can also be a gentle option that are safe to use for sensitive skin, especially if you are just starting to exfoliate as they usually do not cause any allergic reaction.
Since sensitive skin has higher chances of developing redness and irritation, it is recommended to choose products with a bunch of natural soothing ingredients such as aloe vera and vitamin E along with lower-strength acids to help with tolerability. Ingredients like rice, oatmeal, lactic acid, and salicylic acid are the safest options. Glycolic acid can also help with removal of dead skin cells to even out your skin tone and make it smoother.
You may look for a 'hypoallergenic' label  when choosing products for your sensitive skin as these usually tend to have fewer allergens and are hence, less likely to cause any allergic reactions. They are gentler on your skin as compared to non-hypoallergenic products.
Though parabens are used in low amounts in skincare products as preservatives, it is generally advised to avoid it completely as it can cause skin irritation if you have sensitive skin. Sulfate may strip your skin of natural oils, making your skin feel dry and parched.pr Thus, it is recommended to opt for products that are free from parabens and sulfates.
Now that you know what are the factors you need to consider while purchasing exfoliators, let's also look at what to avoid when you set out to buy the right exfoliator.
What To Avoid When You Buy An Exfoliator
Keep away from harsher exfoliants as they may cause sensitive skin to sting or burn. In worse case scenarios, they may even cause you to break out. However, if you want to give harsh exfoliators a try for other skin benefits, make it a point to use them less frequently.
Large exfoliating particles
You should look out for large particles like nut shells or walnuts in the exfoliator that you're opting for. They can be too harsh to your sensitive skin and act as abrasives. They can also cause micro-tears which can ultimately lead to acne or skin irritation.
Though AHAs such as glycolic acid and lactic acid are good for your skin, they can irritate your skin, and it all depends on their concentration levels. AHAs, if used in higher concentration as peeling agents, can cause skin irritation and increase sun sensitivity. It is safe to use exfoliants with 8 to 10% AHAs. 
Slough away the dull and dead skin with these 13 best exfoliators for sensitive skin that are formulated to be gentle and can yet be very effective in adding a natural and radiant glow to your face by fighting the aging signs. Though exfoliators can be super tempting as they provide multiple skin benefits, resist from overusing them as they can lead to skin irritation, microtears, redness, and breakouts in the long run. When you use the right exfoliator once or twice a week on your sensitive skin, you can have a good skin day every day. 
Dr Priya Gill, a leading Malaysian dermatologist, says, "Those with sensitive skin are more prone to sensitivity or irritation from products. If your skin reacts, take a 'skin holiday,' i.e, use only moisturizer on your skin for one week to calm it down before you try another new product."
Why Trust StyleCraze?
The author of this article, Kirtana Divakar, is a skin care expert, and believes that irrespective of your skin type, exfoliation is an integral part of your skin care routine. However, she recommends that those who have sensitive skin should evaluate the products and ingredients before buying. She has conducted in-depth research and carefully reviewed the products so that her readers can make the best pick.
Frequently Asked Questions
How often should you exfoliate for sensitive skin?
Experts suggest exfoliating 2 to 3 times a week if you have normal or combination skin. For sensitive skin, it is better to exfoliate just once in a week.
When should you avoid exfoliating?
You should avoid exfoliating if your skin is sunburned or has cuts or open wounds.
Does exfoliating help wrinkles?
Yes it does. As we grow older, the natural exfoliation process slows down and leads to a buildup of dead skin cells. Regular exfoliation is one of the ways to fight aging signs as it helps to improve the appearance of fine lines and wrinkles.
What should be done after exfoliating?
You may use a hydrating moisturizer after exfoliating as it will lock in moisture so that your skin doesn't feel dry and stretchy.
Does over-exfoliating darken skin?
Over-exfoliating can lead to skin darkening as it gives rise to patchy pigmentation as a result of damage or irritation to the skin.