9 Best Eye Brightener Pencils Of 2022
Pop up your eye makeup with the most intense and pigmented essentials, for a brighter look.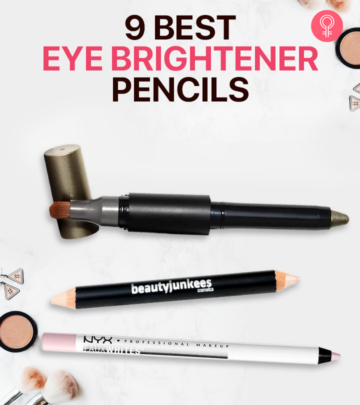 Hectic and long workdays can make your eyes look stressed and dull. Though eye creams are there to your rescue, a quick and easy solution to restore the natural shine of your eyes would be to invest in the best eye brightener pencils. An eye brightener helps to remove the dark circles and puffiness.
To make your search easy, we have listed the 9 best eye brightener pencils that you should try. So keep scrolling through to check out some of our top picks!
9 Best Eye Brightener Pencils Of 2022
The TreStiQue Shimmer Shadow Crayon has a buildable, long-lasting shade called Kona Coffee Shimmer. It has a darker hue of shimmery brown that gives a natural blend. A 2-in-1 stick has an in-build blending brush to blend color seamlessly. The formula has a creamy and smooth texture that glides effortlessly for a flawless, natural finish. The shade is enriched with antioxidants and vitamin E that nourishes the skin while moisturizing it for a silky feel and long-lasting wearable color. Forget dull eyes with this silky feel, D-5 Free eye brightener.
Pros
No need to sharpen
Vegan
Glides effortlessly
Fragrance-free
Talc-free
Gluten-free
Paraben-free
Cruelty-free
Cons
The Faux Whites pencil from NYX is a white-toned creamy eyeliner that features an exquisite hue of pastel colors. Its seashell shade is pale pink with blue undertones that glides effortlessly with a velvet-soft texture to provide a matte finish. The pencil can be applied on the eye corners that provide your eyes with great insight. In addition, the pencil is smudge-proof and lasts long for almost an entire day.
The eye brightener comes in six variants and can be chosen according to your skin undertone. The color ranges from vanilla to mint cream, from linen to seashell, and from lavender to white smoke. The product stands on the affordable section out of the list and retains all the goodness of a high-end product.
Pros
Vegan
Glides smoothly
Long-lasting
Cost-effective
Cruelty-free
Cons
The dual-ended pencil from Beautyjunkees gives a natural lift to your brows and eye makeup. It has a matte eye brightener that accentuates the brows while shaping and concealing for a cleaner edge. Its other end has a shimmer eyeshade that adds a pop to your eye makeup. The Cool Beige Duo Brow Crayon shade is light brown with a pink undertone, and the matt end of this eye pencil brightener gives a great definition to the brows. In addition, the highlighter gives you a subtle shine while highlighting your eyes. The shade is enriched with beeswax and castor seed oil that hydrates the skin while nourishing it without drying. The formula is creamy, easily blendable, and gives a smooth, light, and shimmery natural shine. Moreover, it can be used for highlighting your brows, eyes, and cheekbones.
Pros
Natural ingredients
Non-drying
Dual purpose
Cruelty-free
Gluten-free
Paraben-free
Cons
Want a small, easy-to-carry product that can perfectly complement your eyes? The eye brightener pencil from Trish McEvoy is a multipurpose pencil that conceals skin imperfection, highlights the features, and brightens the waterline of your eyes. Moreover, the pencil is enriched with natural ingredients like minerals and castor oils that hydrate the skin.
Its Shell shade glides easily, leaving behind the trail of bright pale pink, which highlights your brow bone, accentuates the lash line, defines the shape of your brows, and brightens up the inner corners of your eye. The creamy texture is easy to blend and gives you complete, flawless, defined eye makeup. The application is super easy, and it contours your facial features effectively without streaks.
Pros
Easy to carry
Smears easily
Mild coverage
Smooth application
Contours dark patches
Hypoallergenic
Ideal for sensitive eyes
Phthalate-free
Sulfate-free
Cons
None
Looking for a highly pigmented pencil to brighten your eyes? The white eyeliner by Pure Ziva is an excellent addition to your vanity. The 117 Matte White gives an opaque pigmented finish for a tight lining technique. It is enriched with natural ingredients like mineral and castor oils that hydrate and nourish your eyes without drying. This highly pigmented product has a matte finish with a creamy texture. It is perfect for making sharp lines on the waterline of your eyes. The product is developed with smudge-proof formula, making it an absolute favorite for people who keep on rubbing their eyes.
Pros
Rich pigmentation
Lasts long
Dermatologically-tested
Ophthalmologist-tested
Safe for contact lens wearers
Allergy-tested
Hypoallergenic
Ideal for sensitive eyes
Cruelty-free
Cons
None
The Soft Eyeliner Pencil by Fashionwu creates larger dramatic eyes. The pencil has a glossy white finish, which glides seamlessly and creates a traditional cat-eye look or highlights your eyes' inner corners. This waterproof formula is highly pigmented, and a little goes a long way. The lightweight pencil creates multiple looks by defining the shape of your brows. You can also glide it along the waterline and make your eyes look more prominent. In contrast, put it along the top lash line for a sensual look and smudge it over the eyelid, making your eye look fuller and more dramatic than ever. It also features a sharpenable tip and comes in packs of 12.
Pros
Waterproof
Glossy finish
Lightweight
Glides effortlessly
Highly pigmented
Cons
This Soft Eyeliner pencil by Kaiqikaixi is a multipurpose product that creates a versatile look. It has a white creamy mousse texture, which is easy to blend for achieving tantalizing eye makeup. It can be used as a lip line pen, a highlighter, and an eye shadow pen. The set consists of six pencils that offer smooth and effortless application. It is waterproof, smudge-proof, and great for wearing throughout the day.
Pros
Smudge-proof
Lightweight
Multi-purpose
Waterproof
Cost-effective
Anti-sweating
Cons
The Golden Rose Miracle Pencil brightens your eyes and contours lips while highlighting them. This flesh-colored crayon has a light pink undertone that spreads evenly to illuminate your lips and eyes. The shade is not loud and harmonizes with all skin tones. The crayon is ideal for illuminating the waterline, cupid arch, inner corner of your eyes, and highlighting your eyebrows for a sultry finish. This neutral shade golden rose miracle pencil is an optimum product to add definition and enhanced fullness to your eyes.
Pros
Smooth texture
Glides effortlessly
Soft formula
Long-lasting
Cons
• Needs touchup after initial hours
The waterline liner from Jolie. Impeccable Me is a waterproof waterline liner that creates a fresh and elongated eye. It is infused with botanical ingredients like chamomile, jojoba oil, and vitamins E and C that hydrate and nourish your eyes without making them dry. In addition, the pencil is smudge-proof and transfer-resistant and lasts for hours.
Pros
Smooth texture
Natural ingredients
Smudge-proof
Transfer-proof
Waterproof
Paraben-free
Fragrance-free
Cons
Why Trust StyleCraze?
Baishali Bhattacharya, the author of this article, is certified in makeup artistry. She is an expert in reviewing makeup tools and products, and her interest in the field of makeup helped her choose the best eye brightener pencils for intense eyes. So, after some in-depth research and reviewing, she has carefully curated a list of the best ones available on the market. They help restore your eye's natural shine and remove the dark circles and puffiness.
Frequently Asked Questions
What does an eye brightener pencil do?
An eye brightener pencil highlights your brow bone, accentuates your lash line, and brightens the inner corner of your eyes to make your eyes look bigger.
Is eye brightener the same as eyeshadow?
No, an eye brightener is not the same as an eyeshadow. Eye brighteners are used in certain spots to define your eyes, whereas eyeshadows are applied on the eyelids and under the eyes to add pop and color to your eye makeup.
Is eye Brightener the same as concealer?
No, eye brighteners brighten certain areas of the eyes, while concealers mostly cover fine lines and dark circles. Also, eye brighteners have thicker formulas than concealers.
How do you choose an eye brightener?
You can choose an eye brightener by checking the undertone of your skin. Make sure to experiment with subtle warm, cool, or neutral shades to understand what works best for your undertone. Also, consider your eye color. Blue eye colors can be paired with warm-toned eye brighteners, while brown eyes look good with warm and cool-toned products.
Recommended Articles