20 Best Eyebrow Products As Per Makeup Artists – 2023
Trim, style, and fill your brows with these long-lasting and easy-to-use products.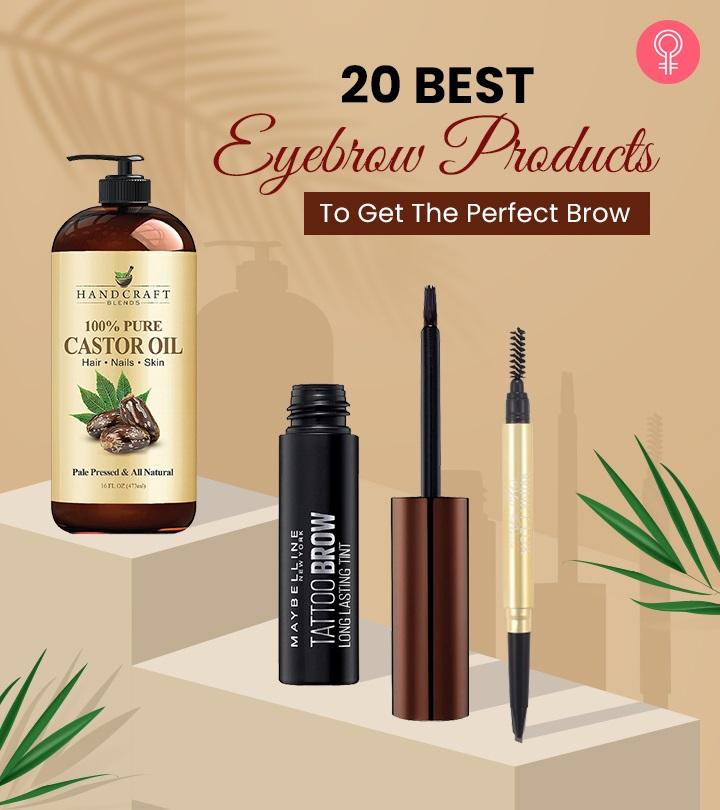 Thin brows might have been a thing in the 2000s, but defined and thick brows have replaced the trend, hence, giving a boost to eyebrow products for that perfect baddie look. Fuller fills are now luxuriously embraced by celebs as well as influencers and they carefully choose the best eyebrow products. Even if you have a natural thickness, it is important to trim and shape it instead of going through the pain of plucking the strands out. Relatable much? From the common brow pencils and gels to filler foundation, wax, epilators, and razors, there is no one product that is not important. Even though everyone has their own preference of the eyebrow shape they want, using the right ones is extremely crucial.
Here is a list of the best products made especially for the care of your beautiful brows!
20 Best Eyebrow Products To Get The Perfect Brow
The Handcraft Blends 100% Pure Castor Oil is pure, undiluted, and unfiltered. This hair-loving elixir is a natural humectant and locks in moisture to keep your hair soft and shiny. It helps enhance your hair's natural color and leaves it looking thick and lush. The moisturizing formula improves blood circulation, induces hair growth, and thickens your brows. The fatty acids in the oil nourish and fortify your hair and also help regrow eyebrow hair.
Pros
100%pure
Multipurpose use
Suitable for normal skin
Professional grade formula
Cons
Price at the time of publication: $15.95
Groom your brows at home with the help of this user-friendly Nad's Precision Eyebrow Wax Wand. This ready-to-use waxing kit does not require any heating and is perfect for sculpting your brows. The retractable wax wand removes your hair by the root, and the results can last up to 8 weeks. The slim tip releases just the right amount of product with precision, and the gel can be easily washed away with water in case of any mishaps. This wax wand also comes along with reusable cotton strips and cleansing wipes for added convenience. You can check this video out if you need to know more about the product.
Pros
Long-lasting
Gentle formula
Easy to use
Dermatologist-tested
Value for money
Cons
Price at the time of publication: $8.26
This Anastasia Beverly Hills Brow Powder Duo is a must-have in your vanity. The two shades in this formula can be used to customize your exact brow shade for a natural-looking finish. It is richlypigmented, smudge-free, and stays put all day long. The smooth and velvety formula defines your brows impeccably while blending to perfection. This compact kit is also equipped with a mirror attached for on-the-go touch-ups. It is available in 11 different duo shades, created to match every hair color.
Pros
Easy to use
Smooth texture
Long-lasting wear
Richly-pigmented
Natural-looking results
Smudge-proof
Available in 11 duo shades
Cons
Price at the time of publication: $23
This L'Oreal Paris Waterproof Eyebrow Pencil can be used to draw on tiny brow hair to fill in gaps as well as a spoolie brush to define brow shape. It is waterproof and tested by ophthalmologists for smudge-proof application. It is uniquely formulated to resist clumping and enhances natural lash thickness.
Pros
Clump-free
Ultra thin tip
Best for all day wear
Adds volume
Waterproof
Cons
Price at the time of publication: $7.59
Price at the time of publication: $4.89
Tame your unruly brows with this easy-to-use gel clear mascara by Beauty Junkees Cosmetics. This eyebrow-setting masterpiece keeps your brows in place and gives it a seamless finish. It can be used with brow fillers and pencils or on its own for a natural look. The spoolie brush has very tiny bristles, which help in an even application without your brows clumping together. It does not leave a sticky or greasy residue post-application.
Pros
Long-lasting
Clump-free
Value for money
Paraben-free
Cruelty-free
Gluten-free
Cons
Price at the time of publication: $13.97
Schick Hydro Silk Touch-Up Exfoliating Face and Eyebrow Razor is a versatile beauty tool that gently exfoliates, shapes eyebrows, removes fine hairs, smooths skin. It helps create beautiful brows through a precision cap for precise eyebrow shaping. This one is a unique tool that is designed with fine micro-guards to help protect your skin from nicks and irritation. It is an extremely slim and portable travel razor that you can use anytime, anywhere!
Pros
Easy to use
High quality blades
Cons
Not suitable for sensitive skin
Price at the time of publication: $5.67
Price at the time of publication: $5.67
This designer Winky LuxUni-brow Pencil looks chic, pops your brows, and defines them perfectly. This versatile, smudge-free pencil suits any brow color. While using it, gently press for a softer tone and press harder for a lush brown tone. The dual tip brow-shaping pencil has a defining tip in one end to fill in your brows and a spoolie in the other end to brush it. To find out more about this product, check this video review out.
Pros
Easy to use
Precise application
Long-lasting
Natural-looking color
Vegan
Sulfate-free
Cruelty-free
Phthalate-free
Cons
None
Price at the time of publication: $16
Kosas Air Brow Fluff and Hold Treatment Gel is a clean, long-wearing, tinted mousse-gel for feathery brows, boosted by hair care ingredients that condition the hair. The gel helps create a bold, full, yet effortless-looking brow. It is easy to use, with a controlled, high-payoff pigment, a soft and flexible hold, and a finish that leaves a slight sheen for dimension. It includes 5% castor oil that helps nourish and protect, so the brows reach their full growth potential.
Pros
Adds volume
Cruelty-free
Vegan
Free from artificial fragrances
Cons
Price at the time of publication: —
Price at the time of publication: $24
This dual-purpose wonder serum by Green Label Cosmetics helps induce natural hair growth in your brows as well as your lashes. It is formulated with a unique blend of vitamins, botanical extracts, and peptides, which help improve the texture, density, thickness, and length of your brows. You can notice visible changes in just 6-8 weeks of daily application! The aloe and cucumber extract in this serum nourish and protect your brows while conditioning them.
Pros
Easy to use
Long-lasting
Cost-effective
Natural ingredients
Cons
Price at the time of publication: $32.99
This super sleek hair removal pen by Finishing Touch is one of the best products for brows in the market! It effectively and painlessly removes hair with ease. The small tip gives you flawless precision and clean removal. The residues and tiny hair are collected behind the head and can be easily cleaned away. This hair removal pen is available in 5 spot-on colors – blush, lavender, glitter, mermaid, and sea glass. Each pen comes along with a cleaning brush and 1 AAA battery for your convenience.
Pros
Painless removal
Sleek design
Easy to use
Easy to clean
Quick results
Clean finish
Cons
Price at the time of publication: $15.99
Fill in and define your brows with Wet n Wild's Ultimate Retractable Eyebrow Pencil. It has a triangular tip for hair-like strokes and fool-proof brows. It sharpens the edges of the brows with rub-resistant pigments through a well-defined angular pencil. When you're done, the tip retracts for quick and easy storage in your makeup bag. A great rub-resistant formula along with its 100% vegan composition makes it a perfect choice. It includes a blend of palm wax and pigment for long-lasting stay and color for an enhanced eyebrow.
Pros
Dual-sided
Fine tip
Cruelty-free
Unique angular pencil design
Pigmented pencil, so never requires sharpening
Paraben-free
100% vegan
Cons
Not clump-free
Might be slightly greasy
Price at the time of publication: $3.19
Price at the time of publication: $3.19
Thee.l.f Lock On Liner And Brow Cream has a lush and creamy formula and is your one-stop solution for impeccably flawless brows. It glides on smoothly to define, shade, and sculpt your brows to perfection. The versatile product can be used as an eyeliner as well as an eye shadow. The richly pigmented formula is long-lasting, smudge-proof, and waterproof. It has a matte finish and lasts all day. It is available in 4 shades.
Pros
Long-lasting
Creamy formula
Matte finish
Easy to use
Smudge-proof
Waterproof
Versatile
Cons
Price at the time of publication: $6.99
The Thrive Causemetics Brilliant Eye Brightener glides smoothly and soothes tired eyes. It accentuates the eyebrows by highlighting the corners and elevating your overall eye look. The creamy texture supports smooth application without unwanted flakes. The formula offers a luminous shimmer and an instant eye lift. The macadamia and meadowfoam seed oil in the formula hydrates the skin around the eyes and the eyebrows, smooths out the texture, and reduces the appearance of fine lines.
Pros
Offers smooth consistency
Creamy texture
Offers instant eye lift
Paraben-free
Sulfate-free
Phthalate-free
Cruelty-free
Vegan
Synthetic fragrance-free
Cons
None
Price at the time of publication: $28
Benefit Gimme Brow Volumizing Fiber Gel helps you achieve dark, fine eyebrows in full bloom that adds a subtle grace to your look. Completely waterproof and clump-free, this one will add life to your brows. Apply it in short pressing motions and stroke the precision tip brush along your brows to define the shape and add instant volume. Get salon-like full and defined brows at just a stroke!
Pros
Water-resistant
Clump-free
Easy to use
Durable
Cons
Not travel-friendly due to huge box size
Might dry easily
Price at the time of publication: —
This eyebrow pencil by NYX keeps your brow game on fleek! It has an angled applicator on one end and a built-in brush on the other. The teardrop-shaped tip creates well-defined strokes that look like fine hair for a natural look. The micro paddle brush blends out the pigments flawlessly. The formula issmudge-proof, transfer-resistant and leaves your arches looking sharp all day. This eyebrow pencil comes in nine different shades to suit every brow color.
Pros
Long-lasting wear
Natural-looking results
Blends well
Smudge-proof
Transfer-resistant
Easy to use
Value for money
Cruelty-free
Cons
Price at the time of publication: $8.99
Tweezerman's Brow Shaping Scissors and Brush are eye-brow care essentials. They are made with the best-quality stainless steel with precision tips that allow you to trim only unwanted hair. Its small body and finger loop design offer optimal control, while the thick nylon bristles of the brush help achieve a feathered, natural look. This dependably and stylish brow-shaping scissor and brush features a custom body that is designed for super-comfortable functioning.
Pros
Precision tips
Small body & finger loop design
Durable
Cons
Size of the scissor might be too small for some
Price at the time of publication: $18.90
Price at the time of publication: $16.98
Say goodbye to painful waxing, plucking, shaving with this VG Vogcrest  2-in-1 Rechargeable Hair Remover & Eyebrow Trimmer by! This electric hair remover does not uproot your hair but gives a clean removal close to the skin. It is super gentle and does not irritate your skin. It also has a built-in LED light that helps give you a precise removal and makes sure you don't miss a single hair. It is USB supported, and thus is convenient for traveling. The hair remover has a waterproof head, which can be cleaned easily.
Pros
Painless procedure
Easy to carry
Easy to clean
Gentle on skin
Good battery life
Cons
None
Price at the time of publication: $12.99
Get fluffy, groomed brows instantly with Glossier Boy Brow Gel. It includes a brushable, creamy wax that visibly thickens, shapes, and grooms brows into place. This is inspired by traditional hair pomade to make the brows soft and give them a flexible hold in one easy swipe! Natural-looking eyebrows are no longer a dream now!
Pros
Cruelty-free
Best for all skin types
Alcohol-free
Available in 5 shades
Cons
Gel might be slightly thick
Slightly expensive
Price at the time of publication: $24.00
Price at the time of publication: $20.03
Anastasia Beverly Hills Precision Tweezers are multipurpose tweezers with a sturdy design. Crafted with stainless steel, these tweezers have a slant tip to give you salon-quality brow grooming. Although it allows you to pluck even very fine strands of hair from the roots to achieve perfect eyebrows, its edges are smooth and do not pinch to ensure maximum comfort.
Pros
Easy to use
Smooth finish
Does not cut hair
Easy to carry
Cons
Price at the time of publication: $6.0
This award-winning brow gel by Wunder2, defines, thickens, and fills your brows with ease. The formula is infused with hair-like fibers, which sculpt your brows and give a natural-looking finish. The formula is smudge-proof, waterproof, transfer-resistant, and can stay put for up to 3 days. The set also contains a dual precision brush for easy application. This eyebrow gel is available in five different shades – auburn, brown/black, jet black, brunette, and blonde.
Pros
Smudge-proof
Waterproof
Long-lasting wear
Natural finish
Transfer-resistant
Vegan
Oil-free
Alcohol-free
Cruelty-free
Cons
Looks unnatural
Applicator brush is not good
Price at the time of publication: $19.67
Eyebrows are a game-changer in makeup. These were some of the best products for natural-looking eyebrows. But, before you start investing in eyebrow products consider a few points mentioned in the section below.
Things To Consider Before Buying The Best Eyebrow Products
Here are a few things to be considered when choosing an eyebrow product:
Eyebrow products come in a variety of formulas, like pencil, gel, powder, or pomade. Gels are the best to add a subtle amount of color, as they only coat your brow hairs. Pencils and pomades are ideal for giving your brows a defined look, as they help fill gaps, adding shape and color to your brows.
If you have blonde hair, opt for a shade that is two shades darker than your original hair colour, and has a cooler tone. For platinum, ashy blonde or champagne hair, look for a quite similar shade. If you are a brunette, opt for a shade that is warmer and is one or two shades lighter, or almost similar to your hair color. For caramel or golden hair color, choose a taupe or light brown shade.
Having black brows does not conclude that you'll have to choose a dark black tint, if you do, your brows can look blocky and unnatural. Instead, choose a shade that is slightly on the dark brown or greyish side.
The higher the price goes, the more versatile and friendly the formulas get. That does not mean you'll have to spend a fortune on your brow products. In order to get a flawless and natural-looking finish, layering different formulas is the key. So choose a product that does the job right, instead of focusing on the price.
Why Trust StyleCraze?
Baishali Bhattacharya is an expert in makeup artistry and loves to try new makeup items to create unique looks. She has curated a list of the best eyebrow products after carefully browsing through online reviews on several e-commerce websites. From castor oil to brow powder, this list features products that are easy to use and provide natural-looking results. These high-quality eyebrow products are affordable, sweat-proof, and stay put for long hours.
Frequently Asked Questions
Which is better – eyebrow gel or pencil?
Eyebrow gel is for those with thick eyebrows who want to set it in style. On the other hand, an eyebrow pencil adds color and definition to the eyebrows, making them look fuller and voluminous. You can choose one according to your needs.
Should your eyebrows be lighter or darker than your hair?
Make your eyebrows one or two shades lighter than your hair to make your face look younger.
What is the easiest eyebrow product to use?
The Winky Lux Uni-Brow Pencil is one of the easiest eyebrow-enhancing products. It offers good color pay off, and the built-in brushes enable precise control to style your brows just the way you want.
What color eyebrow pencil should you use if you have gray hair?
Go for a light brown shade if you have gray hair. Make sure the color is at least 2 shades darker than your skin color.
Do thin brows make you look older?
Yes, eyebrows naturally become thinner as you age. This is why thin eyebrows are associated with a mature look.
Recommended Articles