10 Best Dermatologist-Approved Eye Creams For Eczema On The Eyelids
These eye creams are here to soothe the irritation and discomfort caused by eyelid eczema.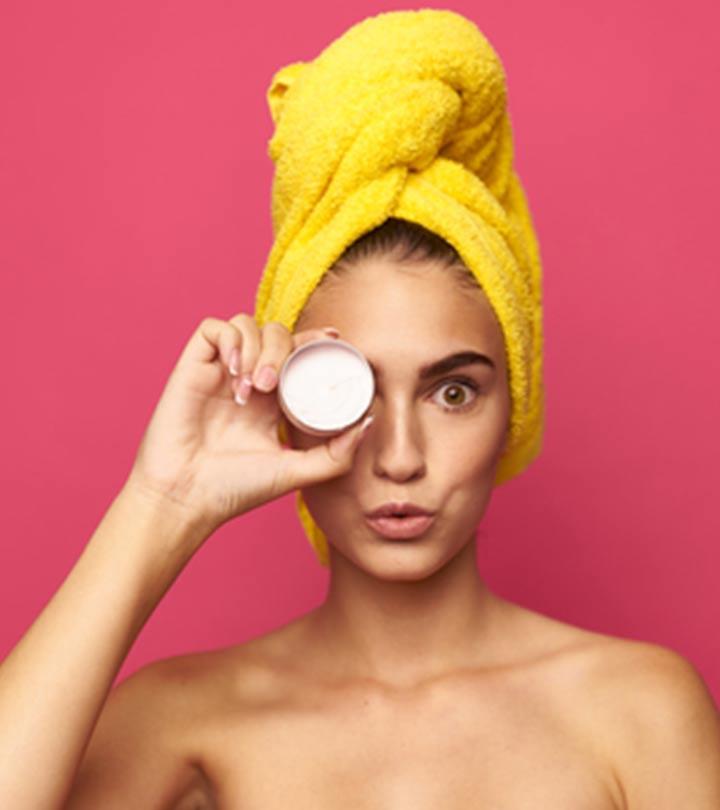 Finding the right product to treat eczema on your eyes might be tricky. When flare-ups happen on delicate areas of the face like your eyelids, you need to make sure you treat this condition with the best eye cream for eczema. This particular skin condition can cause red, dry, flaky, irritated, and inflamed skin. In addition, the skin around your eyes is sensitive compared to the other body parts, and people who suffer from eczema around the eyes might have hereditary allergic issues.
The best eye creams for eczema are 100% free from artificial fragrances, and they are enriched with clinically verified ingredients like hyaluronic acid and ceramides. These ingredients are proven to deliver visible results and help in restoring the skin around your eye area and also offer hydration. Furthermore, they also help to lock moisture and combat dryness. During the allergy season, when eczema is most likely to occur, you should take necessary precautions beforehand and start using the best creams for eczema. To help you out, we have rounded up a list of the best eye creams for eczema in this article. These creams help treat irritant contact dermatitis, atopic dermatitis, seborrheic dermatitis, dermatitis herpetiformis, eyelid dermatitis, and periorbital dermatitis. Scroll down to find our top picks and choose the one that suits your preferences.
2023's 10 Best Eye Creams For Eczema On Eyelids
This is one of the best eczema-friendly eye creams reviewed in 2023. It is hypoallergenic, which simply means that it doesn't contain any allergy-causing ingredients. It also contains no fragrance, so the chances of it irritating your sensitive eye skin are quite minimal. It is formulated with 3 essential ceramides, hyaluronic acid, and niacinamide, which lock in moisture, allowing your skin to heal. Many users have noted the visible results they experienced in their reviews. With beneficial moisturizing ingredients like these along with aloe leaf extract and jojoba esters, this might just be the ultimate solution for treating eczema on the eyelids effectively. Check out this video for the tester's experience and to better understand the CeraVe Eye Repair Cream.
Also Recommended By: Bustle has also listed CeraVe Eye Repair Cream in their top 10.[1]The Best Eye Creams For Eczema On Eyelids, Bustle. https://www.bustle.com/wellness/the-4-best-eye-creams-for-eczema-on-eyelids-23618004
Pros
Ideal for all skin types
Reduces dark circles
Reduces puffiness around eyes
Recommended by dermatologists
Tested by ophthalmologists
Allergy tested
Cons
May not be effective on dark circles
If eczema around your eyes is giving you wrinkles that are causing a crepey skin appearance, this moisturizing eye cream for eczema is one of the best eye creams. 98.9% of its ingredients are all-natural. These include rice extracts, aloe leaf juice, coconut oil, sunflower seed oil, beetroot extract, and shea butter among a host of other active ingredients. Owing to its mild natural ingredients, it provides moisture and hydration without causing any irritation or redness, and it doesn't clog pores as well. It is safe to make it a permanent part of your daily skincare regime and is a fantastic choice if you're looking for a night cream. Go through this video to understand the tester's experience and to check out the detailed review of the Burt's Bees Eye Cream.
Pros
Fragrance-free
Hypoallergenic
Dermatologically-tested
Approved by ophthalmologists
Suitable for acne-prone skin
Cons
Some may find the consistency slightly runny
La Roche-Posay Toleriane Ultra Eye Cream has a gel creamy texture. The shea butter infused in the cream intensely smooths and comforts the eye area. It keeps the eye region hydrated. This cream can also be used by lens users. The cream provides long-lasting comfort for dry and sensitive skin, as reported by various users in their reviews. Look at this video for an honest review of the La Roche-Posay Toleriane Ultra Eye Cream.
Also Recommended By: Bustle has also listed La Roche-Posay Toleriane Ultra Eye Cream in their top 10.[1]The Best Eye Creams For Eczema On Eyelids, Bustle. https://www.bustle.com/wellness/the-4-best-eye-creams-for-eczema-on-eyelids-23618004
Pros
Tested on allergy-prone skin
No parabens
No alcohol
No fragrance
Dermatologist tested
Allergy tested
Tested by ophthalmologists
Oil-free
Cons
The pump dispenser is defective sometimes.
Itchy eczema flare-ups can be one of the most uncomfortable things to deal with. But people with eczema can now rejoice as this itch-relief eye cream is here to save the day. Honey, known as food for skin, is the main ingredient of this cream. Naturally hydrating, the honey ensures that the sensitive skin around your eyes is deeply hydrated and nourished. Along with honey, the cream that is safe for the eyes is also formulated with sunflower seed oil, macadamia seed oil, and aloe leaf juice powder among a host of other ingredients that lend it its hydrating properties. It is, therefore, an effective moisturizing eye cream for dry flaky skin and dark circles loved by many reviewers online.
Pros
Moisturizing qualities
Contains nourishing oils
Smooth consistency
Pleasant smell
Suitable for all skin types
100-hour hydration
Tested for skin irritation
Cons
May take a long time to show visible results
We have all wished, at some point, for the gentle eye cream for our sensitive eczema-afflicted eyelids. This product, with all its natural goodness, could just be the one that you are looking for. Its ingredients are all pH-balanced, which means that it isn't harsh, will not dry out the sensitive skin around your eyes, and will protect the skin barrier. Along with helping with your eye eczema, this cream also reduces wrinkles and dark circles. It contains moisturizing vitamins and a retinol-balance complex to help soothe irritated skin. With ingredients like hyaluronic acid, rose water, green tea extracts and amino acids, this cream actively works towards keeping your skin nourished and hydrated, and delivers visible results as noted by reviewers.
Pros
Gentle natural orange fragrance
Nourishes and soothes inflamed and irritated skin
Gluten-free
Vegan
Cruelty-free
No parabens
Contains vitamin A and B5
Cons
It may not tackle puffy or saggy eyes effectively.
A highly-nourishing and moisturizing cream, this is the perfect hydrating eye cream for eczema. It not just hydrates but also protects and smoothens the delicate skin around the eye. It helps with inflammation and reduces fine lines too, garnering positive reviews online. If massaged gently into the skin area of the eye, it reduces puffiness effectively. Its ingredients include vitamin E, wheatgerm oil, and hyaluronic acid, and is known to be effective not just against eczema in the eyelids, but against dark circles as well. Take control of your eczema-prone skin around the eye area with this anti-inflammatory eye cream.
Pros
Paraben-free
Gluten-free
Silicone-free
Vegan
Cons
To reduce puffiness, the product has to be massage in for a long time.
The Eucerin Eczema Relief Cream is one of the best hydrating creams you can get your hands on. The product is enriched with the regenerative properties of colloidal oatmeal, ceramide-3, and licorice root extract that provide 24-hour intense hydration. The fast-absorbing, advanced formula is known for alleviating dryness, itching, and skin irritation often caused by eczema. It is recommended for all age groups, ranging from children to adults. The brand also offers clinically proven results in successfully managing eczema flares for 6 months.
Pros
Fragrance-free
Soothes irritated skin
Dye-free
Steroid-free
Provides 24-hour hydration
Suitable for sensitive skin
Cons
May feel heavy due to the thick consistency
This cream contains orange stem cell extract and the unique formula of the cream helps not just with sensitive skin and its restoration, but also helps reduce wrinkles, puffiness, and dark circles. With its rejuvenating properties, it helps reduce the appearance of inflammation in eczema affected eyelids by keeping it hydrated and moisturized. With gentle ingredients like shea butter, grapeseed oil, aloe leaf juice, grapefruit peel oil, and orange culture extract among others, it helps keep the skin healthy and hydrated. It can be applied directly to the itchy eyelid without the fear of any reactions. This anti-inflammatory eye cream for eczema is recommended for twice-daily use to achieve optimal results.
Pros
Free of potential irritants
Reduces inflammation
Fragrance-free
No synthetic dyes
No animal testing
Cons
This is an extra-hydrating under eye cream, which contains organic ingredients suitable for eczema affected skin, especially around the eyes. These include organic aloe vera, coconut oil, vitamin E, and rosehip seed oil. It is also enriched with Dead Sea salt minerals and organic plant extracts. These include blueberry fruit extract, cranberry fruit extract, and rosemary extract. Because of its natural ingredients, it is completely safe to apply directly to the eyelids. Finally, this anti-aging eye cream fights eye bags and dark circles effectively and is loved by reviewers.
Pros
Suitable for all skin types
Can be used day and night
Contains no alcohol
Helps with eye bags and dark circles
Cons
The fragrance may be overwhelming for some
The lightweight texture of this eye cream soothes puffiness and hydrates the under-eye area. It contains hyaluronic acid that provides deep moisturization and the Avene Thermal Spring Water softens eye contour. This eye cream is hypoallergenic, free of parabens and gluten, and recommended by dermatologists worldwide. Many reviewers have also noticed visible results after using the eye cream.
Pros
Dermatologically recommended
Ophthalmologist-tested
Lightweight
Hypoallergenic
Paraben-free
Gluten-free
Suitable for sensitive skin
Approved by the National Eczema Association
Cons
*The prices provided in this article are based on the latest available information. However, they may vary due to changes in pricing by the seller and/or promotional offers.
Now that we've looked at the 10 best eye creams for eczema on eyelids, here's a quick buying guide to help you select one.
How Do I Choose The Best Eye Cream For Eczema On Eyelids?
The best eye cream for eczema on eyelids are the ones which are fragrance-free and allergens-free. The cream's composition should be made up of dermatologist-recommended and clinically-proven ingredients like ceramides and hyaluronic acid, as these restore the delicate skin around the eyes and hydrate it without irritating it further.
How Do I Get Rid Of Eczema On Eyelids?
Eczema does not usually cause any severe dame to your eyes. However, on rare occasions, the cornea can protrude outward because of keratoconus eczema around the eyes. It can also lead to defects in the shape of the cornea, cause gradual eyesight loss, and develop itchy skin and eyes. This is why it is utmost important to keep your eczema under control," advises Dr. Anna Chacon, a board-certified dermatologist. While there is no way to "get rid" of it, the best way to manage eczema on the eyelids is by using an eye cream that is suitable for your skin type. As mentioned above, a cream without artificial fragrances, composed of expert-recommended ingredients like ceramides and hyaluronic acid go a long way in controlling all the types of eczema on eyelids and around the eyes.
Frequently Asked Questions
Why do I get eczema on my eyelids?
Eczema on the eyelids is usually an allergic reaction and is usually due to seasonal allergies. If you are highly-allergic or have a family history of allergies, you will be more susceptible to this condition.
Is Vaseline good for eye eczema?
Yes, Vaseline is good for eczema and can help in reducing dryness by trapping the moisture in your skin. Because it is pure petroleum jelly, it contains no added fragrances or allergens, thus making it a good choice. It is recommended by some doctors for other skin conditions as well.
Can stress cause eczema on eyelids?
While stress is not a direct cause of eczema on eyelids, it can flare up the condition by provoking the eczema symptoms. When your body is in stress, it releases a hormone called cortisol. In large doses, it increases inflammation throughout the body, which ultimately leads to an eczema flare.
Is coconut oil good for eyelid eczema?
Yes, coconut oil is good for eyelid eczema. It is a highly moisturizing oil that effectively helps soothe irritated and inflamed skin. It has antibacterial properties, making it quite effective at killing skin bacteria.
How do you treat eczema on eyelids naturally?
To treat eczema, try using apple cider vinegar. Dip a small cotton ball in the liquid and gently dab it on top of your eyelids.
Will eczema on eyelids go away?
Yes. You can treat eczema on eyelids by using the right ingredients and avoiding common irritants that cause your skin to flare up.
What anti-itch cream is safe for eyelids?
A safe option for anti-itch cream for your eyelids is a topical immunomodulator, such as tacrolimus or pimecrolimus.
Recommended Articles