12 Best Gel Eye Masks
Say goodbye to tired, puffy eyes with these soothing formulas!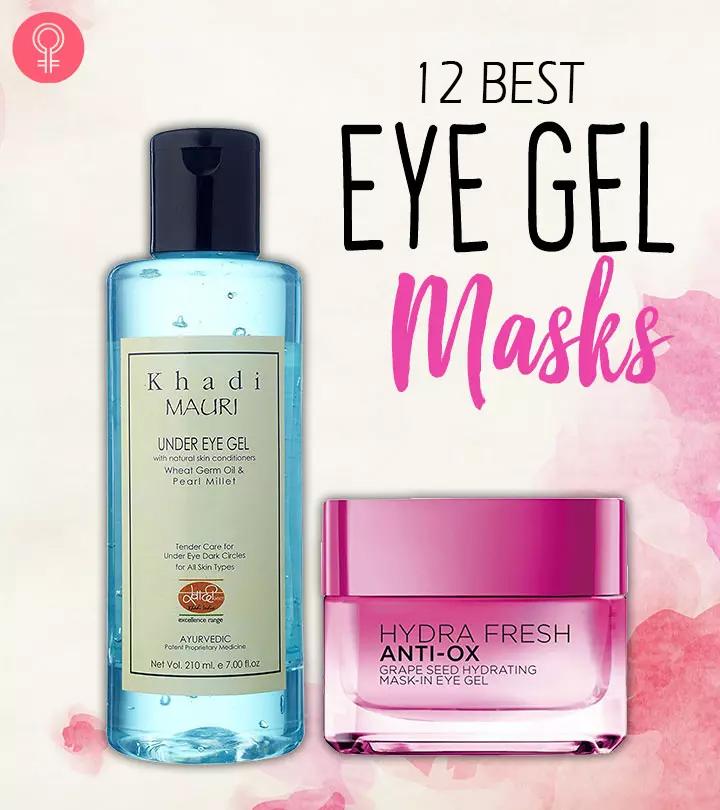 12 Best Gel Eye Masks Available In India
Review
Khadi Mauri is popular for its line of organic skin care products, and this under-eye gel from the brand never fails to impress. Its active ingredients include wheat germ oil, aloe vera, olive oil, and soy protein oil. Isn't that a ton of wholesomeness in a jar? It is especially ideal for anyone with dry and aging skin.

Pros
Brightens the eye area
Hydrates and moisturizes skin
Reduces the appearance of fine lines
All-natural ingredients
Reasonably priced
Cons
None
2. Blossom Kochhar Aroma Magic Under Eye Gel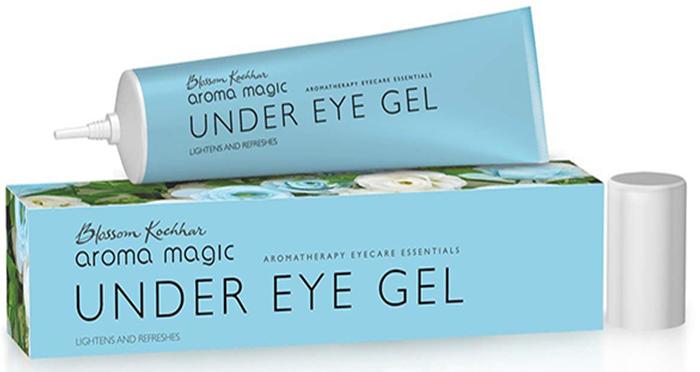 Review
Looking for something to improve the skin texture around your eyes? Blossom Kochhar Aroma Magic Under Eye Gel brightens and depuffs your eyes while making the skin around it firm and supple. It gets absorbed quickly and can also be used as an under-eye base before putting on your concealer. It is enriched with the pure essential oils of chamomile, witch hazel, and fennel.

Pros
Cools and soothes skin
Gets absorbed quickly
Does not leave behind a residue
Value for money
Chemical-free
Cons
None
Review
This organic eye gel from Biotique reduces and prevents the signs of stress, puffiness, and dark circles. It is enriched with the goodness of seaweed, honey, cucumber, and Himalayan water. Simply pat it around the eye area when your eyes need a dose of refreshment, and you're good to go. It is ideal for dull, tired eyes.

Pros
Cools and refreshes the eye area instantly
Soothes tired skin
Reduces inflammation
Preservative-free
Budget-friendly
Cons
None
Price at the time of publication: ₹169
4. L'Oreal Hydrafresh Anti-Ox Grape Seed Hydrating Mask-In Eye Gel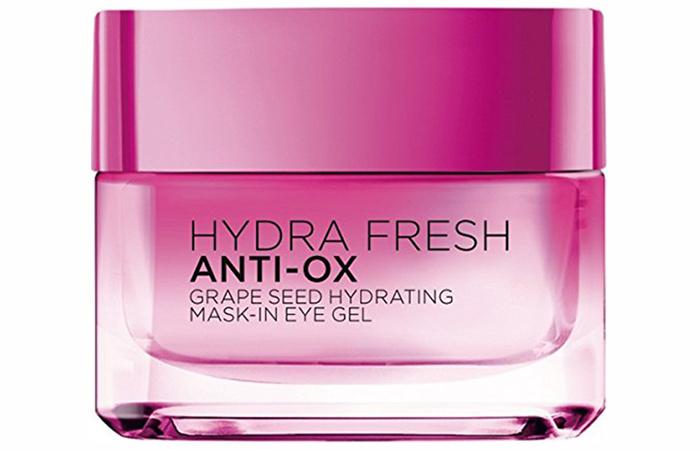 Review
L'Oreal Grape Seed Mask-In Eye Gel contains powerful antioxidants owing to its main ingredient – French grape polyphenols. Its mineral-rich formula maintains optimal hydration in the under-eye area without causing any greasy-sticky discomfort. With regular use, its formula reveals a softer, smoother, more radiant, and soothed eye area.

Pros
Quick-absorbing formula
Hydrates and moisturizes skin
Anti-aging properties
Value for money
Cons
None
Oriental Botanics Aloe Vera, Green Tea & Cucumber Eye Radiance Under Eye Gel Roll On is a fast-absorbing gel. This non-greasy gel hydrates and refreshes the under-eye area instantly and retains moisture for a long time. It is enriched with vitamins and antioxidant-rich botanical extracts such as aloe vera, green tea, and cucumber that reduce the appearance of fine lines and wrinkles. This roll-on helps in banishing dark circles and puffiness and brightening the under-eye area.
Pros
Moisturizing formula
Easy to use
Smoothens the skin
Reduces the appearance of fine lines and wrinkles
Hypoallergenic
No mineral oil
Paraben-free
Silicon-free
Sulfate-free
Cruelty-free
Cons
Price at the time of publication: ₹406
Review
Plum Age Specialist Bright Years Under-eye Recovery Gel is specially designed to heal the sensitive skin around your eyes. This eye gel is effective on wrinkles, dark circles, and dull skin. It fights pigmentation, keeps the under-eye area hydrated, and reduces visible effects of skin aging. The plant polypeptides, natural hyaluronic acid, and plant stem cells help to keep the under-eye area supple, tender, even-toned, and bright.

Pros
Cruelty-free
Vegan
Travel-friendly
Easy-to-use
Suitable for all skin types
SLS-free
Cons
None
Price at the time of publication: ₹822
Review
This eye mask is formulated with nanogold and botanicals. It moisturizes and rehydrates the skin around your eyes instantly. It relieves fatigue and diminishes the formation of fine lines, wrinkles, and crow's feet. It is the perfect companion for your eyes at the end of a long and tiring day.

Pros
Improves skin elasticity and firmness
Soothes and depuffs the eye area
Brightens skin
Budget-friendly
Cons
None
Review
If you think the skin around your eyes is in desperate need of some nutrition and repair, you need to get your hands on Dermal Collagen Essence Eye Mask. This sheet mask contains collagen and arbutin, which are both very effective at healing and hydrating skin. To top that, its key ingredients include hyaluronic acid and snail secretion filtrate that keep your skin soft and supple.

Pros
Soothes and cools the eye area
Its highly concentrated active ingredients penetrate deep into your skin.
Free of mineral oils and sulfates
Hypoallergenic
Cons
None
Price at the time of publication: ₹1800
Review
Wake up with eyes that are fresh and ready to take on the world every morning with Organic Harvest Under Eye Gel. Its formula stimulates blood circulation, improves skin tone and texture, and combats dark circles. It also works well to reduce the appearance of fine lines and wrinkles around your eyes.

Pros
Reduces puffiness
Improves complexion
Quick-absorbing
Lightweight
Cons
None
Review
If you're looking for a rich, luxurious formula for your eyes, you need to get your hands on this revitalizing eye gel from Forest Essentials. It is enriched with potent herbs that help lighten dark circles effectively. It contains cucumber, katak, and aloe vera that provide essential nourishment while rose water and vitamin E keep the eye area cool.

Pros
Maintains skin's elasticity
Soothes and moisturizes skin
Diminishes fine lines and wrinkles
Chemical-free
Cons
Review
This Korean eye gel patch is one you absolutely cannot miss. It contains green tea along with a high concentration of vitamins, nutrients, biostimulants, and antioxidants that work brilliantly on dark circles and fine lines. It also fights inflammation and reduces puffiness and redness.

Pros
Contains vitamins K, C, and B
Protects from negative environmental influence
Moisturizes skin at the cellular level
Slows down the aging process
Cons
None
Review
This cooling eye gel from the South Korean brand Laneige rejuvenates tired-looking eyes instantly with a surge of weightless moisture. It contains bilberry extracts that alleviate stress in the skin around your eyes and provide long-lasting moisture. This super potent gel is just the jolt your under-eye area needs every morning.

Pros
Penetrates deep into the skin
Cools and soothes the eye area
Refreshes the eye area and adds radiance
Prevents dryness
Cons
Before you buy a gel eye masks, consider the following points to make the right choice.
Things To Consider Before Buying A Gel Eye Mask
Ensure the eye mask suits your skin type for maximum benefits. There are moisturizing products for dry skin and oil-free products for oily or combination skin. Choose one according to your skin type.
What skin concern do you want to address with the gel eye mask? Is it to relieve stress, reduce puffiness, or fade the signs of aging? An eye gel mask is not a medicated product. Therefore, if the dark circles are a symptom of any medical condition, consult your doctor before using a mask.
The area around your eyes is very delicate. Therefore, the gel needs to be clinically or dermatologically tested. Check the label for appropriate certification.
There are many brands that offer good gel eye masks at affordable prices. The price depends on the ingredients or the country of origin. Do not just go for a cheap, low-quality product.
If you want to use the mask treat fine lines, collagen or retinol should be its main ingredients. Do an allergy test before using it regularly because many people are sensitive to these substances. Also, keep an eye on the validity period of the product. If the gel comes with an expiry date, remember to discard the product after that.
Shopping Guide
The eye area is delicate and sensitive. It is also the first part of your face to show signs of aging, so it is essential that you use a specially-formulated eye gel. Whether you've had a long week with barely any quality sleep or your eyes feel weary from all the hours you spend in front of a screen, an eye gel can come in real handy.
Price Range
With so many products flooding the market, you can find an eye gel in any price range. Drugstore brands like Biotique, Khadi, and Aroma Magic start from Rs. 200. Luxury brands like Forest Essentials and Laneige start from Rs. 1200. Good mid-range brands include L'Oreal, Anatomicals, and Organic Harvest that start at Rs. 400.
If you're wondering whether you really need a separate product for your under eyes, here's the truth – you very much do. You'll find tons of beneficial active ingredients in these formulas that your regular facial moisturizer lacks. The key is to use them consistently to notice a significant difference in the skin around your eyes.
That was our round-up of the 11 best gel eye masks available in India. Which one are you looking forward to trying? Let us know in the comments section below.
Frequently Asked Questions
What are the benefits of using gel eye masks?
Gel eye masks provide a cooling effect that lessens puffiness and eases eye strain. They also hydrate the delicate eye area and improve its appearance.
How often should I use gel eye masks for best results?
The frequency of usage of gel eye masks varies depending on your skin needs. However, in general, it is recommended to use 2-3 times per week.
Are there any precautions or side effects to consider when using gel eye masks?
Make sure to avoid direct contact with the eyes when wearing gel eye masks to prevent the possibility of allergic reactions.
Can gel eye masks be used for both hot and cold therapy, and what are the differences in benefits?
Gel eye masks can be used for both hot and cold therapy. Hot therapy enhances blood circulation around the eyes, while cold therapy provides immediate relief and reduces puffiness.
Are gel eye masks reusable or meant for one-time use only?
Gel eye masks are reusable and meant for multiple uses. They are excellent eco-friendly skincare options.
Recommended Articles: