10 Best Eye Masks for Dry Eyes 2023 – Reviews & Buying Guide
The on-the-go solution to rejuvenate your eyes while eliminating discomfort.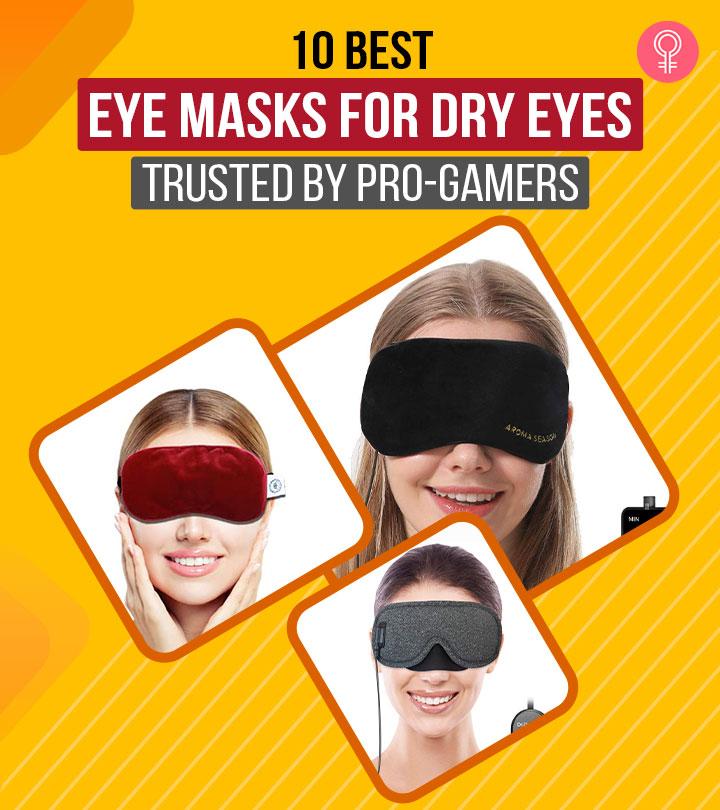 The most common eye issue that we face in our everyday life is dry eyes. To help with this, ophthalmologists suggest using the best eye masks for dry eyes. Staring at a screen all day, whether it is our computers, phones, or tabs, tends to cause dryness of the eyes leading to itchiness and discomfort. It is often accompanied by headaches and blurred vision.
The best eye masks for dry eyes help to relax the muscles around our eyes and unclog the tear ducts. They also soothe discomfort and inflammation. These gentle masks help deal with migraines and cluster headaches too. In this article, we have listed a few of these masks that you could give a try. Go on and take a look.
How Do Eye Masks Help Treat Dry Eyes?
A dry eye mask works as a warm compress, balancing hydration around the eyes and unclogging the tear ducts in the region. It helps soothe irritation and inflammation, refreshing the eyes in the process. Some eye masks can be refrigerated and substituted as a cold compress to help with migraines and headaches.
Scroll through our list of the best eye masks for dry eyes that will provide you instant relief.
10 Best Eye Masks For Dry Eyes
Pros
Washable
Reusable
Easy to use
Self-hydrating
Non-allergenic
Anti-bacterial
Latex-free
Made with non-toxic materials
Cons
Price at the time of publication: $17.3
Pros
Easy to use
Storage pouch included
Washable
Reusable
Odor-free
Self-hydrating
Adjustable strap
Microwave-safe
Cons
Doesn't retain heat for long
Price at the time of publication: $9.99
The ophthalmologist-recommended Moist Heat Eye Compress from Kimkoo improves eye health and relieves eye fatigue. It contains flaxseed that retains heat and transfers it as well. This flaxseed filling absorbs and stores moisture from the atmosphere and releases it upon being heated in the form of a relaxing warm water vapor compress that helps with dry eyes and more serious conditions like blepharitis. This lightweight eye relaxation mask comes with an adjustable elastic strap for a comfortable fit.
Pros
Self-hydrating
Reusable
Adjustable elastic strap
Ophthalmologist-recommended
Cons
Price at the time of publication: $18.99
The custom-fit design of the Heyedrate Heated Eye Mask is enhanced by the soft elastic strap that ensures it rests comfortably on the eyes and does not slip off. The eye pockets are filled with beads that release warm moist air onto the eyelids, unclogging tear ducts and blocked oil glands. This soothing warm compress offers relief from dryness, irritation, crusty eyelids, stickiness, and inflammation. To use it as a cold compress, place the mask in the freezer for two hours. The pliable gel pearls fit the shape of the eyes even when they are frozen. When cold, this mask offers some relief from headaches, sinuses, allergies, and induces restful sleep quality. This easy-to-use mask can be cleaned with a damp cloth.
Pros
Easy to use
Lightweight
Freezer-safe
Reusable
Velcro strap
Suitable for hot and cold therapy
Cons
Price at the time of publication: $19.97
Pros
Washable
Reusable
Works as hot or cold compress
Consistent temperature
Self-hydrating
Adjustable strap
Protective pouch
Cons
Price at the time of publication: $19.95
Pros
Washable
Multiple temperature settings
USB port
Protective pouch
Reusable
Scented
Lightweight
Auto shut-off feature
1-year quality warranty
Cons
Price at the time of publication: $19.99
Pros
Easy eye care
Adjustable velcro strap
Larger and wider size
Hot and cold therapy
Temperature maintained for 30 minutes
Comes with a storage pouch
Cons
Price at the time of publication: $14.95
The versatile Soothing Master Advanced Hydroheat Mask is fabricated from luxurious fabric that is pliable and leak-proof. It is packed with soothing properties of the self-hydrating beads that extract moisture from the air and release as warm vapor once heated in the microwave. This moist heat from the compress penetrates deep into the eyes to relieve issues like dryness, meibomian gland dysfunction, and blepharitis. You can use it as a cooling effect eye mask to address blocked sinus, migraine, headaches, and dark circles as well. It is fitted with an adjustable elastic strap for a comfortable fit.
Pros
Hot and cold therapy
Reusable
Self-hydrating
Easy to clean
Leak-proof
Odor-free
Protective storage pouch
Adjustable strap
Cons
None
Price at the time of publication: $16.99
The hygienic glass thermal bead filling in the TICLO's Heat Mask offers a weighted warm compress on the eyes. This moist heat mask releases warm vapor onto the eyes for hydration. The bead pouch is removable from the outer cover to allow easy washing. It is fitted with an adjustable Velcro strap that offers a secure fit and keeps it from slipping off. This mask comes with a pack of 30 aloe vera and vitamin E-infused eyelid wipes. Watch this video to understand the features of this eye mask in details and also understand how effective it is.
Pros
Easy to use
Washable cover
Hydrating
Consistent heat
Mold-free
Odor-free
Free eye wipes included
Risk-free trial
Cons
Price at the time of publication: $22.95
The USB-powered Dr. Prepare Heated Eye Mask offers a therapeutic treatment for numerous eye conditions like dry eyes, blepharitis, dark circles, MGD, and puffy eyes
It is heated by a carbon fiber element and is designed to deliver four heat intensities ranging from 95° F to 122° F. The four-timer settings ranging from 10 to 30 minutes with an auto shut-off function offer flexibility in duration of use. The velvet reverse and the elasticated band provide a comfortable fit. A unique flat nose cutout allows the mask to perfectly fit on various face shapes. This easy-to-clean cotton mask can be routinely washed to keep it hygienic and mold-free.
Pros
Adjustable straps
Flat nose cutout for universal fit
Washable
Multiple temperature settings
USB port
Reusable
Lightweight
Cons
Price at the time of publication: $22.79
These are the best eye masks meant for treating dry eyes. Given that there are so many options, how can you pick the right one for you? The following buying guide can help.
How To Choose The Best Eye Mask To Soothe Dry Eyes?
1. Material: Depending on your skin sensitivity, you can choose eye masks made from silk, cotton, or plastic material. While cotton masks are most comfortable, silk masks are ideal for sensitive skin and can prevent irritation.
2. Filling: Most eye masks are filled with beads or natural flaxseeds that absorb moisture from the air and convert it into warm vapor. Ideally, pick a mask that will offer the best hydration while retaining heat for an extended period.
3. Dual-Purpose Features: Look for a mask that works both as a hot and cold compress. These offer relief from dry eye conditions and headaches, migraines, and under-eye puffiness.
4. Washable: It is best to opt for a washable mask to ensure good hygiene for the safety of your eyes. Masks that are easy to clean do not promote bacterial build-up or mold and remain odor-free as well.
5. Fit: Elastic Velcro straps offer a secure fit and ensure the mask does not slip off during use. This is especially important if you plan to use the mask overnight.
6. Other features: Some masks offer high-tech features like USB ports, heating elements, or light cancellation. You may opt for those based on your requirement.
Frequently Asked Questions
Do eye masks help with dry eyes?
Yes, eye masks do help with dry eyes. These masks are heat-activated to release a warm vapor that helps open the blocked glands on the eyelid to promote the production of oil and lubrication of the eye.
Do dry eye masks really work?
Yes, dry eye masks work. Heated eye masks are an efficient method of self-care that can be used by people who suffer from dry eyes to supplement treatment from eye drops and eye ointments.
Do silk eye masks help dry eyes?
The smooth texture of silk masks helps in eye protection. Since silk has special moisturizing properties, these masks also help hydrate the eyelids and may ease dry eye conditions. They are also breathable and make you feel comfortable during the treatment.
Which is better for dry eyes: a hot eye mask or a cold eye mask?
A warm compress is best for treating meibomian gland dysfunction as the heat stimulates the oil glands and increases blood circulation in the eyes. A cold compress helps relieve the burning and pain that may accompany dry eyes, along with reducing the digital eye strain (caused due to overexposure to screens).
How often should you use a dry eye mask?
You can use a dry eye mask daily for 10-15 minutes.
Why do we get dry eyes?
Dry eyes may be caused due to aging, glaring at a screen all day, vitamins A and B2 deficiency, or certain medical conditions, such as Sjogren's syndrome, rheumatoid arthritis, lupus, or scleroderma.
How long does a dry eye mask last?
Dry eye masks usually last not more than a year.
Is it OK to sleep with an eye mask?
No. Sleeping overnight with an eye mask may dry out your eyes even more and damage your lashes in the long run.