13 Best Eye Serums For Wrinkles That Work Wonders – 2023
Turn the clock on undereye dark circles and bags with these safe and effective formulations.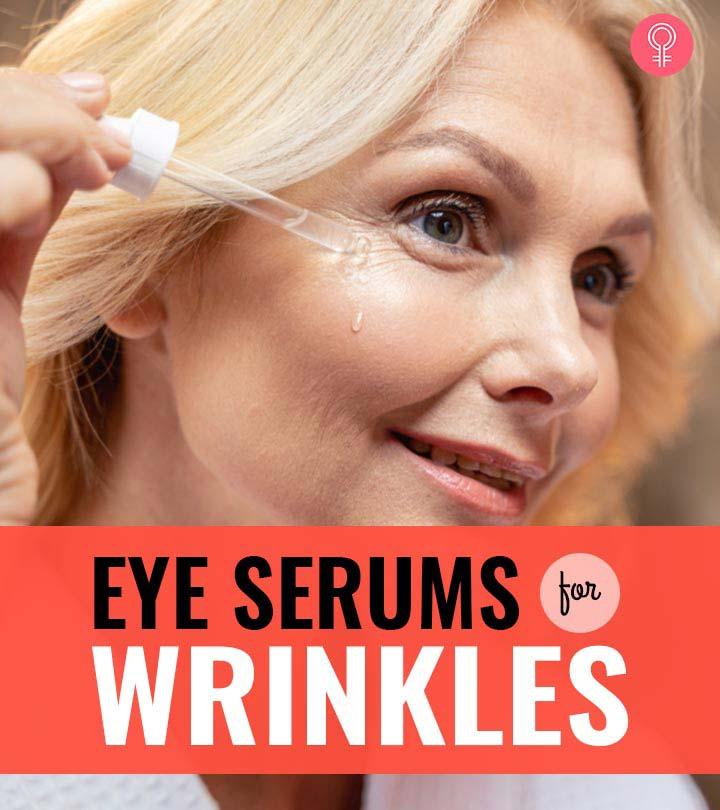 The area around your eye is delicate and needs to be taken care of separately. Although there are numerous anti-aging products on the market, you need to apply a different product for the area around your eyes, like an eye cream or eye serum. There are the best eye serums for wrinkles available online. Since the skin around the eye is delicate and thinner, you may start getting wrinkles soon. Here, we have compiled a list of the best 13 eye serums for reducing fine lines, wrinkles, puffiness, crow's feet, and dark circles. Scroll down to check them out!
How To Choose Eye Serum
Here are some basic rules and facts that you can keep in mind when choosing an eye serum. They will help you pick the right product and experience the best results.
Choose products with retinol and vitamin A. They help with the regeneration of skin cells and boost the synthesis of collagen. But remember to use only a small amount when applying.
Retinol increases your skin's sensitivity to the sun. A retinol product with SPF is ideal. Else, you can apply sunscreen religiously to protect against sun damage.
Cucumber, green tea, and aloe vera are useful for reducing under-eye puffiness and swelling.
If you are struggling with dark circles, choose products that contain caffeine, cucumber, and kojic acid.
It always helps to choose products with organic, natural ingredients rather than those packed with chemicals.
Now that you know what you need to keep in mind, let's take a look at the best eye serums for wrinkles below.
 Top 13 Eye Serums For Wrinkles – 2023
The Pure Biology Total Eye Serum is all the rage thanks to the ton of benefits it promises and delivers. The serum is packed with nourishing ingredients, like vitamins C and E, hyaluronic acid, aloe, and argan oil. The nourishing eye serum also contains stable proprietary complexes that are clinically proven to deliver powerful wrinkle-reduction results.
The serum also boosts antioxidants and promotes collagen production, reducing puffiness, under-eye bags, and dark circles. It also promotes blood circulation, reducing dark circles and adding radiance. This collagen-boosting eye serum brightens and renews the fragile skin around the eyes, making you look youthful and refreshed. There's also the added goodness of shea butter and primrose oil that improve the appearance of your skin within 30 minutes of application. The good news for animal lovers is that this product has not been tested on animals.

Pros
Suitable for all skin types
Shows quick and visible results
Keeps skin hydrated
Protects against UV exposure
Non-greasy
Fragrance-free
Paraben-free
Cruelty-free
Made in the USA
Clinically-tested
Cons
None
The Beaueli 2-in-1 Eye Serum & Eye Roller comes in a nifty design that combines the benefits of two products in one attractive package. The restorative eye serum helps bring back youthful health and vitality to mature, aging skin. The eye roller helps apply the serum in a smooth and even fashion while providing a cooling massage to the skin.
Apart from reducing the appearance of wrinkles and fine lines, this treatment is also suitable for reducing dark circles, dealing with dark spots and under-eye puffiness, and improving overall skin health. You can also use it on other areas of the face, particularly for soothing any inflammation. Dr. Schwarzburg, MD, says, "Roll on eye serums are a good way to apply your serum, especially in the morning when your eyes are puffy. This Beaueli 2 in 1 serum is great to use in the morning, during travel, or as a general part of your skin care routine. The roller is made of metal, which keeps it cool, calming and soothing the delicate area under your eyes." The positive reviews on Amazon attest to the satisfying reviewers' experience with this product.
Pros
2-in-1 product
Reduces fine lines and wrinkles
Helps treat dark circles
Rollerball targeted applicator
Can be used on other areas on the face
Provides intense hydration
Soothes redness and inflammation
Suitable for daily use
Non-irritating
Travel-friendly packaging
Cons
None
The St. Botanica Hyaluronic Acid Under Eye Recovery Serum helps plump up the under eye skin. The serum hydrates, nourishes, and revitalizes the skin under the eyes. The serum is infused with nature's potent anti-aging nutrients. This hyaluronic acid eye serum helps tighten the under-eye skin and minimizes fine lines and wrinkles. The serum also helps reduce dark circles and brightens eye contours. It promotes microcirculation and improves cell renewal. This gives the under eye area a smoother, youthful appearance. The fast absorbing, non-greasy serum is enriched with vitamins. The serum is dermatologically tested and is free from harsh and toxic chemicals.
Pros
Hydrates, nourishes, and revitalizes under eye area
Tightens skin under eyes
Minimizes fine lines and wrinkles
Reduces dark circles
Improves cell renewal
Fast-absorbing formula
Non-greasy
Free from harsh and toxic chemicals
Cons
None

St. Botanica Moroccan Argan Oil Firming & Illuminating Under Eye Serum is the best hydrating eye serum for all skin types. This serum provides intense hydration and nourishment to the sensitive under-eye area. It is a blend of botanical extracts, vitamins, and natural oils that help reduce dark circles, puffiness, fine lines, and wrinkles.
The main ingredient in this serum is Moroccan argan oil, a precious moisturizing agent that replenishes the lost moisture and eliminates dryness. It is also infused with vitamin E that helps in smoothening fine lines and wrinkles, and plant extracts that help in firming and brightening the appearance of the under-eye area.
Pros
Hydrating formula
Reduces dark circles, puffiness, and wrinkles
Mineral oil-free
Paraben-free
No toxic chemicals
Cons
None
The Eavara Anti-Aging Eye Serum helps reverse the aging process as you deal with the appearance of fine lines and wrinkles. The organic eye serum uses all-natural ingredients to provide nourishing skin care for your eyes. Its nutrient-rich formula restores radiance and youthful vitality to aging skin. The ingredients used in this product are clinically-tested.
The eye serum contains a wholesome blend of organic oils, such as jojoba seed oil and olive oil, along with shea butter, lavender flower extract, hyaluronic acid, and vitamin E. It uses a formula free of harsh chemicals to care for your skin without causing any irritation. Dr. Schwarzburg, MD, says, "The suborbital region (under eye region) is a very delicate area that requires gentle products when applied topically. Eavara Anti-Aging Eye Serum does not contain harsh chemicals that could sensitize the thin skin beneath your eyes or cause irritation. Before using any product around your eyes, be sure to check the ingredients if you are prone to allergic reactions, as even the most soothing ingredients can cause irritation in some individuals with sensitive skin."
Pros
No harsh chemicals
Clinically-tested
Made in the USA
Cruelty-free
Non-drying
Paraben-free
Travel-friendly packaging
Affordable
100% forever guarantee
Cons
May not work for all skin types.
The Petunia Revitalize Eye Serum has a host of anti-aging benefits that rejuvenate tired as well as aging eyes to reveal a bright and youthful glow on your face. The eye serum is effective in minimizing the appearance of wrinkles and fine lines. It revitalizes the appearance of mature aging skin, making it look fresh and youthful. This results-driven product also reduces puffiness, dark circles, crow's feet, and under-eye bags.
The rejuvenating eye serum contains hyaluronic acid, which moisturizes and hydrates dry, flaky skin while treating the signs of aging. Other natural ingredients include cucumber hydrosol and an infusion of plant stem cells extracted organically. Matrixyl 3000 firms sagging skin, restoring vitality, and elasticity.
Pros
Contains natural ingredients
Vegan formula
Cruelty-free
Reduces puffiness and dark circles
Hydrates dry skin
Travel-friendly packaging
Affordable
Lifetime warranty
75% of organic ingredients
Cons
Results may be inconsistent.
The juice Beauty Stem Cellular Anti-Wrinkle Eye Treatment has proven efficacy in reducing the appearance of fine lines, wrinkles, and dark circles around the eyes. It is enriched with essential fatty acids and vitamins that provide antioxidant benefits and hydrate the under-eye area. This serum contains jojoba oil, shea butter, borage, linseed, and evening primrose oil that help nourish the skin around your eyes. The visible results of this product are supported by clinical data which were based on the testers' experience.
Pros
Long-lasting effects
Suitable for all skin types
Cruelty-free
Vegan
Paraben-free
Sulfate-free
Phthalate-free
Silicone-free
Gluten-free
Dye-free
Fragrance-free
Petroleum-free
PEG-free
TEA-free
DEA-free
Non-GMO
Cons
None

The Dr. Dennis Gross Advanced Retinol + Ferulic Triple Correction Eye Serum actively combats the signs of aging. Its photo-retinol blend gets quickly absorbed into the skin and gives you firmer, more supple, and smoother skin. It provides visible results by hydrating the skin from deep within and reducing wrinkles and crepiness of the skin. The regenerating eye serum comes with the essential collagen-building ingredient, phyto-retinol blend, which is essential for young and supple skin.
Pros
Hydrating formula
Reduces aging signs
Improves skin texture
Promotes collagen production
Reduces eye puffiness
Paraben-free
Phthalate-free
Vegan
Cruelty-free
Cons
None
The Neutrogena Hydro Boost City Shield Eye Serum is enriched with hyaluronic acid and potent antioxidants. For those of you living in the city and struggling with the skin damage caused by pollution – this eye serum from Neutrogena is the solution. The anti-oxidant eye serum revives tired eyes and relieves stress to give you soft and supple skin.
The formula also contains multivitamin capsules that hydrate the skin around the eyes to make them appear bright and awake. The purified hyaluronic acid attracts moisture and locks it in to hydrate the skin and keep it from drying out.
Pros
Suitable for all skin types
Can be worn under or over makeup
Gets absorbed easily
Alcohol-free
Oil-free formula
Non-comedogenic
Affordable
Cons
May cause burning sensation.
May irritate sensitive skin.
The Drunk Elephant Shaba Complex Eye Serum is a silky smooth formula created using several effective ingredients. It treats the significant signs of aging that show up under and around the eyes. You can use this serum to help treat fine lines, wrinkles, dark circles, puffiness, and age spots.
The serum contains a powerful blend of black tea ferment and copper peptides, which help firm up the delicate skin around the eyes. Using this serum regularly can be particularly useful for delaying the appearance of wrinkles and other marks of aging.
Pros
Provides lasting moisturization
Smooth application
Gets absorbed easily
Cruelty-free
No artificial fragrances
Travel-friendly packaging
Made in the USA
Cons
Expensive
Pump dispenser tends to get clogged.
The Dr. Dennis Gross Ferulic + Retinol Triple Correction Eye Serum is designed to target the most common complaints related to aging – wrinkles, dark circles, and puffiness. The serums is formulated by NYC dermatologist Dr. Dennis Gross. It works on the principle that ferulic acid and retinol together can help with these issues.
The potent antioxidants in the formula help the skin appear firmer, minimize the appearance of wrinkles, and repair the crepey skin on aging eyelids. This retinol eye serum also contains licorice root extract, which brightens dark circles and treats under-eye puffiness. The brightening eye serum also contains caffeine that provides an instant firming effect.
Pros
Suitable for all skin types
Lightweight texture
Professional-grade ingredients
Allows smooth makeup application
Travel-friendly packaging
Non-greasy
Cons
May dry out the skin.
Expensive
The Boots No7 Youthful Eye Serum targets the vital signs of aging that appear around the eyes. It provides competent and instant results and adds youthful radiance to the area around your eyes. The formula contains a potent fusion of cassava, vitamin A, and anti-aging peptides.
The Boots Eye Serum immediately smoothens, brightens, and revitalizes mature, aging skin. This results-driven peptide eye serum visibly minimizes the appearance of wrinkles and fine lines and helps treat dark circles and under-eye puffiness. Dr. Schwarzburg, MD, says, "Vitamin A is a common ingredient used in anti-aging and acne relieving products. Boots No7 Youthful Eye Serum is also hypoallergenic, meaning that it is suitable for those with sensitive skin or people who are prone to allergic reactions. If you have dry skin, this product may not be ideal as vitamin A or ingredients derived from vitamin A may cause the skin to dry out more."
Pros
Suitable for all skin types
No artificial fragrances
Hypoallergenic
Affordable
Phthalate-free
Aluminium-free
Cons
May cause irritation.
May dry out the skin.
Inconsistent results
The Murad Retinol Youth Renewal Eye Serum is an anti-aging eye serum for targeting and improving the main signs of aging. The Retinol Tri-Active Technology in the formula works on fine lines, wrinkles, crow's feet, dark circles, and sagging skin.
A nutrient-rich marine kelp complex is infused into the skin with this serum. This eye serum for mature skin helps to visibly lift and firm sagging skin while brightening dark circles to add radiance and youthful vitality to aging skin. You will notice visible results with continuous use of this product. Check out this YouTuber's review of this product and learn about the their experience with the product.
Pros
Suitable for all skin types
Paraben-free
Sulfate-free
Phthalate-free
Gluten-free
Cruelty-free
Cons
Expensive
Take time to show results.
Inconsistent effectiveness
Why Trust StyleCraze?
The author, Sakshi Bahal, has a deep interest in skincare and loves reviewing different skin care products for her readers. She has curated a list of the best eye serums for wrinkles after thorough research into the ingredients of various products and going through numerous reviews and feedback on multiple forums. The shortlisted eye serums brighten and renew the fragile skin around your eyes and restore youthful brightness and vitality to aging skin.
Frequently Asked Questions
Can I use eye serum all over my face?
No. Eye serums contain heavy moisturizing ingredients, which are mostly oil-based and clog the pores on the face. They also contain strong, active ingredients to counter the anti-aging signs around the eyes, which may cause breakouts in facial skin.
Should I apply eye cream before or after serum?
Apply the serum first and let it get absorbed before applying the eye cream.
How long should you wait to put on moisturizer after serum?
Depending on how fast your serum gets absorbed into the skin, it can be anywhere between 2-5 minutes.
How many drops of serum should I use?
1-2 drops of serum is sufficient for the delicate skin around the eyes.
Can I skip moisturizer after serum at night?
You may skip the moisturizer for extra oily skin, if your serum is enough. But, using a lightweight moisturizer helps seal the moisture barrier and hydrate the skin.
Recommended Article