16 Best Eye Serums That Soften Wrinkles And Puffiness – 2022
Get rid of tiredness and photoaging around the eyes for a refreshed, rejuvenated look each morning.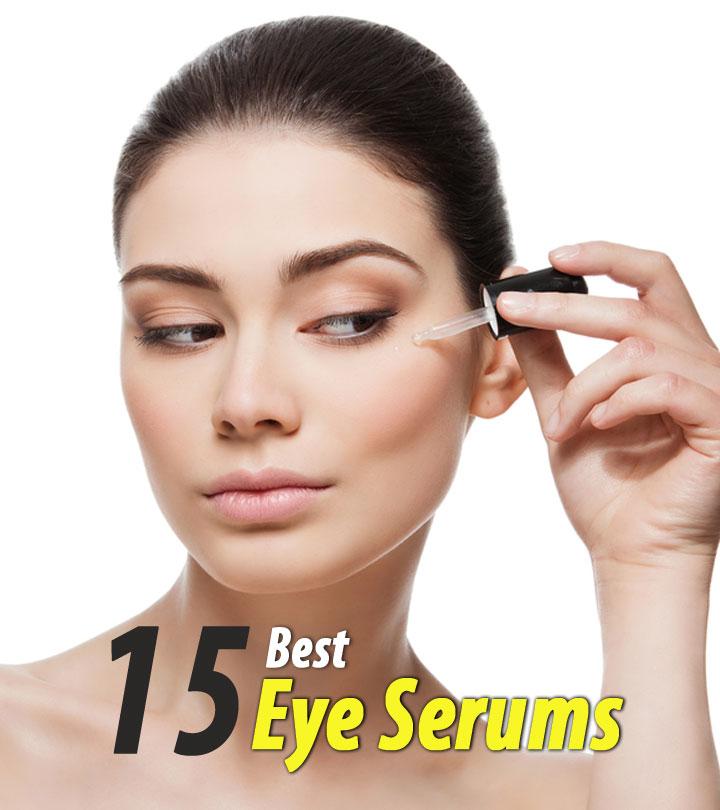 Stress, long working hours, and gravity can pull skin under your eyes down and give you wrinkles and fine lines. To stop that from happening, use the best eye serum out there. The skin around your eyes is thinner than the rest of your body and doesn't have oil glands to keep it hydrated. That is when a good eye serum comes into the picture. The right eye serum will contain hydrating ingredients like hyaluronic acid, aloe vera, glycerin, or retinoids that will moisturize your skin and keep it smooth. What makes eye serums better than eye creams is that they are lighter and absorb faster into your skin. Crow's feet, wrinkles, dark spots, puffiness, sagging skin, eye serums address all kinds of skin problems. Check out our list of the top eye serums that can keep your eyes soft and bright. All you need to do is select the one that suits you best, and you are good to go! Scroll down to know more!
16 Best Eye Serums – 2022
Pure Biology Total Eye Cream Serum is specially formulated for deep hydration and anti-aging functions. It brightens the eye area, reduces wrinkles, and smoothens the complexion. Its proprietary anti-aging blend contains hyaluronic acid, aloe, argan oil, vitamin C, and vitamin E. It is clinically formulated with a complex called SymLift that fills in wrinkles and reduces the appearance of fine lines and crow's feet. It contains antioxidants like caffeine and vitamin C that help in protecting the skin from UV rays by stimulating collagen production. EyeBright, a plant-based ingredient, acts as an astringent and helps renew the thin and delicate skin around the eyes. It reduces puffiness, dark circles, and under-eye bags. Its regular use makes the delicate eye area look more refreshed and youthful as it contains shea butter, primrose oil, and other natural extracts.
Pros
Reduces dark circles and puffiness
Reduces fine lines
Non-greasy
Non-GMO
Fragrance-free
Paraben-free
Cruelty-free
Cons
Olay Eyes Eye Lifting Serum's velvety formula helps lift sagging skin and smoothens and brightens the skin around the eyes. It hydrates the eye area, plumps up the skin, and reduces the appearance of under-eye bags with every use. It lifts the sagging skin on the eyelids and makes it firm. The amino-peptide and vitamin complex in it helps in skin rejuvenation skin cell turnover. This peptide eye gel is better than drugstore eye creams as it lifts the skin around the eyes with its lightweight, hydrating, and potent formula.
Pros
Moisturizes the skin
Reduces fine lines and crow's feet
Suitable for sensitive skin
Fragrance-free
Non-greasy
Gets absorbed quickly
Cons
Contains phenoxyethanol
May cause irritation
The St. Botanica Vitamin C 10% Brightening Eye Serum nourishes the skin around your eyes with hydrating, rejuvenating, and brightening effects. It visibly reduces under-eye puffiness, dark circles, and fine lines. The gentle formula is free of harmful ingredients, such as parabens, silicones, and mineral oils, making it safe to apply on the delicate skin around your eyes. Vitamin C is present in the serum in a stable concentration of 10%, which is easily absorbed by the skin and effectively lightens pigmentation.
Pros
Suitable for all skin types
Provides intense hydration
Stable 10% concentration
Rich in antioxidants
Cruelty-free
No harsh chemicals
Cons
This nourishing and hydrating eye serum contains hyaluronic acid that locks the moisture in the skin. It also contains a peptide complex that provides powerful anti-aging benefits like improving the skin's elasticity, reducing wrinkles, and brightening the skin. This formula also helps reverse the appearance of dark spots, age spots, and skin darkening caused by acne, scars, wounds, and stress. The roller helps to gently massage the serum into the skin without damaging the delicate area. Its regular use helps firm up the skin around the eyes, reduce puffiness, and restore healthy and young skin.
Pros
Moisturizes the skin
Reduces dark spots and dark circles
Gets absorbed quickly
Brightens the skin
Cons
This depuffing massage gel helps brighten and refresh the eye area. It contains antioxidants, botanical extracts, and caffeine that revive tired and fatigued skin. This roller can be carried anywhere and used as a spot treatment and under makeup. Its deeply hydrating formula helps in treating dark circles and wrinkles to reveal bright and plump skin. It can be used regularly to treat tired-looking, strained eyes by both men and women. This gentle formula is suitable for all skin types and skin tones.
Pros
Moisturizes the skin
Reduces puffiness
Paraben-free
Sulfate-free
Ophthalmologist-tested
Travel-friendly
Cons
May cause slight irritation
Murad's Retinol Youth Renewal Eye Serum is formulated with Retinol Tri-Active Technology that helps reduce all the key signs of eye-area aging such as wrinkles, dark circles, dark spots, sagging skin, crow's feet, and puffiness.  The formula contains nutrient-rich marine kelp complexes that lift and firm the skin around the eyes. The smooth texture of the serum helps soften the fine lines and wrinkles around the eyes. It also revitalizes and brightens the skin around the eyes, reducing the appearance of dark circles and other skin care concerns.
Pros
Lightens dark circles
Reduces wrinkles
Paraben-free
Phthalate-free
Cons
Expensive
Contains phenoxyethanol
This hydrating serum from Tatcha works instantly to reduce the fine lines and puffiness around the eyes as it contains caffeine, Okinawa red algae, and honeysuckle leaf. These ingredients moisturize, firm up, and brighten the skin around the eyes. It also comes with a cooling roll-on massage-tip applicator that calms and depuffs the under-eye skin. Its fine dust of 23-carat gold illuminates the skin without adding shimmer. It is so lightweight that it can be used under makeup for that beautiful glow!
Pros
Reduces fine lines and wrinkles
Cooling ceramic applicator
Lightweight
No mineral oils
Free from synthetic fragrances
Non-comedogenic
Non-irritating
Cons
Drunk Elephant Shaba Complex Eye Serum is an anti-aging eye serum made with clean ingredients that help fight the visible signs of aging around your eyes. This anti-wrinkle eye serum contains the Shaba complex that reduces the appearance of fine lines, age spots, and wrinkles. Black tea ferment and copper peptides treat dark circles, puffiness, and fatigue. Apart from repairing and restoring the under-eye skin, it helps improve cell turnover in the delicate eye area to give you firmer, healthier, and more beautiful skin.
Pros
Reduces crow's feet
Clean ingredients
Alcohol-free
Silicone-free
Free from synthetic fragrances
No synthetic dyes
Cruelty-free
Suitable for sensitive skin
Cons
May cause dryness
Expensive
Dr. Dennis Gross Ferulic + Retinol Eye Serum targets three major aging complaints – puffiness, wrinkles, and dark circles. Itcontains antioxidants and powerful anti-aging ingredients like caffeine, ferulic acid, licorice root extract, and retinol that help improve the firmness of the skin and lighten dark spots and dark circles to reveal an even complexion. It reduces the  appearance of fine lines and wrinkles and restores the plumpness and firmness of the skin. Licorice root extract is especially beneficial in brightening your skin and reducing dark circles. Caffeine is known to instantly depuff  the under-eye area. This eye serum is smooth in texture and gets absorbed quickly into the skin, leaving it bright and hydrated.
Pros
Reduces wrinkles
Brightens complexion
Lightweight
Easy to use dispenser
Cons
May cause dryness and flaking
Eavara Anti-Aging Eye Serum is blended with organic, natural, and botanical active nutrients that give you younger and refreshed skin. This award-winning serum contains antioxidants such as organic jojoba seed oil, shea butter, hyaluronic acid, and vitamin E that  give your skin exceptional anti-aging benefits. They protect the skin from sun damage that accelerates the process of aging.These ingredients also help in boosting the production of elastin in the cells, which leave the skin firm and hydrated. Lavender flower extracts and organic olive oil also help in soothing and moisturizing the skin.
Pros
Reduces puffiness
Lightens dark circles
Protects the skin
Moisturizes the skin
All-natural ingredients
Cruelty-free
Paraben-free
Sulfate-free
No synthetic fragrances
Cons
May cause redness and irritation
Verso Super Eye Serum containsRetinol 8, which is a stabilized complex of vitamin A. It is eight times more effective and half as irritative as standard retinol. Thus, it shows improvement faster than its counterparts. It helps in the production of collagen that helps in fighting the signs of aging such as fine lines and wrinkles. This light eye serum gets absorbed quickly into the skin and helps in making it plump, firm, and smooth. This firming and smoothening eye serum contains a purified form of turmeric, which is a powerful antioxidant. It protects the skin from sun damage. The peptides in this serum help reduce puffiness, pigment spots, and dark circles. The gentle serum protects the delicate under-eye area while restoring its firmness, elasticity, and texture.
Pros
Tightens the skin
Reduces crow's feet and fine lines
Paraben-free
Immediate and long-term visible results
Vegan
Cruelty-Free
Cons
Contains phenoxyethanol
Expensive
Petunia Revitalize Eye Serum restores, rejuvenates, and hydrates the delicate  skin under the eyes. It helps in reducing puffiness, eye bags, dark circles, sagginess, and crow's feet around the eyes.  It containsMatrixyl 3000, hyaluronic acid, and cucumber hydrosol that provide soothing and intense moisturization to dry and flaky skin. These ingredients also make the skin plump and firm by reducing the appearance of fine lines and wrinkles. The organic herbal infusion of plant stem cells along with vitamin E protect your skin from sun damage and aging.
Pros
Reduces dark circles
Moisturizes the skin
Organic ingredients
Paraben-free
Vegan
Cruelty-free
Biodegradable packaging
Affordable
Cons
This two-in-one eye serum works as an anti-aging serum as well as a lash fortifier. It contains hyaluronic acid that transforms the fragile under-eye area by hydrating it and locking the moisture in the skin. This reduces the appearance of wrinkles and makes your skin look plump and firm. Rhamnose, a natural sugar, also helps in fighting the signs of aging.  The serum contains ceramides that conditions and strengthens the eyelashes. This serum is suitable for people with sensitive skin and those who wear contact lenses as it has been approved by ophthalmologists and dermatologists. Its regular use will smoothen and illuminate the skin around the eyes.
Pros
Adds volume to lashes
Reduces fine lines and wrinkles
Paraben-free
Fragrance-free
Dermatologically-tested
Allergy-tested
Suitable for sensitive skin
Suitable for contact lens wearers
Cons
May dry out the skin
Expensive
Luminositie Nourish And Repair Eye Serum is formulated with ingredients that deeply hydrate, moisturize, and nourish the skin such as jojoba oil, shea butter, hyaluronic acid, and vitamin E. This lightweight serum also contains extracts of aloe, rosehip, lavender, and white tea. These ingredients protect, repair, and rejuvenate the skin cells. This anti-aging serum helps in reducing puffiness, eye bags, wrinkles, sagging skin, fine lines, crow's feet, and dark circles. These all-natural ingredients are gentle on all skin types and help in lifting the area around the eyes for younger-looking, bright skin.
Pros
Reduces dark circles and puffiness
Nourishes the under-eye skin
Lightweight
All-natural ingredients
Paraben-free
Suitable for all skin types
Cons
The primary ingredient of Neutrogena Hydro Boost City Shield Eye Serum is hyaluronic acid. Hyaluronic acid provides intense hydration to the skin as it absorbs and locks in moisture. This helps the skin look soft and supple. This eye serum is enriched with antioxidants that fight the free radicals that cause skin damage and premature aging. It also contains capsules of multivitamins and antioxidants that revive the pollution-stressed eye area. The serum is non-greasy and can be used under or over makeup for a bright, youthful glow.
Pros
Moisturizes the skin
Brightens and tightens the under-eye skin
Can be layered under or over makeup
Oil-free
Alcohol-free
Non-comedogenic
Affordable
Cons
May cause a mild burning sensation
Boots No 7 Youthful Eye Serum is an effective treatment against the signs of aging around the eyes. It contains pure vitamin C, a powerful anti-aging agent and antioxidant, that protects the skin from damage and stimulates collagen production. Collagen helps in making your skin firm and supple. The serum also contains hyaluronic acid and vitamin A that help in reducing fine lines, wrinkles, and dark circles around the eyes. The serum also brightens and  revitalizes the skin. The anti-aging peptides and cassava in it help in fighting puffiness, crow's feet, and discoloration. Using this gentle serum regularly can improve the under-eye skin's firmness, texture, and complexion.
Pros
Moisturizes the skin
Lightweight
Brightens the skin
Reduces puffiness
Hypoallergenic
Cons
Strong fragrance
Contains parabens
Why Trust StyleCraze?
The author, Shiboli Chakraborti, is a certified skin care coach and writes well-researched product reviews. She has curated the above list of best eye serums based on her hours of research and a thorough evaluation of user feedback gathered from trusted online forums. These serums get absorbed quickly and moisturize the skin under the eyes, minimizing wrinkles, fine lines, puffy eyes, and dark spots.
Frequently Asked Questions
Is eye serum necessary?
No. But, use an eye serum to maintain a nourished and hydrated skin around your eyes.
Is eye serum better than cream?
Eye serums are better as they get absorbed into the skin more effectively than a cream with a more consistent texture.
Where do you apply eye serum?
You apply eye serums under your eyes. .
Can I use eye serum all over my face?
No, the highly concentrated formulation of eye serums may clog your pores and cause breakouts on your face.
How often should you use an eye serum?
You can apply eye serums once or twice a day for good results.
Does eye serum make us sleepy?
No, sleepiness is not a side effect of applying an eye serum.
Do you put eye serum on eyelids?
No, eye serums are applied under the eyes, whereas eye creams are used on the eyelids in minimum amounts.
Recommended Articles