9 Best Eyebrow Gels
All you need to accentuate your arches and keep your brow game on fleek!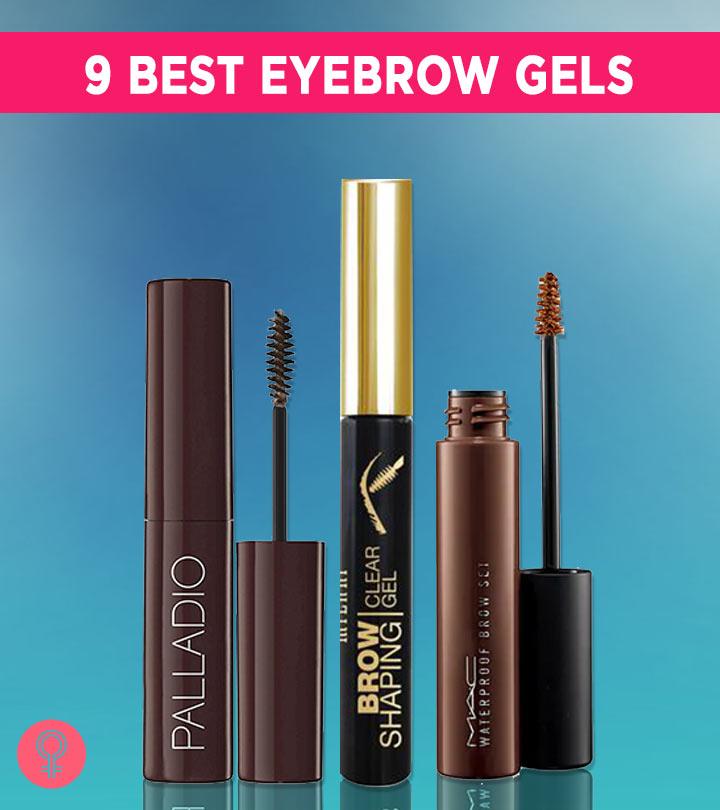 Eyebrow gel is for your brows what hairspray is for your hair: it helps you tame, define, and hold in place all that effort you put into your brow routine. If you have full, thick brows, an eyebrow gel is especially great for you to achieve a well-groomed look. While some gels are transparent to give your brows invisible structure, others are tinted to boost the volume and thickness of sparse eyebrows.
We've put together 9 of the best eyebrow gels on our beauty radar that are actually worth trying. Keep reading to find the perfect product for your brows.
9 Best Eyebrow Gels Available In India
Review
This eyebrow gel from M.A.C is a brush-on formula that grooms and defines your brows. It helps in naturally shading in color to create subtle or dramatic looks. Its non-greasy formula sets hair gently, providing a healthy-looking sheen. You can now get this formula in six new hues to match any hair color – from deep ebony to a shimmering soft gold-brown.

Pros
Easy to use
Waterproof
Long-wearing
Value for money
Small Christmas-tree like brush that offers precise application
Cons
Review
Ka-Brow by Benefit features a cream-gel formula with a built-in brush that shapes, fills, and defines brows perfectly. Its 24-hour smudge-proof color builds beautifully to create brow looks ranging from soft and natural to bold and dramatic. You can transform its cap into a full-length brush for extra precision by pulling the brush out of the cap, flipping it around, and snapping it back in. This eyebrow gel is available in 8 shades.

Pros
Just a little product required per use
Buildable formula
Long-wearing
Easy to use
Value for money
Cons
Price at the time of publication: ₹4019
3. e.l.f Clear Brow & Lash Mascara Gel
Review
Whether you want to enhance your brows or your lashes, you'll achieve a glossy and healthy-looking sheen with this clear gel from e.l.f cosmetics. This formula is infused with long-wearing conditioning agents and is the perfect product for more defined brows and lashes. It is also 100% vegan and cruelty-free.

Pros
Easy to apply
Long-lasting
Lightweight
Great value
Adds volume to brows and lashes
Cons
None
Review
Tame wild brows with this ultra-light brow gel from Palladio. Its innovative formula has incredible holding power. With a just few quick strokes of this product, you can set, tame, and tint your eyebrows. It is available in two natural-looking shades: Light/Medium and Medium/Dark.

Pros
Lightweight formula
Easy to use
Buildable color
Long-wearing
Budget-friendly
Cons
Limited shade options
Expensive
Price at the time of publication: ₹1682
Review
This brow styling gel from Rimmel comes with a precision tapered brush that allows you to achieve the most uniform application. Its comfortable and lightweight gel texture gives you sculpted and defined eyebrows that last all day. You can get this styling gel in four shades: Blonde, Medium Brown, Dark Brown and Clear.

Pros
Infused with argan oil
Easy to use
Long-lasting
Lightweight
Pocket-friendly
Cons
None
Price at the time of publication: ₹6.49
Review
Ideal for everyday grooming, the Milani Brow Shaping Clear Gel holds, defines, and sculpts your brows by whipping stray hairs into place for a clean and polished look. For best results, use its bristle brush to apply the gel in upward strokes in the direction of your hair growth.

Pros
Lightweight formula
Perfect amount of hold
Long-wearing
Vegan
Cons
None
Review
Fill in your brows with this multitasking brow gel from Essence. This 3-in-1 mascara gives your brows color, density, and shape in one easy step. It contains tiny fibers that fill in sparse areas and gaps to give you beautifully defined and fuller eyebrows.

Pros
Easy application
Budget-friendly
Long-wearing
Available in two shades
Cons
Price at the time of publication: ₹1805
Review
If out of control brows have you flustered, the NYX Control Freak Brow Gel is a great way to tame them quickly. Its clear formula works well over pencil and powder eyebrow products to seal the deal and make a brow-defining statement. It can also be used to define, separate, and enhance the natural curl of lashes.

Pros
Versatile formula
Easy to use
Long-staying
Non-sticky
Cons
None
Price at the time of publication: ₹1134.0
Review
Swiss Beauty gel Mascara comes in a pocket-friendly container. The bristles are well-structured for even application without clumps. It is in gell form that offers volume to the lashes, keeps them smooth and hydrated. The mascara comes in a 9 ml quantity and is easy to apply.
Pros
High longevity
Easy-to-remove
Price worthy
Non-sticky
Cons
May not be suitable for curls
These are the best eyebrow gels available online. The following buying guide helps you make a better purchase decision. Take a look.
How To Choose The Best Eyebrow Gel
Eyebrow gels come in strong, medium, and light hold options. You can choose any of them based on your eyebrow thickness. For thick and bushy brows, stronghold gels are recommended; and for thin to medium brows, light to medium hold gels can be opted.
Eyebrow gels come in clear, black, and brown shades to match with the natural color of your brows. You can opt for any suitable shade for your brows. Just ensure the pigmentation the color offers does not make your brows stand out way too much. Besides, if you opt for a clear shade, make sure it does not leave any residue on your brows.
Many of these eyebrow gels come with the goodness of natural oils like almond and avocado. You can opt for such gels as they provide nourishment to your brows and make them look full and thick.
If you are buying an eyebrow gel for the first time, consider checking the reviews. They will help you understand the reliability of the product.
Price Range
An eyebrow gel can cost you anywhere between Rs. 250 and Rs. 2000. Inexpensive drugstore options include brands like Essence, e.l.f., and Palladio. Mid-range brands like NYX and Milani start from Rs. 600 onwards. High-end brands like M.A.C and Bobbi Brown fall on the expensive side.
Brows have undeniably been the beauty obsession of the decade. Everyone wants a strong eyebrow game, and your choice of brow products goes a long, long way in helping you step up your game. That was our round-up of the 9 best eyebrow gels available in India. Which one are you looking forward to trying? Let us know in the comments section below.
Frequently Asked Questions
Does an eyebrow gel provide a natural and long-lasting hold for unruly or sparse eyebrows?
Yes, an eyebrow gel provides a natural and long-lasting hold for unruly or sparse eyebrows. These gels hold eyebrows in place and some may even add color or volume. They are especially handy if your brows are wild or need more grooming.
Are there any specific application techniques for using an eyebrow gel?
Start by cleansing your brows with a makeup wipe or micellar water. Brush your brows against the grain to coat them with the gel, then brush them back in the direction of hair growth (their normal direction). Shape your brows as desired before the gel dries. You can use a tinted or clear brow gel, depending on your preference. Furthermore, you can also fill in sparse areas with a brow pencil or pen.
Does an eyebrow gel offer a waterproof or smudge-proof formula, making it suitable for all-day wear?
The M.A.C Pro Longwear Waterproof Brow Set offers water-resistant and smudge-proof formula, making it suitable for all-day wear.
Are there any additional benefits or ingredients in eyebrow gels that promote eyebrow health or growth?
Eyebrow gel may keep flyaway brow strands in place. If your brow gel is colored, it may also give the illusion of a fuller brow. Some eyebrow gels contain ingredients like peptides and biotin that promote brow growth.
What are some common mistakes to avoid when using an eyebrow gel?
No Patch Testing: Some people may be allergic or react adversely to the chemicals in eyebrow gels. Always do a patch test to check for inflammation and irritation.
Not Picking The Right Color: Choose a shade that matches your natural eyebrow hair color if you want a tinted gel.
Heavy Application: Use light strokes in the direction of your hair and avoid over-application for a more subtle and flattering result.
Not Practicing Your Look: Once you get the product, have a few practice runs to get used to the brow gel application process.
Recommended Articles: