14 Best Eyebrow Growth Serums For Thicker Brows – 2023
For a fuller and thicker pair of brows that frame your face and look oh-so-chic!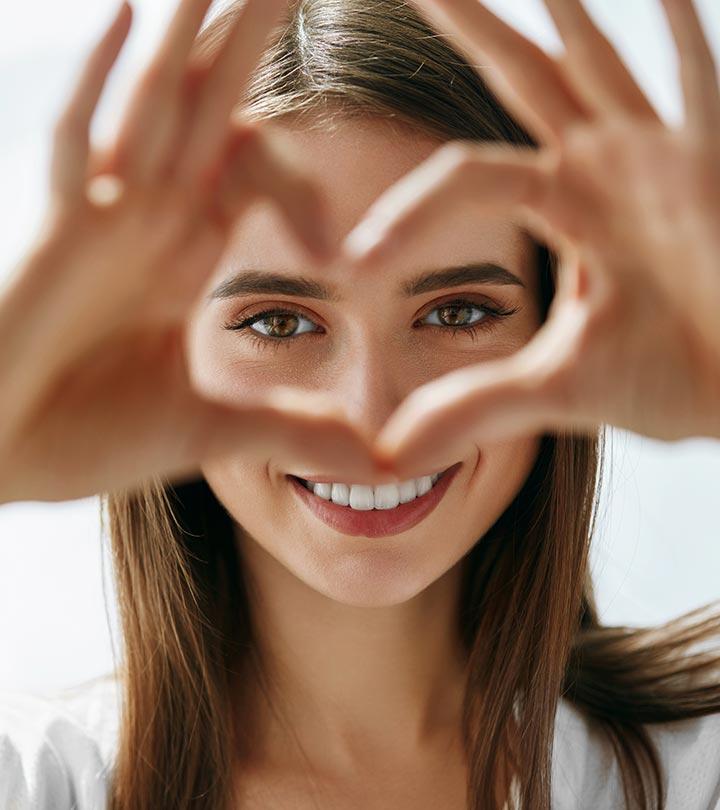 Eyebrow trends are always evolving, and the best eyebrow growth serums can help you keep pace. Lightly manicured and full eyebrows were popularized by Joan Crawford back in the 1940s, and that style has lived on. From Cara Delevigne to Kim Kardashian, many Hollywood celebrities and fashion enthusiasts have rocked the look with their creative touch. The fuller and bushier eyebrows have always signified boldness and a desire to embrace one's natural beauty.
Small story short, the fuller eyebrow trend continues, and you do not have to be an A-list celebrity to achieve that look. All you need is to add a good eyebrow growth serum, and voila! Thick eyebrows contrast beautifully with long hair and add drama and definition to your eyes. So, swipe up to grab the best-rated eyebrow serums listed in our article.
Top 14 Eyebrow Growth Serums Of 2023
This revolutionary serum boosts the thickness and length of eyebrows and eyelashes. This botanical serum is scientifically proven to be effective and is easy to apply, giving fuller and thicker brows and eyelashes. You can experience a drastic improvement in the thickness and length of brows and lashes within 60 days. The ingredients of this serum are hypoallergenic, clinically-tested, non-irritating, and dermatologically-approved. The product is manufactured in FDA-certified laboratories and not tested on animals.
Pros
High-quality ingredients
Non-allergic
Easy to apply
Clinically-tested
Cons
Needs to be applied for 60 days to see visible changes
Price at the time of publication: $19.99
Castor oil is one of the finest ingredients to boost eyebrow growth. It is a cold-pressed and organic option for those looking for skin-friendly, natural products. This is a USDA certified eyebrow and lashes growth serum that comes with a glass droplet and mascara wand for easy application. It also keeps your face moisturized and hydrated. If you have sensitive skin, this volumizing and stimulating serum will work correctly for you.
Pros
Free from added chemicals
Comes with a complete lash and brow kit
Pure castor oil for stimulating growth
Cons
Price at the time of publication: $9.99
The Obagi Nu-Cil Eyebrow Boosting Serum is a clinically-proven serum driven by Obagi's breakthrough NouriPlex Technology. It contains a sophisticated combination of four high-performance ingredients that offer brow development. It has biotin, which promotes keratin's organic synthesis. A proprietary lipid compound gives brows a thicker, fuller appearance. Pathenol and sodium hyaluronate contribute to moisturization and texture enhancement. The unique spoolie goes to the base of the eyebrows and is made for focused application. The bristle structure encourages effective dispersion and equal application as it brushes through each hair follicle. For optimal results, use it regularly and every day.
Pros
High-quality ingredients
Deep-penetrating formula
Easy-to-use applicator
Paraben-free
Fragrance-free
Phthalate-free
Dermatologist-tested
Cons
None
Price at the time of publication: $145
This eyelash and brow growth serum is power-packed with growth-boosting ingredients that offer quick results. The serum is curated to strengthen, lengthen, and grow your lashes and brows. This nourishing serum is gentle on the skin and is safe to use on all skin types. If you want to know more about the results, take a look at this review on YouTube.
Pros
Natural brow and lash growth serum
Mild formula
Hypoallergenic
Cons
It takes more than a month to show results
Price at the time of publication: $22.95
If you have short, sparse, and thin lashes and eyebrows, this serum, enriched with keratin, will enhance lash growth. It is also packed with three natural ingredients – nettle root, green tea, and saw palmetto to make your lashes and brows appear shinier, longer, and thicker. Its premium-quality peptide concentration and pro-keratin formula prevent side effects on different skin types. Use it daily and consistently for the best results.
Pros
Paraben, chemical, and sulfate-free
Vegan-friendly
Effectively targets hair follicles
Nourishes your brows and lashes with keratin peptides
Cons
Is not completely organic
Price at the time of publication: $25.95
This eyebrow enhancer by Rapid Brow is loaded with keratin, pumpkin seed extracts, sweet almond oil, and other nourishing ingredients that are great for stimulating hair growth. The serum comes in attractive packaging and a curling wand, making it easy to apply the serum on your lashes and your brows. Stroke the brush on your brows and lashes twice a day, and within a few weeks, you'll be able to witness the difference. This serum can improve the shine and overall appearance of your lashes and brows. So if you are looking forward to transforming your brows and lashes, give it a try! You can check this YouTube video for more information about the product.
Pros
Deep-penetrating serum
Easy-to-use applicator
Thickens and enhances the look of brows and lashes
Cons
Price at the time of publication: $27.5
If cruelty-free products are on the top of your list, this eyebrow conditioner serum is undoubtedly worth a try. The conditioning serum is developed by physicians and assures healthy and fuller-looking brows. It is suitable for all skin types as it is hypoallergenic and safe to use on sensitive skin too. Apply it once a day, and you'll see the results within a few weeks. It also works on sparse or scarce eyebrows.
Pros
Hypoallergenic, non-irritating, and skin-friendly
Ophthalmologist-formulated
Dermatologist-reviewed
Vegan-friendly
Cruelty-free
Paraben, fragrance, and phthalate-free
Cons
This product might be sticky
Price at the time of publication: $58.0
If you are guilty of over-plucking your eyebrows and are left with scanty and thin brows, this eyelash and brow serum is a savior! Its nutrient-rich formula boosts lash and eyebrow growth, while also increasing the thickness of the hair. It is cruelty-free and can offer the best results within 45 days of use and is not tested on animals. Its high-rated hypoallergenic and EU-tested formula stimulates hair growth and nourishes the follicles.
Pros
Comes in an attractive and easy-to-use packaging
Stimulates hair growth within 45-60 days of use
Hypoallergenic, skin-friendly, and irritation-free
Dermatologist-tested
Cons
Not suitable if you are sensitive to hyaluronic acid, panthenol, or biotin
Price at the time of publication: $9.99
Nothing is better than a multi-use growth serum that's affordable, offers quick and excellent results. The Angel Beauty Eyelash And Eyebrow Growth Serum is infused with proteins complexes that lengthen, darken, and thicken eyebrows. The serum is formulated with ingredients that offer bushier and shinier-looking brows within 4-6 weeks of use. It doesn't consist of any parabens, chemicals, or sulfates that can harm your skin. It adequately protects your eyebrow and lash follicles and increases blood flow for better growth.
Pros
100% natural and cruelty-free product
Makes eyebrows and lashes thicker, longer, and darker
Effective results within 4-6 weeks of consistent use
Paraben and sulfate-free
Cons
Price at the time of publication: $17.97
You don't have to spend tons of bucks to make your eyebrows and lashes look perfect. Ditch the expensive treatments and choose this eyebrow serum that's 100% natural and will provide reliable, long, and fuller brows. Formulated with keratinocyte, it stimulates hair growth and rejuvenates hair follicles. The serum also consists of amino acids that help promote blood flow. It also offers full coverage to avoid patchy eyebrows. The best thing about this serum is that you can also use it as a primer or conditioner!
Pros
Consists of aloe vera gel and jojoba oil
Can be used as a primer and conditioner
Prevents patchy brow growth
Hypoallergenic and free from chemicals and parabens
Cons
Very thick and greasy consistency
Price at the time of publication: $9.99
If you want thicker brows and lashes, this brow enhancing serum from Grande cosmetics is a great option! The serum comes with clinically-researched ingredients that not only promote hair growth but will also make your lashes and brows look shinier and healthy. It is recommended to use the product regularly for the best results. Apply the serum on the scarce and over-plucked areas every day and see the change for yourself!
Pros
Bolder, fuller, and darker eyebrows
Comes with an easy-to-use applicator
The product lasts for months
Cons
Leaves a residue on brows
Price at the time of publication: $38.0
This is a long-loved eyebrow and lash-enhancing gel that will not disappoint you. This rapid growth serum is infused with peptides and botanical ingredients that will leave you with fuller brows. The secret to this serum is the herbal extracts and ingredients. It is developed by dermatologists and is certified to be a natural product safe for use on your brows and lashes.
Pros
Natural and botanical serum
Offers results in 60 days
FDA-approved
Non-irritating and hypoallergenic product
Cons
Doesn't have a pleasant smell
Price at the time of publication: $18.99
The Liaison Brow Bond Eyebrow Growth Serum is a peptide-enriched formula that nourishes the weak bonds and repairs them. It lengthens the brows, boosts volume, making the brows look fuller and thicker. It also gives a natural shine to the brows, making them look healthy. It is a hypoallergenic formula that is suitable for all skin types.
Pros
Hypoallergenic
Paraben-free
Sulfate-free
Alcohol-free
Cruelty-free
Cons
Price at the time of publication: $24.99
The neuBROW Brow Enhancing Serum provides proteins, vitamins, peptides, and conditioning ingredients for beautiful, bold, and well-defined brows. Its formula is enriched with moisturizing keratin that boosts growth even if the eyebrows are undernourished, aging, and sparse. The bio-engineered polypeptides rejuvenate brows to enhance the overall appearance. Ophthalmologists and dermatologists approve this formula as it is 100 % fragrance and paraben-free and effective in 3-4 weeks.
Pros
Provides nourishment to brow roots
Paraben and fragrance-free
Clinically-tested and approved
Gentle on skin
Cons
May impart a sticky feeling
Price at the time of publication: $60.0
These are the 14 best brow-enhancing and growth-boosting serums that help develop thicker, darker, and bolder brows in 2-3 months. If you are born with scanty and thin eyebrows or if you have over-plucked them in the past, these serums will help you regain those precious strands. Before purchasing any serum, make sure to check how it is formulated and choose the one that suits your skin best.
Did you find this post informative? Leave your thoughts in the comments below!
Why Trust StyleCraze?
Vaishnavi Kothuri is a skin care enthusiast passionate about researching and reviewing products. Her recommendations are based on well-researched reviews and user feedback online. The eyebrow growth serums mentioned in this list are easy to apply and safe to use.
Frequently Asked Questions
Is eyebrow serum safe to use?
Most of the eyebrow serums and gels are safe to use. However, if you are allergic to any specific ingredient and are skeptical about buying a serum, check the list of ingredients and make sure that you are not allergic to any of these ingredients. Also, there are some serums and gels that are approved by the FDA or ophthalmologists or dermatologists.
When can I expect to see results?
Most of the eyebrow growth serums offer results within 4-6 weeks of use. However, the natural growth cycle of eyebrows is three months, and for eyelashes, it is two months, so it is better to use the brow growth serum for 3-4 months for best results. Even after you achieve the results, use the brow enhancing gels to maintain the growth and thickness of your eyebrows. Use the serum once or twice a day as recommended.
What happens when I stop using eyebrow serum?
When you stop using the eyebrow serum, it doesn't get enough nourishment and hydration that the serum used to provide it. So after you stop using the serum, your brows might get scanty and thinner again. It is recommended to keep using the eyebrow serum for maintaining the thickness of your brows.
Can I use eyelash serum to grow my eyebrows?
Several serums are designed for both brows and lashes. However, while applying the serum to your lashes, it is vital to apply the serum with utmost caution because you can drop it in your eyes. If you want to use a serum for brows and lashes, choose a natural and chemical-free serum to prevent any discomfort.
Can you use eyebrow serum every day?
Yes, using eyebrow serum daily will result in rapid eyebrow hair growth. It will also keep your eyebrow hair healthy and moisturized.
Can a lash serum help your eyebrows grow?
Yes, lash serum can help to grow eyebrows, as they often have ingredients similar to brow serums.
Can you regrow eyebrows after 50 using eyebrow growth serum?
Yes, eyebrows can regrow even after 50. Use an eyebrow growth serum with keratin and protein that naturally stimulates brow development.
Recommended Articles