7 Best Eyebrow Kits Available In India
The ultimate eyebrow-care kits to keep your brows looking sleek, sharp and snatched!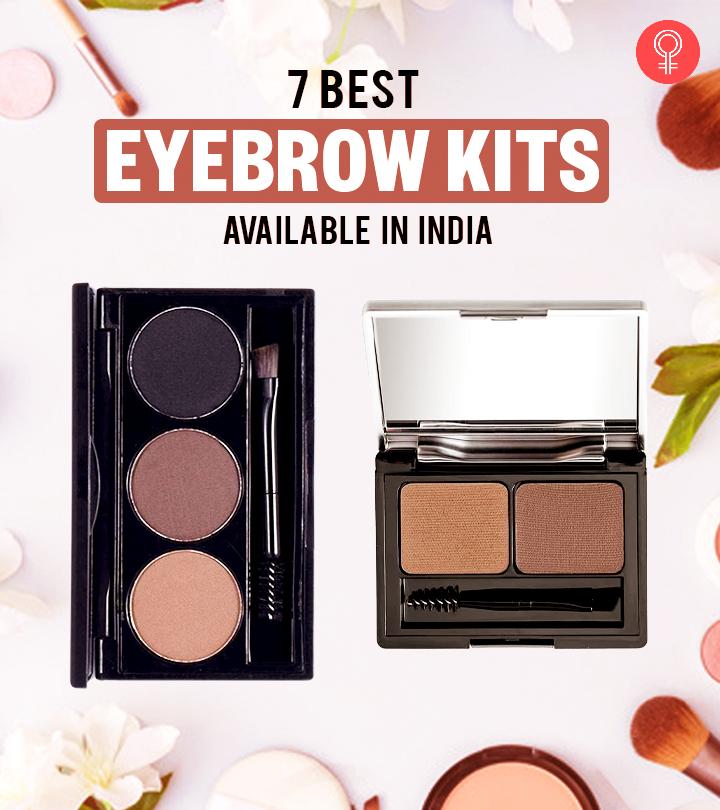 Perfectly shaped eyebrows flawlessly frame your face and enhance your looks. But taming unruly eyebrows, loose hair strands, and ruffled brows and dealing with sparse growth can be difficult. If you want to give your eyebrows a defined shape, fullness, balance, and asymmetrical look, what you need is a good eyebrow kit.
The eyebrow kit should include grooming tools like different brushes, a wax to keep the unruly strands in place and achieve perfect arches, and a powder to fill in the sparse spaces and match the color for a fuller look. Below is a list of the 7 best eyebrow kits available in India that can help redefine your look. Pick one and let your eyebrows speak for themselves. Scroll down
7 Best Eyebrow Kits Available In India
The compact Brow This Way eyebrow kit from Rimmel London gives you perfectly groomed eyebrows. This travel-friendly sculpting kit includes a spoolie, brush, brow wax, and a brow shadow. The wax tidies and sets the brows, while the powder fills sparse areas and gives the brows a natural tint. The blonde-tinted powder leaves no residue and gives the brows a natural look. It provides superior definition to the eyebrows with a double-ended angled brush and mascara-style grooming brush. This compact kit fits into your purse conveniently.
Pros
Long-lasting
Easy to remove
Compact
Travel-friendly
Cons
Price at the time of publication: ₹850
The L'Oreal Paris Brow Artist Genius Kit helps you create natural, classic, or thick brows with ease. The dual function kit includes a brow wax and a special brush to comb and define the brows for the perfect shape, while the colored powder makes the brows look fuller. The spoolie brush helps you style or curl your brows for a fancier look.
Pros
Long-lasting
Buildable color
Blends well
Easy to apply
Cons
This 3D eyebrow sculpting kit from Europe Girl makes your brows lusher and glamorous. The kit comes with a three-shade palette, an angled brush, and a spoolie for seamlessly styling and shaping the brows. Its soft brush applicator gives you control for graphic and winged looks. This palette includes black, light brown, and dark brown shades to match all eyebrows. It also comes with a compact mirror for on-the-go application.
Pros
Three shades in one kit
Cruelty-free
Long-lasting
2-in-1 applicator
Budget-friendly
Cons
Does not include brow wax.
The eyebrow palette from Swiss Beauty contains three shades of brow powder and one wax cream. The pigments can be blended to create the custom color matching your eyebrows. The brow wax puts the loose strands in place and gives the brows a defined shape. The powders fill in the brows and create a perfect look.
Pros
Easy to blend
Long-lasting
Budget-friendly
Cons
This eyebrow color powder from wet 'n wild comes in a travel-friendly, compact box. The brow kit contains tools to shape, smooth, define, and maintain the eyebrows. The five-piece set includes a soft wax to shape the brows and two setting powders that fill in and define the brows. A hard angled brush allows easy application, and a mini tweezer helps you do away with stray hairs.
Pros
Long-lasting
Smudge-proof
Easy to carry
Cons
Price at the time of publication: ₹4.47
Are you looking for well-defined, natural-looking brows? Then, the Mars 2-in-1 eyebrow makeup kit is what you need. It includes an eyebrow powder and an eyebrow pencil that gives your brows a natural look. The color palette comes in two shades – black and brown. The delicate, silky powder formula is easy to apply, waterproof, and gives the brows a more defined appearance. This kit comes with a free kajal.
Pros
Highly pigmented
Silky texture
Long-lasting
Waterproof
Cons
None
This eyebrow kit perfectly defines the brows with its intense black and dark brown pigments. It comes with a spoolie to comb the brows and bring out their natural shape while the color fills and sets between the fine hair strands. The two-color cake is easy to use and helps the brows stand perfectly.
Pros
Long-lasting
Waterproof
Smudge-proof
Cons
None
Now that you know about the best eyebrow kits available in India, here are some factors you need to be aware of before picking one.
How To Choose The Best Eyebrow Kit
Color: Brow powders leave a coat of color under the hair strands to make the brows look fuller. Pick a color that matches the shade of your brows for a natural look.
Tools: Eyebrow kits usually come with grooming kits like brushes and spoolies that help brush the loose strands in place and give the brows a basic shape. Applicators assist in evenly spreading the wax or powder for a well-defined look. Spoolies help you create winged looks and special styles. Tweezers help you do away with stray strands. Look for a kit that contains these tools for ease of use.
Need: Do you want your brows to look fuller? Do you want to achieve a special look? Do you want a natural but defined look? Depending on your needs, pick a kit that is simple or elaborate. Make sure it includes the tools that you will require to achieve what you want.
Convenience: Eyebrow kits are usually compact and easy to carry in your purse. Pick a kit with a mirror, brushes, wax, and color, so you can travel with it and use it on the go.
That was our round-up of the best eyebrow kits available in India. The eyebrows define eyes, and the eyes define the face. So, pick any of the eyebrow kits listed above and define your eyes and brows better.

Recommended Articles
The following two tabs change content below.