The 7 Best Eyebrow Pencils For Women Over 60 In 2023
Bring back the lush volume of your brows instantly with richly-pigmented beauty products.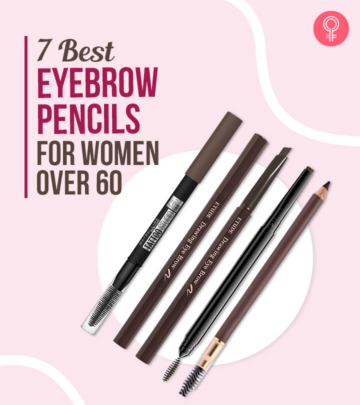 With advancing age, the eyebrows change color and get thinner and droopy. Using the best eyebrow pencils for women over the age of 60 ensures that those special issues are taken care of. A good pair of eyebrows often go unnoticed, but a pair of badly done ones can make you stand out,  and not in a good way! No two eyebrows are the same; that's because your eyebrows are supposed to be sisters but not twins! Most women want fuller eyebrows and go overboard with the thickness and shade, leading to some very visible disasters on the face.
To ensure that you create the best-looking eyebrows that look and feel natural, you need the right tools in your arsenal. Out of these tools, eyebrow pencils are perhaps the most important. We have reviewed the seven best eyebrow pencils for mature skin that are great for adding shape, volume, and definition to your eyebrows while making sure they look natural. Keep reading to check them out!
First, here is our quick guide on how to use eyebrow pencils to get the best results every time!
How To Use An Eyebrow Pencil
Follow the steps below to get your eyebrows on fleek each time!
Start by brushing the brow hair in the upward direction along with the hair growth.
Use the slim pencil tip to draw short hair-like upward strokes along the eyebrow. Ensure you fill the sparse areas of the brow and use less product over the rest of it.
Use a spoolie or an eyebrow brush to brush your hair upwards and outwards to evenly blend in color and set your eyebrows for a defined look.
Now, let's check out the most effective eyebrow pencils for mature skin types.
7 Best Eyebrow Pencils For Women Over 60
The L'Oreal Paris Brow Stylist Definer helps shape your brows in two simple steps. This ultra-fine, self-sharpening pencil, along with the spoolie brush on the other end, is a life-saver! Comb, blend, and draw tiny hairs to get the perfect pair of eyebrows. This long-lasting eyebrow pencil is available in multiple shades to match various skin tones.
The waterproof formula is also safe for sensitive eyes
.
Pros
Long-lasting
Safe for sensitive eyes
Waterproof
Ophthalmologist-tested
Available in multiple shades
Cons
None

Price at the time of publication: $8.47
This eyebrow pencil from Bodermincer is a long-lasting, waterproof eyebrow definer used by professionals and amateurs alike. It features a precision tip to fill in your eyebrows easily. It is highly pigmented and comes in different shades that work across a range of hair and skin colors. Additionally, it comes with a spoolie attachment that makes it easy to blend in the formula and define the shape of the brows.
Pros
Easy to use
Long-lasting
Smudge-proof
Available in 11 shades
Budget-friendly
Cons
None
Price at the time of publication: $8.0
Get the most natural-looking eyebrows with the Etude House Drawing Eye Brow Pencil. Its long-lasting formula is enriched with vitamin E for moisturization. It is also highly pigmented and offers a good color payoff, while the triangular shape helps you create precise hair-like strokes. It is resistant to high temperatures and is perfect for a sunny day outside. The eyebrow pencil has an attached spoolie on its other end to get a natural look and brush off unruly hair.
Pros
Moisturizing
Long-lasting
Highly pigmented
High Temperature-resistant
Budget-friendly
Cons
None
Price at the time of publication: $6.65
Get your eyebrows on fleek without burning a hole through your pockets with the Nyx Professional Makeup Precision Brow Pencil. This dual-ended, retractable pencil has a flat tip for nailing the perfect arches and getting natural-looking brows. The flexible spoolie brush on the other end ensures seamless blending of the product so that you get perfectly sculpted eyebrows.
Pros
Budget-friendly
Blends easily
Flexible spoolie
Available in eight shades
Vegan
Cruelty-free
Cons
None

Price at the time of publication: $9.99
The long-lasting effect of the Maybelline TattooStudio 36HR Waterproof Brow Pencil is spectacular! This high-performance brow pencil is highly pigmented and provides a smear-free and smudge-proof finish. It helps fill and define your eyebrows to achieve a naturally evened out look. In addition, it comes with a built-in spoolie to effectively brush the brows and includes a sharpener to get a precision tip for every use.
Pros
Long-lasting
Waterproof
Smear-proof
Highly pigmented
Transfer-proof
Value for money
Cons
None
Price at the time of publication: $7.98
Get well-defined, natural-looking eyebrows that last up to 12 hours with the Benefit Precisely, My Brow Pencil. The highly pigmented, blendable formula transforms your brows in just a few strokes. The pencil has a non-sharpenable tip that twists open along with a spoolie brush to tame your unruly brows. This high-performance brow pencil provides a smear-free and smudge-proof finish.
Pros
Long-lasting
Highly pigmented
Smear-free
Smudge-proof
Waterproof
Cons
Flaunt your neatly-lined eyes with the creamy-textured MAC Technakohl Liner. It offers intense black or brown color to your lash line and water line. The quick-drying formula makes the kohl last longer without smudging. You can use it at different angles to create thin and thick lines without any messy sharpening involved. Shaped like a thin pen, it makes eye lining easier and more precise.
Pros
Lightweight
Long-lasting
Smudge-proof
Water-resistant
Sweat-resistant
Humidity-resistant
Non-acnegenic
Safe for use with contact lens
Cons
None
Price at the time of publication: $27.5
Eyebrow products are crucial, especially if you're over 60 and have graying brows. The product provides an instant dramatic change in appearance that boosts confidence like nothing else. Having the correct brow pencil, on the other hand, is a game changer. So, here are a few things to consider while selecting the best eyebrow pencil.
How To Choose The Best Eyebrow Pencil If You Are Over 60
It's essential to select an eyebrow pencil carefully, as its performance varies with its intended use. If you are planning to wear it through the day and only take it off at night, go for those labeled as 'long lasting'. A waterproof, smudge-proof one is preferable if you live in a hot, humid place or touch your face often.
If you already have thick grayed brows and want to color them, go for a high-pigment pencil that gives good coverage. If you have sparse brows and want to fill them up, go for a color that's as close to your natural hair color as possible. Finally, get a pencil that you can layer on.
Look for a pencil devoid of parabens, sulfates, phthalates, and sulfites to prevent the eyebrow hair from shedding and protect the delicate skin around your eyes. Go as chemical-free as possible. Opt for ophthalmologist-tested ones.
Stick with transfer-proof formulations if you have oily skin. Go for products marked 'smear-free.' Moreover, if you wear contact lenses, eyebrow pencils formulated for sensitive eyes would be a good fit for you. The regular ones may cause eye redness and itching.
Why Trust StyleCraze?
Srijani Roy Chowdhury, the author of this article, is certified in makeup artistry and passionate about getting the right makeup products for the right skin type. After conducting thorough research and reading through multiple reviews and user feedback, she has curated this list of the best eyebrow pencils for the women above the age of 60. These products are all chosen based on factors like their pigmentation intensity, chemical and wax-free formula, and ability to last for longer hours.
Frequently Asked Questions
How do you do your eyebrows after 60?
You can brush your eyebrows and trim them to look tamed. Then, fill in the places with an eyebrow pencil.
What eyebrow color makes you look younger?
Dark eyebrow colors, like black or deep brown, will make you look younger.
What is the best eyebrow pencil color when you have no eyebrows?
You can use a brown eyebrow pencil when you have no eyebrows.
How long does eyebrow pencil last on eyebrows?
A waterproof eyebrow pencil can last for 11 hours on your brows.
Can you use eyebrow pencil as contour for over 60?
Yes, you can use an eyebrow pencil as a contour for over 60. It is a good hack when you are short on your makeup products, but it is preferred to use them for their right purpose.
Can using an eyebrow pencil help to grow eyebrows?
Yes. While using an eyebrow pencil, draw thin lines in the direction of your hair growth to ensure your eyebrows grow.
Recommended Articles