11 Best Eyebrow Pencils Available In India – Reviews And Buying Guide
Getting the perfectly-arched eyebrow looks just got a lot easier!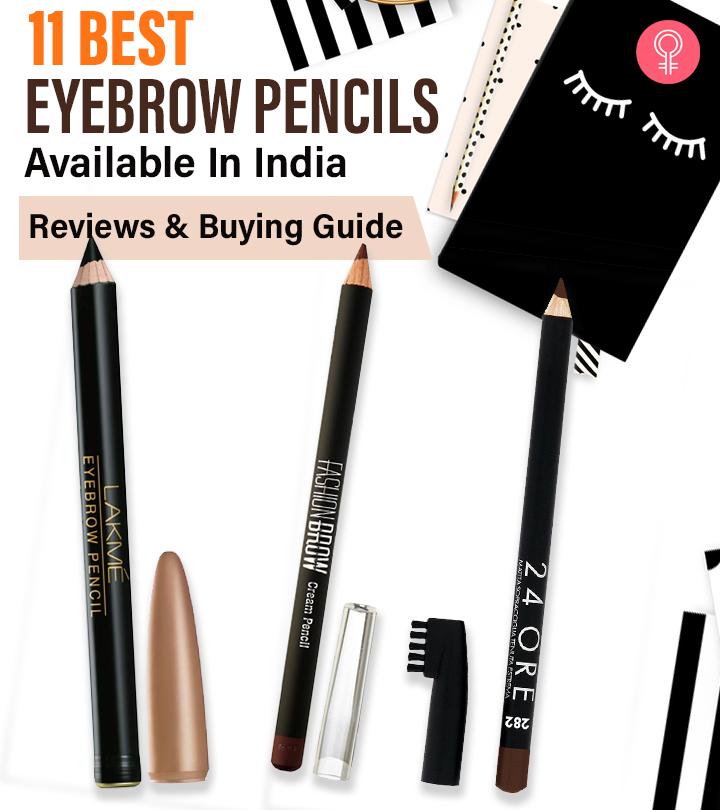 Whether it is the dewy, morning glow look you are going for or the well-contoured air-brushed look – full, bushy brows are a part of every LOTD. To create thick brows, you need the right tools in your brow kit. So, we have reviewed the 11 best eyebrow pencils available in India right now. These pencils are easy to use and great for accentuating sparse eyebrows. Most of the eyebrow pencils listed in this article also come in various shades. Scroll down to check out what suits your face the best. You'll also find a few tips to help you choose the best eyebrow pencil. Keep reading!
11 Eyebrow Pencils To Achieve Natural Bushy Brows
The Lakmé Eyebrow Pencil defines and enhances the shape of your eyebrows and lifts your face. Its water-resistant formula is long-lasting and smudge-proof –so no more touch-ups are needed. Its creamy black pigment creates a dramatic, bold look. It can also be dialed-down effortlessly using a lighter hand. This pencil is easy to sharpen and maintain and runs a long time. Work your way through the sparse areas, making small and uniform strokes from the center to the tail and then the front. Avoid making thick deposits and/or adding weight at the front of the eyebrows. You can use a brow brush to distribute and set the pigment across the brow length for a more natural, subtle finish.
Pros
Glides easily
Adds depth and shape to brows
Easy to sharpen
Water-resistant
Long-lasting formula
Smudge-free
Thick pigment
Affordable
Cons
Breaks easily
May not be suitable for beginners
Price at the time of publication: ₹75
Wet N Wild Ultimate Brow Retractable Pencil comes with a unique triangular tip that defines and fills in your brows precisely. The shaped-tip creates small strokes as fine as your brow hair with smudge-proof pigments. You can find a visible difference with very few strokes. This is a retractable pencil that is easy to shut and store. It has a built-in brow brush or spoolie on the other end. The spoolie blends the crayon pigments evenly between the finest gaps in brow hairs. Your eyebrows will look naturally full and bushy all-day long without any touch-ups. This formula can be washed off micellar water, oil, or makeup remover without scourging the delicate brow skin and hair.
Pros
Easy to apply
Precise filling
Smudge-proof
Comes with a built-in brush
Retractable tip
Easy to store and carry
Cruelty-free
Easy to wash off
Cons
Rough spoolie
Hard crayon
Price at the time of publication: ₹324
The Waterproof eyebrow pencil by Hilary Rhoda is an affordable eyebrow staple to nail the boy-brow game. This pencil comes with an eyebrow brush on the other end to create a neat and natural look. The crayon has a flat edge that glides over your brows and is convenient to draw. Its pigment is lightweight and blends with brow hair to give a natural shade. It stays on all day without smudging and yet comes off easily with a regular makeup remover. The pencil rolls back into the casing and is easy to store. The spoolie remains covered with a lid when you're using the pencil end.
Pros
Compact
Retractable pencil
Easy to use
Creates uniform strokes
Glides smoothly
Soft spoolie
Affordable
Long-lasting results
Comes off effortlessly
Cons
Price at the time of publication: ₹175
Your struggle for perfectly groomed brows ends here – the Maybelline New York Fashion Brow Cream Pencil. This creamy eyebrow pencil fills and shapes your brows that stay untouched for 12 hours with a good color pay-off. The pigment is waterproof and heat-proof, making it ideal for a long day or night. It creates natural-looking eyebrows with a blendable and buildable formula. All you need to do is glide the brow pencil in short, upward moving strokes along the brows they are filled in. Work your way from the center to the ends for a subtle yet fuller look. You can easily remove this product using a regular makeup remover, face oil, or micellar water.
Pros
Creamy formula
Heat-proof
Waterproof
Available in different shades
Long-lasting
Good color pay-off
Blendable
Offers high coverage
Cons
No built-in spoolie
No sharpener provided
Price at the time of publication: ₹144
The Miss Claire Waterproof Eyebrow Pencil fills and defines your brows with a smudge-proof and waterproof formula. Its long-lasting formula precisely covers the sparse hair gaps smoothly. It comes with a soft eyebrow brush that helps in grooming brow hair and distributing the pigment across the brows. To create naturally thick eyebrows, brush your brow hairs in upward strokes with the eyebrow brush/spoolie. Fill the brows with the eyebrow pencil using gentle, short, regular strokes. Make sure to mimic natural hair and not draw thick blotches. Once filled, add final touches using the eyebrow brush and seal the look.
Pros
Easy to use
Long-lasting
Smudge-proof
Available in two shades
Glides easily
Fills fine gaps in eyebrows
Natural-looking results
Cons
Heavy pigment
Not very waterproof
Price at the time of publication: ₹75
Daluci Tint Waterproof Eyebrow Pencil frames and fills your eyebrows gently with a soft crayon. Its sweat-proof, smooth pigments glide smoothly over your brows to precisely cover the gaps between fine hair. It is made with high-quality waterproof ingredients that give long-lasting results that resist sweat, water, and heat. Its triangle-shaped crayon head makes it convenient to draw fine strokes. The built-in spoolie can be used to brush and blend brow hairs with the pigments to give a neat, professional look. The Daluci Tint Eyebrow Pencil formula is also easy to remove. It comes off with a regular makeup remover, leaving no greasy residue.
Pros
Soft crayon
Convenient design
Long-lasting
Creates natural-looking brows
Fuss-free to remove
Sweat-proof
Waterproof
Easy to store
Highly pigmented
Leaves no residue
Cons
Not smudge-proof
Average quantity
Faces Canada Ultime Pro Brow Defining Pencil defines and fills your eyebrows with its smooth formula. It glides easily over brow hair and skin, delivering high color pay-off. The no-transfer, smudge-proof formula ensures your eyebrows look impeccable all day long. The super-skinny tip of this pencil fills in the finest gaps in sparse brows, giving a natural finish. It styles the eyebrows perfectly, adding a professional touch with the built-in spoolie. This formula is free of parabens and mineral oil. If you are looking for a clean brow product for everyday use, this is it.
Pros
Non-transferable
Long-lasting
Smooth formula
High color pay-off
Highlights the shape and arch of brows
Gentle spoolie
Ideal for daily use
Mineral oil-free
Paraben-free
Cons
Price at the time of publication: ₹324
The Colorbar Stunning Brow Pencil has a blendable and long-lasting formula. It fills and shapes sparse brows with smudge-proof pigments. The built-in brush spreads and sets the brow hair to give a naturally bushy effect. The fine tip of this eyebrow pencil gently fills the finest gaps and blends into your skin tone. Your brows will no longer look painted or fake. The Stunning Brow Pencil pigments are free of parabens, formaldehyde, mineral oil, and other preservatives. It is safe for daily use and provides full brow coverage all day long.
Pros
Mineral oil-free
Lightweight
Good color pay-off
Full coverage
Long-lasting
Paraben-free
Formaldehyde-free
Cruelty-free
Suitable for all skin types
Cons
Not very pigmented
Rough spoolie
Price at the time of publication: ₹521.25
The Swiss Beauty Eyebrow Pencil provides natural-looking coverage for sparse eyebrows and fills in fine gaps. Its waterproof, smudge-proof, and all-day lasting pigments create fuller arches that frame your face well. This pencil is convenient to use and has a brow brush attached. You can sharpen it with an eye-pencil sharpener. Its smooth formula glides over your eyebrows, giving full coverage that lasts all day. The gentle brush bristles blend the waterproof pigments into your skin to give a natural yet professional finish.
Pros
Smudge-proof
Creates fuller brows
Easy to use
Low maintenance
Blends well with all skin tones
Waterproof
Offers full-coverage
Cons
Does not glide smoothly
Not long-lasting
Price at the time of publication: ₹94
The Artisto Eyebrow Pencil & Styler by Blue Heaven is an affordable brow-styling pencil that gives professional results in a single application. This is a roll-on pencil with a slanted tip that ensures easy application. It has a spoolie that brushes brow hair to achieve fuller arches. Its smudge-proof formula deposits uniformly on your brows and lasts up to 5 hours. The eyebrow crayon retracts into a compact, travel-friendly casing. This product comes in two natural shades that blend well with warm Indian skin tones.
Pros
Soft spoolie
Affordable
Convenient to use
Blends well
Complements all skin tones
Long-lasting
Smudge-proof
No product transfer
Cons
Price at the time of publication: ₹135
The 24ORE Brow Pencil by Deborah Milano is one of the smoothest brow formulas available right now. The pigment consistency is formulated to coat all types of brow hair, however rough or thick, into prime shape. Its color is buildable and blendable, and it is available in two natural shades. This pencil comes with a tiny brush on the cap for blending the pigments to give a naturally bushy finish. The 24ORE formula is dermatologist-tested and can be worn all day long with no smearing.
Pros
Dermatologist-tested
Blendable color
Smooth crayon texture
Easy to wear
Full coverage
Long-lasting
Smudge-proof formula
Gentle spoolie
Cons
The rich pigments of these eyebrow pencils fill in the finest gaps and transform sparse eyebrows into naturally bushy, thick brows with a professional finish. However, it is a very thin line between bushy brows and painted brows. If you don't have the right kind of eyebrow pencil and brush, your brows may end up looking drawn, fake, and unattractive. So, here are a few points to keep in mind when you are buying an eyebrow pencil.
How To Choose The Right Eyebrow Pencil
It is a common mistake most of us commit by choosing an eyebrow pencil of the same shade as our brow hair. Always pick a lighter shade. Pencils have a thicker formula and deposit more color, making your brows look chalky and painted on. Using a lighter shade, you can easily blend the pigments with brow hairs to create a natural yet enhanced look.
Oil- or cream-based eyebrow formulas are smooth and glide freely on the brow hair and skin. It is easier to control the deposit when using a creamy brow pencil, unlike the powder-based formula. Talc-based or dry formulas are difficult to work with. They are rough on the skin and create uneven deposits, making your brows look patchy. It is best to pick an oil- or cream-based eyebrow pencil and add a dry/powder layer to seal the look.
You can mix two pencil shades to match your brow hair color exactly. This creates depth and makes the brows look naturally bushy and trim. You don't want them to look too matte or glossy. So, be gentle with the pencil and the brow brush. You can use brow powder or gel along with an eyebrow pencil for a breezy, boy-brow finish.
Most eyebrow pencils come with a brow brush on one end. Make sure you buy pencils that have this feature. This brush helps spread the pencil deposit uniformly across the brow length. Some may come with a sharpener to keep the pencil in good shape. Whichever pencil you choose, make sure it comes with either or one of these functional add-ons.
All of the eyebrow pencils listed above give excellent color pay-off and enhance the shape of your eyebrows. With the natural boy-brow looks back in fashion, having a good, high pay-off eyebrow pencil is a must. Find which eyebrow pencil suits you best from our 11 best-sellers. Keep in mind the points discussed above and order one right away. Add it to your everyday makeup routine and let your brows steal the show!
Frequently Asked Questions
Can eyebrow pencils be used to reshape eyebrows?
Yes, eyebrow pencils can be used to reshape eyebrows by filling in sparse areas or creating a new eyebrow shape. The pencil offers precision and control, letting you get the shape you desire.
Can eyebrow pencils be used for different eyebrow styles, such as a bold or natural look?
Absolutely! Eyebrow pencils come in various formulas and shades, allowing you to create different styles, from bold and defined to soft and natural looks..
Are there waterproof eyebrow pencils available?
Yes, there are waterproof eyebrow pencils available. Brands like Hilary Rhoda, Maybelline, Miss Claire, and Daluci Tint create eyebrow pencils that withstand sweat, water, and humidity, ensuring your brow makeup stays intact throughout the day.
Can an eyebrow pencil create a natural-looking result?
Yes, apply it lightly and blend it properly so it matches your natural eyebrow color and shape.
How do I choose the right shade of eyebrow pencil?
Opt for a shade that closely matches your natural eyebrow color or your desired brow color. It's best to test the pencil on your skin or brows to ensure it matches your hair color, complements your skin tone, and doesn't appear too harsh or unnatural.
Recommended Articles