11 Best Eyebrow Powders
Tame your arches and achieve the perfect bushy brows with these brow products.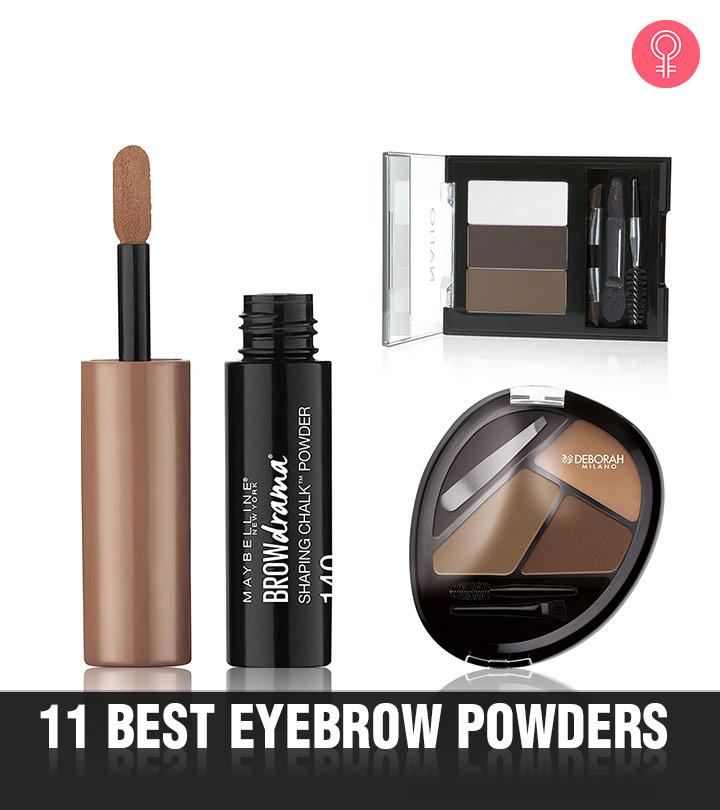 11 Best Eyebrow Powders Available In India
Review
This brow kit from L'Oreal is one of the best eyebrow products available in India. It contains wax to shape your brows and a colored brow powder to fill in gaps. This kit also comes with an angled brush for precise application. If you have sparse or thin brows, this has got to be your go-to brow product.

Pros
Easy to use
Long-wearing
Transfer-proof
Value for money
Great for beginners
Cons
None
Price at the time of publication: ₹758
Review
If you dig softly-filled brows that look au naturel, Maybelline Brow Drama Shaping Chalk Powder is a great option for you. With its range of five shades, it's easy to find a color that matches your brows. Its soft powder texture and thick-to-thin applicator make achieving boldly filled brows a breeze.

Pros
Long-lasting
Easy to use
Buildable color
Creates a natural look
Affordable
Cons
None
Price at the time of publication: ₹1689
Review
This versatile brow shaping kit from Milani ensures your brows look oh-so-polished. Tweeze, fill in sparse areas, color, blend, and highlight like a pro with all the tools you get in this kit. Its 3x magnifying mirror makes on-the-go use supremely easy. This brow kit is available in three shades: Light, Medium, and Dark.

Pros
Pigmented color
Easy to use
Travel-friendly
Long-wearing
Affordable
Cons
Price at the time of publication: ₹5573
4. Wet N Wild Ultimate Brow Kit
Review
The Ultimate Brow Kit from Wet n Wild is a mini brow salon in a handy, purse-friendly compact. This five-piece kit includes all the essentials necessary to shape, smooth, define, and maintain the perfect pair of brows. If your brows fall toward the scanty side, this kit will bring them back to life!

Pros
Long-wearing
Smudge-proof
Saturated color
Travel-friendly
Budget-friendly
Cons
None
Price at the time of publication: ₹525
Review
If you're looking to create brows that are fuller, thicker, and more defined, this eyebrow kit from e.l.f Cosmetics will come in handy for you. The pigmented wax defines and shapes your brows, while the setting powder keeps them looking arched and perfected. Overall, this duo provides a lasting definition to give your brows a beautiful natural finish.

Pros
Long-wearing
Sweat-proof
Transfer-resistant
Comes with a double-sided brush
Available in four shades
Affordable
Cons
None
Price at the time of publication: ₹1693
Review
NYX's recipe for exquisite eyebrows includes wax tools and a pair of complementary powders, which can be customized to create the ideal shade for your brow hair. This kit also includes a slanted brush and a spoolie to shape, style, and tame your eyebrows. It comes in a range of six shades.

Pros
Easy to use
Great color payoff
Long-wearing
Sweat-proof
Good value
Cons
None
Price at the time of publication: ₹1231.0
7. Miss Claire Eyebrow Cake
Review
Achieve a gorgeously-groomed brow look with this eyebrow cake from Miss Claire. This palette consists of four complementary brow powders that can be mixed to create your brow hair color. You also get an angled brush and a spoolie with this little kit. Looking for something pocket-friendly? This is it.

Pros
Customizable shades
Long-wearing
Easy to use
Travel-friendly
Affordable
Cons
None
Review
This classic kit from Natio comes with every essential tool you need to achieve the perfect pair of brows. It is small, lightweight, and super functional. The kit contains two brow powders in light and medium shades. You can blend the two to create your own shade.

Pros
Enriched with aloe vera and coconut oil
Long-staying
Smudge-proof
Great packaging
Value for money
Cons
Review
Swiss Beauty Eyebrow Palette is a cute, compact palette with three brow powder shades and one wax cream. The brow wax is a great option to keep brows fixed in place. The shades are blendable and match eyebrows easily. The palette comes with a brush and includes a small mirror to help you prep your brows on the go.
Pros
Compact
Travel-friendly
Includes a mirror
Great for beginners
Long-lasting
Budget-friendly
Cons
None
Price at the time of publication: ₹254
Review
Whether your goal is soft and natural brows or bold and brazen brows, Brow Pow is guaranteed to wow you. With its range of three shades, this pressed brow powder is one of the best options for beginners. All you need to do is dip your angled brush into the color and fill in sparse areas. Run a spoolie through your brows, and voila! You have perfect brows that stay put all day.

Pros
Rich color
Long-lasting
Transfer-resistant
Attractive packaging
Cons
None
Price at the time of publication: ₹2649
Review
This eyebrow kit from Deborah Milano consists of a pressed brow powder in two shades. You also get a colorless wax to shape and set your powder. A tweezer, an oblique marker, and a comb are included inside the kit for your convenience.

Pros
Easy to use
Long-wearing
Pigmented colors
Affordable
Cons
None
Let's now look at a few points to consider before buying an eyebrow powder.
Things To Consider When Buying Eyebrow Powders
Eyebrow powders are not suitable for dry skin as they contain certain compounds that may cause irritation or dryness. Eyebrow gels and pencils are a better choice for dry skin.
Eyebrow powders are available in many shades such as brown, blond, black, and gray. Choose a shade that is close to the natural color of your brows. If you have never used these powders before, go one shade lighter as anything too dark might look unreal.
The perfect eyebrow powder provides a smooth and natural finish. Therefore, look for a good-quality product. Go through the customer reviews to know more about the effectiveness of the product you want to buy.
Price Range
Eyebrow powders from drugstore brands (like Wet n Wild) start from Rs.399. The prices can go up to Rs. 3000 when it comes to high-end brands like MAC and Estee Lauder. Mid-range options from L'Oreal, Milani, and Maybelline cost anywhere between Rs.500 to Rs.900.
Pro Tip: Eyebrow Makeup Application
Here's a general rule: use eyebrow makeup sparingly. Overdoing your brow makeup won't help you enhance them. Instead, it will make you look clownish. Also, always pick a powder one or two shades lighter than your hair color for a more natural finish.
Ladies, believe it or not, your eyebrows hold tremendous power. If you haven't started grooming them a little already, give it a shot and experience that instant transformation yourself. Which one of these brow products are you excited to try? Let us know in the comments section below.
Frequently Asked Questions
Is eyebrow powder suitable for sensitive skin?
Yes, eyebrow powder is generally considered suitable for sensitive skin, as it is a non-irritating and lightweight option compared to other eyebrow products like pencils or gels.
Are there any specific benefits of using eyebrow powder for people with oily skin?
Yes. Eyebrow powder is ideal for people with oily skin as it has a matte finish and stays on for long without smudging or melting. The powder formula also helps absorb and control excess oil around the eyebrows.
How are eyebrow powders different compared to eyebrow pomades or waxes?
Eyebrow powders provide a softer, more natural look and are easier to apply, whereas eyebrow pomades or waxes provide more defined, sculpted brows and are ideal for creating bold, dramatic looks that last longer. The choice between the two depends on the desired brow style and personal preference.
Are eyebrow powders suitable for people with sparse eyebrows?
Yes, eyebrow powders are suitable for people with sparse eyebrows as they can provide a softer, more natural look compared to pencils or gels. They are ideal for filling in gaps and creating an illusion of fuller brows when applied with a light hand and blended properly.
Recommended Articles: