11 Best Eyebrow Stencils For Perfectly Shaped Brows – 2023
Now shape your eyebrows and add that new look and contour to your face that you had always wanted.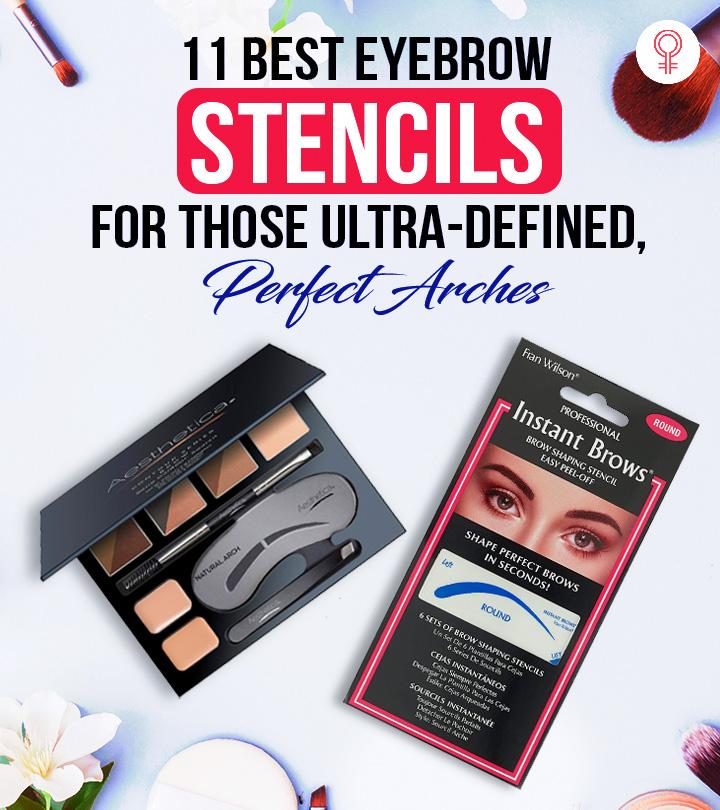 You may nail the art of doing a full face of makeup, but if your eyebrows are not shaped properly, all your efforts will go in vain. There is an undeniable buzz about eyebrow stencils. These products are loved by makeup artists and brow professionals alike, so all you need is the best eyebrow stencil to add a new layer to your look. These stencils come in handy, especially those who worry about over-doing their eyebrows or having weak eyesight. With stencils, you can attain perfectly-shaped brows without any mess. In this post, we talk about the best eyebrow stencils that are easily moldable to the contours of your face and will help you achieve professional results
Here, we have compiled a list of the 11 best natural-looking eyebrow stencils, especially for you to achieve enhanced features and exceptional results. Keep reading to explore our list and get those perfect brows!
11 Best Eyebrow Stencils – 2023
This all-in-one kit from Aesthetica helps you get natural arches anytime and anywhere without sifting through your makeup bag. Apart from five brow shaper stencils, this kit comes with six blendable brow powders – Soft Blond, Taupe, Soft Brunette, Dark Brunette, Auburn, and Ebony – that suit almost all skin tones.
To add to your pitch-perfect look, the set includes a cream concealer, highlighting powder, and a highlighter that are paraben-free and suit all skin types and tones. Moreover, the tweezer, setting wax, mirror, and brow brush included in this eyebrow shaper kit add to your convenience. This travel-friendly brow palette also comes with a super helpful brow shaping guide to help you out. Watch this video featuring a tester's experience to get a detailed review of the eyebrow product.
Pros
Travel-friendly
Mirrored palette
Easy to use
Smudge-proof
Suitable for all skin tones
Cons
Get beautifully arched brows in no time with this professional eyebrow stencil kit from The Brow Trio. These brow shaping stencils come with 12 reusable stencils (4 high arches, 4 regular arches, and 4 low arches) that suit every brow shape. The water-proof pomade comes in a variety of shades that easily match your skin tone. The rich, creamy, smudge-proof formula makes your brows look bushy and stays on for a stretch of 36 hours or more.The kit includes a well-crafted, dual-ended angled eyebrow brush that allows you to apply and blend the pomade effortlessly for a natural look. It also comes in a classy vegan leather bag that is easy to carry. Take a look at this reviewer's experience with the product in this video and learn how to use this eyebrow kit to achieve a clean eyebrow look.
Pros
Many stencil options
Buildable
Easy to use
Long-lasting
Reusable
Washable makeup brush
Reusable eyebrow stencil
Cruelty-free
Comes with a vegan pouch
Cons
None
These OG eyebrow stencils from Anastasia Beverly Hills are a must-have for all eyebrow enthusiasts. The five stencils in the kit are crafted according to Anastasia's Golden Ratio Eyebrow Shaping Method that makes shaping and contouring the arches an easy job, especially for beginners.
These stencils come in different arch shapes – Slim High, Petite, High, Medium, and Full – that fit everyone. These advanced eyebrow stencils are made of plastic and, hence, are flexible (wallet-friendly), reliable, and easy to use. These stencils are reusable and washable too. They also feature three markings that allow you to align the stencils to get the perfect shape. Here's a tester's experience featured in this video that takes you through this product's details.
Pros
Flexible plastic brush
Hugs the eyebrow bone for perfect shape
Reusable eyebrow stencil
Reusable
High-quality
Beginner-friendly
Washable
Cons
Expensive
Suitable for long browline
The eyebrow stencil kit from Elaimei offers 10 different stencils that can easily fit any brow shape. The stamp applicator fills up sparse eyebrows giving them a voluminous appearance. The eyebrow powder sets well and helps keep your brows intact even after a long day. Additionally, this brow product does not fade even due to sweat or rain and offers statement-making brows.
Pros
Easy application
Water-proof
10 stencils
Reusable
Long-lasting
Cons
None
Looking for a budget-friendly eyebrow tool that also offers exceptional results? Ardell's exclusive four-piece stencil set – Delicate, Elegant, Glamourous, and Classic – is perfect for your eyebrow game. These stencils are lightweight and durable. As an added bonus, they don't mess up your foundation by sticking to your skin. According to multiple reviews, this tool is easy to use and offers quick solutions.
Pros
Lightweight
Non-sticky
Quick and easy to use
Durable
Cons
None
Say goodbye to bad eyebrow days with this super handy eyebrow stencil kit from Angiehaie. It comes with 12 options each for thin and thick brows, making it a versatile kit for people with different brow shapes. The rich quality pomade glides smoothly on your eyebrows and the dual-ended spoolie brush ensures you get the perfect arch. The lightweight pomade offers a natural look to your brows without getting smudged. Suitable for all skin tones, this versatile kit is easy to carry as well. Multiple reviewers have mentioned how sturdy this product is and praised its ease of use.
Pros
Smudge-proof
Waterproof and sweatproof
Reusable eyebrow stencil
Buildable formula
Easy-to-use
Cruelty-free
Cons
The stencils do not stay in place.
Get perfectly shaped brows in just seconds with these Instant Brow Makeup Tool from Fran Wilson. These adhesive stencils are easy to fix and equally easy to peel off. This is a set of six eyebrow stencils that come in two shapes – round and arched. Press these hand-free stencils over your brow area and color in with eye shadow or liner pencil to achieve great results. Give your brows a touch of glamor without breaking your budget with this eyebrow shaper kit.
Pros
Budget-friendly
Light adhesive
Easy to use
Cons
The stencil kit from The Brow Trio is designed for a wide range of hair shades and is ideal for all skin tones. The kit consists of 12 stencils, a pomade, a zipper pouch, and a dual-ended signature sponge brush for easy blending. The pomade included in the kit is highly pigmented and creates waterproof brows that stay for long hours. It is smudge-proof and easy to use. The dual-ended signature sponge brush is small, precise, and washable. It is a perfect fit for applying the pomades. The stencils are available in 4 regular arches, 4 low arches, and 4 high arches in a zipper pouch. The pouch fits snugly in your handbag due to its portable size.
Pros
Waterproof
Compact size
Vegan
Cruelty-free
Washable brush
Skin friendly pomade
Ideal for all skin tones
Highly pigmented pomade
Made from recycled material
Cons
The Wet N Wild Ultimate Eyebrow Universal Stencil kit meets all your requirements. The kit comes with a pair of tweezers to help you shape your brows before you begin to fill them up. The dual-ended sponge and brush applicator is perfect for both natural and a dramatic look. The matte finish brow powder comes in multiple shades and offers a natural finish. The 3 stencils are carefully designed to adhere to every brow shape. The brand does not test the products on animals.
Pros
Includes 6 tools
Easy-to-use
Reusable
Value for money
Paraben-free
Cons
Stencils are difficult to use
Get perfectly symmetrical eyebrows in minutes! The iMethod Eyebrow Stamp and Stencil Kit comes with 10 perfectly arched eyebrow stencils coupled with a sponge applicator. This eyebrow grooming kit makes shaping an easy task even for newbies with shaky hands. The pomade is waterproof and long-lasting and well-suited for wear in hot, humid weather. Additionally, this useful brow pomade is vegan and safe for all skin types. This eyebrow stencil stamp kit is not tested on animals and is a good fur-friendly option for animal lovers.
Pros
Easy-to-use
Waterproof
Long-lasting
Vegan
SLS-free
Cons
The stencils do not stay in place
Save time shaping your brows with this quick-fix brow stamp kit from Madluvv. This handy kit comes with 6 stencils and an easy-to-use stamp. The stamp comes in 8 different colors so you never have to worry about not getting your right shade. The 6 different stencil shapes allow you to experiment with your brow look and help you achieve symmetrical brows. The water- and sweat-proof brow stamp blends easily to give you a natural look. The kit also includes a spoolie brush that helps you even out the brows and a zipper pouch which makes it travel-friendly.
Pros
Easy to use
Water-proof
Smudge-proof
Long-lasting
Blendable
Available in 8 colors
Cons
None
*The prices provided in this article are based on the latest available information. However, they may vary due to changes in pricing by the seller and/or promotional offers.
Achieving perfect eyebrows at home is no longer a dream. With a plethora of eyebrow stencils available in the market, you can get perfectly shaped brows in no time! However, before buying them, here are a few things you must consider in order to pick the best eyebrow stencils for perfectly shaped and flawless brows.
Things To Consider While Buying The Best Eyebrow Stencils For Perfectly Shaped Brows
One must first consider what kind of eyebrow shape suits your face depending on your facial shape, structure, and features. Not all stencils have the same shape. There are different types of stencils such as thick, thin, curved, and ones with soft arches, so pick the kind of shape and style of brow you personally prefer to get statement-making brows. Look for the arch, thickness, and high points or roundness of the eyebrows and determine which one is the closest to your original brow shape.
While investing in an eyebrow stencil, keep in mind that you are going to use it more often. Pick an eyebrow stencil that is made of good quality, and remains non-breakable. Make sure that the stencil can sustain being used almost regularly. It should be sturdy but not stiff and can easily crack or fall apart. Also, go for flexible plastic stencils as they are easy to use and can be held up against your face or onto the eyebrow bone. In case of eyebrow stencil stickers, look for the adhesive's sticking ability. It should stick on and peel off easily without tugging on the skin.
In case you pick an eyebrow stencil which comes with a brow contouring kit, make sure you pick a set that has shades that match your brow hair. While there are multiple shades available in a contouring kit, pick the one that has your preferred shade in maximum quantity as that is what you will be using the most.
Pick the best eyebrow stencils by making sure that the pack comes with all the tools that one would need while filling or shaping the brows. In case of stickers, look for a pack that comes in a larger quantity of stickers like 12 or 24. The sticker should be user-friendly, soft, comfortable, and lightweight, and the adhesive used must be skin-friendly. Pick one that is made of durable quality and does not rip off while peeling off the pack. The eyebrow stencils should be easy to use, travel-friendly, and budget-friendly as well.
Why Trust StyleCraze?
Baishali Bhattacharya, the author of this article, is certified in makeup artistry. She knows the ins and outs of different makeup products, which has helped her curate the best eyebrow stencils for perfectly shaped brows. She has conducted in-depth research and filtered out the best products available on the market. These are easy to use, durable, safe, and travel-friendly.
Frequently Asked Questions
Are eyebrow stencils any good?
Yes. Eyebrow stencils are easy-to-use templates that help you to trim, pluck, and fill your brows perfectly.
Are eyebrow stencils reusable?
Yes. Eyebrow pencils like the Frcolor Eyebrows Model Grooming Stencil and the Aresvns Eyebrows Template For Women are usually reusable and washable.
Can you make a DIY eyebrow stencil?
Yes. Make your DIY eyebrow stencil at home by following these steps:
•  Take a few plastic cups and cut their top and bottom with scissors. Try to keep the edges even.
•  Create a brow shaping template on the computer and print it. Then, cut the brow templates using a utility knife.
•  Place the natural eyebrow template cutout on the plastic piece. Carve the plastic brows. Refine the edges.
•  Place the DIY stencil against your natural brow line and fill it with your desired brow product.
How do beginners use eyebrow stencils?
•  Prep your brows with brow wax.
•  Use a stencil that matches your brow shape. Align one half of the stencil against your brow. Hold it firm with your fingers.
•  Fill in your brow with your desired brow product.
•  Position the other half of the stencil over the brow arch and fill the area.
•  Brush the brows to distribute the product evenly.
•  Wipe off the excess product from the stencil and flip it to fill the other brow.
How long do eyebrow stencils last?
Eyebrow stencils last up to three days. Although many brands manufacture reusable stencils, use a new one after three days.
Recommended Articles