5 Best Eyebrow Threading Machines Available In India
Handy tools for grooming and achieving the perfect face-framing brows within minutes!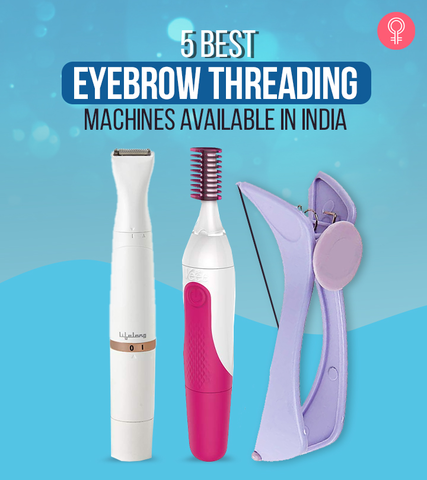 Eyebrows accentuate your looks, but shaping them means running to the parlor every month or so. Not anymore, because we have got the solution for you!  Enter eyebrow threading machines. These super-efficient devices can easily trim and maintain your eyebrows in the comfort of your home. To help you select the most suitable product, we have curated a list of the 5 best eyebrow threading machines. Just add your favorite to your beauty kit right away and bid goodbye to bushy, unruly eyebrows.
5 Best Eyebrow Threading Machines In India – 2023 Update
The Veet Sensitive Touch Electric Trimmer is specially designed for sensitive body parts as it removes your hair gently. Its cutting blade has no direct contact with the skin, making it 100% safe and reliable. This trimmer is compact and can be carried anywhere with ease. Its blades are water-resistant, and you can be used in the shower without worrying about its life.
The trimmer features an adjustable eyebrow head and dedicated accessories to deliver accurate results. Place the device over your eyebrow and start moving it against the hair growth to get the job done. This trimmer also works for bikini line, upper lip, sideburns, and underarm hairs
Pros
High precision
Gentle
Suitable for daily use
Travel-friendly
Wireless
Multi-purpose
Easy to use
Cons
Opt for the Lifelong Eyebrow Trimmer LLPCW30 and get a salon-like finish in the comfort of your home. This multi-purpose trimmer is waterproof and comes with excellent running time. This trimmer ensures soft, smooth, and hair-free skin without any hassle or pain. Its eyebrow trimming attachment works with precision. Just place the device over your eyebrow and move it against the direction of the hair growth. The trimmer comes with a cleaning brush and extra attachments for removing hair from other body parts and the bikini line.
Pros
Rechargeable
Three attachment heads
Compact
Travel-friendly
Simple to use
1-year warranty
Cons
Price at the time of publication: ₹1048
The Xaviera Eyebrow Hair Remover offers precise hair removal from the eyebrows without any hassle. The 18-K gold-plated head of this tool is gentle on all skin types. Use it on clean and dry skin without any cosmetic cream or lotion. This versatile product is ideal for all your grooming needs. It has a built-in light and double-edged blade that saves your skin from any nicks and cuts.
Pros
Portable
Hypoallergenic
Precision tip
Less charging time
Long-lasting
Affordable
Lightweight
Cons
None
Get Carcroft Eyebrow Threading Trimmer now and say goodbye to tweezers and painful plucking experiences. This tool is easy to operate and removes stray hair strands from the eyebrow area in no time. Before using this threading trimmer, make sure your skin is clean and without any make-up. To use it, pull your skin tight and move the unit in small circular motions. Always move the trimmer in the opposite direction of hair growth to pluck out the stray strands smoothly. It is developed with a 360-degree all-round hair removal technology that ensures smooth and effective trimming. It also comes with dedicated accessories to get precise shaping and styling.
Pros
Hypoallergenic
Easy to use
Painless
Ideal for daily use
Built-in LED lights
Portable
Multi-purpose
Affordable
Easy to clean
Cons
The Qonetic Eyebrow Hair Removal System is an excellent alternative to battery-operated devices and removes hairs from the roots without damaging your skin. This epilator kit's design is based on threading-style hair remover and has a precise spring-action system. It plucks brow hair from the follicle, which slows down the regrowth.
This device suits all skin types and is safe to use.  You can use it to remove hair from the face, neck, forehead, and cheeks. The device ensure a painless experience.
Pros
Includes 10 cotton strings
Easy to store
Compact
Suits all skin types
Affordable
Cons
None
Using an eyebrow threading machine is not as challenging as it seems to be. Follow steps and get the job done.
How To Use Eyebrow Threading Machines
Remove make-up, cream, or lotion and clean your face.
Hold the skin tight, place the eyebrow trimmer at the bottom, top, or in-between the brows.
Move the tool in the opposite direction of the hair growth.
Now that you know the best eyebrow threading machines available in India, it's time to learn a few essential points. Check them out below.
Things To Consider When Buying Eyebrow Threading Machines
Eyebrow threading machines can be manual or electric. The electronic ones run on batteries and are rechargeable. Therefore, they require a fair amount of maintenance and handling. Manual threading machines do not require batteries or charging and are easy to maintain. Choose one as per your preference.
If you prefer electronic eyebrow trimmers, make sure that the blades are of high quality. Titanium and stainless-steel blades are durable and offer a smooth finish.
Ensure that the device you wish to buy is made of durable materials and will not crack or break with minor wear and tear.
Eyebrow threading machines come in handy when you do not have the time to visit the salon. Our favorite pick is the Veet Sensitive Touch Electric Trimmer as it is easy to use and gives a precise shape to your brows.  Add any of them to your collection right away and get well-groomed eyebrows without stepping out of your home.
Frequently Asked Questions
Are there any safety considerations or precautions when using an eyebrow threading machine?
Yes, there are some safety considerations and precautions to consider:
• Always follow the manufacturer's instructions carefully and do as directed.
• Avoid using the machine on sensitive or irritated skin.
• Maintain proper hygiene and sanitation to prevent infections.
• As a beginner, practice on a non-sensitive area first to get accustomed to the machine's operation and prevent accidental injuries.
What is the maintenance routine for an eyebrow threading machine?
An eyebrow threading machine requires regular cleaning and sanitizing after each use, as well as storage in a clean and dry place. In addition, make sure to follow the manufacturer's instructions for any specific maintenance or part replacement as needed.
How does an eyebrow threading machine compare to waxing or tweezing in terms of effectiveness and pain level?
When compared to waxing and tweezing, an eyebrow threading machine is more precise in shaping brows. However, the pain level may vary depending on individual sensitivity. For many people, using a threading machine is less painful than waxing because it involves pulling individual hairs rather than a larger area of skin.
What are the potential risks or side effects associated with using an eyebrow threading machine?
Skin irritation, redness, or mild discomfort are some of the potential risks or side effects of using an eyebrow threading machine. In order to avoid these side effects, make sure to use the machine carefully and practice on non-sensitive areas. Also, avoid overusing it in a particular area.
Is it possible to use an eyebrow threading machine for shaping and grooming men's eyebrows?
Yes, an eyebrow threading machine can be used to shape and groom men's brows just as well as women's brows. It offers a precise and efficient way to remove unwanted hair and achieve well-groomed eyebrows for both men and women.
Recommended Articles:
The following two tabs change content below.