10 Best Eyebrow Tinting Kits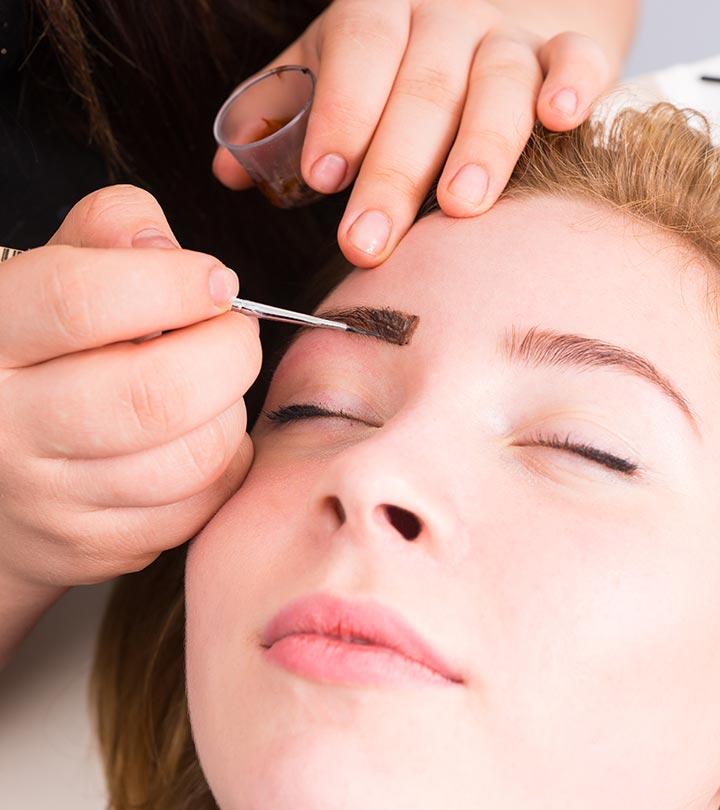 Of late, so many women have been raving about eyebrow tinting kits, and we understand the craze. If you're looking for a quick and easy way to amp up your brows – this is it! An eyebrow tint is a form of semi-permanent hair-dye formulated especially for sparse eyebrows. You can undergo this procedure in the comfort of your home, and in about 10-15 minutes, you can take them a shade or two darker! It's time you bid boring brow pencils goodbye and benefit from a little color boost.
We've tested and tried some of the most effective brow tinting kits, and you should too because Cara Delevigne-esque brows should be within everyone's reach!
Top 10 Eyebrow Tinting Kits For Beginners To Keep Brows Full
Pros
Easy to use
Available in various shades
Easily available
High-quality
Cons
Godefroy Instant Eyebrow Tint Permanent Eyebrow Color Kit Review
This kit is one of the most popular choices for 'at home' eyebrow tinting that's available in the market. The box contains four capsules filled with tinting powder, a small bottle of activator, a tiny cup, and four organic orange sticks. Once mixed, the dye is odor-free, and you can easily apply it on your eyebrow hairs without it dripping and getting messy. The kit comes in medium brown, dark brown, light brown, and natural black. It gives you amazing results that last for 4-6 weeks on average. Definitely give this a try!
Similar Products

Pros
Easy to use
Subtle and mellow color
No side-effects
Cons
It takes two hours to set in and fades within a week
Etude Tint My Brows Gel Review
Afraid of semi-permanent dyes? Don't you worry! This one's an eyebrow stain that lasts for about a week. You just need to fill in your brows with the product, wait two hours and then gently peel off the film for a stain of color. It's available in three brown shades that give a more vibrant yet natural color payoff. This is great for those who want to initially experiment with a short-term eyebrow tint. Don't freak out during application when your brows look incredibly dark and defined. This will mellow down once you peel the tint off and wash up.
Similar Products

Pros
High-quality
Adds glossy definition to brows
Long-lasting color
Cons
Expensive for a single application
Eylure Permanent Brow Tint Review
This kit claims to give you gorgeous looking brows in either dark brown or mid-brown. If you have very light eyebrows, this will do a great job at tinting. It's easy to mix and takes about ten minutes to finish the process. You can leave it on for longer if you want a more intense look. Although one kit gives you a single application, making it a fairly expensive option, this is a high-quality product that makes up for the price.
Similar Products

Pros
Waterproof
Makes brows look fuller, darker and thicker
Quick and easy to use
Long-wearing formula that lasts through workouts and swims
Cons
Needs to be used every day (like makeup)
SmartFX SmartBrow Review
If you want to steer clear of semi-permanent dyes but are still looking for some solid brow filling and color, the SmartFX SmartBrow is indeed a smart choice. It binds polymers and fibers to your skin and hair to give you the illusion of naturally full, thick arches. You need to brush this waterproof tint through your brows, and it will stick around without flaking or smudging until you massage it off with an oil-based cleanser. Convenient, right?
Similar Products

Pros
Comes in a variety of shades (including red and purple)
Multi-purpose product
Lasts up to 6-8 week
Looks natural
Cons
If you have very sensitive skin, this contains certain ingredients that may cause skin irritation in some individuals
RefectoCil Eyelash And Eyebrow Tint Review
RefectoCil is quite popular even in salons for eyelash and brow tinting. It employs the usual technique of mixing dye and developer. You just need to precisely follow the instructions on the box and let the mixture sit for about 10-15 minutes. Its effect lasts for at least four weeks. It's great for covering up grays or adding color to naturally blonde brows and lashes. We love the variety of shades that this kit comes in. Do give this a shot!
Similar Products

Pros
Waterproof
Adds color and gives brows a plumper look
Does not smudge or budge
Long-wearing
Cons
Lasts for a few days only
Wunder2 Wunderbrow Eyebrow Gel Review
Have you got commitment issues? This one's for you. It's a brush-on eyebrow gel that fades within just a few days. Also, its formula is filled with brow-plumping fibers to give you thick-looking arches and amp up your brow game. It's available in four shades – Blonde, Black/Brown, Auburn, and Brunette. The applicator is unique, and the wand is similar to that of a Kylie lip gloss. If you are someone who only needs to fill in the sparse areas and set your eyebrow hairs in place, this does a wonderful job and is perfect for you.
Pros
12 applications in one kit
Long-lasting
Can be used for lashes and brows
Safe and effective
Cruelty-free
Cons
Only four shades to choose from
1000 Hour Eyelash And Brow Tint Kit Review
Whether you want darker, fuller eyebrows or eyelashes, this kit gives you salon-like treatment. It contains a cream color, developer, applicator wands, and a mixing cup. The process is fairly simple, and the box comes with instructions. This does not thicken your lashes or brows, but it definitely darkens them and makes them look voluminous. Those with lighter hair will be especially thrilled with their results. This is a must-try!
8. BaeBrow Instant Tint
Pros
Very easy to use
Subtle and natural-looking
Lasts for four weeks
No-mix tint
Cons
Available in three shades only
BaeBrow Instant Tint Review
If you've been on the fence about tinting your eyebrows, let us make this decision easier for you. The BaeBrow Instant Tint does not require mixing and the hassle that comes along with it. You need to line your skin with some Petroleum Jelly and brush this no-mix tint across your eyebrows using a doe-foot applicator, then wipe it off after 3-4 minutes for a subtle tint that lasts up to four weeks on an average. It's available in black, light brown, and graphite. For some quick and easy tinting, this is a great option.
Similar Products
9. Roux Lash And Brow Tint
Pros
Easy application
Provides effective results for both lashes and brows
FDA approved
No side-effects
Cons
Available in two shades only
Roux Lash And Brow Tint Review
This lash and brow tint is gentle and does not cause any sort of irritation. It's perfect for naturally light brows or lashes. If you just follow the instructions and use the supplies provided, it gives you fast and safe results in under ten minutes. The color lasts up to four weeks, after which it fades gradually on tone. It's available in black and brown. This one's especially great for those with naturally blonde brows and lashes. Try it, and you'll know how big of a difference some color can make!
10. 28 Day Color Eyebrow Gel Colorant
Pros
Clinically tested
Long-lasting color
Gentle
Easy to use
Cons
28 Day Color Eyebrow Gel Colorant Review
This non-toxic formula contains all-natural plant extracts and covers the most resistant gray hairs. It's easy to use, and the kit includes 10+ applications which are reasonable for its $35 price tag. It's completely waterproof and lasts for up to four weeks. Also, you don't have to worry about side-effects with this kit as it's free from synthetic dyes and hydrogen peroxide.
 * Product prices may vary.
*Subject to Availability
Read – How To Tint Eyebrows At Home?
How To Choose The Right Eyebrow Tint For You: Tips And Precautions
We all want intense brows, but ladies, you need to take some essential factors into consideration while choosing an eyebrow tint that complements your facial features and hair color.
It's always best to pick a color that is slightly darker/lighter than the shade of your natural hair.
If you are blonde, it's recommended that you stay away from extremely dark tints as this will create a sharp contrast and will end up looking awful.
The skin on your face is far more delicate than the skin on your scalp. It's best to conduct a patch test 6-24 hours earlier to ensure that you are not sensitive to the formula.
Choose a high-quality eyebrow tint kit to be on the safe side.
Understand what you're purchasing – especially whether the tint is semi-permanent or temporary and choose one that fits your preferences.
Those were our top picks for the 10 best eyebrow tinting kits trending in the market. We hope you get it right and are all set with your Insta-ready brows!
Recommended Articles