The 10 Best Eyebrow Tinting Kits That You Must Try In 2023
Show off fuller eyebrows with the help of cheap and waterproof eyebrow tinting kits.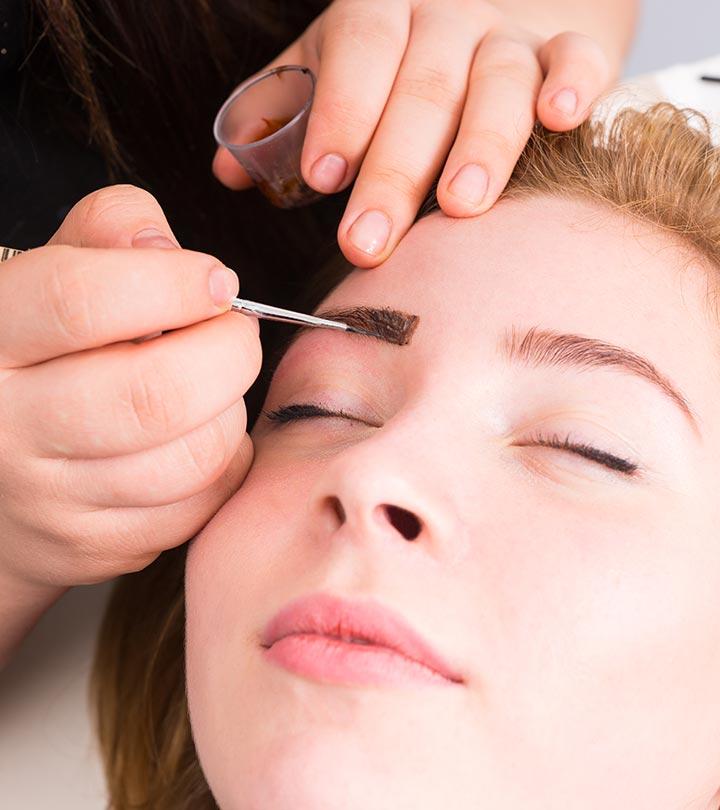 If you're looking for a quick and convenient way to step up your eyebrow game, you cannot do without the best eyebrow tinting kit. Of late, so many individuals have been raving about it, and we get the craze! An eyebrow tint is a semi-permanent hair dye designed specifically for sparse eyebrows. In just about 10-15 minutes, you can make them fuller and darker, that too, right in the comfort of your home. So, it's time to bid the ancient brow pencils farewell and switch to these color-boosting tints instead.
We have tested some of the popular brow tinting kits and compiled them all in the list below. So grab one, you won't regret it!
Top 10 Eyebrow Tinting Kits For Beginners To Keep Brows Full
Pros
Easy to use
Available in various shades
Easily available
High-quality
Cons
Godefroy Instant Eyebrow Tint Permanent Eyebrow Color Kit Review
This kit is one of the most popular choices for 'at home' eyebrow tinting that's available in the market. The box contains four capsules filled with tinting powder, a small bottle of activator, a tiny cup, and four organic orange sticks. Once mixed, the dye is odor-free, and you can easily apply it on your eyebrow hairs without it dripping and getting messy. The kit comes in a variety of shades such asdark brown, light brown, and natural black. It gives you amazing results that last for 4-6 weeks on average. Take a look at this video to get more information on the product.
Price at the time of publication: $12.89
Pros
Easy to use
Subtle and mellow color
No side-effects
Cons
It takes two hours to set in and fades within a week
Etude Tint My Brows Gel Review
Afraid of semi-permanent dyes? Don't you worry! This one's an eyebrow stain that lasts for about a week. You just need to fill in your brows with the product, wait two hours and then gently peel off the film for a stain of color and intense brows. It's available in three brown shades that give a more vibrant yet natural color payoff. This is great for those who want to initially experiment with a short-term eyebrow tint. Don't freak out during application when your brows look incredibly dark and defined. This will mellow down once you peel the tint off and wash up. This video offers a more detailed explanation of the product.
Price at the time of publication: $16.8
Pros
High-quality
Adds glossy definition to brows
Long-lasting color
Cons
Expensive for a single application
Eylure Permanent Brow Tint Review
This kit claims to give you gorgeous looking brows in either dark brown or mid-brown. If you have very light eyebrows, this will do a great job at tinting. It's easy to mix and takes about ten minutes to finish the process. You can leave it on for longer if you want a more intense look. Although one kit gives you a single application, making it a fairly expensive option, this is a high-quality product that makes up for the price. It is also quite popular in salons for eyelash and brow tinting. You may check this video for a better understanding of this product.
Pros
Cruelty-free
Vegan
Gluten-free
No ammonia
No peroxide
Cons
Ardell Professional Brow Tint Review
If you are looking for a water-activated permanent dye covering gray and dry hair, then Ardell Professional Brow Tint is a smart choice to make. This brow tinting kit is your ideal match as it contains a compact travel mirror to help you achieve the perfect brows on the go. It effectively covers short and gray hair to give you fuller and well-defined eyebrows. You just have to keep the dye and developer mixture for 10 minutes during the application and its effect lasts for two weeks. It is free from ammonia and peroxide and also cruelty-free and vegan. Watch this at-home Ardell Brow Tint video for more assistance.
Price at the time of publication: $17.99
Pros
Long-lasting
Easy to peel
Skin-friendly
Transfer-proof
Cons
Not suitable for oily skin
Maybelline New York Tattoo Brow Tattoo Longlasting Tint Review
Top the brow game with this brow tattoo long-lasting tint from Maybelline New York. It's not just easy to apply but can also be peeled away without any hassle. The tint takes about 20 minutes to set after which this waterproof and smudge-proof formula can last up to 3 days. (However, it is recommended that you remove and reapply this as and when required to avoid damaging the skin around your brows).
Price at the time of publication: $13.87
Pros
Waterproof
Adds color and gives brows a plumper look
Does not smudge or budge
Long-wearing
Cons
Lasts for a few days only
Wunder2 Wunderbrow Eyebrow Gel Review
Have you got commitment issues? This one's for you. It's a brush-on eyebrow gel that fades within just a few days. Also, its formula is filled with brow-plumping fibers to give you thick-looking arches and amp up your brow game. It's available in four shades – Blonde, Black/Brown, Auburn, and Brunette. The applicator is unique, and the wand is similar to that of a Kylie lip gloss. If you are someone who only needs to fill in the sparse areas and set your eyebrow hairs in place, this does a wonderful job and is perfect for you.
Price at the time of publication: $16.99
Pros
Highly pigmented
Waterproof
Smudge-proof
Does not flake
Comes with precise applicator brushes
Available in 3 shades
Cons
None

Sace Lady Tinted Brow Gel Review
The Sace Lady Tinted Brow Gel is highly pigmented, long-lasting, lightweight and waterproof. The rich formula provides fuller-looking and defined brows. This brow gel is humidity-proof,flake-free, and smudge-proof. It needs single reapplication after three days and offers a rich color payoff. This eyebrow tinting gel is formulated with a pigmented wax, and the smooth texture does not give you a stiff feeling. This kit includes two high-quality eyebrow brushes that enable precise application.
Price at the time of publication: $11.99
Pros
Long-lasting
Easy to use
Cruelty-free
Cons
None
Eylure Pro Brow Dybrow Kit Review
The Eylure Pro Brow Drybrow Dye kit is the perfect pick to get absolutely tinted and defined brows. If you want to darken your gray or light brows, this is where your search ends. It gives you darker and thicker-looking brows that last upto six weeks long. It is great for covering up grays or adding color to naturally blonde brows and lashes. It evenly colors the brows to provide you with the perfect brows.
Price at the time of publication: $20.89
Pros
Long-lasting
Sustainably harvested
Value for money
Cons
Parallel Products Premium Brow Henna Review
The Parallel Products Premium Brow Henna is a natural and organic formula for coloring your brows. It provides long-lasting results and is free of any harsh chemicals. This brow henna is fade-resistant and available in five shades that perfectly match different skin tones.
Price at the time of publication: $17.99
Pros
Clinically tested
Long-lasting color
Gentle
Easy to use
Cons
Price at the time of publication: $12.89
28 Day Color Eyebrow Gel Colorant Review
This non-toxic formula contains all-natural plant extracts and covers the most resistant gray hairs. It's easy to use, and the kit includes 10+ applications which are reasonable for its $35 price tag. It's completely waterproof and lasts for up to four weeks. Also, you don't have to worry about side-effects with this kit as it's free from synthetic dyes and hydrogen peroxide.
 * Product prices may vary.
*Subject to Availability
You can easily tint your eyebrows at home and without the help of a professional if you have the right eyebrow tinting kit. But what makes an eyebrow tinting kit the best? In the next section, let's look at the essential factors you should consider when choosing the best eyebrow tinting kit to complement your facial features and hair color.
What Makes The Best Eyebrow Tinting Kit? (Buying Guide)
Color: Find a color that fits your natural brow hair color. Make sure to choose a shade lighter rather than darker. People with dark hair colors often make the mistake of buying a dark black shade, whereas it is more likely that you have a dark brown shade.
Ingredients: Look for formulas with organic ingredients that nourish and hydrate your brow hair. Also, avoid tints containing harsh ingredients like ammonia or peroxide.
Waterproof: If you are tinting your eyebrows to get a fuller, denser look, you would want it to last for some time. If the product is not resistant to water and humidity and prone to smudging, you may have to tint it repeatedly in short intervals.
Durability: Eyebrow tints can be permanent or semi-permanent. The semi-permanent ones last for days, whereas the permanent ones may last for weeks. Decide on how much commitment you want to give to a shade to make the right choice.
Finish: Once you have the right shade, you must expect nothing less than a natural look (unless you are going for a dramatic contrast). Your eyebrows should feel smooth and not crunchy or flakey. It should look full and lively and not limp. Check the reviews by current users to get a better idea regarding this.
Once you have the best formula in hand, it is time to gear up for the tinting process. Read on to know how to do it properly from the comfort of your home. It may take you a few times to have a sure hand, but if you are careful and diligent, you will get the color right even on your first try. Let's check out the steps.
How To Use Eyebrow Tinting Kits
Remove your makeup and wipe your eyebrows clean and dry.
Mix the dye and developer in a bowl, using your brush or a stick.
Use a spoolie or a brush to apply the color, starting from the inner sides.
The highest concentration should be on the center, where the hair is dense. Use a light hand to color the hairs along the edges.
Keep it on for 10 minutes or as instructed in the product manual.
Take a cotton pad and wipe away the color using some pressure. Continue doing the same until excess color particles are removed.
Wash your face with a gentle cleanser to finish the process.
The best eyebrow tints come with instructions on the leaflet that guide you on using these products. But the experts know a few extra tips to offer you a better experience while coloring your brows. Check out the next section to get some pro tips.
Tips For Using An Eyebrow Tint Kit Like A Pro
The skin around your brows is more sensitive than your skin on the body or scalp. So, always do a patch test 24 hours before using any eyebrow tints.
Go a shade darker than your natural eyebrow color if you have a natural light shade and lighter if you have a natural dark shade. This will make the finish look natural.
Cleanse and exfoliate your eyebrows before coloring them.
Make sure to let the color sit on each of your brows for the exact same time to avoid getting different eyebrow shades.
If you accidentally go too dark or do not like the shade after applying it, you can cleanse your eyebrows gently but frequently to lighten the shade or remove it faster.
Never use hair dye on your eyebrows.
Why Trust StyleCraze?
Esha Saxena, who has authored this article, is a makeup aficionado and finds great joy in trying out different makeup products to ensure that they are capable of catering to the unique requirements of customers. Eyebrow tinting, being highly desired by all, Esha has tried out many different eyebrow tinting kits and also read customer reviews to compile a list of the best ones for her readers. These color-boosting tints can give you darker and fuller brows within the comfort of your home.
Frequently Asked Questions
How can I make eyebrow tint last long?
Here are some of the tips that can make your eyebrow tint last longer.
• Choose darker shades.
• Prevent sun exposure.
• Avoid washing your eyebrows too much.
• Massage your eyebrows with castor oil after tinting for better results.
Is it safe to tint eyebrows every week?
Yes, it is safe to tint eyebrows every week. However, make sure that you choose a chemical-free nourishing formula and apply it with caution so that the formula doesn't go into your eyes.
Who can use an eyebrow tinting kit?
Anyone can use an eyebrow tinting kit. It is ideal for all skin types and tones. Tinting kits are more commonly used by blonde women and men to get a thick eyebrow look.
Will tinting help over plucked eyebrows?
Tining is unlikely to give you eyebrows the desired look if you have overplucked them. You can use powders, brow pencils, and re-growth products to enhance the look of your brows.
Recommended Articles