The 12 Best Eyebrow Trimmer For At-Home Grooming – 2023
Shape, tame, or define your brows with these incredible eyebrow products.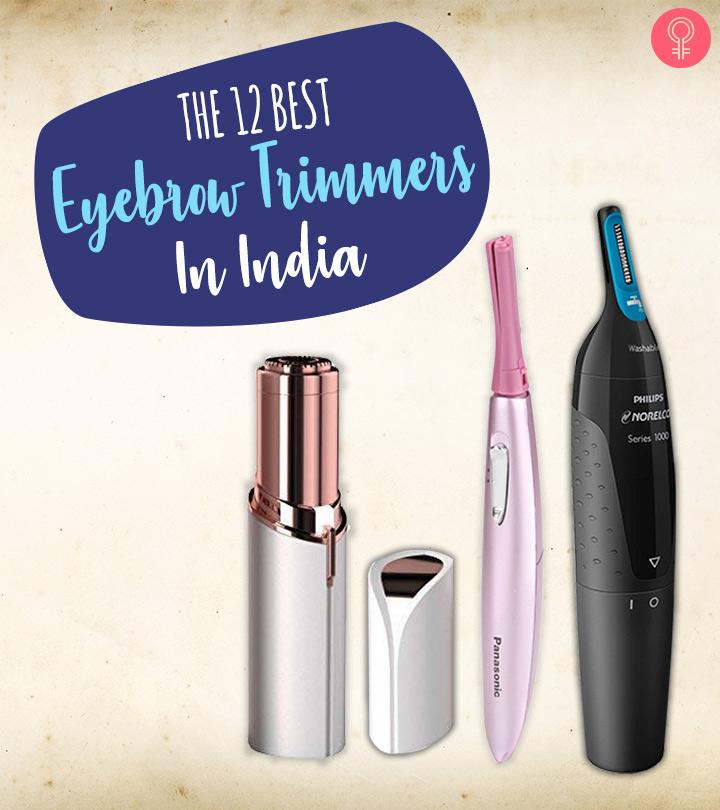 Your eyebrows are undeniably one of the most important features of your face. The right brow shape not only frames and flatters your eyes, but it also helps enhance all of your facial features. We're talking about that clean, put-together look that everyone wants. It's a tad impractical to make a quick run to the salon every time your brows need some grooming. That's why learning how to trim your eyebrows and investing in a brow trimmer goes a long way in looking sharp at all times. Check out our list of the 12 best eyebrow trimmers.
12 Best Eyebrow Trimmers For Quick And Easy At-Home Grooming
Review
This electric trimmer from Veet is designed to remove hair from the sensitive areas on your face and body. It is a great pick for grooming your brows because of its high-precision blades and adjustable eyebrow head. Its design is sleek and compact, making it very handy for quick touch-ups and brow contouring.
Pros
Wireless
Ideal for delicate areas
Waterproof
Comes with various accessories
Travel-friendly
Cons
None
Review
This trimmer by Panasonic is a quick and easy solution to get rid of unwanted facial hair. Its smooth-pivoting head glides smoothly along the natural contours of your face for a close and comfortable trimming experience. Its design is sleek and stylish. It fits in your hand and is super easy to use while you're on the move.
Pros
Slim blades
Battery-operated
Travel-friendly
Ideal for facial hair removal
Offers precise shaping
Cons
Review
Philips Norelco Trimmer is perfectly angled to remove hair efficiently from tricky, hard-to-reach areas. If you are worried about nicks and cuts, stop right there because this device shields the blades from your skin and gives you the gentlest trim.
Pros
Does not pull on your skin/hair
Waterproof
Comes with different attachment heads
Travel-friendly
Cons
None
Review
This touch-up trimmer from Philips is ideal for eyebrows and facial hair. The 1/3″ trimming head comes with 2 length settings that ensure precise application. The 60 minutes runtime and compact design makes it a great choice for women on the go who need quick touch-ups. Besides, it comes with batteries and a cleaning brush to keep your trimmer clean.
Pros
 Lightweight
 2 length settings
 Built-in comb
 Comes with a cleaning brush
 Easy to use
 Portable
Cons
 Not waterproof
 Not durable
Review
Painless Facial Hair Remover is a premium trimmer to remove unwanted hair from your eyebrows and the face. The trimming head is 18k gold plated that is hypoallergenic and gentle on all skin types. It features a dual-blade with a 360-degree nozzle to remove hair efficiently without any irritation. The automatic in-built light feature makes it easy to spot the hairs and make the trimming experience comfortable.
Pros
 Lightweight
 Hypoallergenic
 Dermatologically-approved
 Built-in light
 Easy to use
Cons
None
Review
Lifelong LLPCW30 Eyebrow Trimmer removes unwanted hair from eyebrows, bikini area, and body painlessly. It comes with three changeable and washable combs that ensure eliminating pesky hair from your sensitive skin. Its sleek and compact design makes it travel-friendly and easy-to-use.
Pros
3 changeable heads
Travel-friendly
Rechargeable
Waterproof
Cons
None
7. Lumony Bi-Feather King Eyebrow Trimmer
Review
Lumony Bi-Feather King Eyebrow Trimmer removes hair painlessly any time, anywhere. This sleek device helps you achieve perfect results on your brows, bikini line, sideburns, hairline, and armpits.
Its long handle makes it convenient to use on the hard-to-reach areas of your face and body.
Pros
Compact and sleek design
Precision trimming
Travel-friendly
Cons
None
Buy Now From Amazon
Review
If you are a beginner at trimming facial and body hair, these razors from Tinkle are your best bet. They come in a pack of three and are very pocket-friendly. Their long plastic handles give you a lot of control and their steel blades gently remove the fine hair on your brows, face, and neck.
Pros
Durable
Travel-friendly
Disposable and hygienic
Cons
None
Review
Painless 4 in 1 Waterproof Trimmer comes with 4 trimming heads to remove unwanted hair from your face, eyebrows, nose, and body. The double stainless steel blade removes hair gently without causing any burn, redness, or irritation. The USB rechargeable feature makes the trimmer more convenient and easy to use.
Pros
 Can be used both wet and dry
 Durable
 Rechargeable
 Waterproof
 Ideal for sensitive skin
Cons
Review
This beauty trimmer by Syska is designed explicitly for precise eyebrow and facial hair removal. It comes with a bikini trimmer, a comb, and a washable head for easy cleaning. It fits in your hand as comfortably as an electric toothbrush.
Pros
High-quality design
Easy to use
Precise hair removal
Cons
None
Review
The EPOH Eyebrow Trimmer is ideal for regular use. The precision head features a 360-degree shaver that removes unwanted hair gently without any pain or fuss. It doesn't pluck or pinch the skin. It is gentle on all skin types and makes for a thoughtful gift option. Use this as an alternative to painful threading or tweezing.
Pros
 Easy to use
 Quick results
 Painless removal
 Comfortable to hold
Cons
None
Review
This brow trimmer is an ideal daily maintenance and clean-up tool that can be used in between your regular eyebrow waxing/threading appointments. It is a great pain-free alternative for removing excess hair if you don't want to wax or thread.
Pros
Good for removing strays
Pain-free plucking
Built-in spotlight
Cons
[ Also Try – Veet Sensitive Touch Electric Trimmer ]
Price Range
Depending on the brand, eyebrow trimmers can cost you anywhere between Rs.300 and Rs.2000. High-end brands like Braun and Philips are usually more expensive. Panasonic falls in the mid-range category. There is an abundance of budget-friendly options that you can purchase online. However, they usually don't come with a warranty.
That was our round-up of the 12 best eyebrow trimmers available in India. You don't have to worry about making impromptu runs to the salon every time your arch is over all the place. Besides, those tiny furry tumbleweeds that grow around your brows need to be trimmed instead of plucked. Which one of these eyebrow trimmers are you looking forward to trying? Comment below to let us know.
Frequently Asked Questions
Are electric trimmers safe to use?
Yes, electric trimmers are safe to use for a lot of reasons (even though it goes against everything your mother told you). There is a lesser chance of ending up with cuts or nicks. Also, if you're someone with sensitive skin and can't deal with waxing or threading, using a trimmer is a safe and sensible option.
What should I consider before purchasing an eyebrow trimmer?
Before you make your purchase, you can take a lot of factors into consideration. It is best to pick a trimmer that fits in your hand and is easy to maneuver. You can also choose between a rechargeable one and a battery-operated device. If you want something with a bunch of accessories, choose one that comes with various cutting heads. Some trimmers are waterproof and come with a built-in spotlight to give you a better view of the landscape. Finally, chalking out your budget will help you get the best trimmer in that price range.
Best Eyebrow Threading Machines Available In India